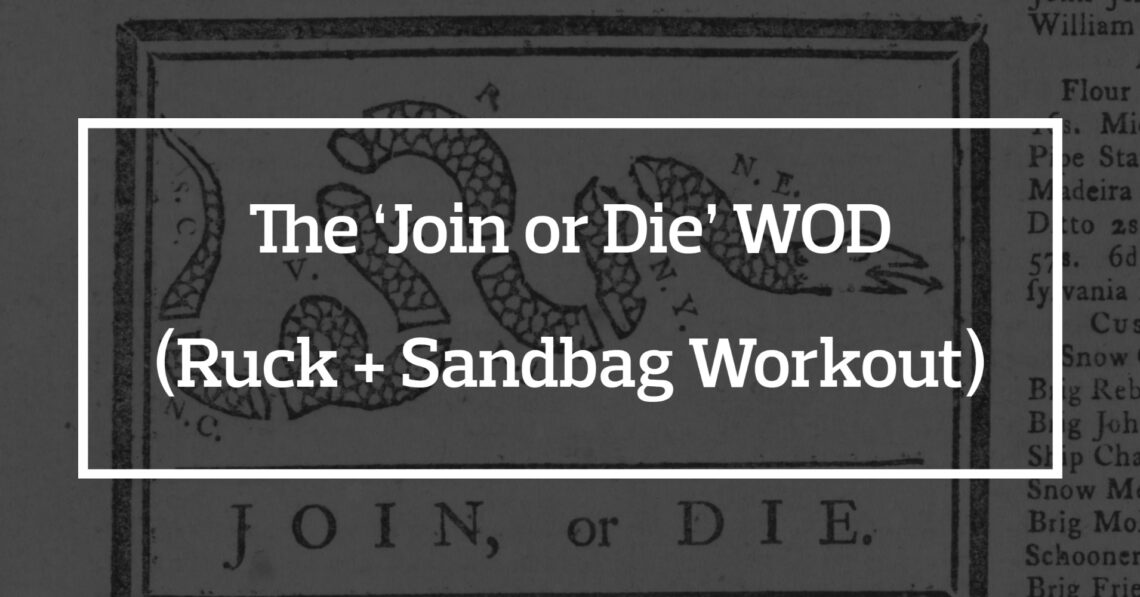 The 'Join or Die' WOD was the featured workout for GORUCK Tribe in July, 2021.
The 'Join or Die' Workout
For Time:
4 Rounds

250 Meter Ruck
17 Sandbag Squats (With Ruck)
250 Meter Ruck
Exercise Based On Round

Round 1: 76 Sandbag Pull Throughs (With Ruck)
Round 2: 76 4-Count Flutter Kicks with Ruck Overhead
Round 3: 76 Ruck High Pulls
Round 4: 76 Ruck Push-Ups
Ruck Weight: 20# / 30# (or whatever you're comfortable with)
The Significance
From GORUCK: This entire workout is meant to be completed with Ruck on or in hands. The 8 x 250m Ruck segments (2 minutes) representing the original 8 segments of the snake, conjoined together by the entire workout. 17+76 for exercises will be tough. 4 x 17 = 68 squats. ​The first round would be 17 squats then 76 pull throughs, then 17 squats and 76 flutter kicks, and so on. I'd expect this to be a 30 minute + effort.
Final Thoughts
If you end up completing this workout please come back and let me know your ruck weight and time in the comments!