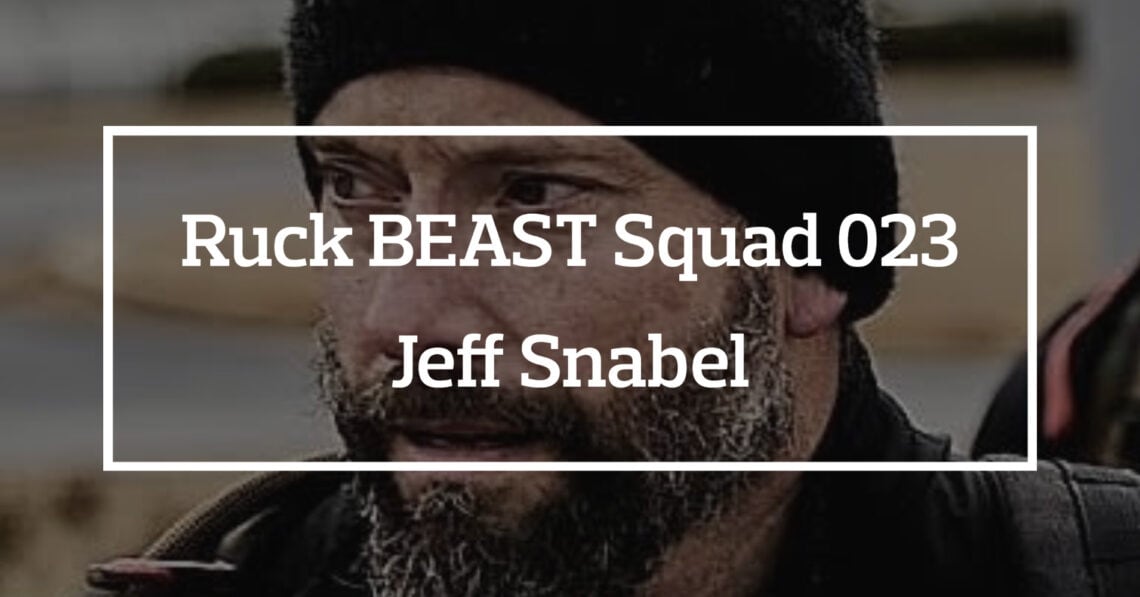 Ruck BEAST Squad features interviews with members of the community to highlight their lives, training, gear, and insight. Hopefully as you read through this you'll be able to take away advice that will help you train better and perform better that upcoming events. In this issue of Ruck BEAST Squad we get to hear from Jeff Snabel!
Q: Tell us a little about yourself to get us started. (Name, Age, Location, Family, work, things you enjoy, whatever you want to tell the community)
A: My name is Jeff Snabel. Born in Kentucky, and raised all over the U.S. I am a techy of sorts and love spending time outdoors.
Q: Where did your rucking journey start? How did you get involved?
A: Years before my first event, my brother-in-law had said something to the effect of, "If you want to do something really hard check out GORUCK, they host some serious sounding events." Fast forward, and my first event was the 9-11 Tough in DC (2019). I showed up solo, and left wide-eyed and grinning.
Q: How has rucking changed or improved your life?
A: Fitness isn't a goal; it is journey of continuous improvement. Like any path, you need objectives to keep you focused and moving forward. Rucking, facilitates a variety of benchmark objectives that can constantly be improved upon. It is good for the body and the mind.
Q: Best Rucking advice you have received?
A: Tape your feet.
Q: How do you recruit new people to ruck, or do events with you?
A: I don't recruit new people. I used to convince friends to do all kinds of crazy things with me but now I just put it out there, if anyone wants to show up, that is good with me.
Q: Advice you would give to someone just starting their rucking journey?
A: Have fun and be prepared to work! Everyone has different strengths and weaknesses. Going into your first event, expect to be challenged, your weaknesses will be identified.
Q: Favorite beverage to drink after a ruck?
A: The harder the ruck, the stiffer the drink.
Q: How do you train? Why do you train the way you do?
A: Most of my training revolves around mobility first and strength second. Mobility/Flexibility are my weak areas so that gets the most attention. Rucking events, not pure rucking, is hard on the body, especially the joints. I use various WODs as benchmarks for improvement and a way to measure my progress. I love kettlebells!
Q: What was your first event? What stands out from that event?
A: My first ever event was the GORUCK DC 9-11 Tough (2019) and I can replay most of that event in my mind. What stood out…? The three-hour welcome party. The Thule cargo carrier weighted down to about 400lbs. The tunnel of love. Seeing someone quit with only minutes to go.
Q: How many events have you done? What's your favorite event or type of event? Why?
A: I don't do a lot of events, and to me an HTL or a Double Heavy are both only one event. That said, I have done seven events. The harder and grittier the better. The reason… these events tend to run smaller numbers, and smaller teams jell faster and more intimately than larger ones. This is where the fun and growth thrive.
Q: What was your most recent event or events. What would you like to tell us about it / them?
A: The BRAGG HTB 2022 was my last event. This was a redemption event for me, I got hurt at BRAGG in 2021 about ten hours in. You never know what is going to happen on events like this. This year was mission accomplished. A lot of knowledge was shared, a lot of fun was had, leaders emerged through perseverance, and ice was covering my beard. True to form, BRAGG always delivers!
Q: Why do you continue to do events? What keeps you coming back?
A: There is always more work to do, and I love to work! This community is amazing. The people I have met, have become the best of friends with, and continue to learn from keep me coming back.
Q: If you get overwhelmed during an event how do you refocus on the task at hand?
A: Breathe. Breathe, slow my heartrate down, look around at what is happening and stay engaged with the people to my left and right. I have to remember to get out of my own head sometimes. Which… is the point. Can you think while you're stressed? Solve a riddle to unlock a combination lock, while doing bear crawls or overhead squats, with information you were given hours earlier. That was a fun evolution!
Q: Advice you'd give to someone before their 1st Event? Or their next event, if it's pushing them out of their comfort zone? It is exciting there are so many event types now, so you can tailor your advice here however you'd like.
A: Everything you do to help someone else strengthens your team and makes you a little bit better. You may not be able to carry that 120lb coupon for more than three minutes, but that three minutes of relief may be all that the other person needs to get their wind back. Ask yourself, are you willing to struggle to see the team succeed? This applies to everything in life. Are you an asset or just along for the ride?
Q: What's the next event or events on your calendar that you are excited about?
A: My next event is the HH in July, but Normandy would be awesome!
Q: Favorite Rucksack? Why?
A: 3.0, it is the one I own. I gave my previous one to my dad when all the gyms closed so he would have something to supplement his fitness routine with.
Q: What are your must have items in your ruck? Events or otherwise.
A: Jolly Ranchers: Mouth watering goodness that weighs nothing and is a mental pick-me-up when you are cold or things just suck.
Q: Proudest fitness accomplishment? Rucking or Other? Why?
A: Not sure about my proudest, but I was part of a four-man team for the DC 50 miler that was pretty awesome. We finished 6th overall! Team Silver Fox
Q: A book or a few that have impacted your life? Why?
A: There are so many great books that could be listed. I am currently reading "GRIT" by Angela Duckworth and love it. However, the audibles "Warrior's Creed" by Roger Sparks and "The Operator" by Robert O'Neil are two favorites.
Q: What's the best purchase under $100 you've made in the past 12 months.
A: New inserts for my footwear CURREX.
Q: What other hobbies do you have?
A: I have had a lot of hobbies over the years but since I was little, I have loved the water and everything about it. Fishing, rafting, swimming, anything and everything to do with water.
Q: Any parting shots? Things the community needs to know?
A: There are no shortcuts. Do the work. Accomplish something
If you know someone (or are someone) who would be a good fit for an upcoming episode of Ruck BEAST Squad please reach out to Derek Hill (derekhill1 AT gmail DOT com).