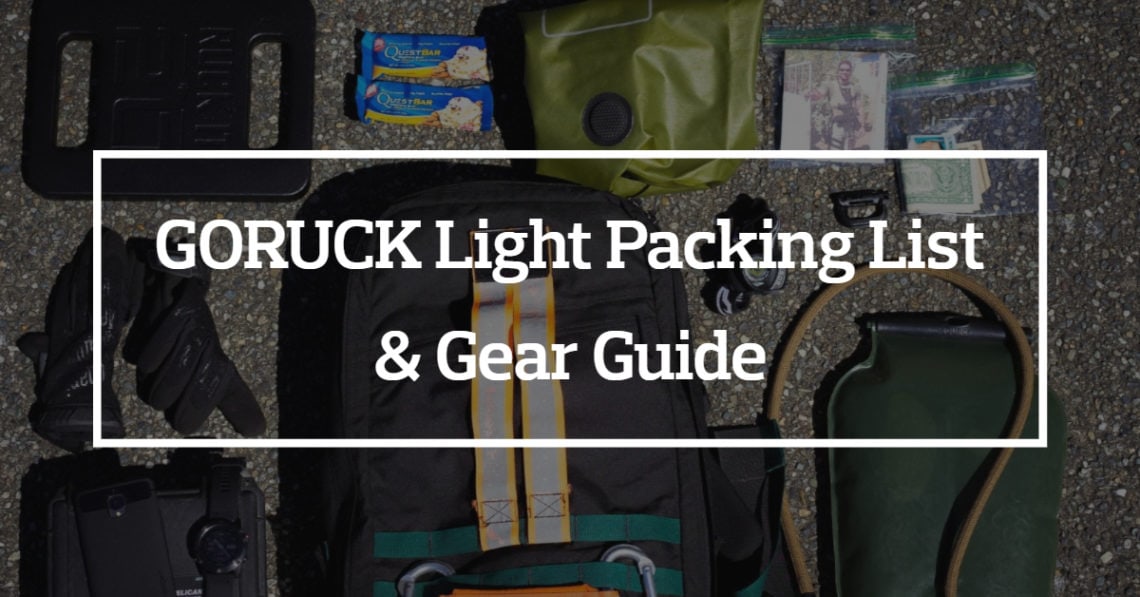 GORUCK Light events are incredibly fun but the mood can turn quick if you don't bring the right gear. You're in the right place because there's a printable PDF, an extensive gear guide, and a packing video. Have a question? Leave a comment and I'll do my best to help you out.
GORUCK Light Packing List PDF
I've put together a downloadable GORUCK Light packing list with check boxes so you can download it, print it off, and make sure you don't forget anything at your GORUCK Light. I do this before every Light and I recommend that you do as well.
GORUCK Light Packing List Video
If you prefer videos then check out the video above. You might want to print off the PDF packing list from above and follow along.
The GORUCK Light Gear
There are two types of gear for GORUCK Light events: team gear and individual gear. For team gear you need to work with your team in advance to put it together and get it to the start point. If you aren't sure who's on your team don't worry… it's everyone else signed up for the event. For individual gear you are in charge of getting it together yourself and bringing it to the start point.
Team Gear
As a team you will need to show up with the following items. Failure to do so will earn your team some serious punishment.
25 lb Team Weight: A team weight can be anything… we've seen change to be donated to charity, canned food for a food drive, beer, weight plates, etc. Be creative.
American Flag: This American Flag from Annin is inexpensive, made in the USA, and extremely high quality.
Flag Pole: You'll need a flag pole for your flag to attach to. You can find one at your local hardware store pretty easily.
Work with your team through the Facebook event page (link can be found on the event page for your GORUCK Light) to ensure you will have the required items. Showing up with the above gear is the first step to prove yourself as a team… the cadre will make you pay if you fail this.
Individual Gear
Individual gear is stuff that you need to bring for yourself and falls into three categories:
Required Gear: Items that GORUCK requires you to bring.
Recommended Gear: Gear we always bring with us to events.
Optional Gear: Stuff that we see others bring to events.
GORUCK has their own packing list on the GORUCK Light event page which is worth checking out as well.
Required Individual Gear
According to GORUCK the following gear is required for you to participate at your GORUCK Light event. Do not show up without it or you, and your team, will end up in trouble.
Backpack (aka Rucksack): A GORUCK pack (preferably the Rucker) is recommended however the Rush 12 and Tactical Tailor Removable Operator Pack have received good reviews as well.
Weight: Choose your weight and don't forget it at home. Ruck Plates are great!
Water (2L+): Bring at least 2L of water. We recommend the Source hydration bladder because they're durable, easy to refill, and fairly cheap.
Nalgene Bottle (1L) or equivalent (electrolytes recommended): Straight from the GORUCK event pages the Nalgene bottle is now on the list.
Cab Fare: Bring $20 in cash. Put it in a plastic bag inside of a dry bag or a Pelican Case.
PT Belt/Reflective Band: Attach one of these to your pack and make sure it's on there securely. We recommend either the Reflective Ruck Band or HVS-V.
Photo ID: Drivers license or other ID with your picture and name on it.
First Aid & Foot Care Kit: Something small… think for little cuts and blisters.
NEW: Masks (2 minimum) Something that will not repeatedly fall off (scarves not recommended, N95's not required — save them for healthcare workers)
NEW: Gloves (1 Pair): Not medical gloves, working gloves. Bring gloves. You will be carrying logs, heavy weird-shaped stuff, and doing push ups in dirty places. You will want to protect your hands. I always bring Mechanix gloves and they haven't let me down yet. Pro tip: Bring a second pair for use in the event your original pair fills up with sand/gravel or a teammate forgets to bring some.
NEW: Hand Sanitizer/Wipes – 1 bottle Purell, 1 package of baby wipes (or equivalent)
NEW: Oral Rehydration Salts (or comparable) in case water resupply is harder
Show up with the above or there's a large chance that you'll end up doing a bit of extra PT. In addition make sure to check out your GORUCK Light's Facebook Event page. Cadre can add extra required gear there so make sure you keep an eye on the page so you won't show up unprepared.
Highly Recommended Individual Gear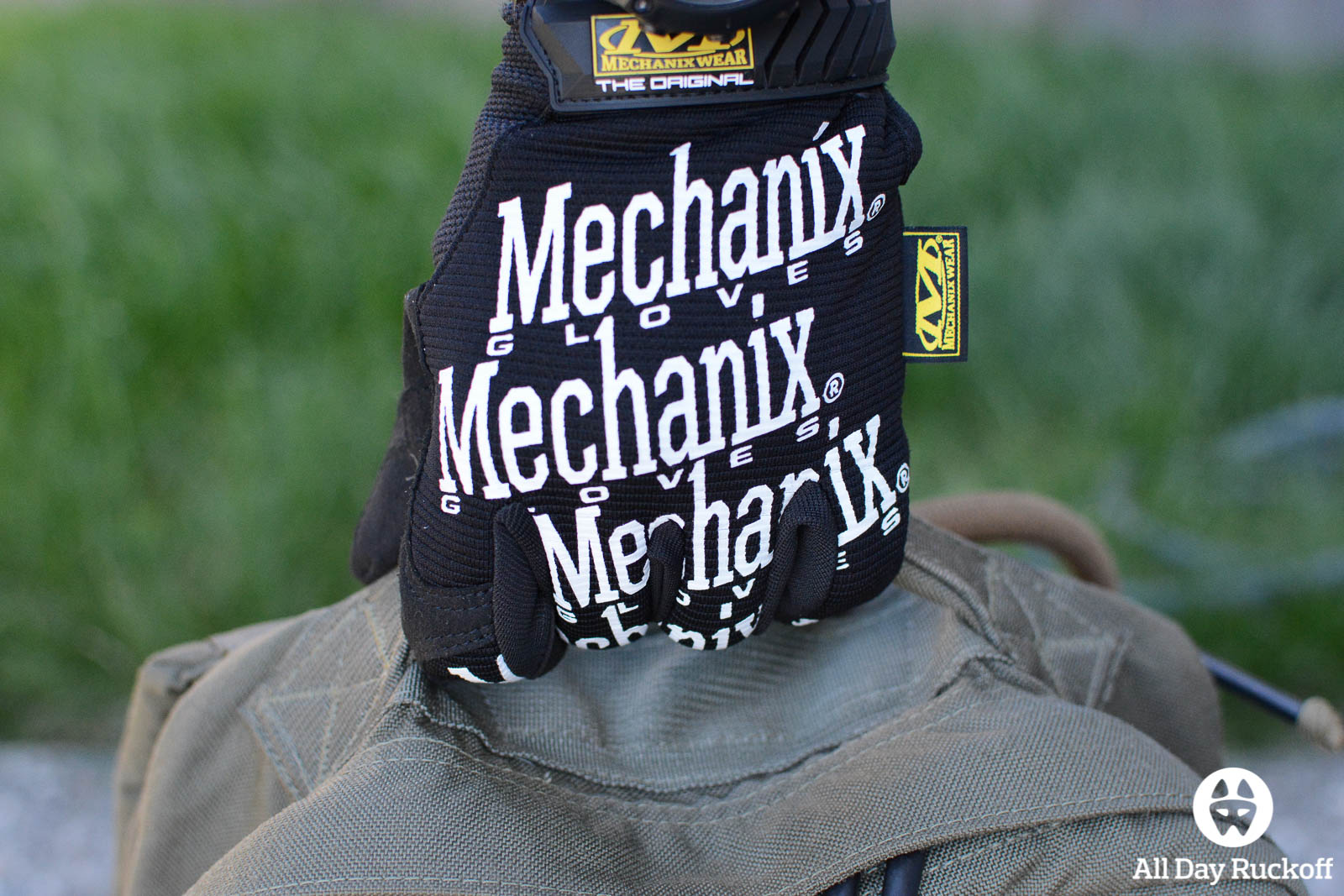 The following gear is stuff that I always bring to GORUCK Light events. It's not required but it will make the event less miserable and you can help out your team members with them.
Clothing/Apparel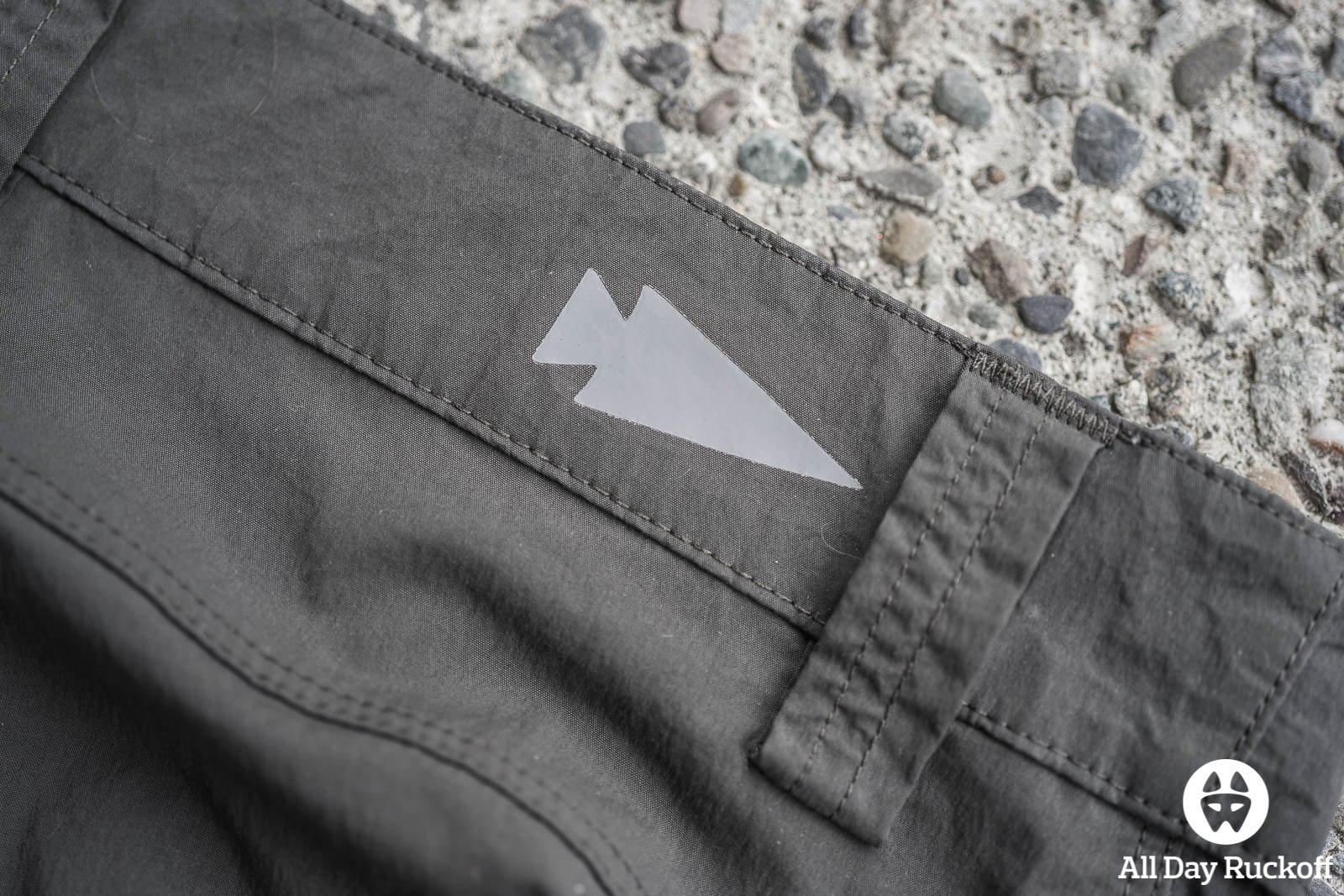 You are going to want to dress yourself for the GORUCK Light. Although some people can show up in ranger panties and a smile if you're reading this then that's probably not you.
The important part is that you train in the gear that you wear to the event. Some gear that works great for many might not work out for you which is why this is so important.
Optional Individual Gear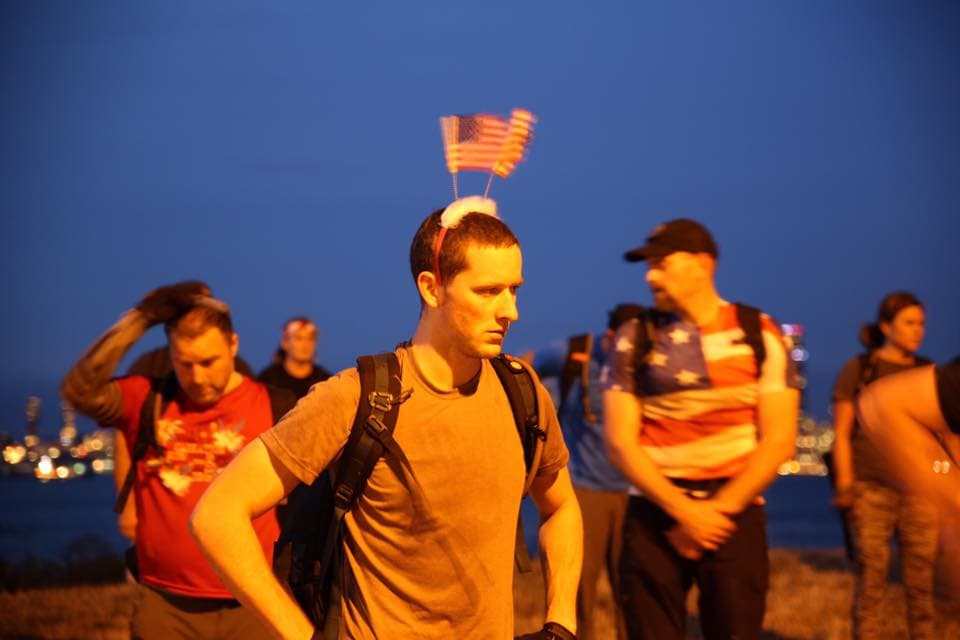 Hat: Keep that sun out of your eyes and use it to soak up some sweat.
Spare Socks: If you're prone to blisters or foot issues then a dry pair of socks and save your feet.
Spare Shirt: Sometimes your shirt gets wet and you might want a dry one.
Sunblock: If you're in a sunny setting then some small travel sunblock might be useful.
Final Thoughts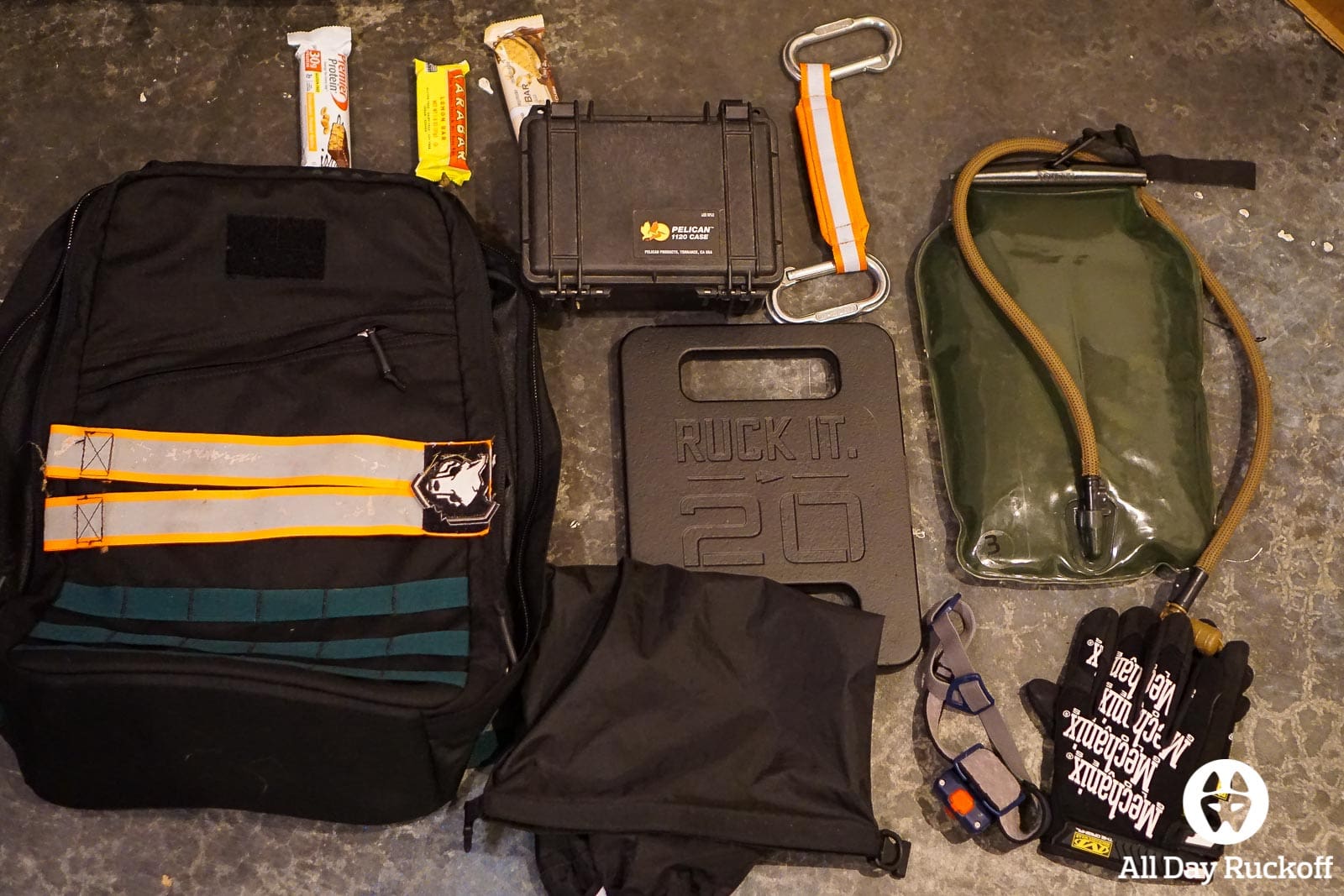 Hopefully this helps you to better prepare for your next GORUCK Light! Am I missing something that you love to bring to a GORUCK Light? Post it in the comments and help out your fellow ruckers!
What's Next?
Looking for more GORUCK Light training resources? Check out the following resources to round out your GORUCK Light preparation:
There's enough information here to keep you going through your event and right to your patch!