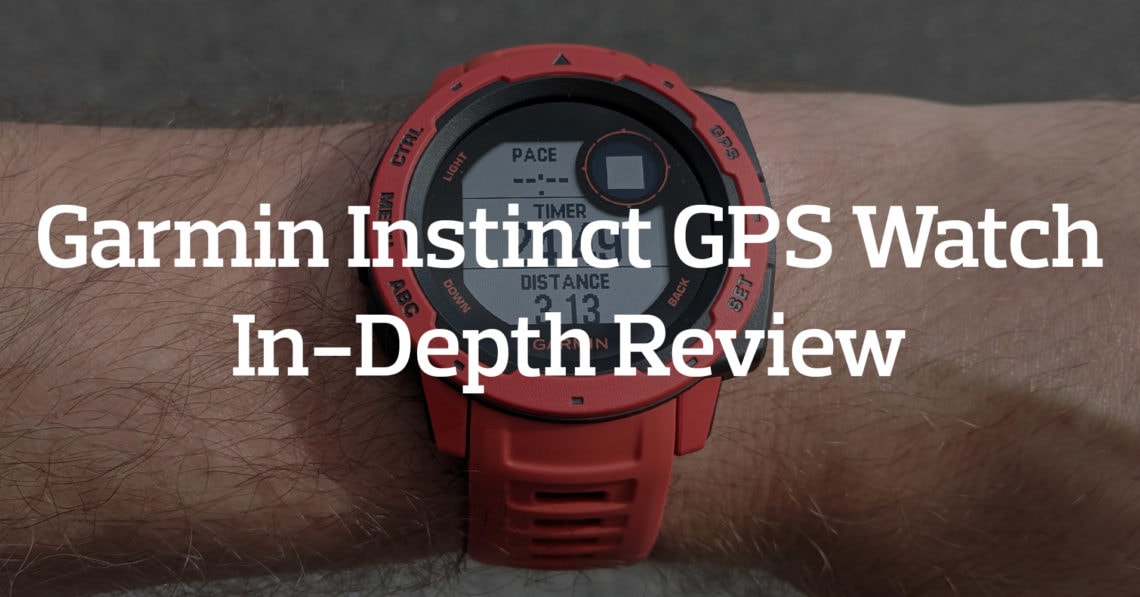 The Garmin Instinct GPS watch is what I would describe as a budget-friendly version of the Garmin Fenix line of watches. It has many of the same features with less of the frills at a much lower price point.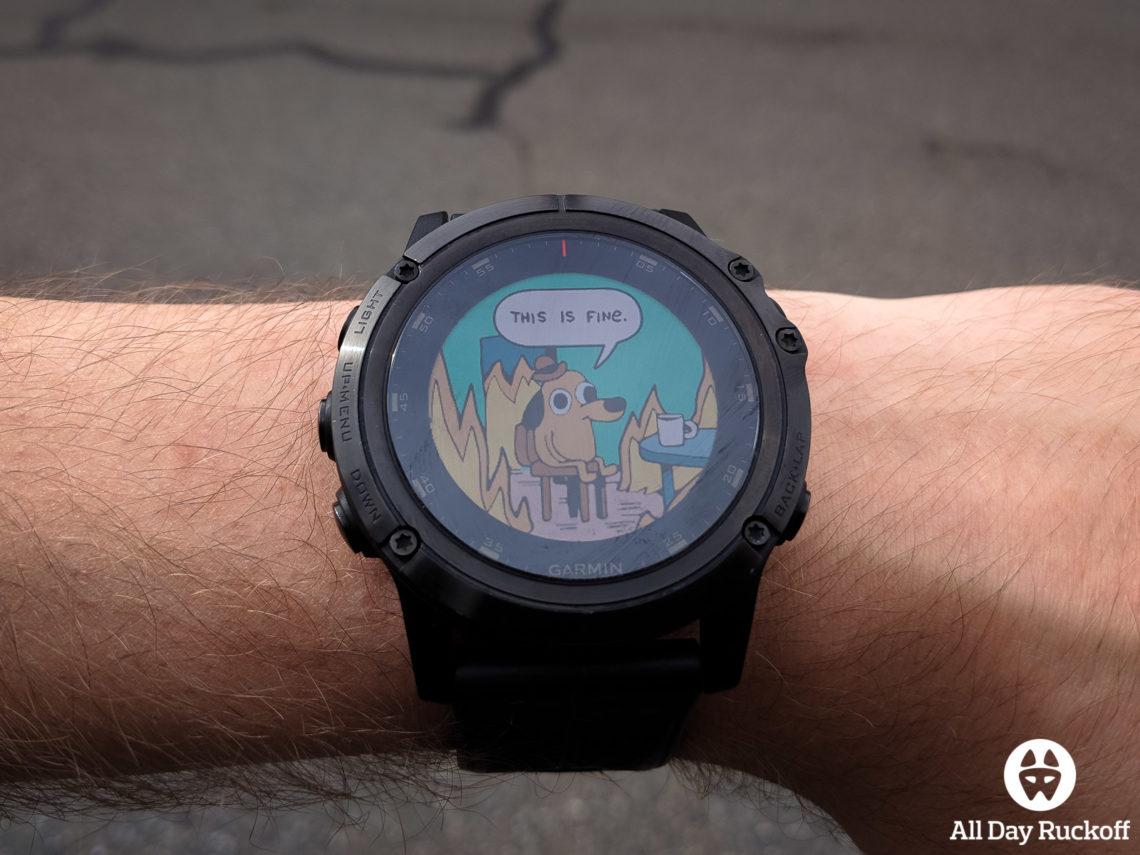 While preparing for this review I shelved my Fenix 5X Plus (pictured above) and used the Garmin Instinct for two and a half weeks straight. During that I ran, rucked, and completed ruck, sandbag, and body-weight workouts. In addition I used it for the step tracking, floor tracking, and sleep tracking features.
I have a training schedule that I stick to that involves pretty much everything needed to prepare for a GORUCK event. I swapped my Fenix 5X Plus for the Garmin Instinct to see if it could handle everything I needed it to or if there were features I was missing out on.
Table of Contents
For a post this large we need a table of contents:
What's in the Box + Initial Pairing
General Watch + Widget Features
Activities (Rucking, Sandbag Workouts, Running, etc.)
Navigation
Training
Sleep/Stress
GPS Accuracy
Heart Rate Accuracy
Two Weeks Later
Final Thoughts
What's in the Box + Initial Pairing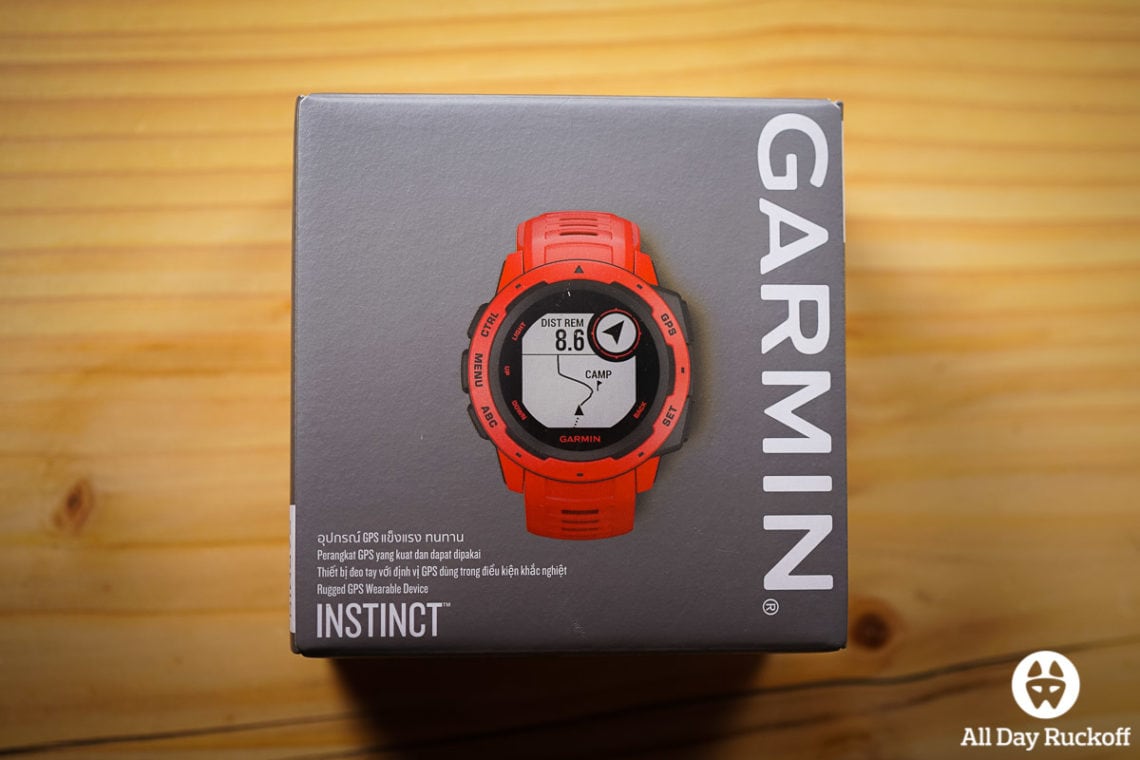 The Garmin boxes have had a pretty standard layout for what feels like the past few years. This is similar to what my Fenix 5X Plus looked like when it showed up.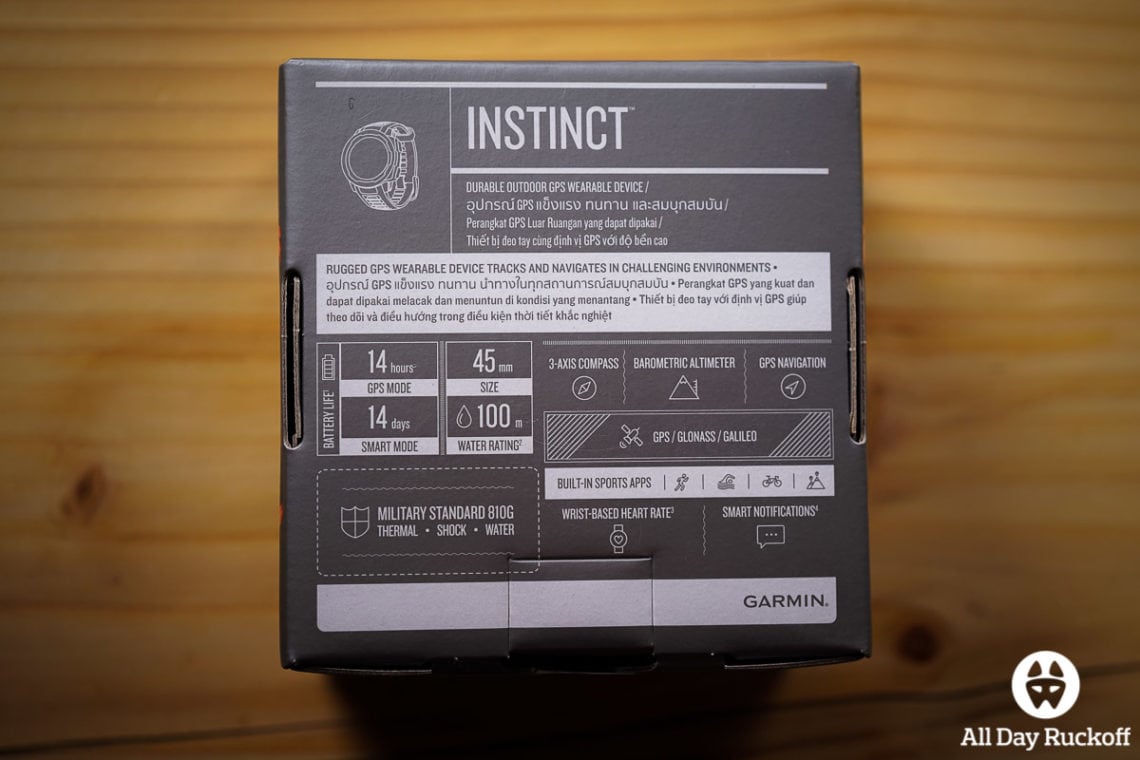 There various features laid out on the box but honestly there's too much information on these watches to list on a size this small.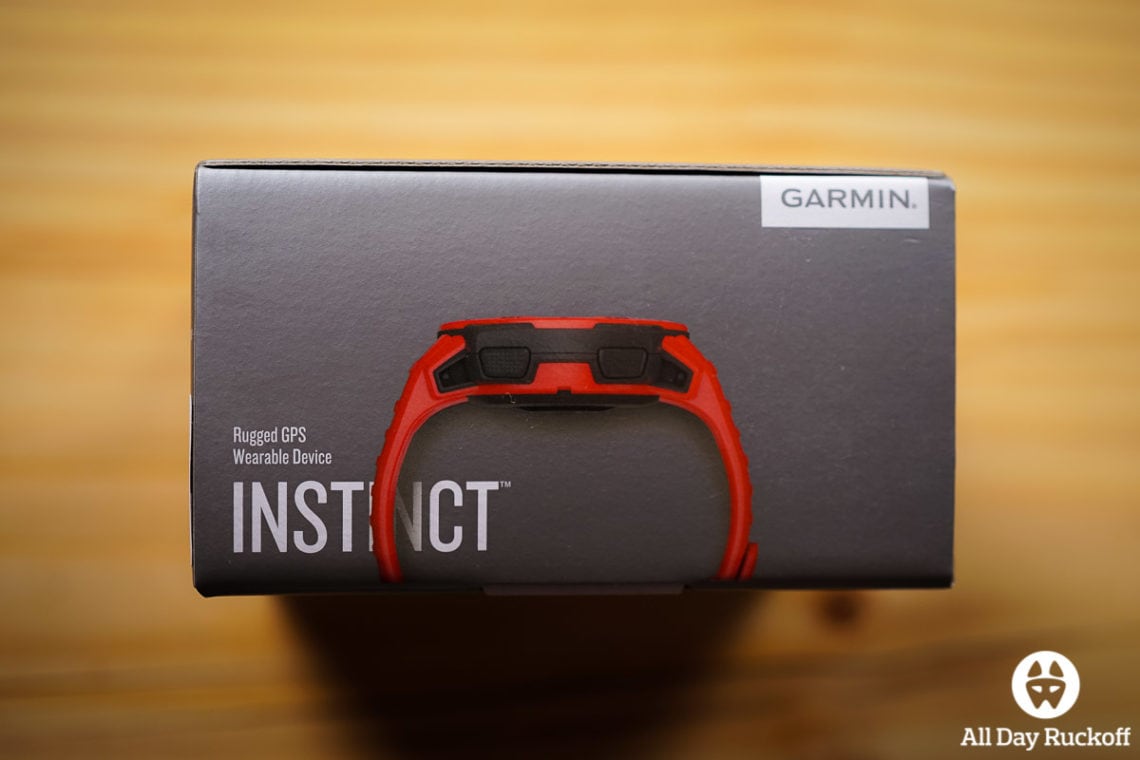 I'm curious if there's anyone who actually buys one of these based on what they read on the box or if everyone does their research first these days.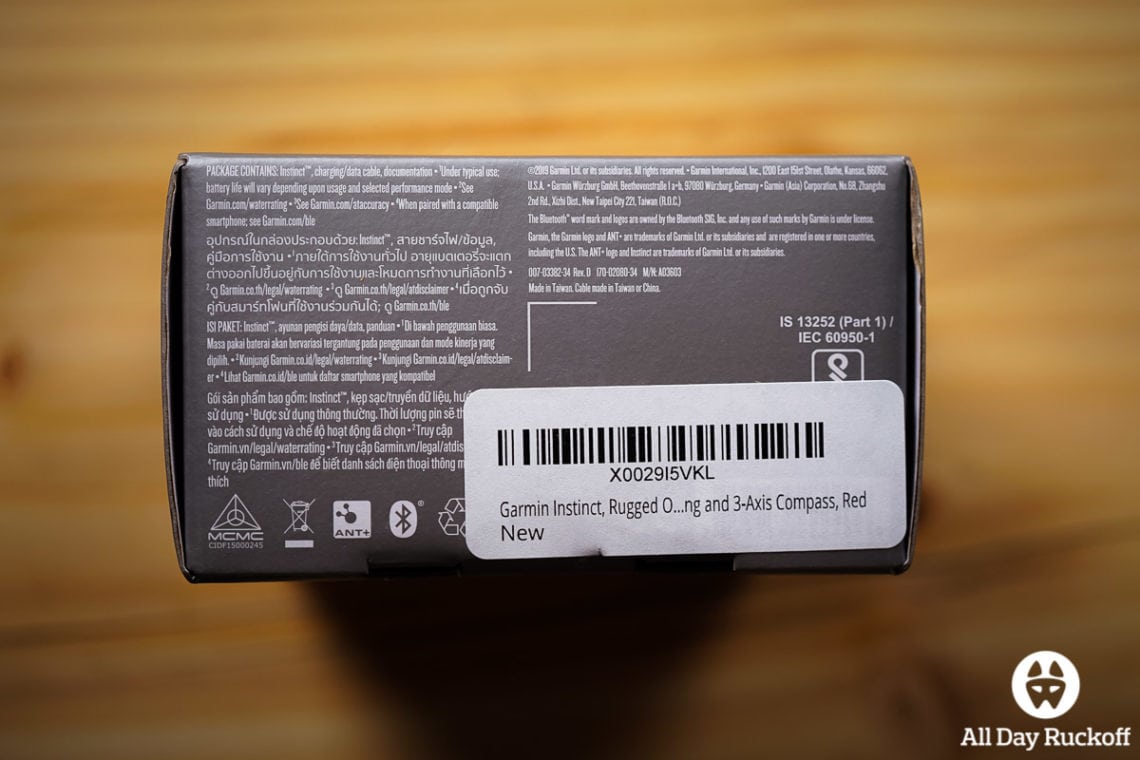 At a $299.99 retail price I'd imagine most would research first… I know I would.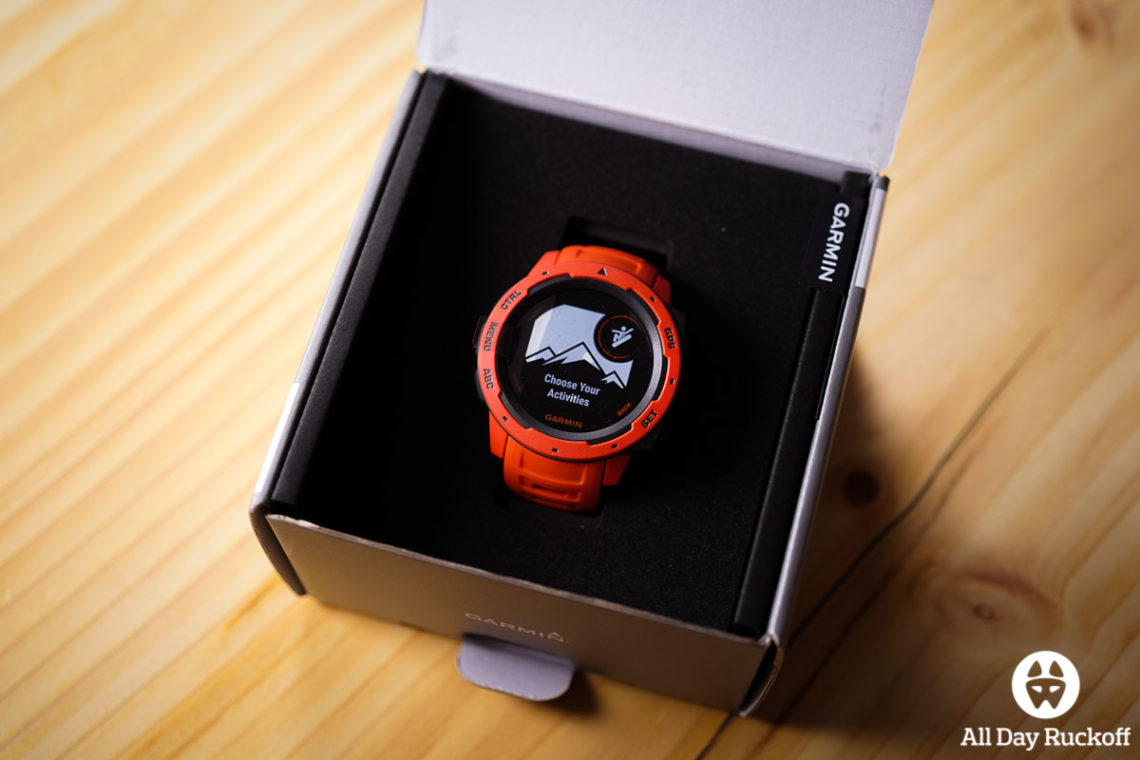 Getting the box open you finally have eyes on the actual watch. Here is the Garmin Instinct in Flame Red. If you are a fan of the G Shock watch style then this will be right up your alley.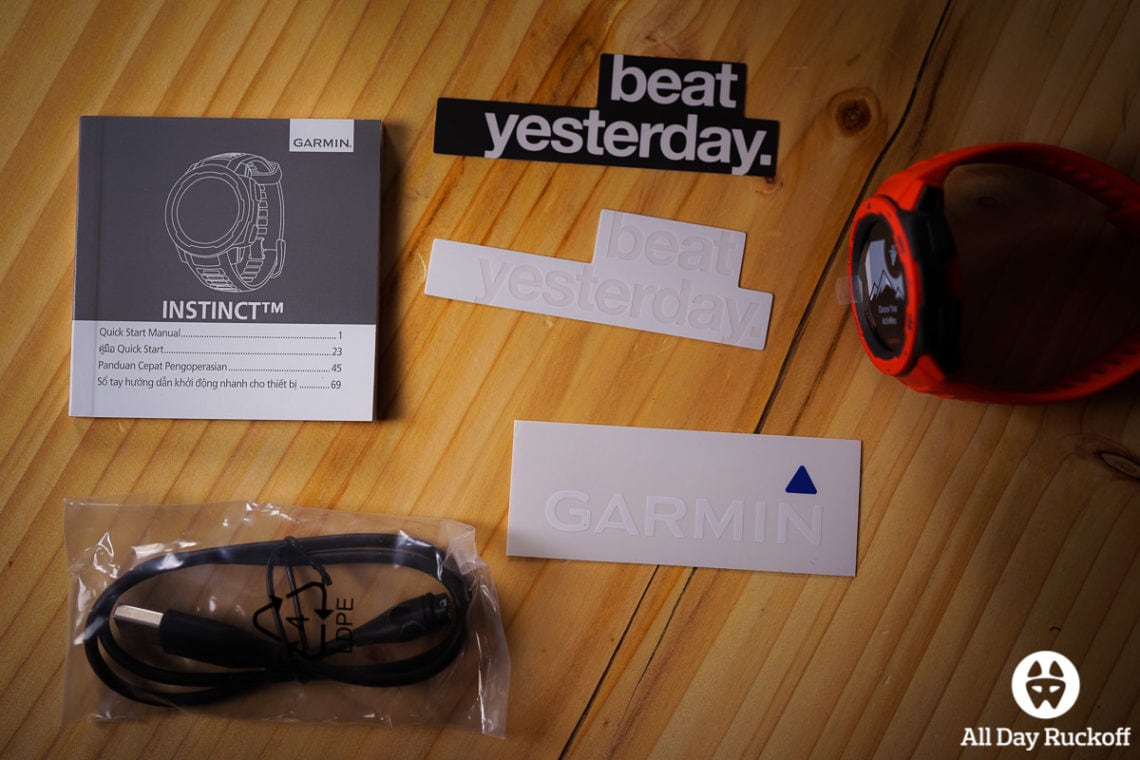 In the box you'll get a watch, a charging cable, stickers, and some booklets.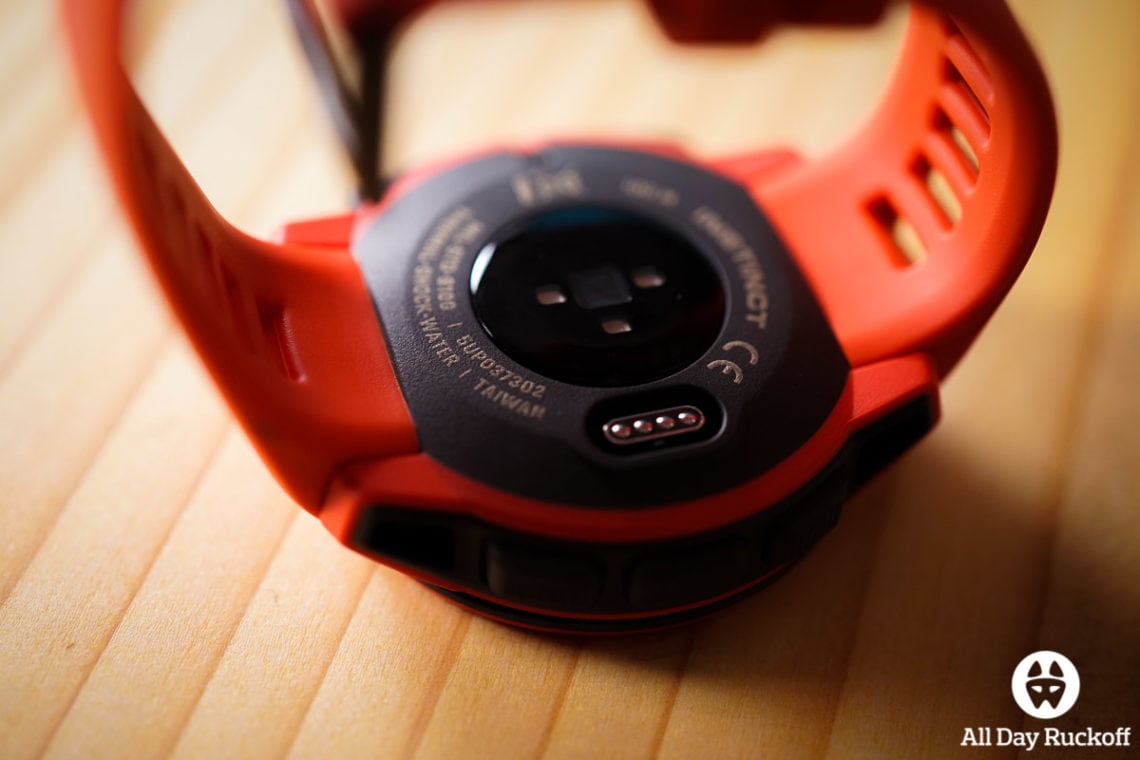 The charging port on the watch is the same as the Fenix 5 (and newer) line.

There's two buttons on the right side…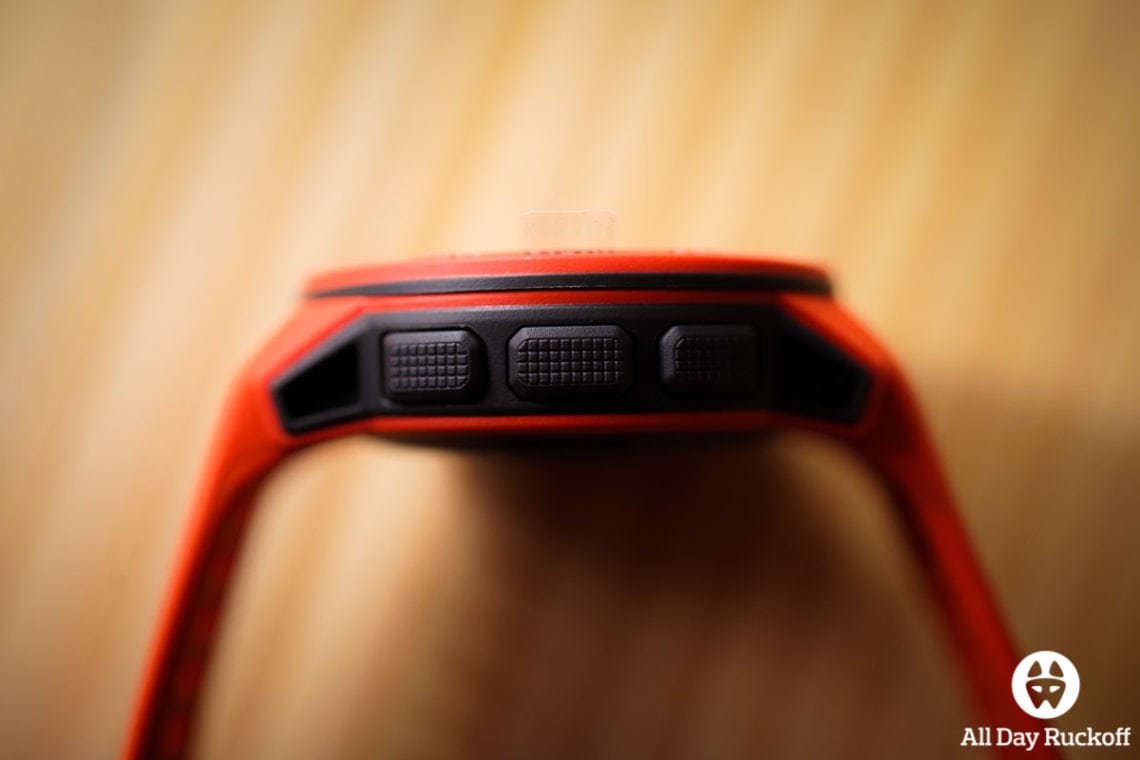 … and three on the left side. Exact same layout as the Fenix watches.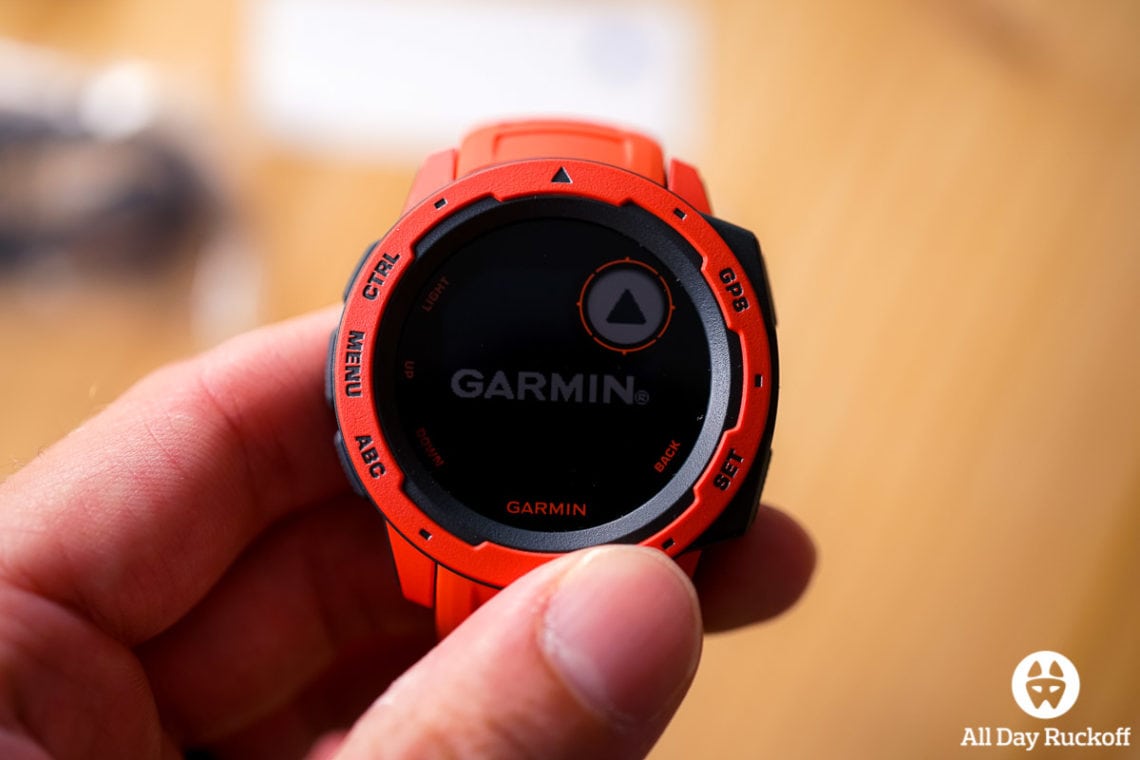 Turning it on you're given the Garmin loading screen.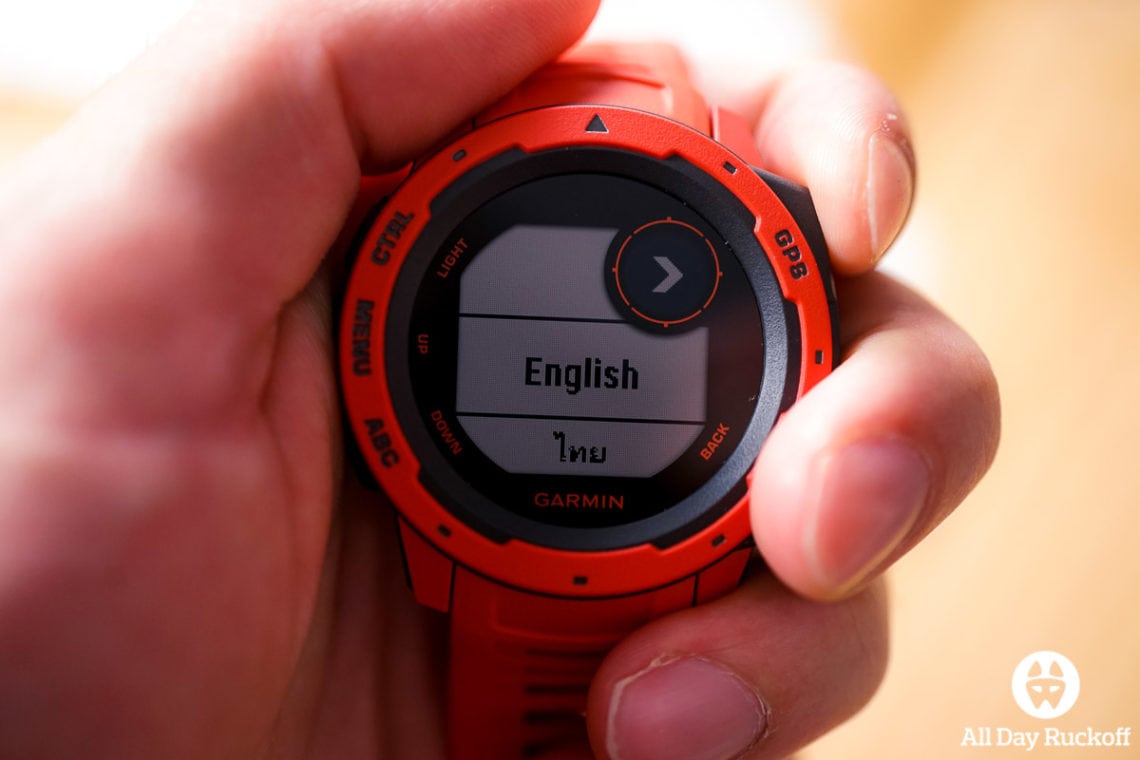 Choose a language…

… then start the pairing process!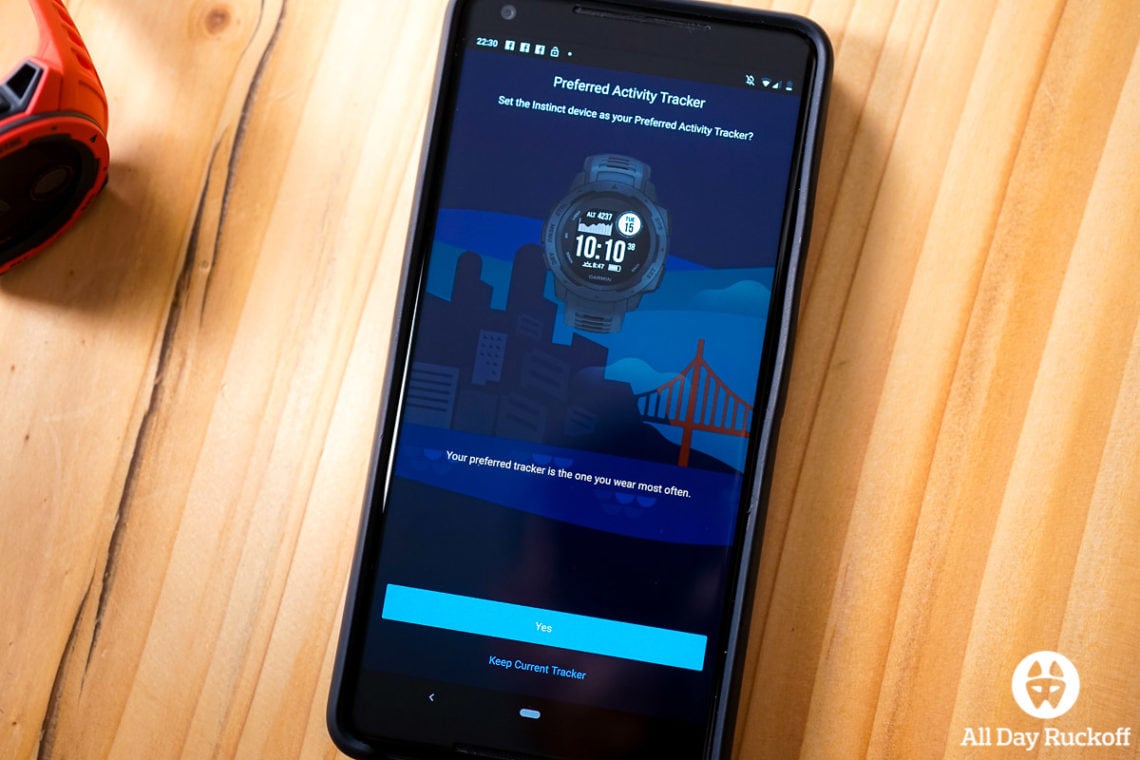 The phone will pick it up the watch pretty quick. From here you can change a few goal settings and you'll be ready to start really using the watch. A phone with the app isn't required for most features but you do need it for smart notifications and some weather displays.
General Watch + Widget Features
If you don't know much about the Garmin Instinct then this is the section for you. These modern GPS watches have so many features that it's hard to figure out if you're actually missing anything. The good news is that this watch has a ton of features and I recommend reading the specs if you want to see them all.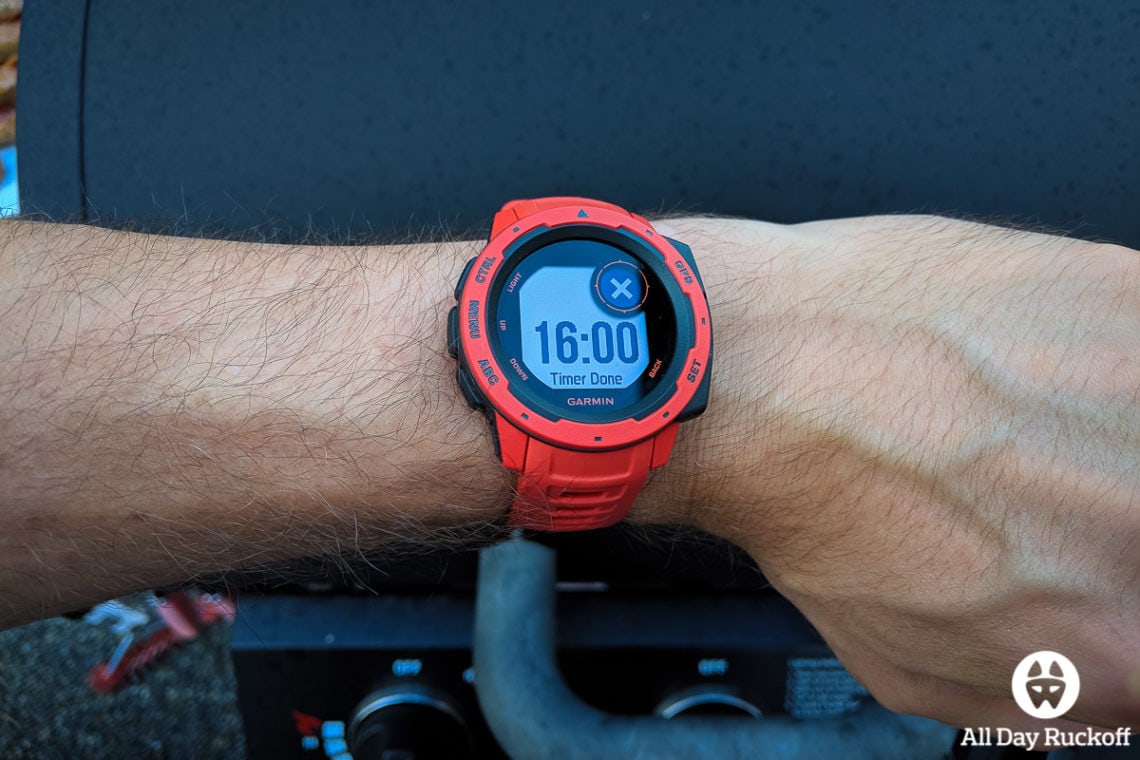 The watch has everything you'd expect to find on a digital watch including a timer, stopwatch, and alarms. I found myself using the timer for cooking on the grill, the stopwatch for watering the lawn, and the alarm to waking myself up in the morning. I actually stopped using my phone alarm (just vibrate on the Garmin) and it woke me up but allowed my wife to keep sleeping.
There's a ton of built in activities to choose between plus the ability to create your own. I've created a "Ruck" activity and "Core Workout" to supplement the huge list that the watch came with.
In addition to a ton of activity types there's also a huge assortment of watch faces to choose from. As long as you find one that looks okay to you then you can modify the data fields to suit your needs.
Pretty much every piece of data you can see on your home screen can be changed. In the above example I changed the bottom right wording to how many active minutes I had and changed the top right circle from seconds to day of the month.
If data is something you love then you'll probably be a fan of the widgets that you can add to your watch. Just use the top left or bottom left buttons to cycle through them. There's options like seeing your stress level, your last few hours (or more) of heart rate, and your last exercise.
If your watch is hooked up to your phone then you'll have access to some additional information such as notifications and meetings from your calendar. I don't spend too much time on the widgets but they're definitely nice to have especially if you want to check something but don't want to grab your phone… like when you're rucking.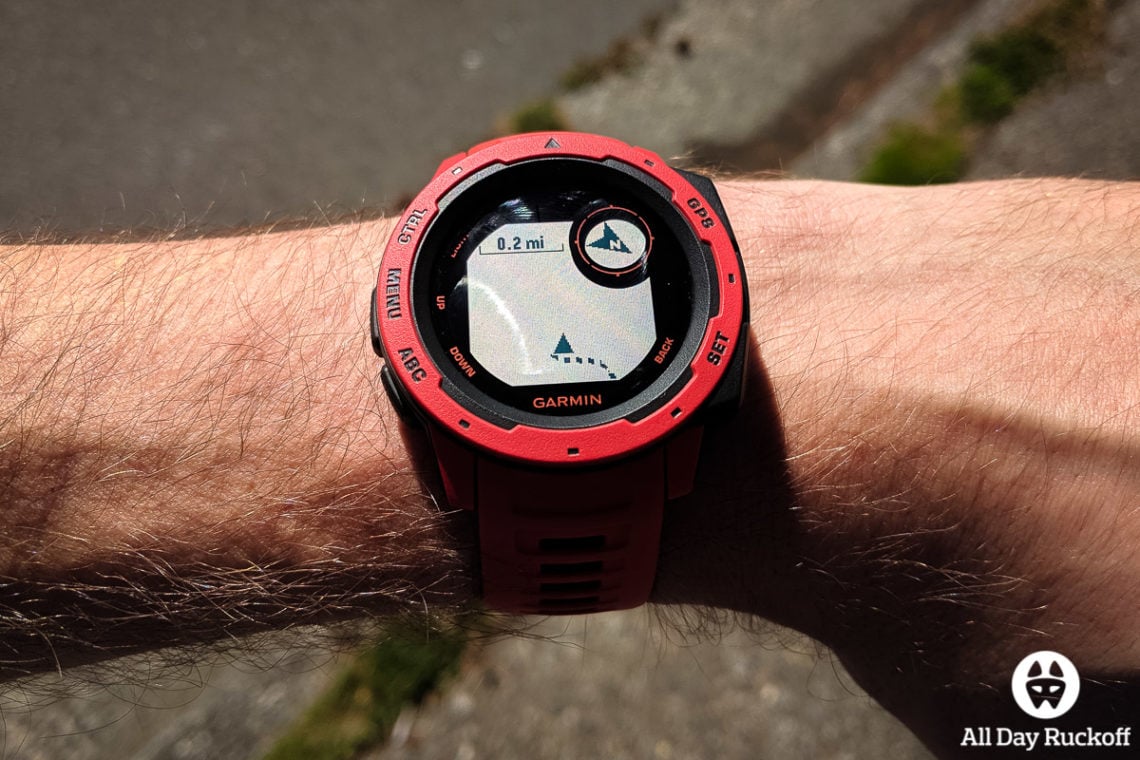 There's breadcrumb navigation and course functionality. Obviously it doesn't look as great as the Fenix series but it works fine and does the job.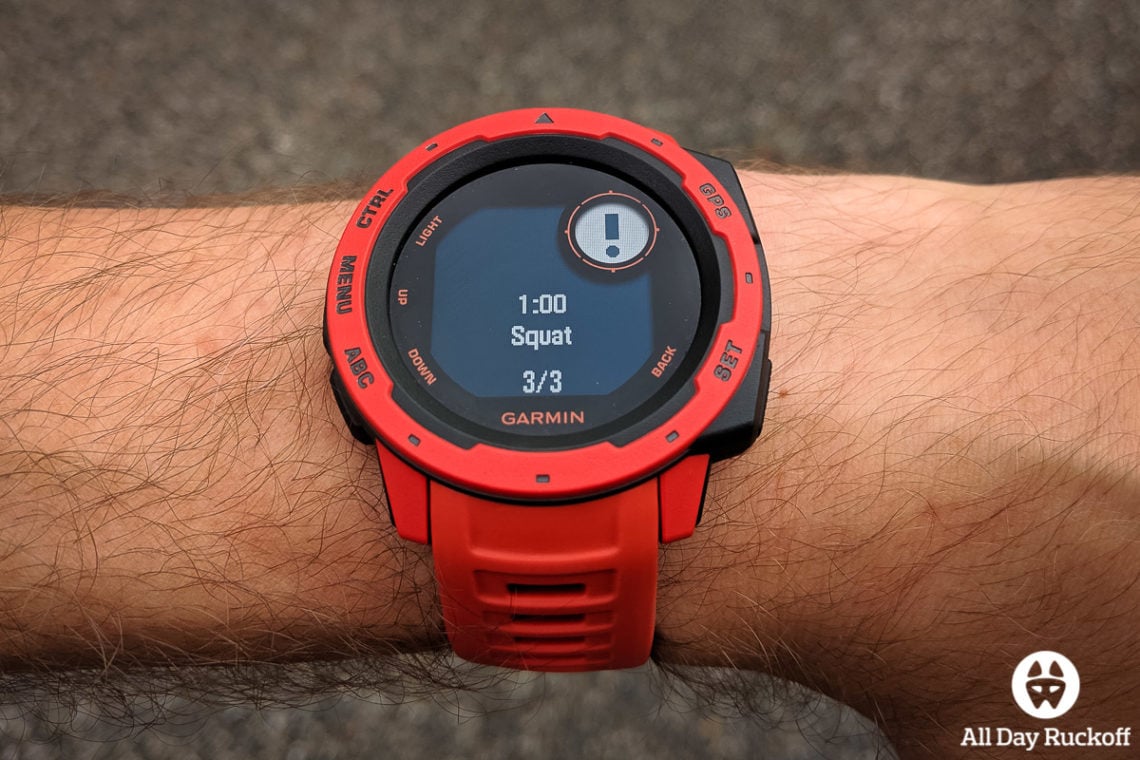 In addition there's training plan functionality so that you can create your own training plans, load them up on the watch, and follow them.

Shout out to Chris if you're reading this! That's a message he sent to me that I was able to read on the watch. That's about it for the high level features. We'll get deeper into activities, GPS, training, and navigation in the following sections.
Activities (Rucking, Sandbag Workouts, Running, etc.)
When it comes to training for GORUCK events I mainly ruck, run, and do ruck + sandbag workouts. We'll start off with the rucking activity then transition into running and finish with the ruck + sandbag workouts.
Rucking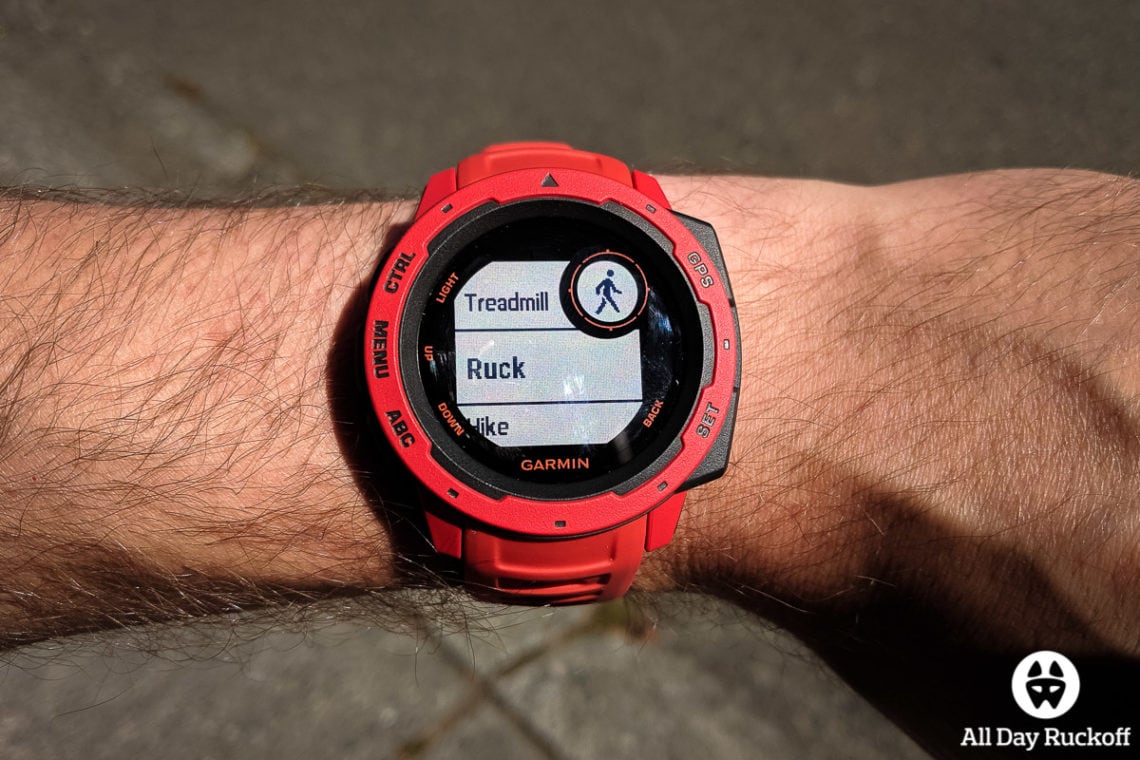 I created the "Ruck" activity by copying "Walk" and making some adjustments to it. When the activity saves it's categorized under walking and is named something like Seattle Ruck. I don't track walks that aren't rucks so I know when I search through my data if it says walk then it's a ruck.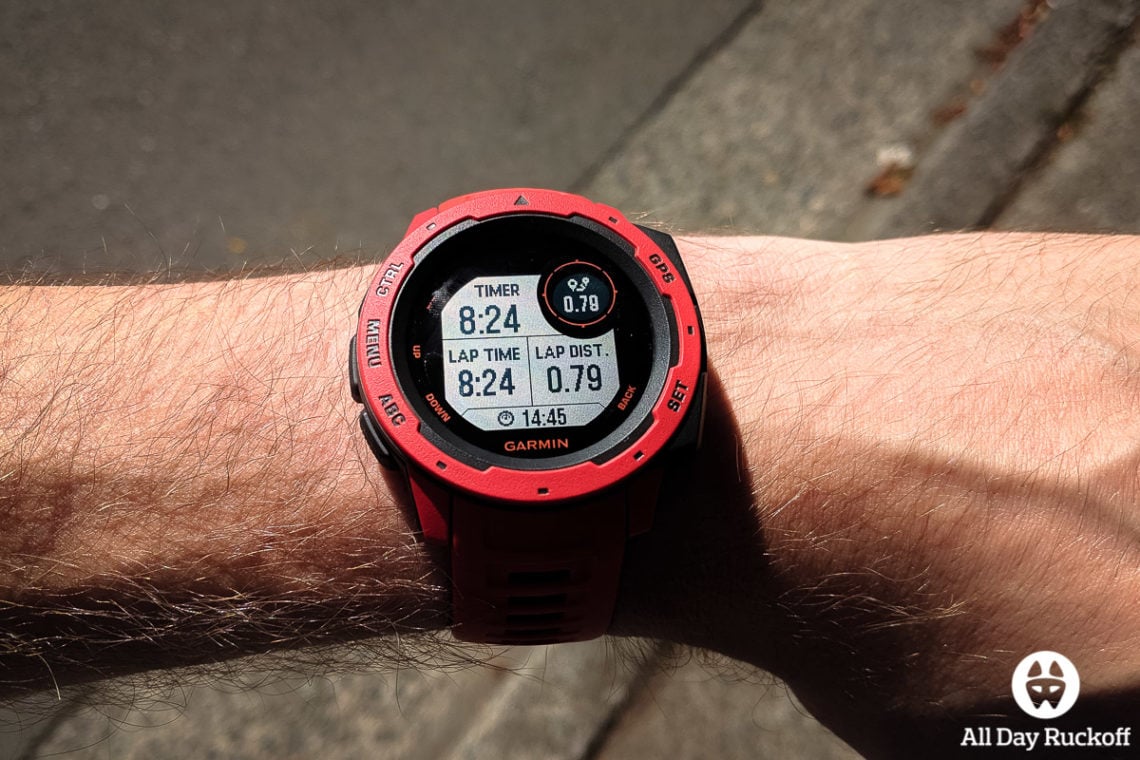 You can set up your fields anyway you would like. The fields that are important to me are distance (top right), overall time (top left), lap time (middle left), lap distance (middle right), and pace (bottom). I'll usually set up the next screen with information from the last lap so I can check that out on my ruck if I want. If you're using auto lap (which I do 90% of the time) it can be helpful to know how fast your last mile was and what pace you are averaging.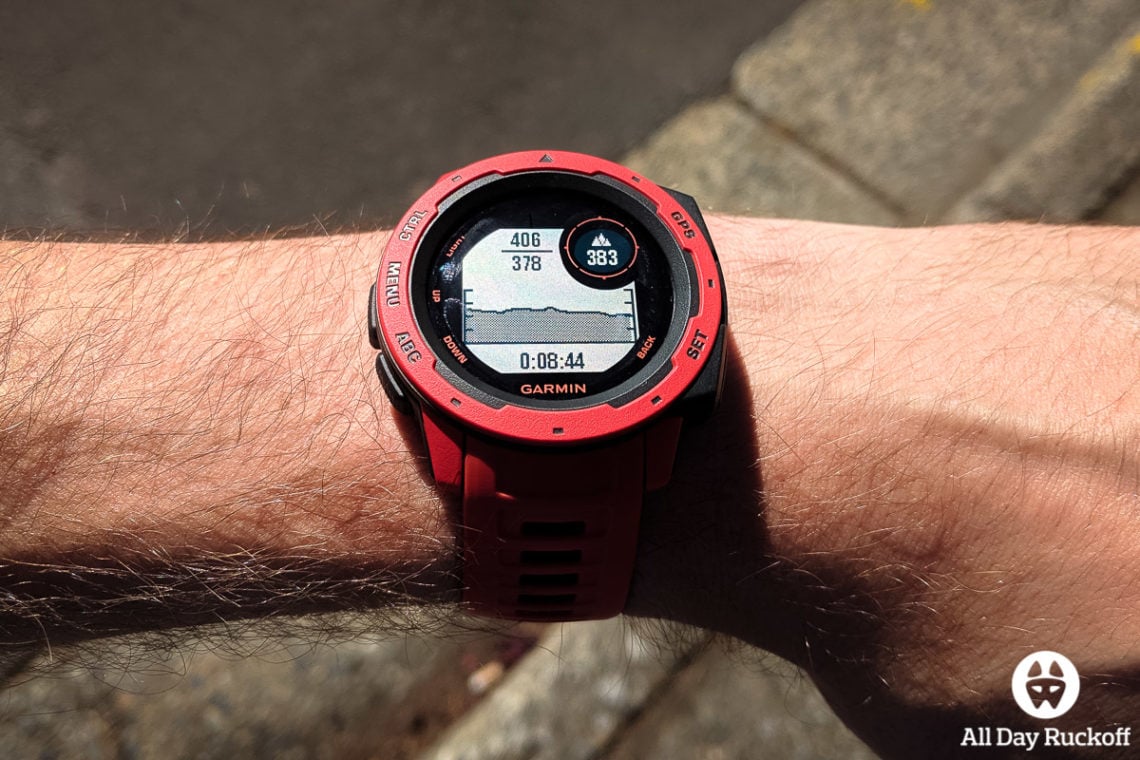 The Garmin Instinct has everything needed to track elevation so you can see what you've been doing. I don't use this screen much but it can be fun to look at.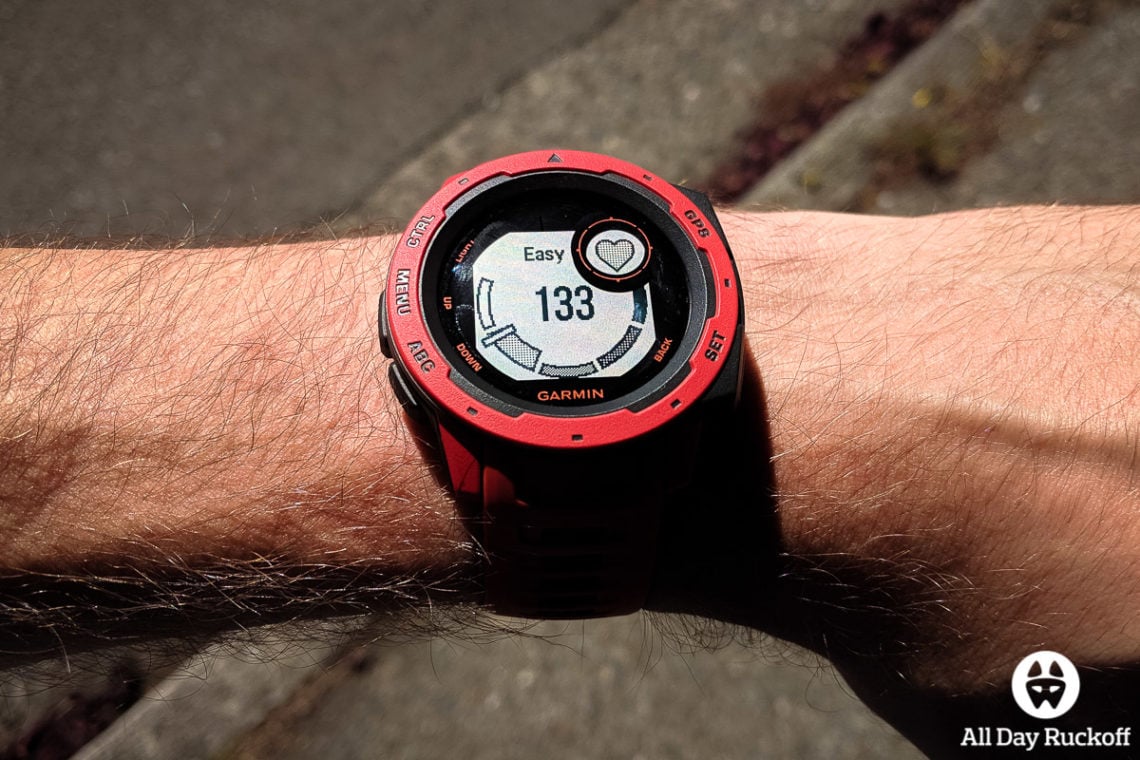 Current heart rate is a good one to watch… some days I'm just not feeling it and I'll notice my heart rate is higher than normal for a ruck. If I'm feeling "off" for some reason I'll usually hit up the heart rate screen to see what's going on. The Garmin Instinct does have a heart rate tracker in it (built into the watch) so you don't need a chest strap for this information.

The map is an interesting feature. It's based on breadcrumbs so you can see where you've been and, if you're rucking a course, where you should be going. You can see the breadcrumbs on both sides of my "user" on the watch as I was rucking a loop and was tracing my path back.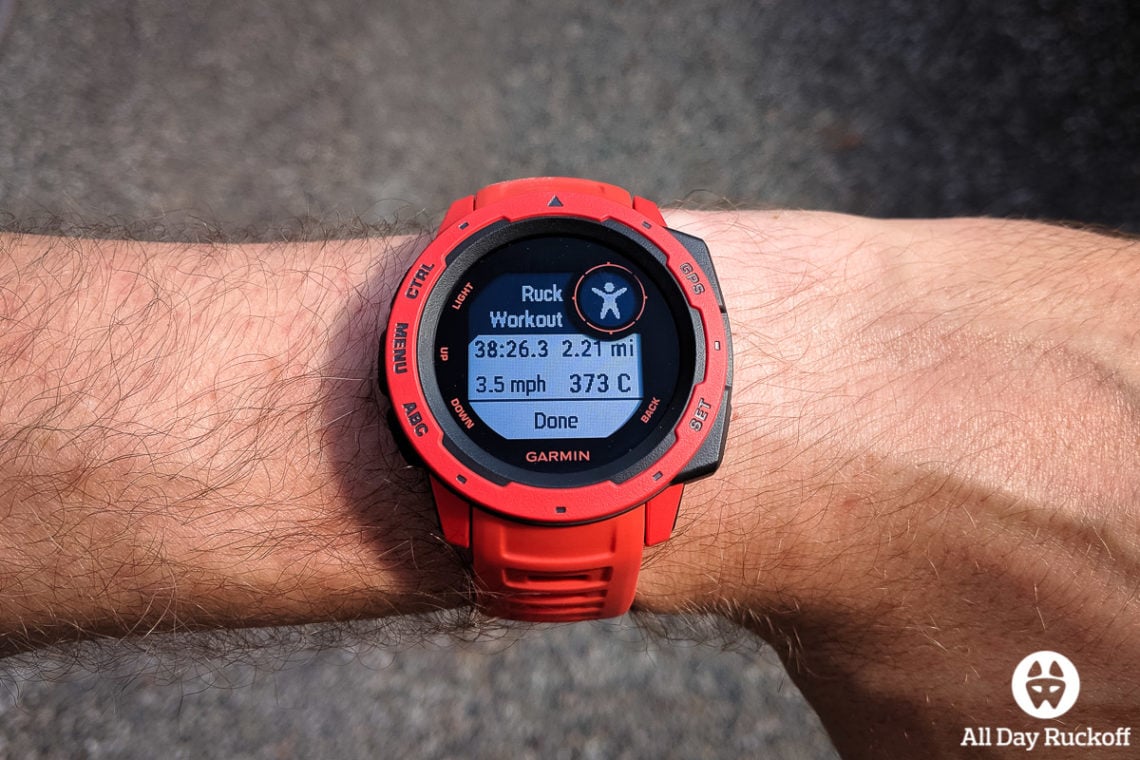 When you finish up the ruck you'll receive the summary stats and then it's time for the information to go off to Garmin Connect. If you have Garmin Connect on your phone it will happen automatically otherwise you'll need to plug the watch into the computer.


Once it is uploaded to Garmin Connect you can start diving into the data. The top of the page has the big stats from your ruck. For reference this is a different ruck from the one I completed in the previous pictures.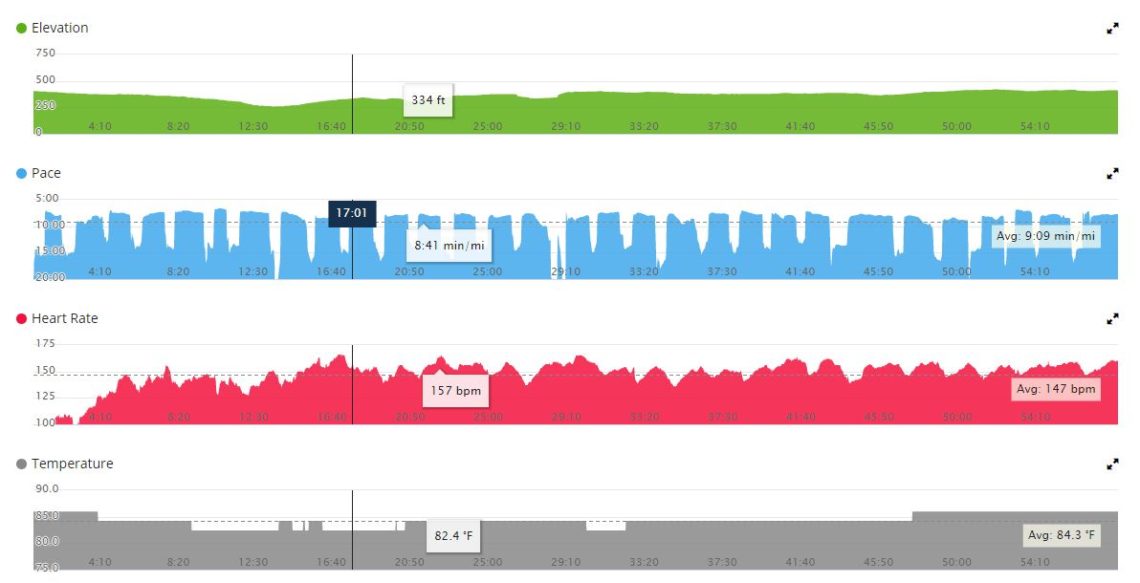 If you scroll down you can check out the graphs. I mainly pay attention to pace and heart rate. For this ruck I shuffled 0.15 miles then walked 0.05 miles on repeats for just over 6 miles. You can see in the pace graph where the shuffling happened and where the walking happened. The temperature area is near-worthless if the watch is on your wrist as your body heat will impact the numbers shown. Elevation is great to look at as it relates to pace and heart rate… this was a flat course however the heart rate and pace change drastically as elevation does.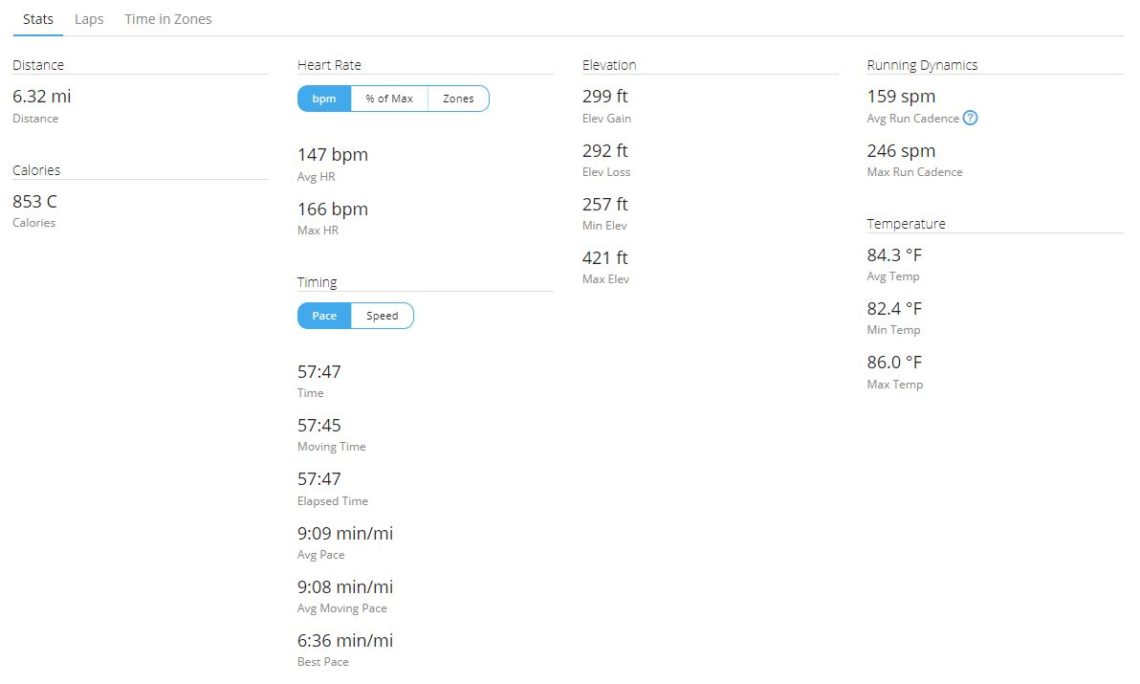 Scrolling further down gives some additional details from the activity. I don't spend much time here but I do like checking out the laps.


You can get some really good information on your rucks by checking out the laps. I pay most attention to moving time and distance (if auto lap is off) as well as elevation. How does elevation gain impact my speeds? This section can answer a lot of questions.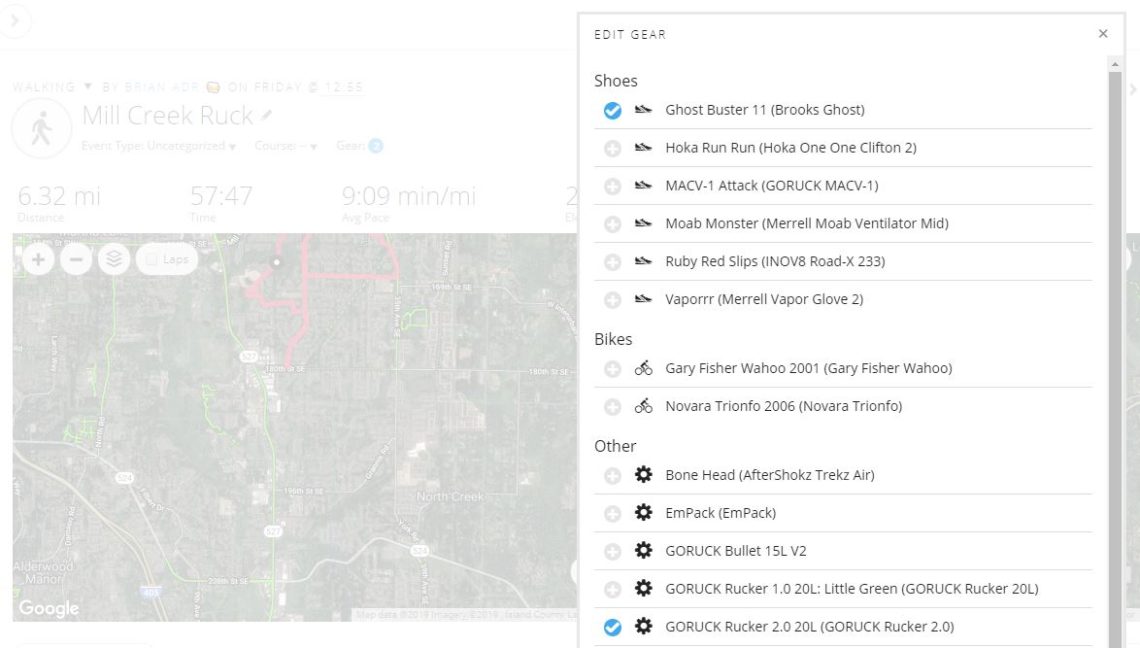 The final section I always make sure to use is gear. You can assign pieces of gear to a ruck or any activity. This allows you to track how many miles and how many workouts you've subjected a piece of gear to. It's how I know how many miles are on my shoes and how many times I've used certain sandbags.
Running
Garmin knows what they're doing when it comes to running with their fitness watches. They have dozens of them dedicated to it and the Instinct draws from all of the experience they have over there.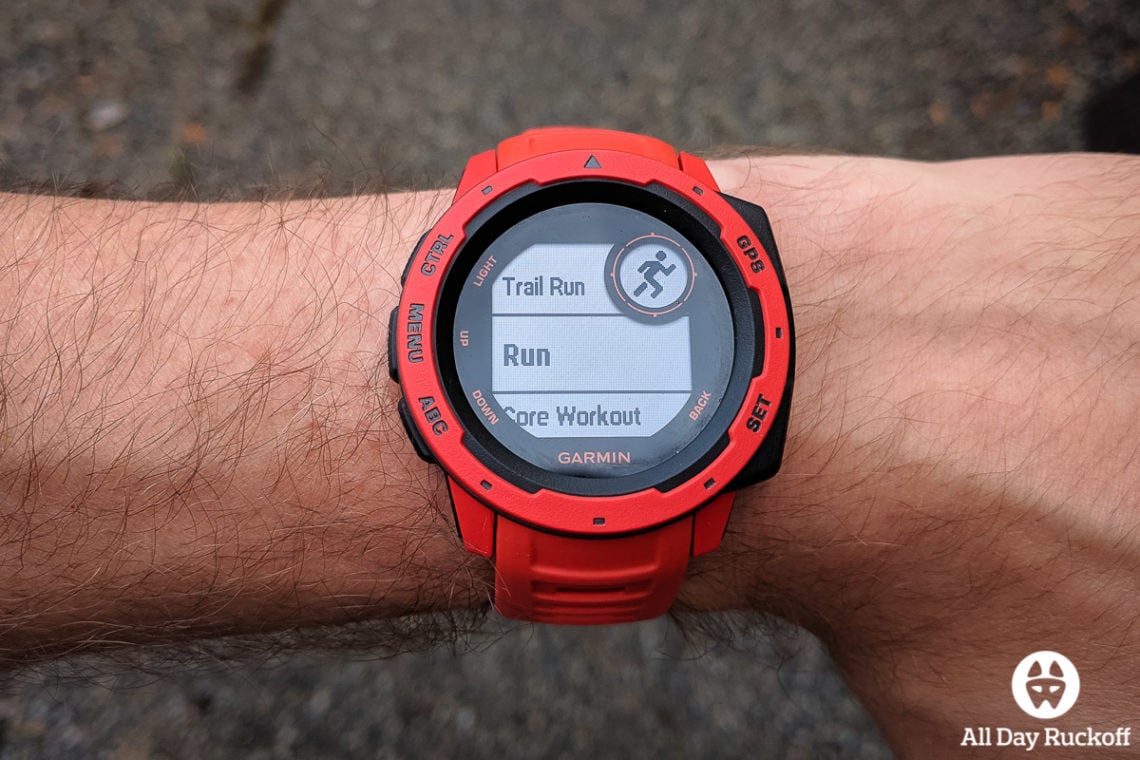 Press the top right button to get to the activity screen then scroll through until you find the Run option. I wasn't going to include these steps since it's not rucking but this one's for you Geo :)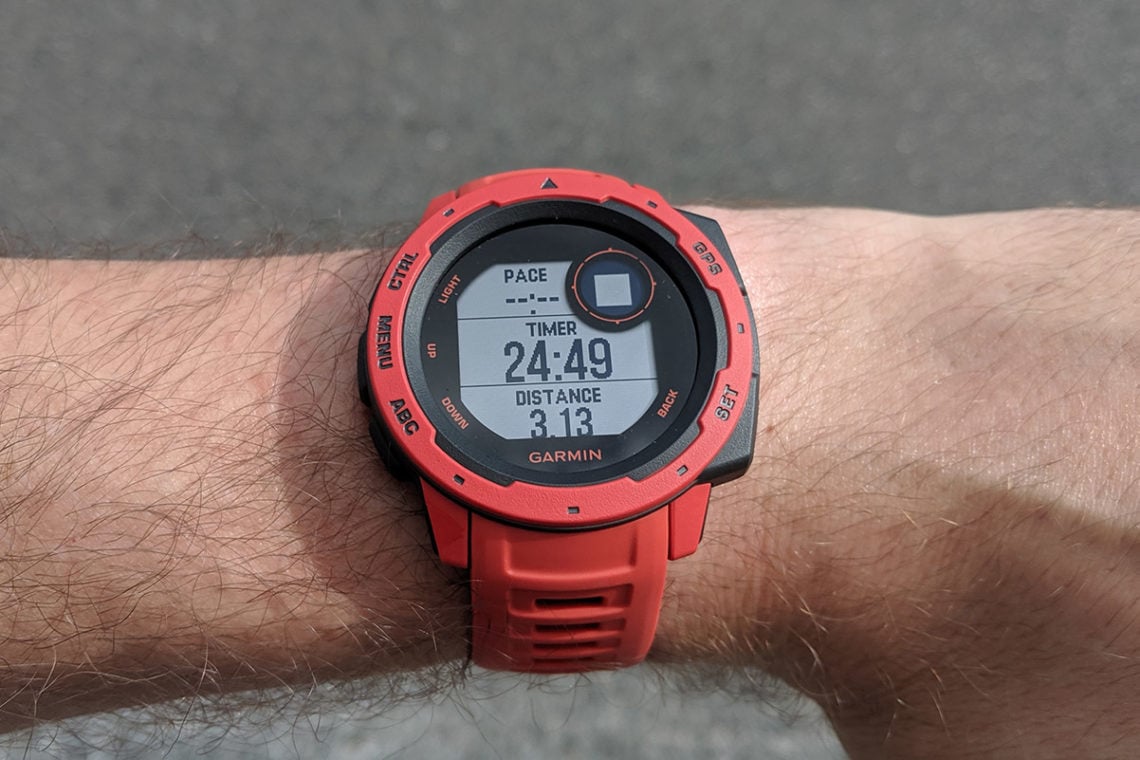 Once you've selected Run then hit the top right button again to start the watch and then start running. The Instinct can show you pretty much any running stat you would need through the faces you can set up.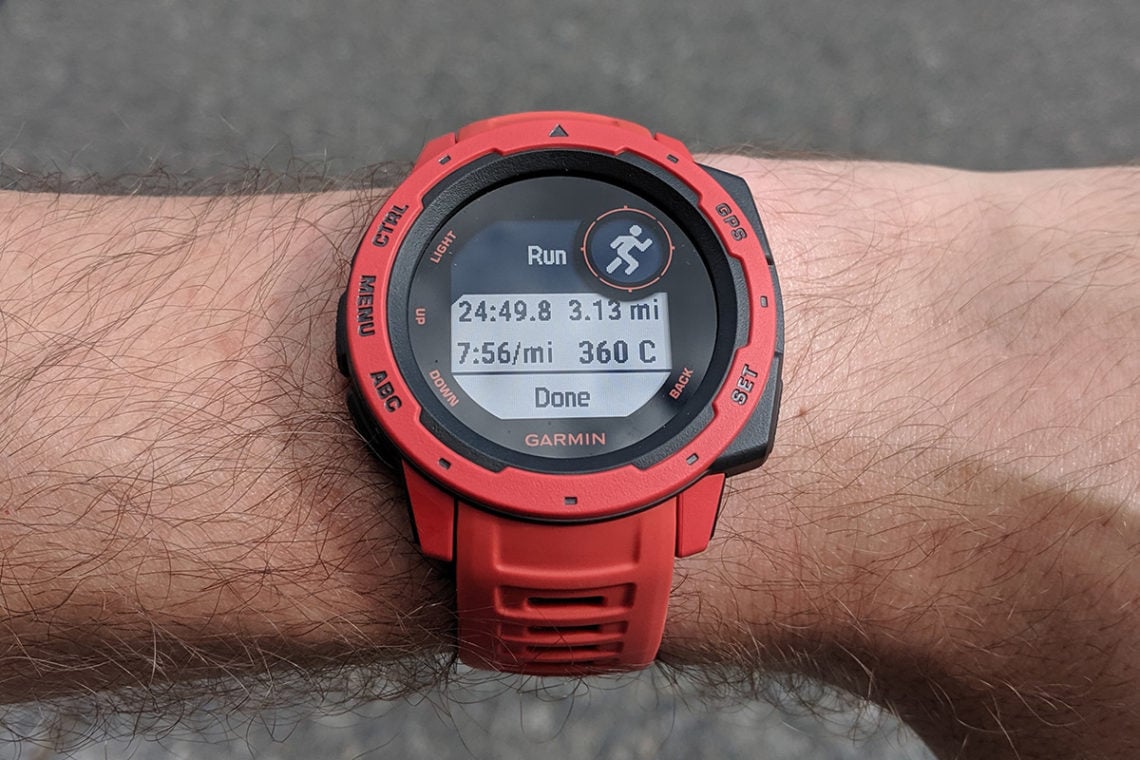 Hit the top right button to pause the watch and you can end the run from there. You're given your initial stats and if you want more right away then you can dig in to them.
Above are all of the stats you can see. I don't usually check them out on the watch since they're available on the Garmin Connect app and website. For those who need to know the info right away (if they exist) then this would be helpful.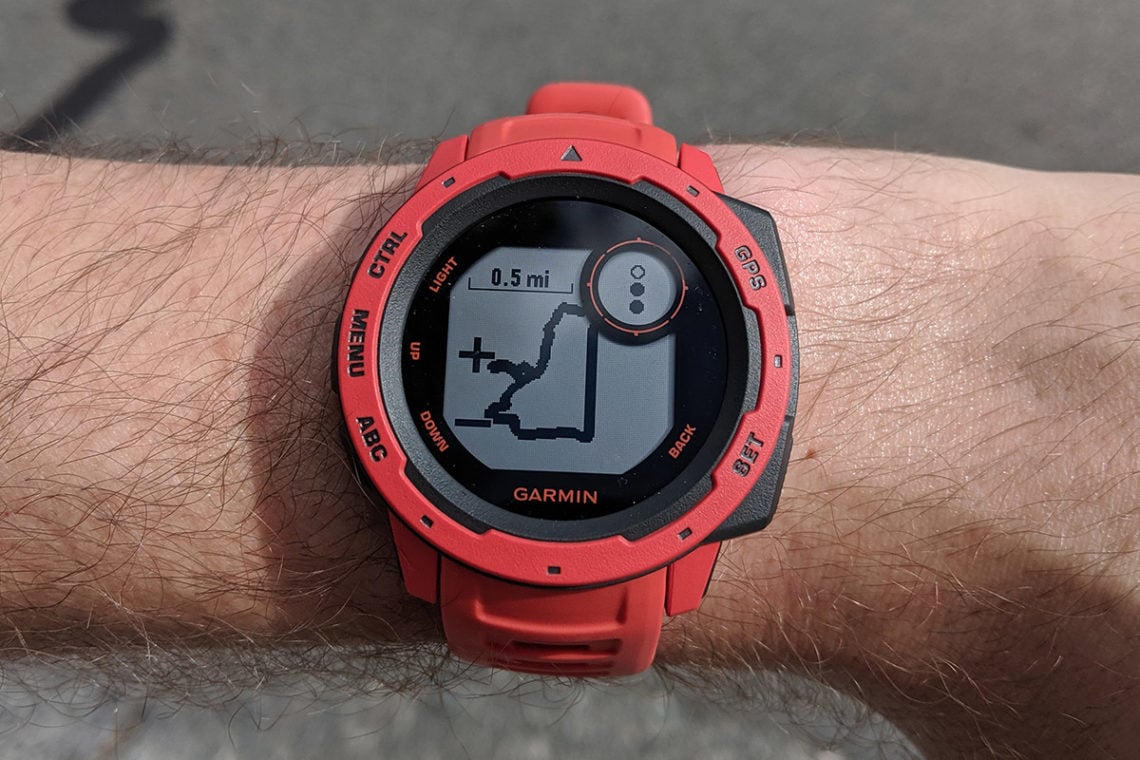 You can view your route in a map form during and after the activity. The watch doesn't have the same display as the Fenix line of watches so the map is limited. Since, presumably, you just completed this run then you should have a general idea of where all those lines went. The good news is that you can view the same map (with color and real pictures) on the Garmin Website.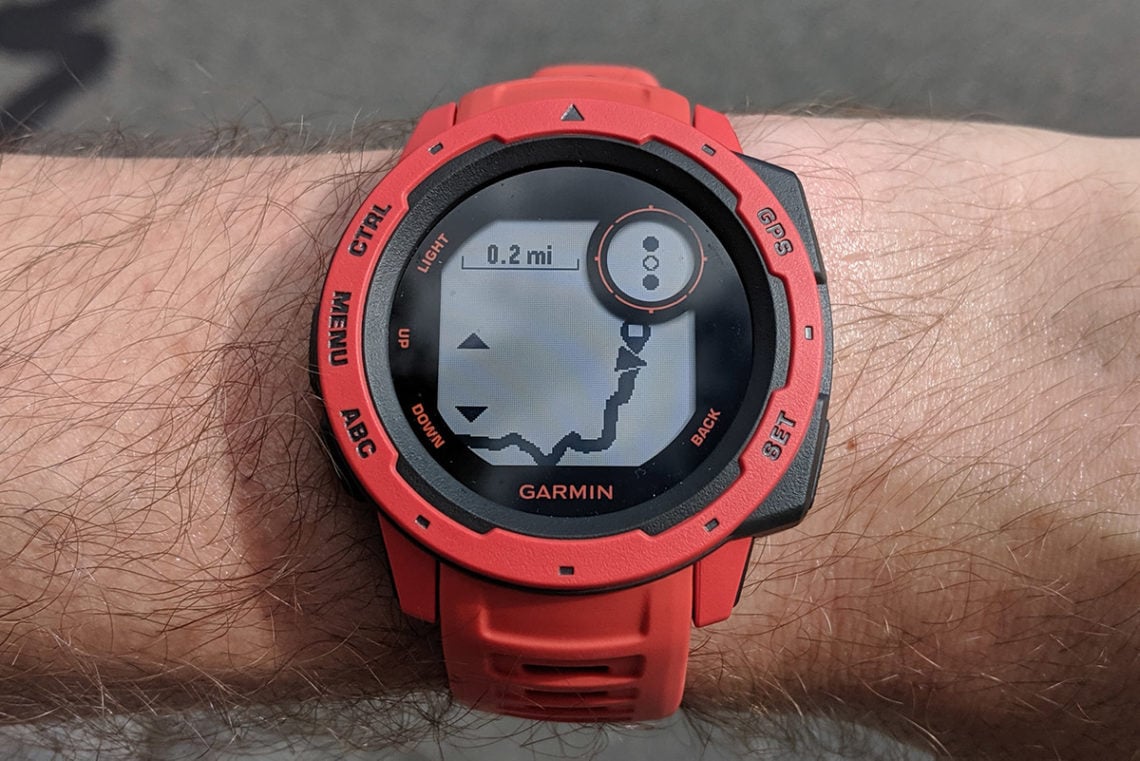 If there's a specific area you want to check out then you can zoom in and move throughout the map.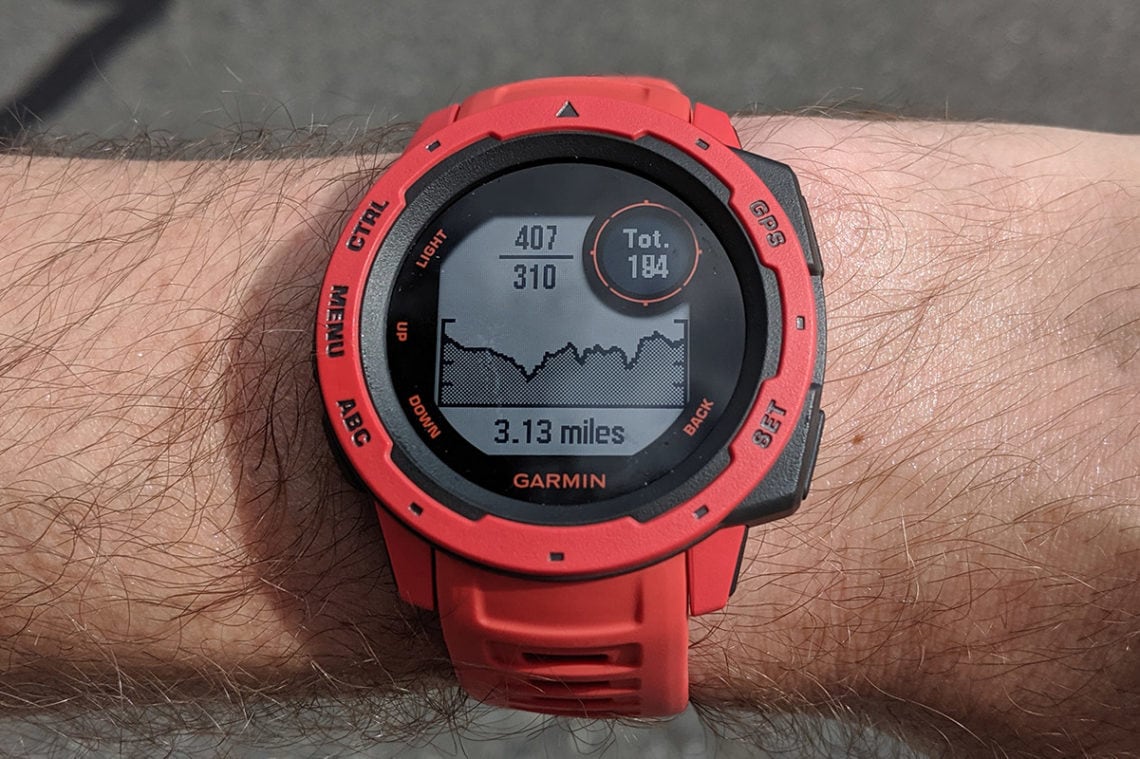 The elevation chart is probably one of my favorite things to look at when an activity is over. I don't do any analysis but I look at the hills and smile haha.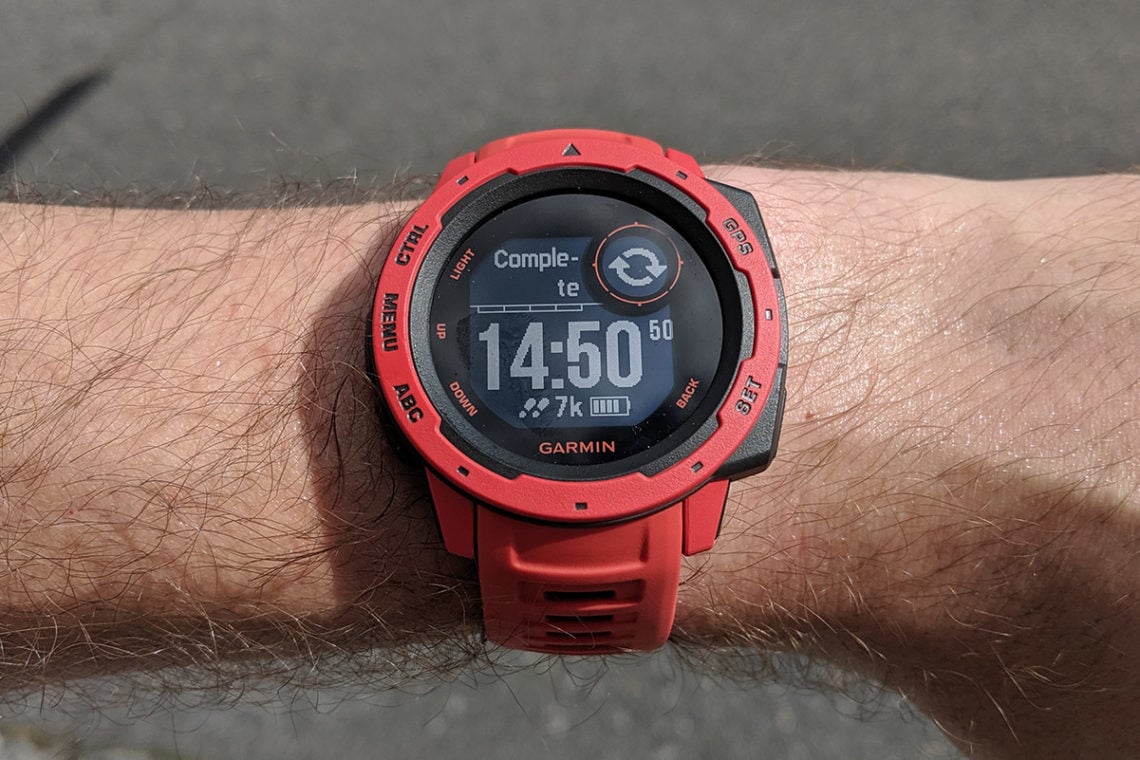 Before you know it the run has synced (generally before I even make it inside) and is available to view and add gear to. It's crazy how quick it all works… by the time I've walked through the door the run has made its way to Garmin Connect, Strava, Training Peaks, and Stryd.
Navigation
The Garmin Instinct has some very handy navigation features. You can…
Create a course on your computer then send it to your watch.
Follow a course based on a previously completed activity.
Use your current activity as a bread crumb trail to find your way back to the start.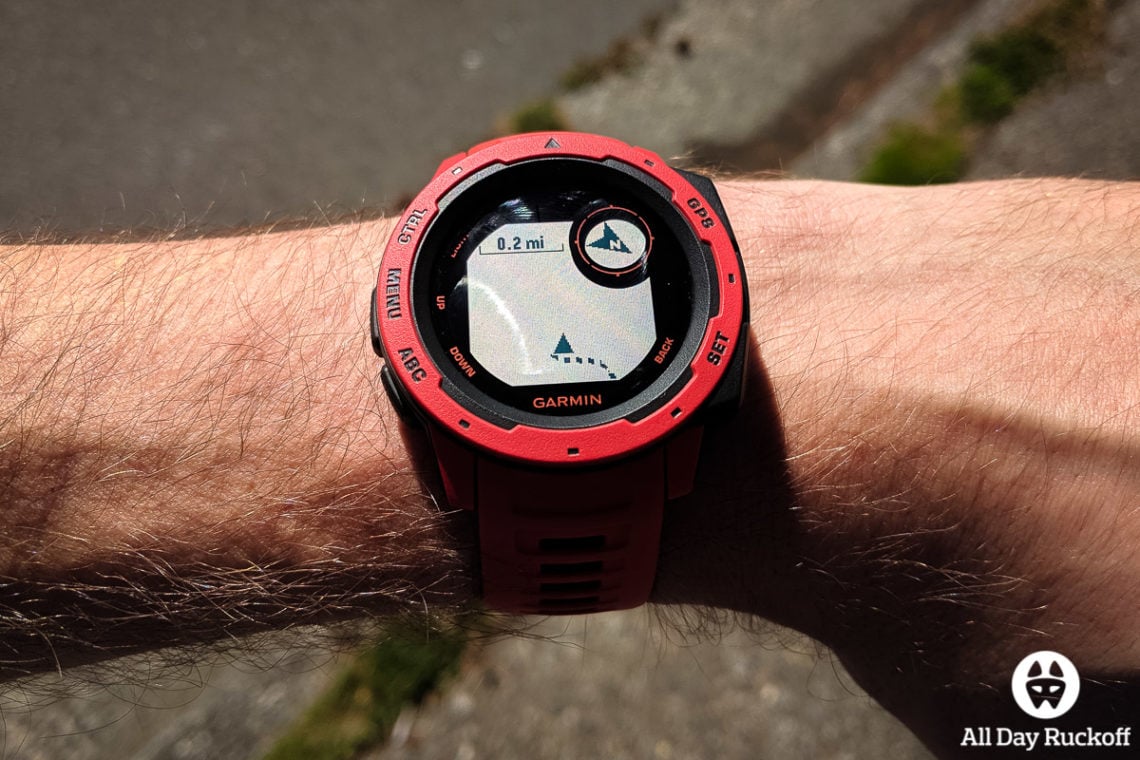 When it comes to navigation I've found that all three scenarios work pretty much the same. The breadcrumb back to the start scenario is the easiest to explain. You can either follow your breadcrumbs in the map (like above) or use the "Back to Start" navigation option.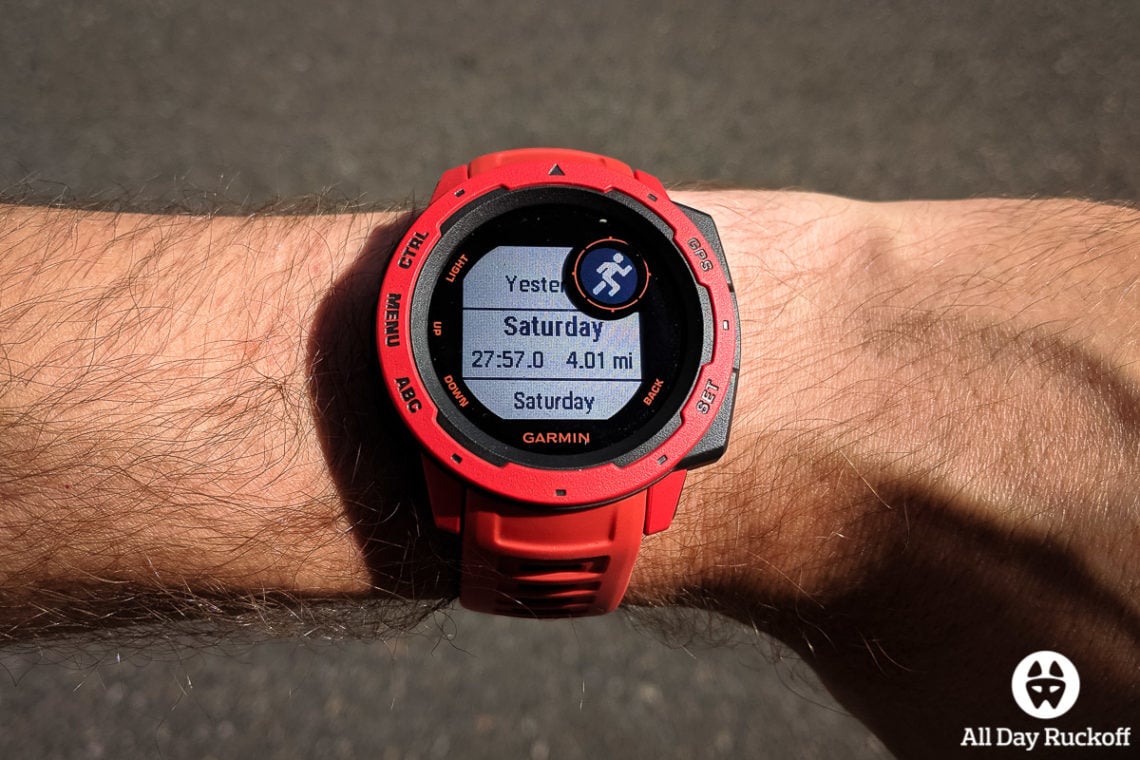 The example we're going to get into detail on is me following a previous exercise I had completed. It's the same situation as if you had created the course on the computer and sent it to the watch. Find the activity or course that you want to follow.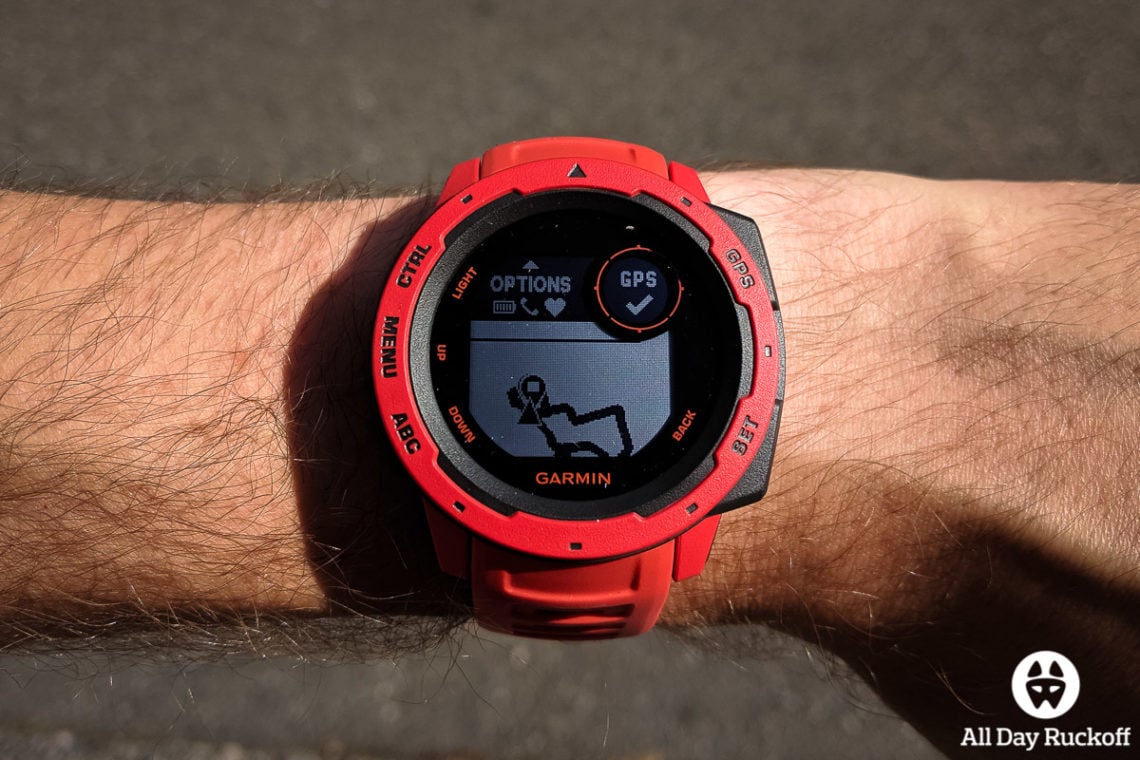 Check out the map to see what you'll be doing…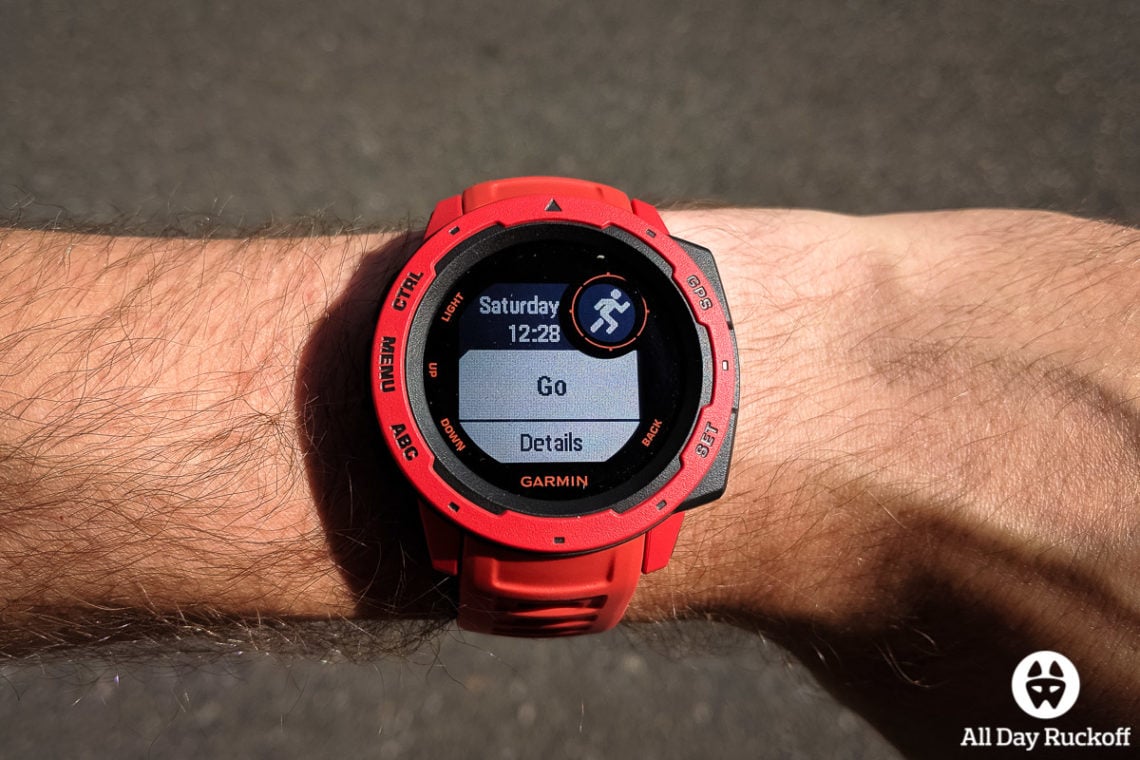 … then go! This was supposed to follow a 4 mile run I had completed a few days prior. I chose it specifically because there are some tricky sections especially when it comes to navigation.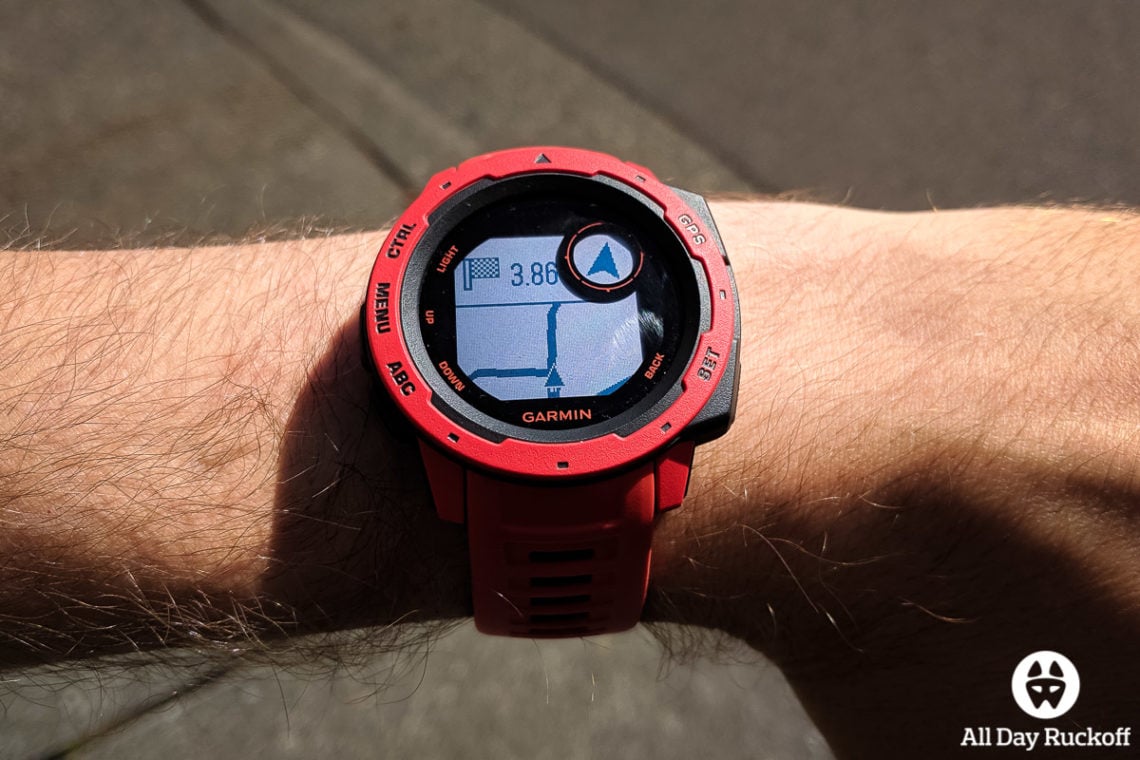 Not even a quarter of a mile in and I'm met with this… do I turn left or go straight? Thanks to the compass in the second screen I decide to head straight. This was the first bit of navigational fun.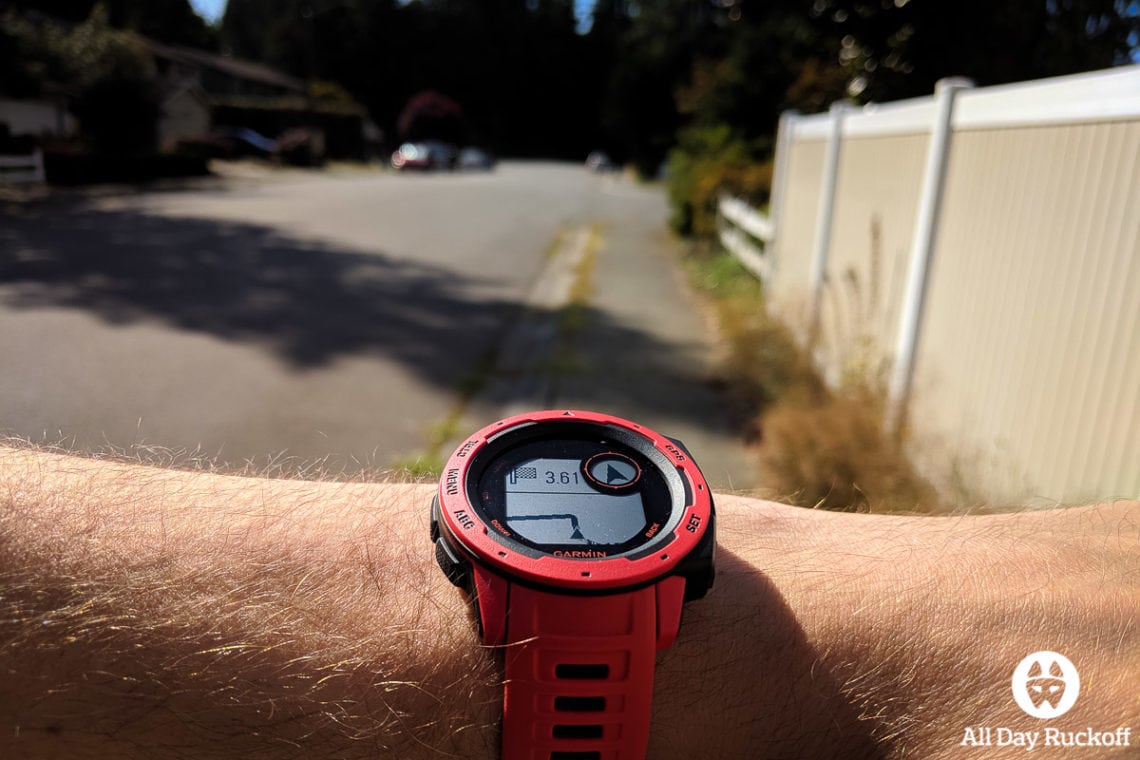 We've got a left turn coming up! There's no street overlay or anything on the navigation so you'll be checking the watch to see where you're supposed to turn.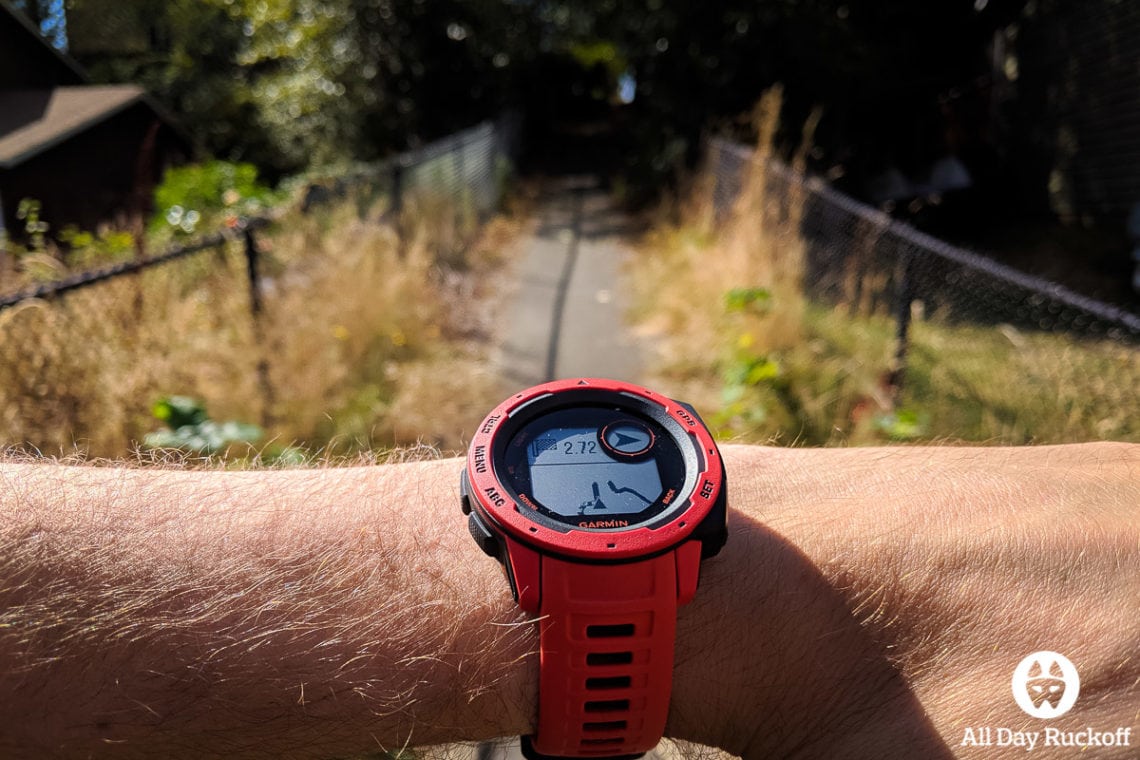 Looks like we're heading up this trail and then using teleportation? I had the distance remaining screen covering the top half so it was obscuring part of the path. As I got closer to the top of the trail more of the route came into view.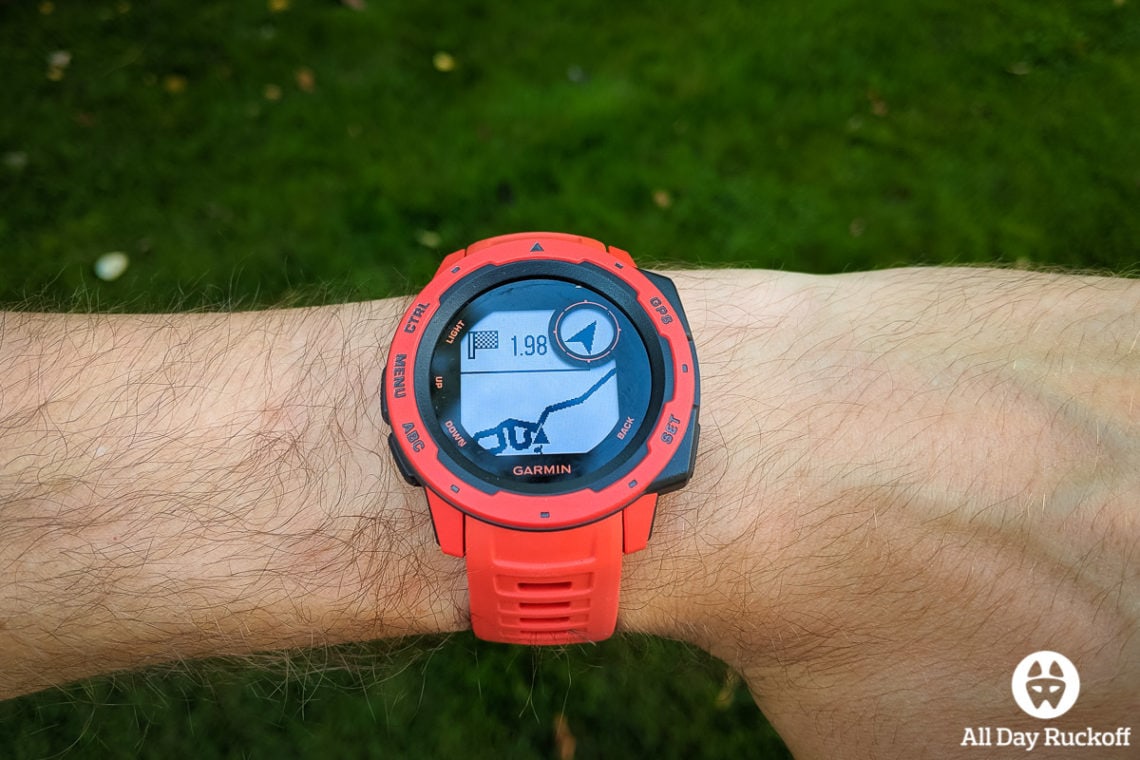 This is the second bit of navigational fun… we need to run two little neighborhoods.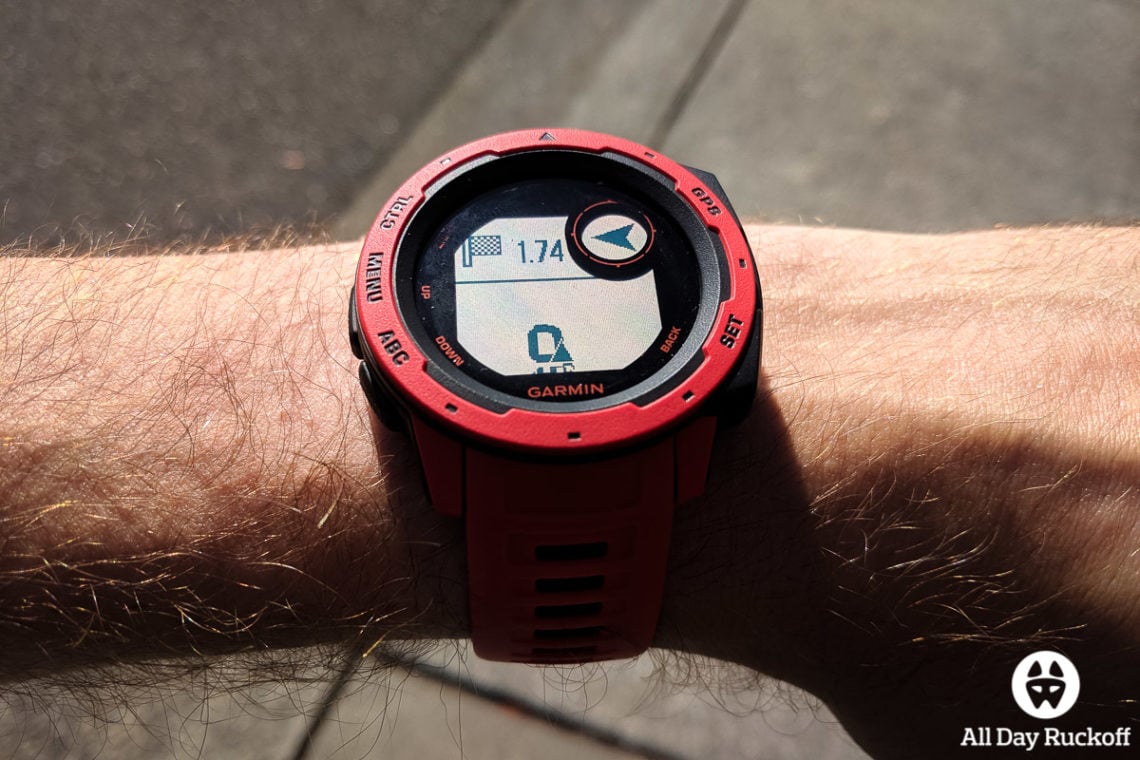 Completed the first one then couldn't remember which direction to take the second little loop.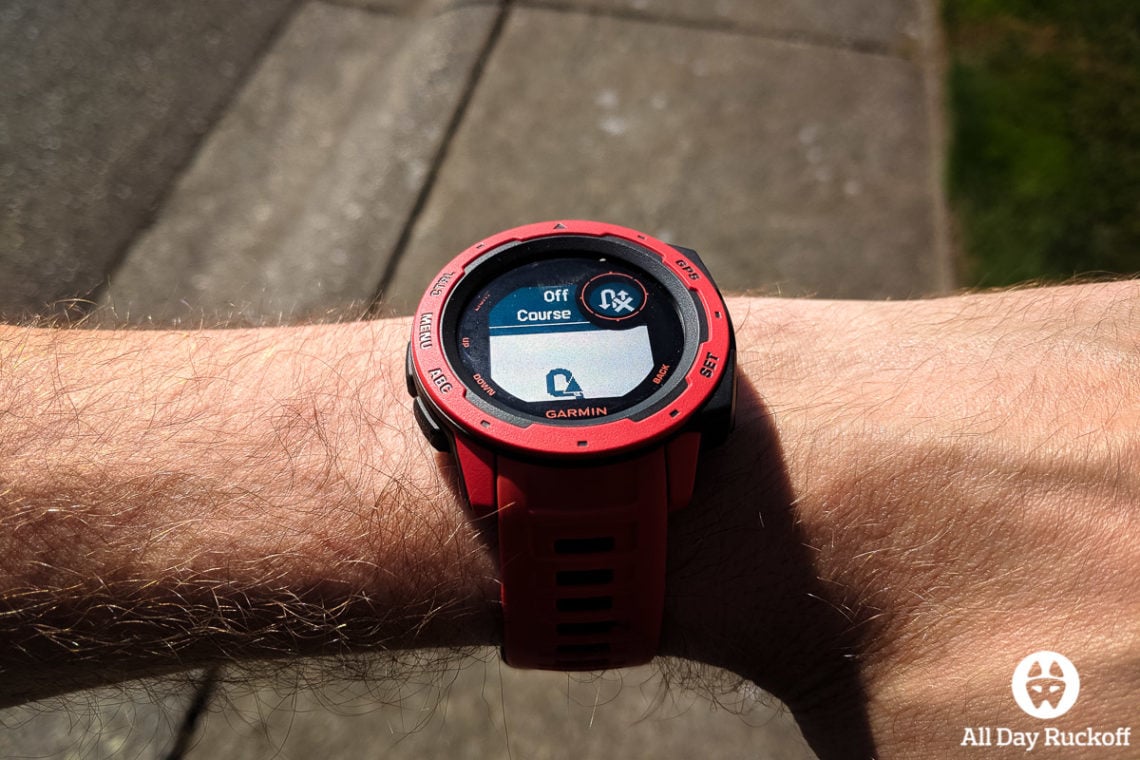 I ended up going the wrong direction and was met with an unpleasant "Off Course" notification and vibration. I'm glad Garmin lets you know when you're off course.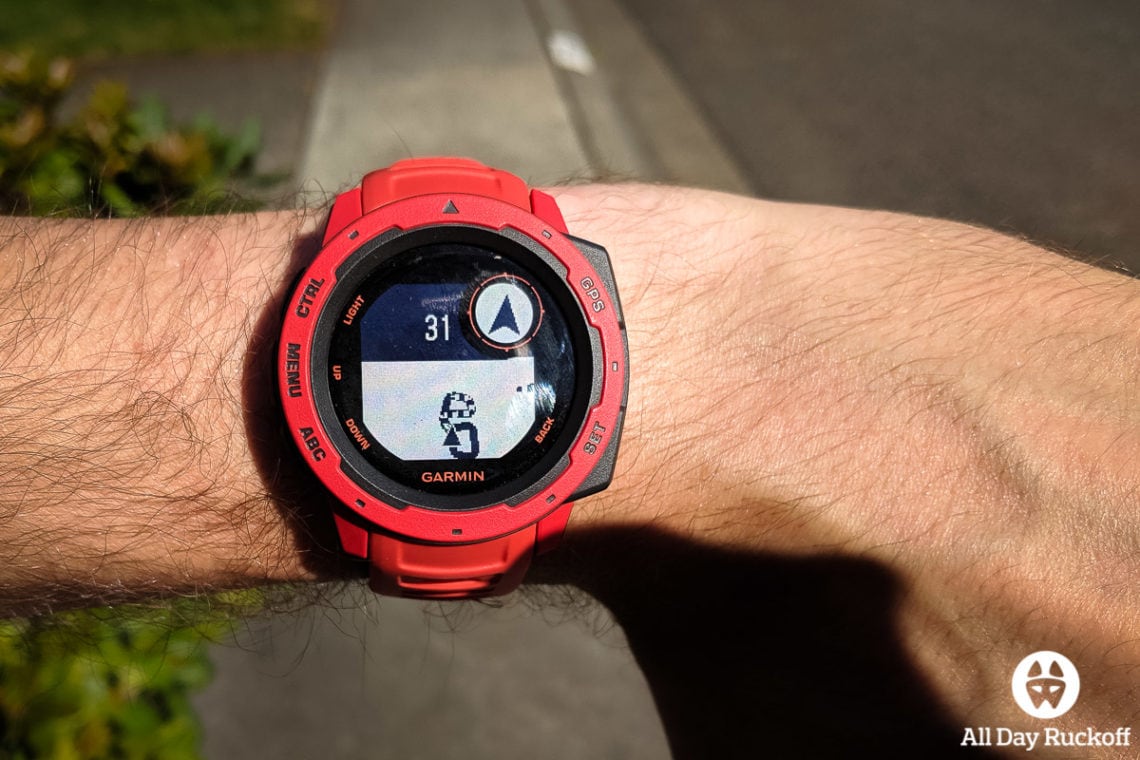 Turning around to get back on course and I was greeted with a number letting me know how close I was to where I left the course.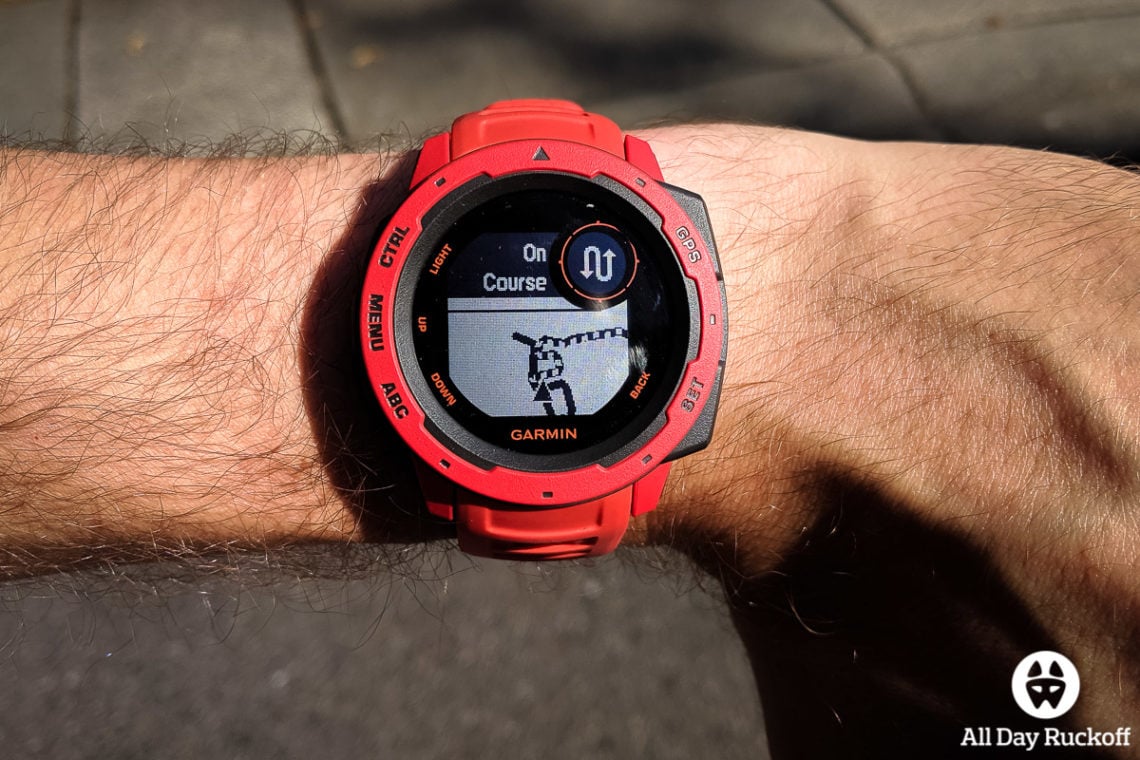 And we are on course again!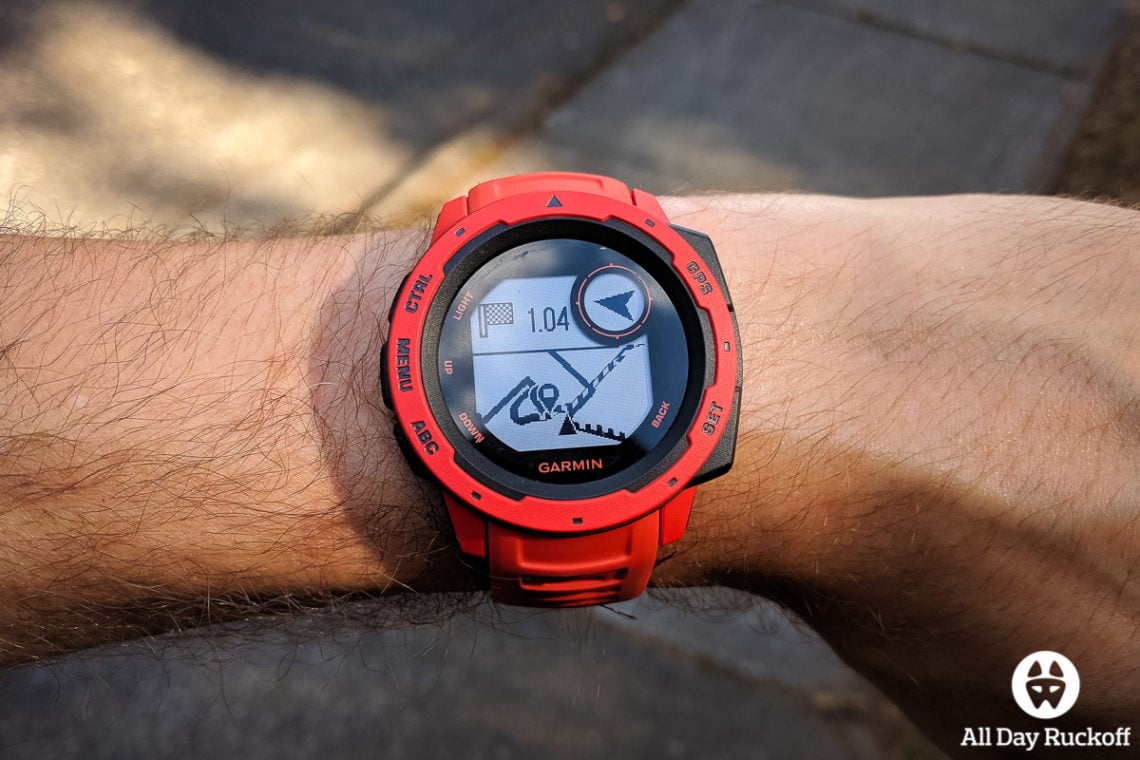 Here's the third bit of navigational fun. We're finally back at the part of the run where I had to decide if I should turn left or go straight. You can see that the straight section has a breadcrumb we this time we're going left.
One more section of going off course, figuring out how far off I was, then getting back on course.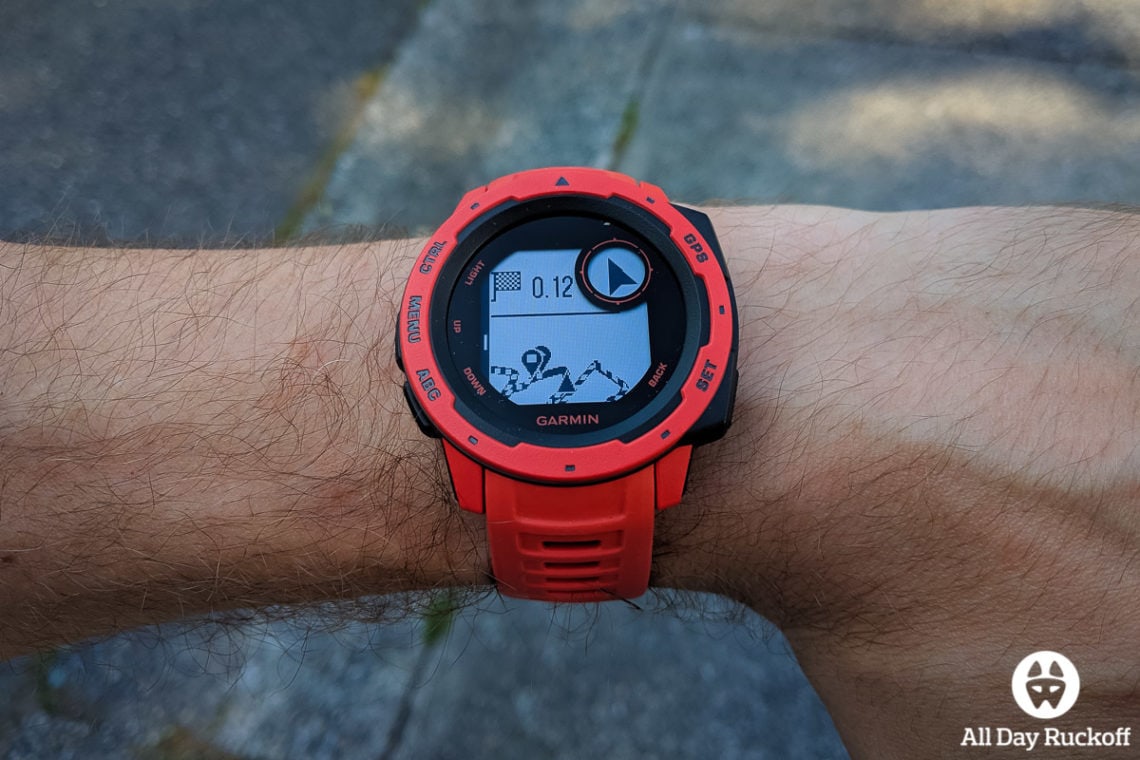 Look at that we're almost done!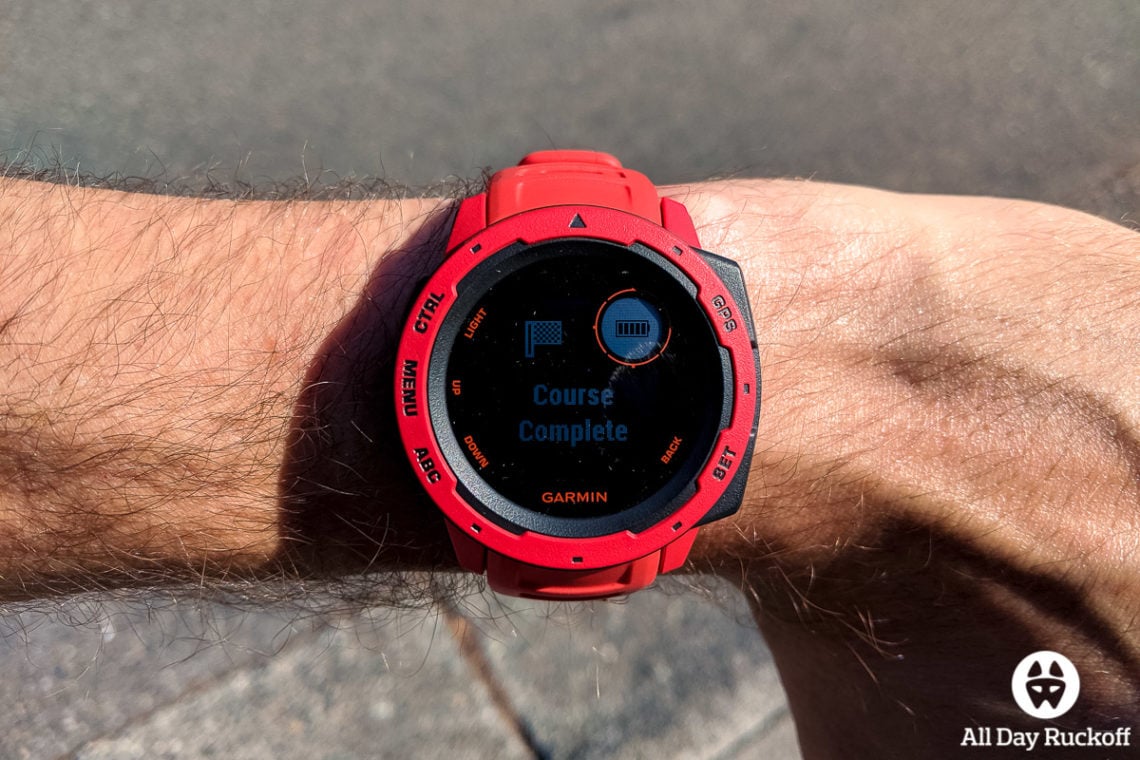 Course completed! You'll get a nice flag to know you made it to the end of your course.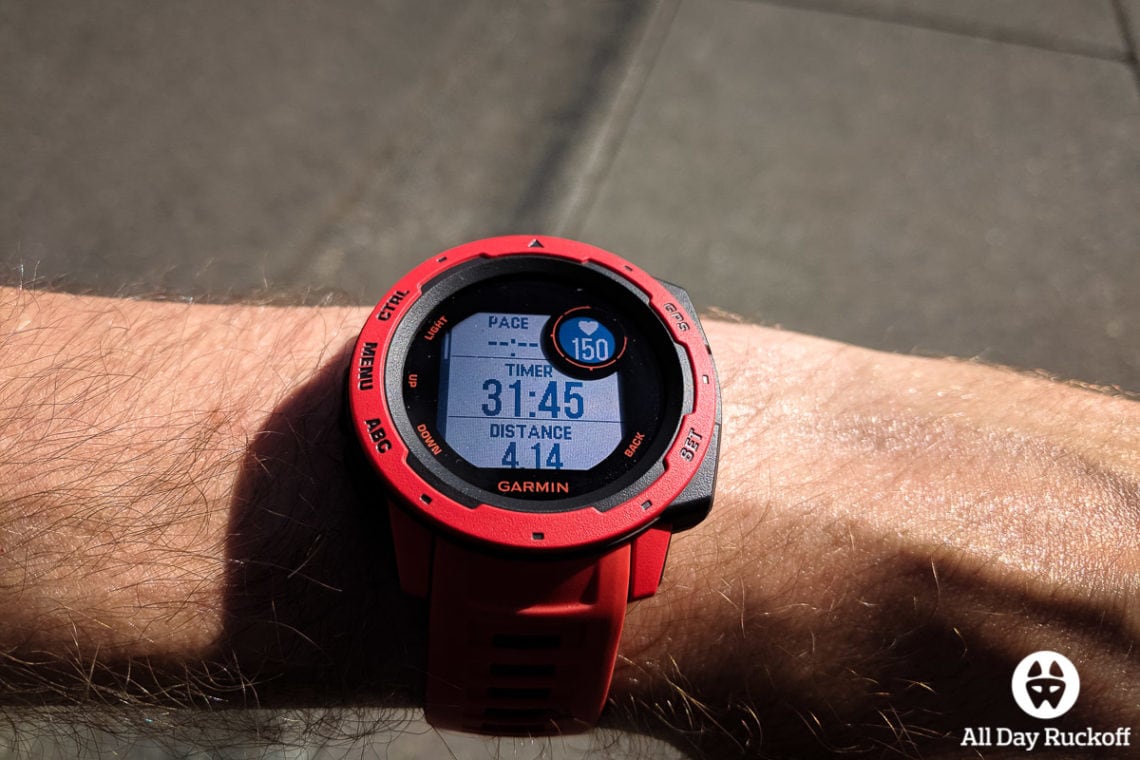 When it's all over it drops back into the activity mode you were navigating in. This means you can start up a course, complete it, and keep on working out in the same activity. You might notice that the original course distance was 4.01 but I completed 4.14 here. I blame that on going off course twice.
I like planning out routes to ruck or run but I hate taking out my phone every 5 minutes to figure out where I am or where I'm going. Although the maps aren't absolutely incredible in the Garmin Instinct (at least compared to the Fenix 5X or newer series that have maps) they work. They do their job and I'm happy with the navigational features included on this watch.
Training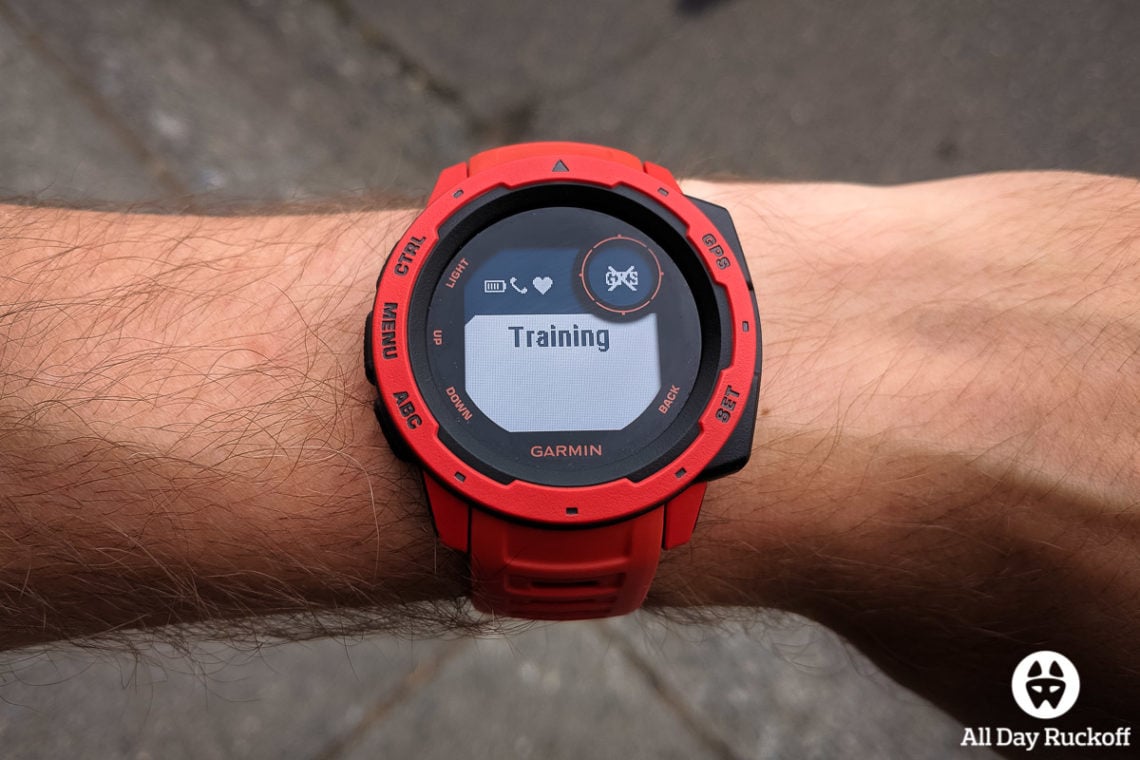 Garmin has finally put some major development into the training and programming sections of their website and watches.

This the most recent workout I created which is pretty straight forward. Two and a half minutes of cardio to warm up then one minute of burpees followed by one minute of squats followed by one minute of flutter kicks. Repeat that two more times and finish with two and a half minutes of cardio. Cardio is a generic filler I use and I'll usually end up jogging just to get my heart rate up (to start) and lower it (to end).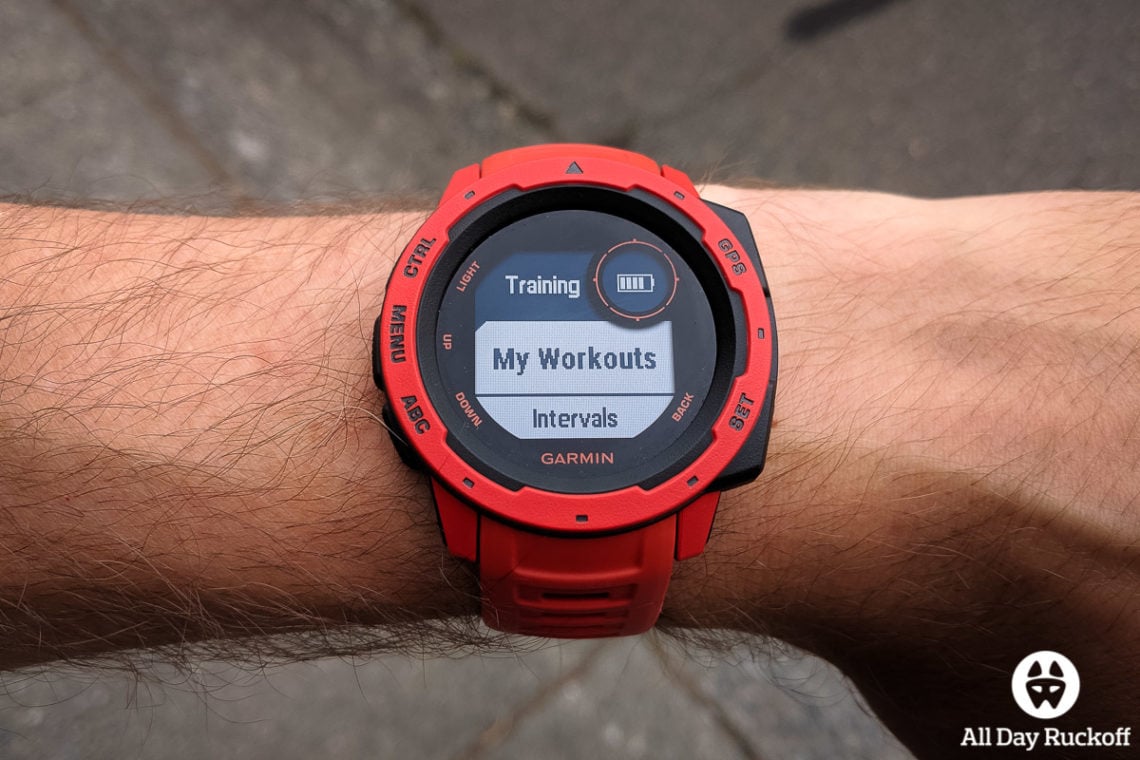 "My Workouts" is the first option in the list and the one you want if you're following a workout. There's a few other fun options in here such as intervals where you can create an interval schedule on the watch.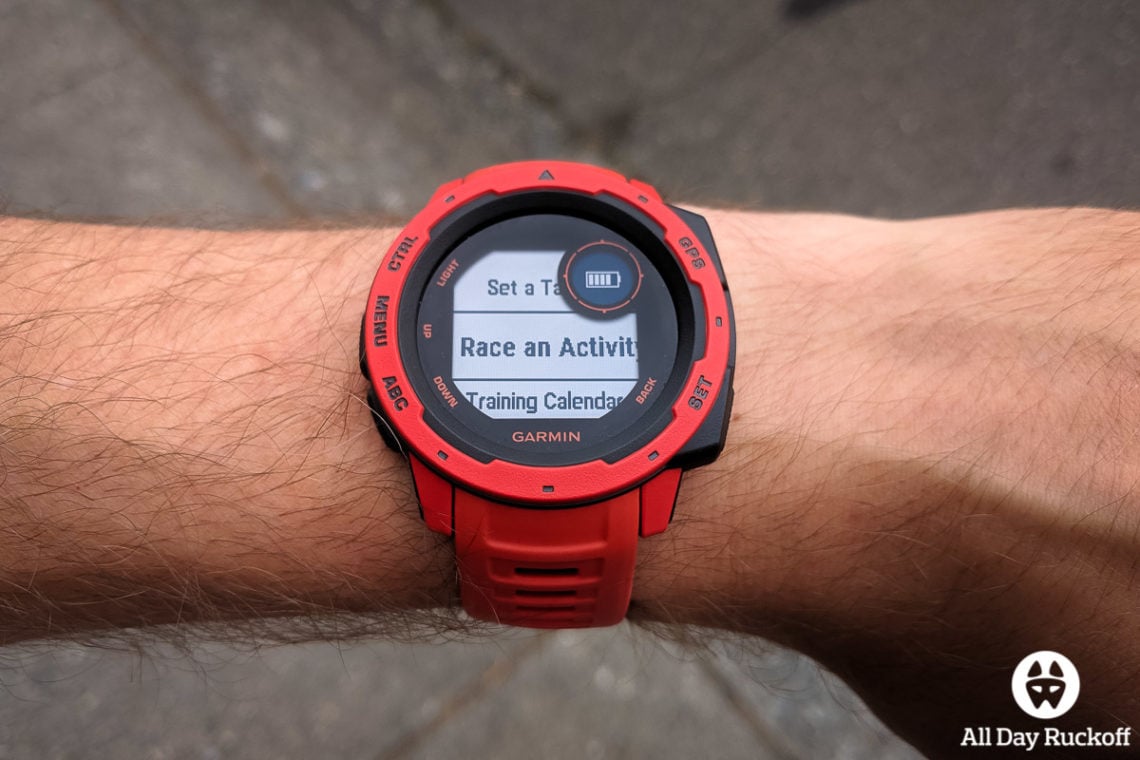 You can also race a previous activity, set a time or distance goal, and check out your training calendar if that's a feature you're using. The training calendar has historically been buggy so I wouldn't set my heart on using that feature extensively.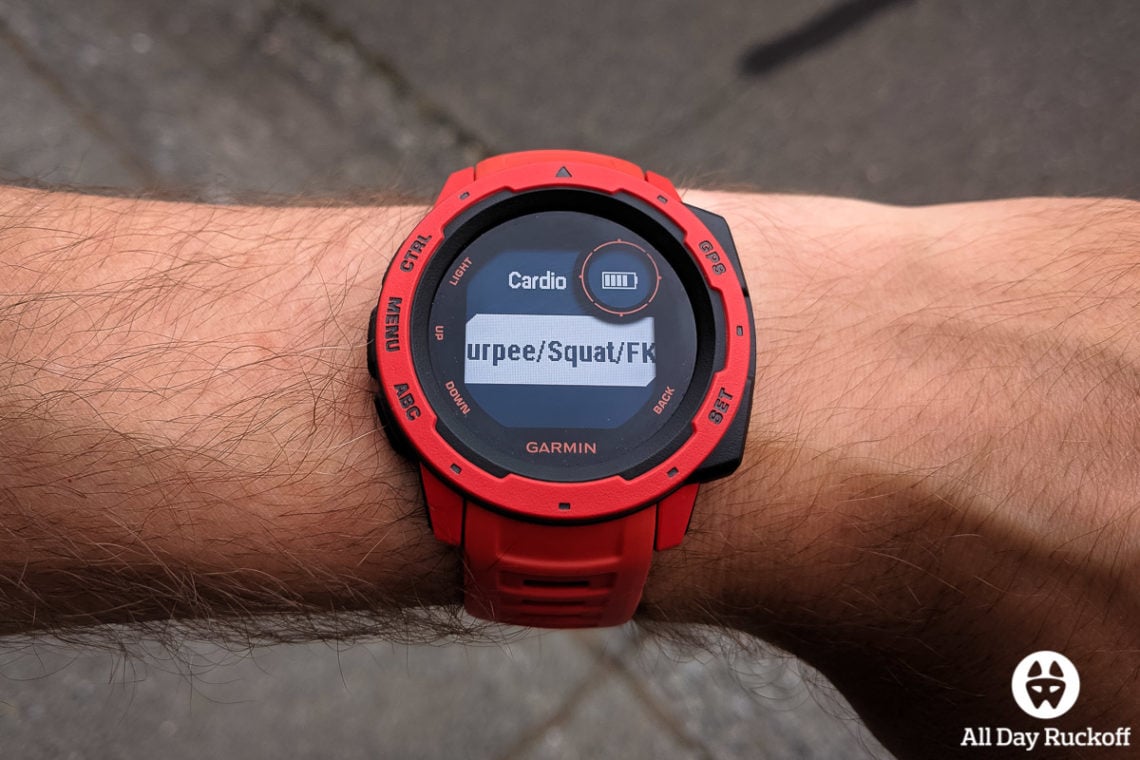 Clicking on "My Workouts" brings up your list of workouts. There you can see the one that was created from the screen shot of Garmin Connect.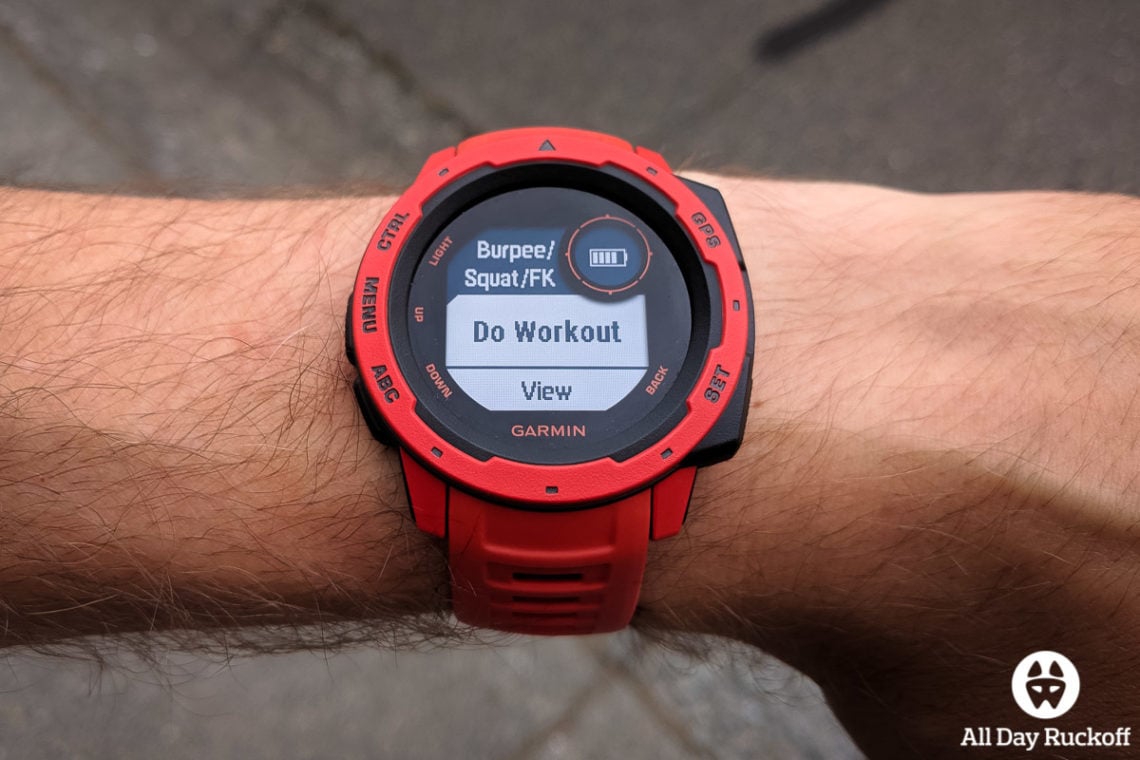 You can either do the workout or view the workout which is handy if you aren't sure what's in it. This happens often if you're using one of Garmin's pre-created plans. It sends all the workouts to your watch so it's handy to check out what you'll actually be doing before it starts.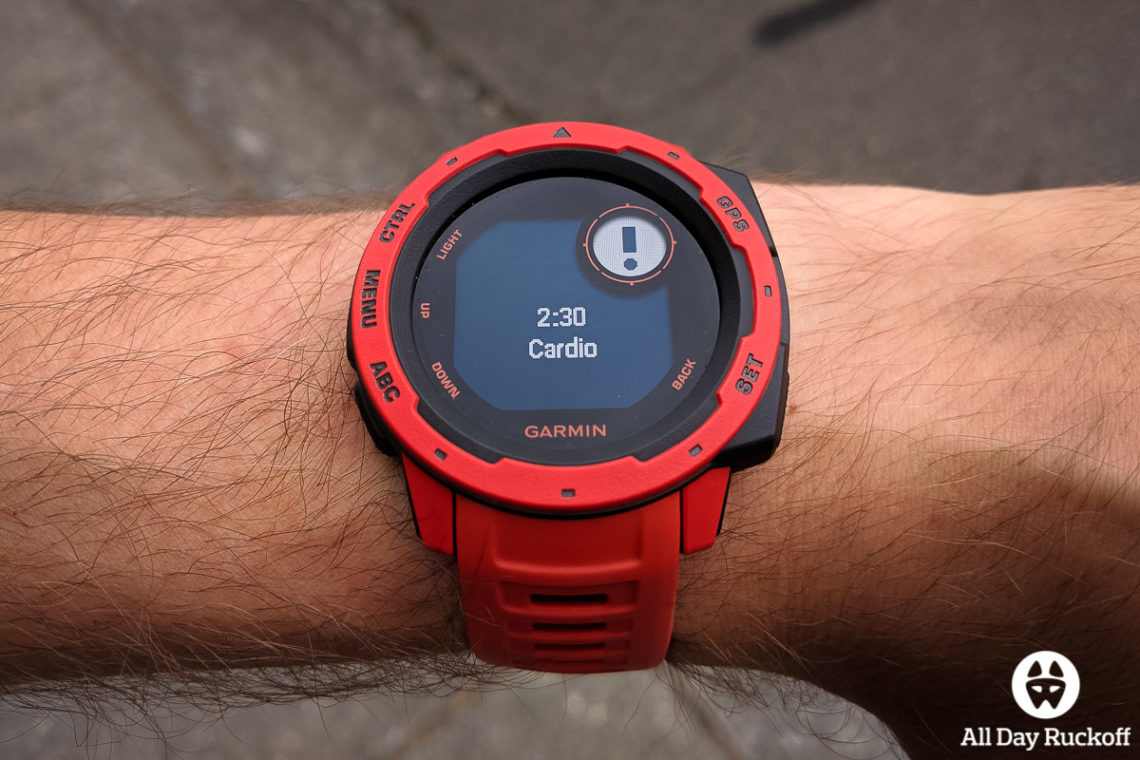 Starting the activity brings up the first exercise which is two and a half minutes of cardio. The prompts are very handy since they include what you'll be doing and for how long.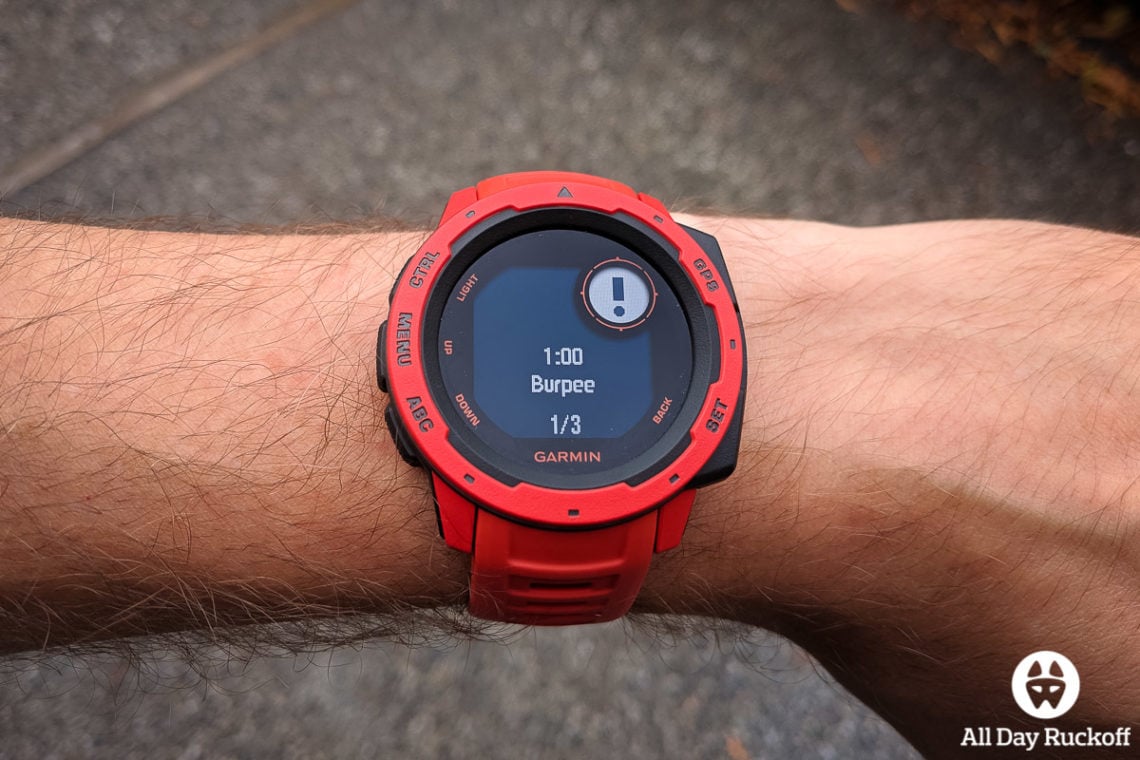 With the cardio done we are off to one minute of burpees. It's worth noting that Garmin has a fairly extensive list of activities for you to choose from here. That being said you cannot create your own which is why I had to use the cardio option for the ten second rests.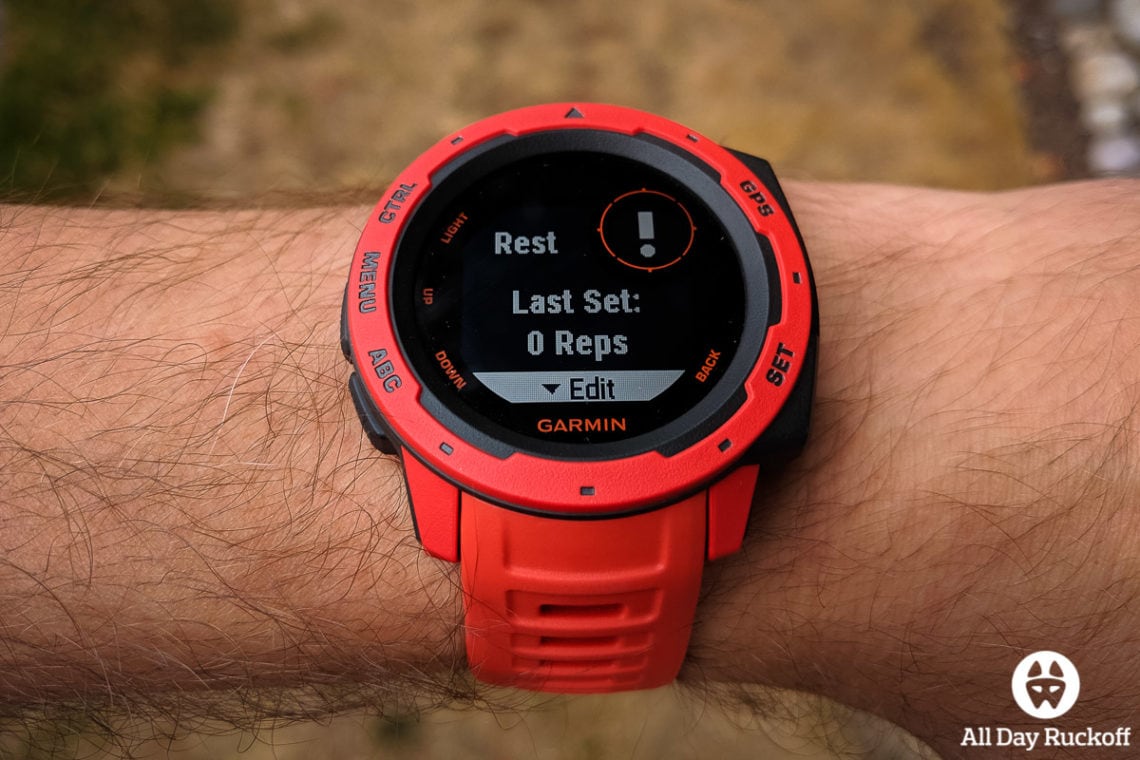 The watch is capable of dynamically tracking reps. When you are doing traditional workouts such as curls, bench press, and push ups it can actually track it pretty well. I've done sixty push ups for time and when I finished there were sixty reps there. Pretty cool. That being said if you want you can edit the values that come back and log the number of reps and weight used.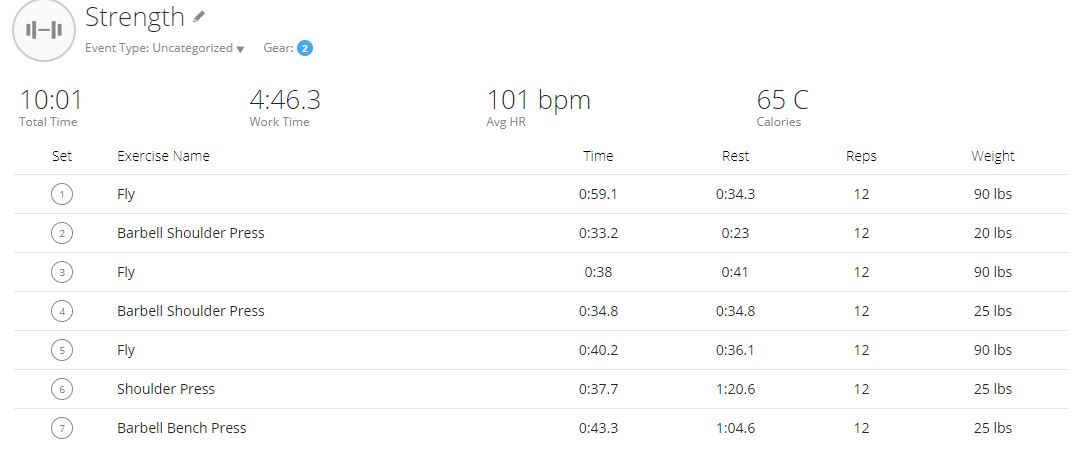 Here's what that data can look like when it gets back into Garmin Connect. The screen shot above was from a cool down session. It can be interesting to track both weight and reps and see how you improve over time. That being said you could spend a ton of time analyzing this type of data and who knows how much that would really help compared to fitting more workouts in.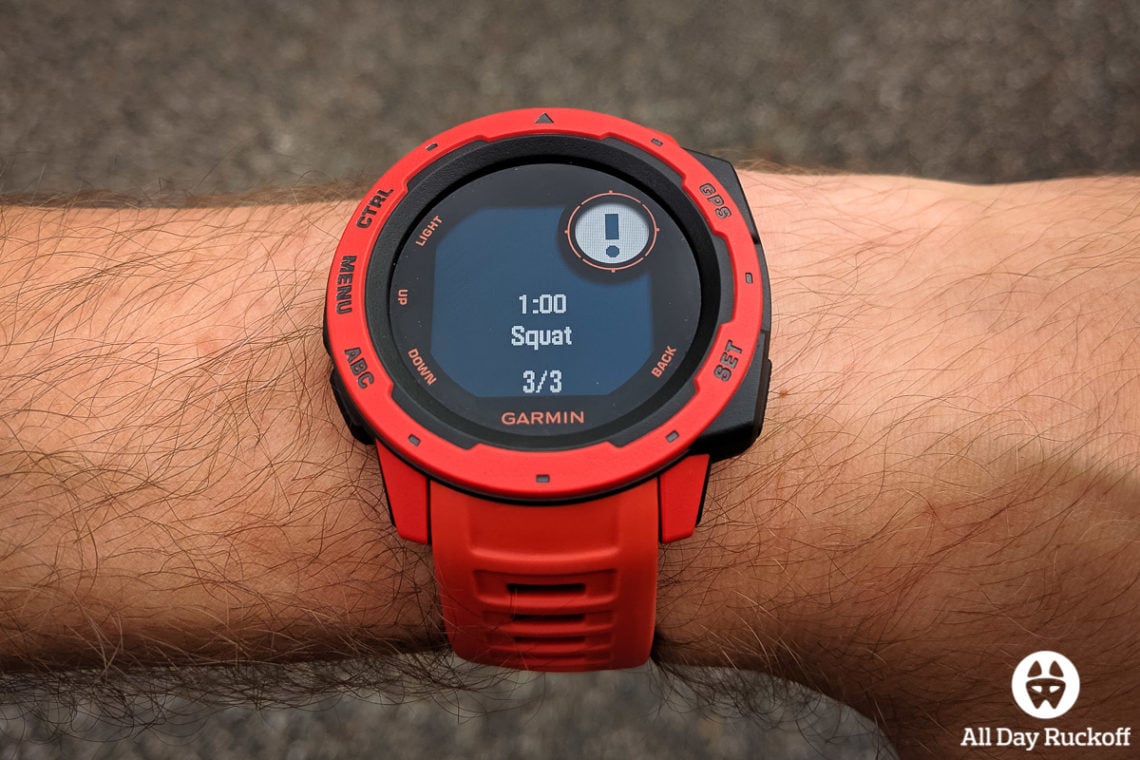 When you get deep into a workout and are sweating it out it can be tough to remember what's next. This is an easy one because it's only three exercises but more complex workouts make things a little more confusing.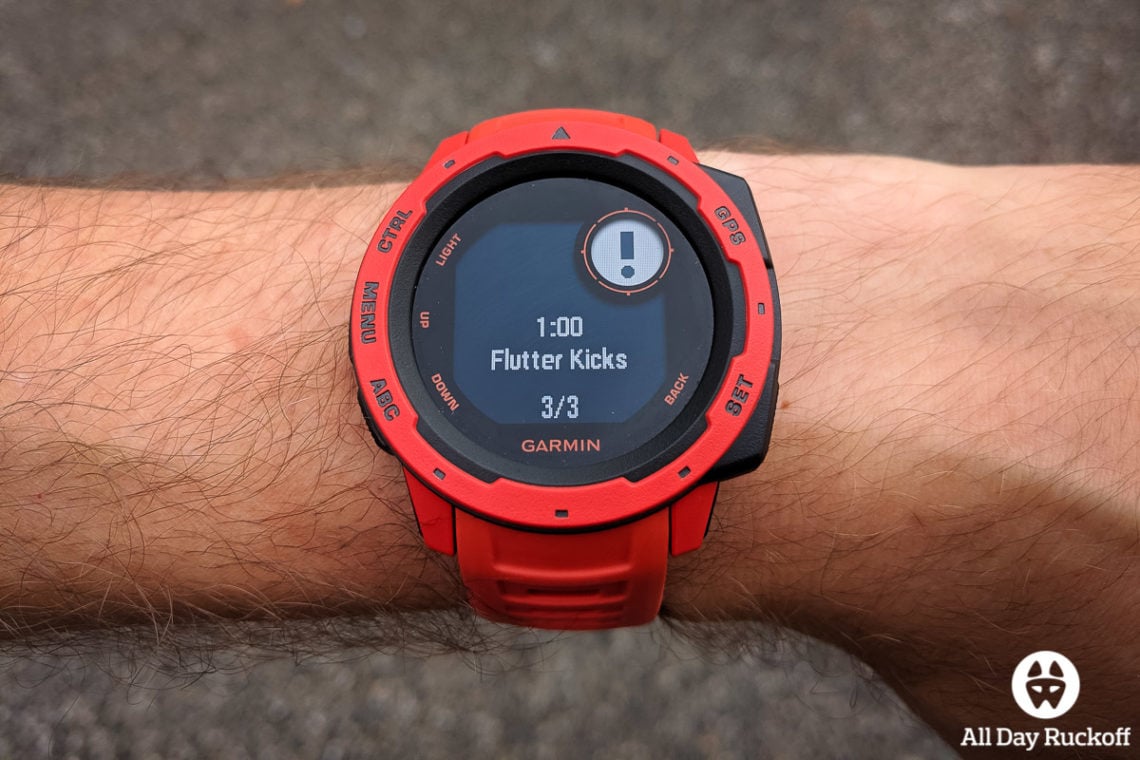 Having these prompts can be very helpful and then you don't have to carry around a sheet of paper with your workout on it.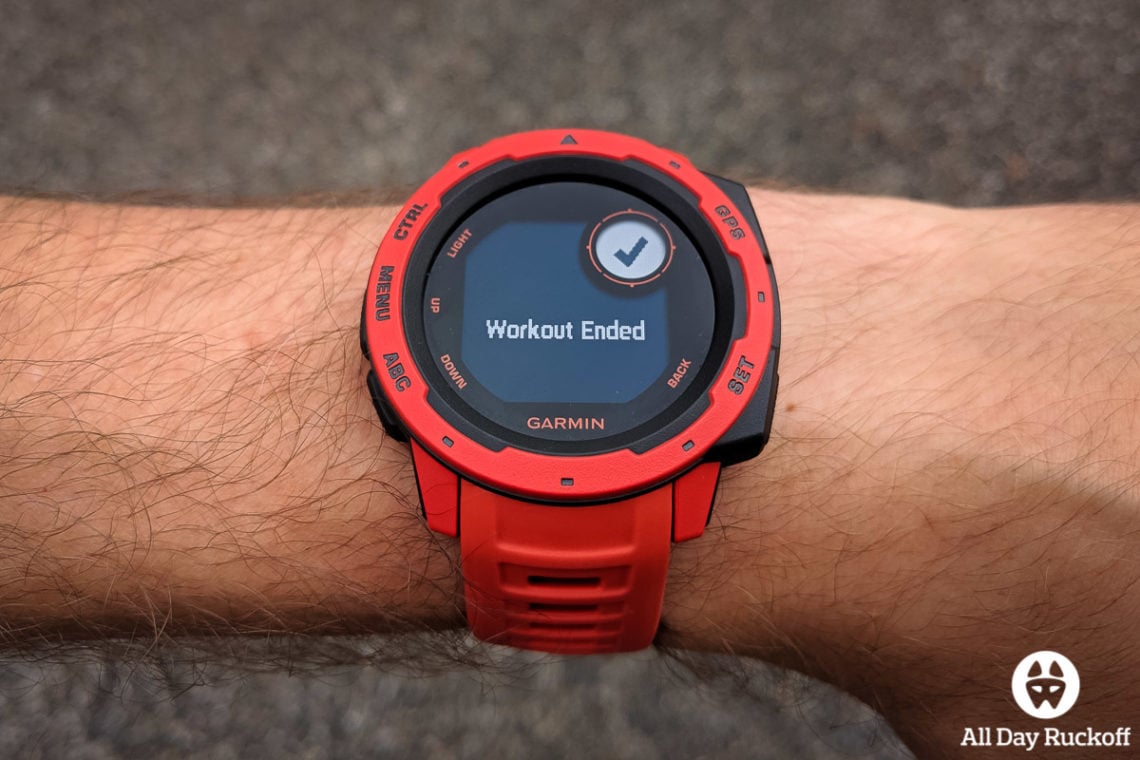 When your workout is over the watch will let you know. I've used the training section quite a bit over the years and it has been cool to see Garmin improve it. There's still some issues and I had a few times where I accidentally skipped through the exercise name. Although not a major issue it definitely feels a little more brittle than other feature sets in the watch.
Sleep/Stress Tracking
The Garmin Instinct is able to track sleep (and sleep cycles) as well as stress. While I don't spend too much time looking at either of this data it can be fun to get into on occasion.
Sleep Tracking
We'll start off looking at sleep tracking because it's probably what most people are familiar with.
This is what the general sleep tracking data screen looks like. The left picture is a typical night when both my kids are at home and the picture on the right is when they were staying with grand parents. I get a lot better sleep when those two rascals are gone. In addition to the stages of sleep you can click the little "Movement" button on the bottom to see when you were moving around the most. To track this information you need to sleep with the watch on your wrist so keep that in mind.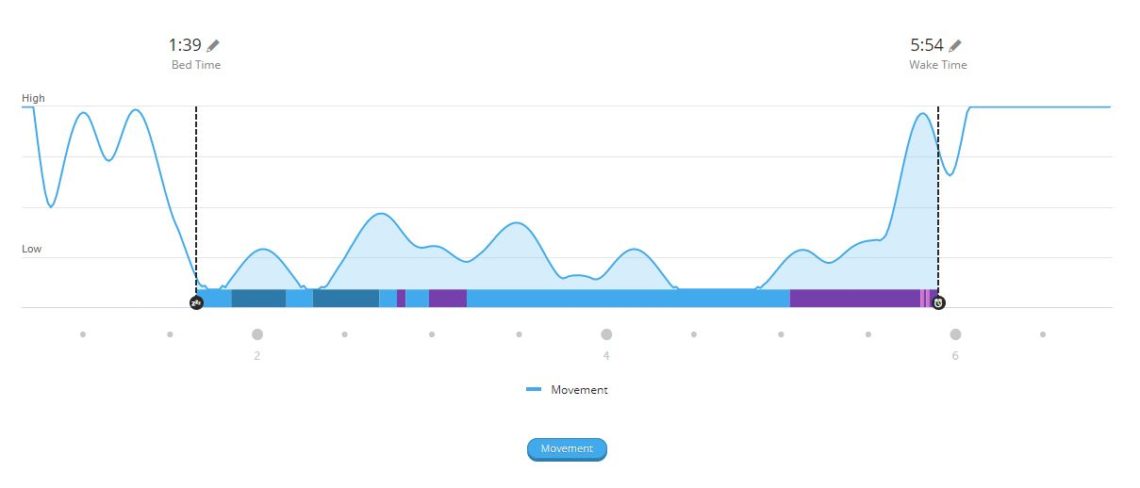 From this view you can kind of see how Garmin determines you've fallen asleep and woken up. If it's night time and your movement drops significantly then you've gone to sleep. When it picks back up you've woken up. I'd say nine out of ten days this works perfectly and it's only that 10th day I need to modify the start or end time.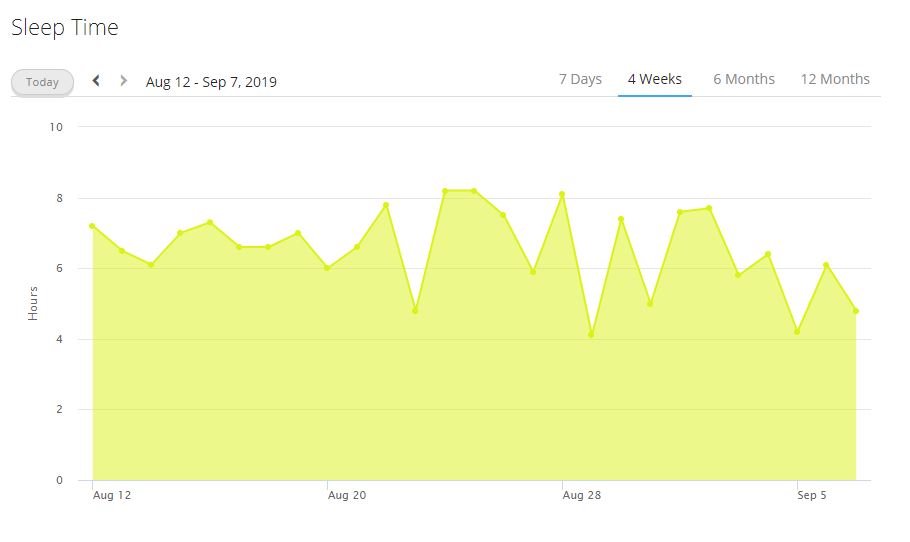 If you like seeing sleep over time then you can pull that up in a report. From the last four weeks you can see that my sleep life balance is pretty horrible. Honestly… I didn't need a $299 watch to tell me that but I appreciate it.
Stress Tracking
Stress tracking is an interesting feature and, for me, it actually works pretty well. A lot of this has to do with how well the watch can read your heart rate so it doesn't work great for everyone.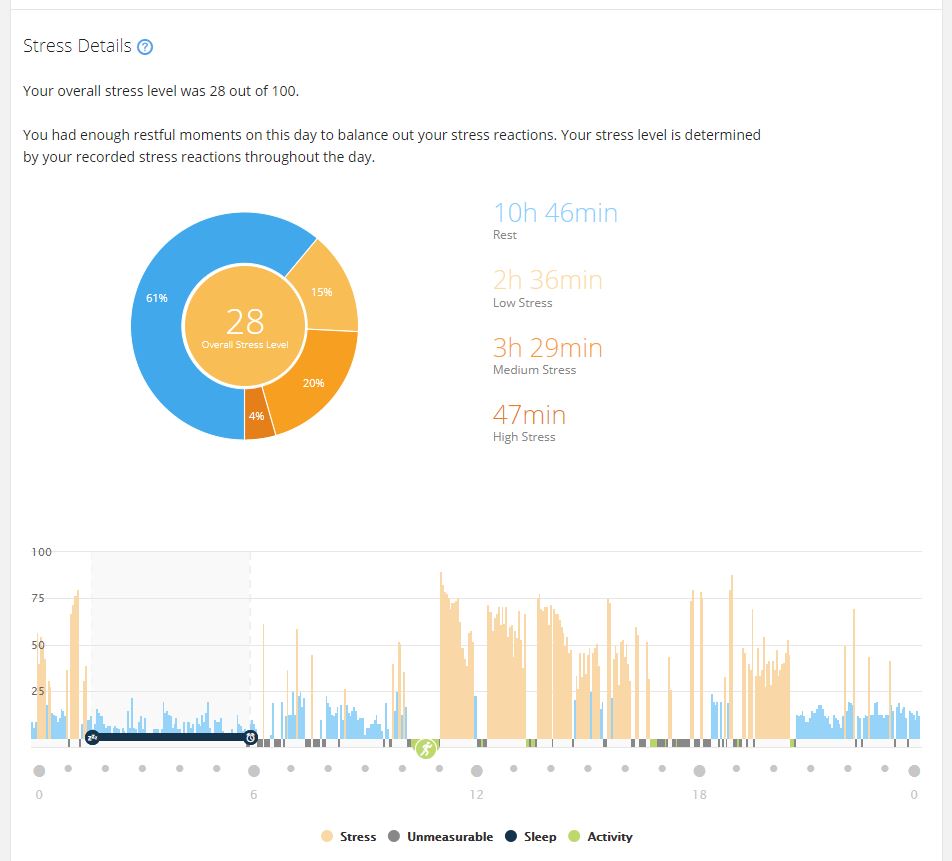 You can see your daily stress broken up into Rest, Low Stress, Medium Stress, and High Stress sections. The idea here is to reduce the high stress moments or at least have enough rest moments to cancel them out. My day consists of low stress in the morning followed by some stress in the afternoons then stress until my kids go to sleep. Sounds about right.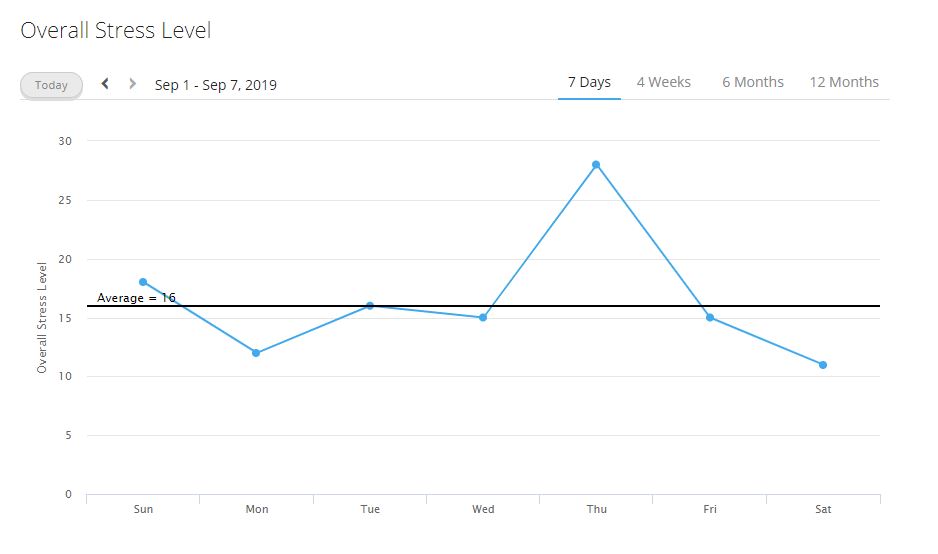 If you're curious how your average stress ranks over time you can get that data in the reports. I rarely pull up old stress data unless I'm checking out a day that I felt stressed to see if Garmin thought I was stressed as well. I guess you could use the real time stress data to determine if you should do some box breathing or other exercise but I don't do that often. In the end stress tracking is one of those things that's cool but maybe not the most useful.
GPS Accuracy
GPS Accuracy is tough to compare because, in most cases, you're comparing one device against another. In this comparison I'm going to compare the Fenix 5X+ against the Instinct to show how a cheaper Garmin watch compares against what was Garmin's flagship at the time.
Running & Rucking


The GPS tracks from the above ruck are incredibly similar to each other. Looking at them from this level it's almost tough to see which one is "off" in certain areas. It seems like in some areas the Instinct is more accurate while in other locations the Fenix 5X+ is. I'm happy with both tracks and wouldn't have any issues getting back data like this. I can definitely tell where I went and that's what matters tome.


The GPS tracks from the above 6 mile run are very close. This was an out and back so there's some layering happening. There's really only one location (near the top) that there's some clear inaccuracies.


Zooming in on that spot you can see that the Instinct fell off a little. You can still tell which road it was following so, to me, it's not the end of the world. I'm not someone who nit picks this level of detail and I'm happy with what the technology delivered. The watch for the blue line costs twice as much as the watch for the purple line… is that amount of money worth a slight accuracy adjustment? To me, probably not. In the end I was very happy with the accuracy of the Garmin Instinct.
Heart Rate Accuracy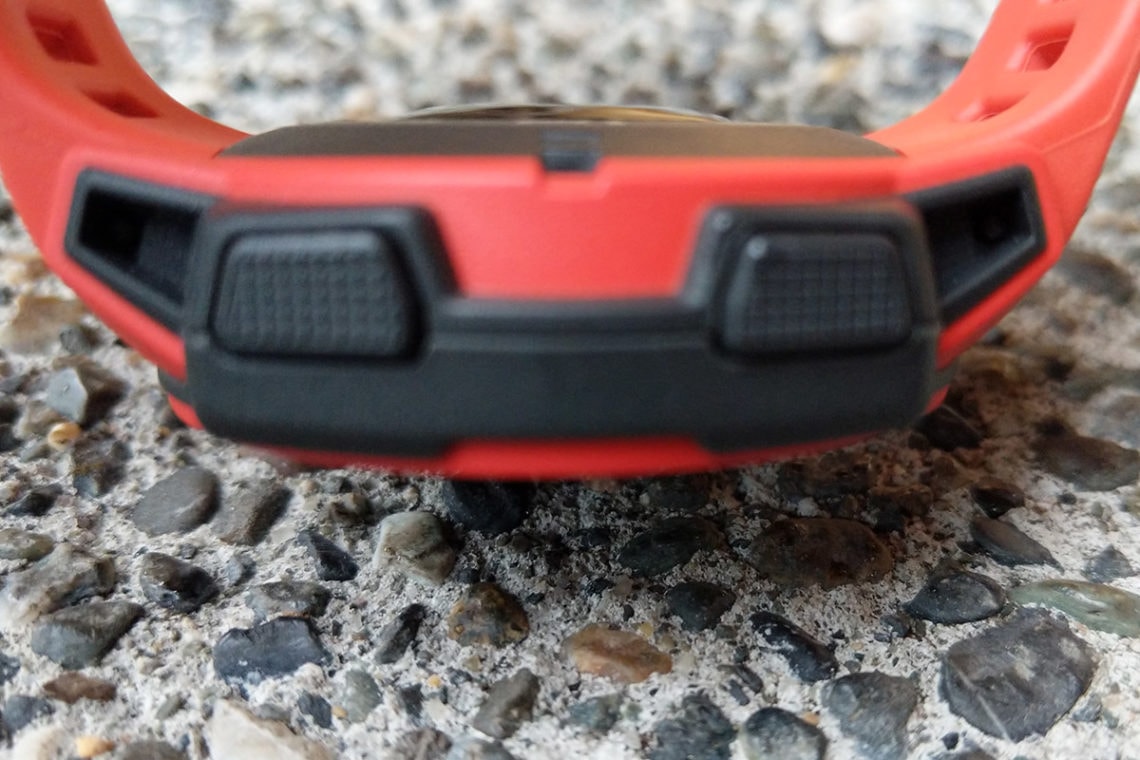 When it comes to heart rate accuracy Garmin's optical heart rate monitoring (OHRM) works well in certain scenarios. It excels during rucks and runs and falls up very short in ruck, sandbag, and bodyweight workouts. You can see the width of the optical heart rate monitor in the above pictures. It's really, really thin.
Running & Rucking


In the above chart the blue line is the Fenix 5X+ paired with a heart rate monitor and the purple line is the Instinct using the optical heart rate monitoring. The lines are very similar and close enough that I'd feel very comfortable leaving the heart rate strap at home when going on a run. It's worth it for the comfort.


In the above chart the blue is the Fenix 5X+ paired with the heart rate monitor while the purple line is the Instinct with optical heart rate monitoring. Tracking is still definitely good enough to leave that heart rate monitor at home and go with just the watch.
Ruck & Sandbag Workouts


In the above chart the blue is the Fenix 5X+ paired with the heart rate monitor while the purple line is the Instinct with optical heart rate monitoring. The disconnect between these two charts is staggering. This workout was 27 minutes long and did a good job making me sweat. While the heart rate monitor showed me a number that made sense the optical tracking actually made me angry. There's nothing like putting in some solid work just to have your watch tell you that you might as well be doing nothing.

Here's another comparison for a ruck workout and it's even worse. Anywhere from 30 bpm to 70 bpm off between the optical heart rate monitor and the strap. The Fenix 5X+ showed me as burning nearly 2.25 times more calories than the Instinct which was frustrating. If you want accurate stats for workouts then you'll want to use a heart rate monitor strap instead of using the watch. I will say one benefit to using the strap instead of the watch is that you can take the watch off during the workout and do all of your movements without it.
Two Weeks Later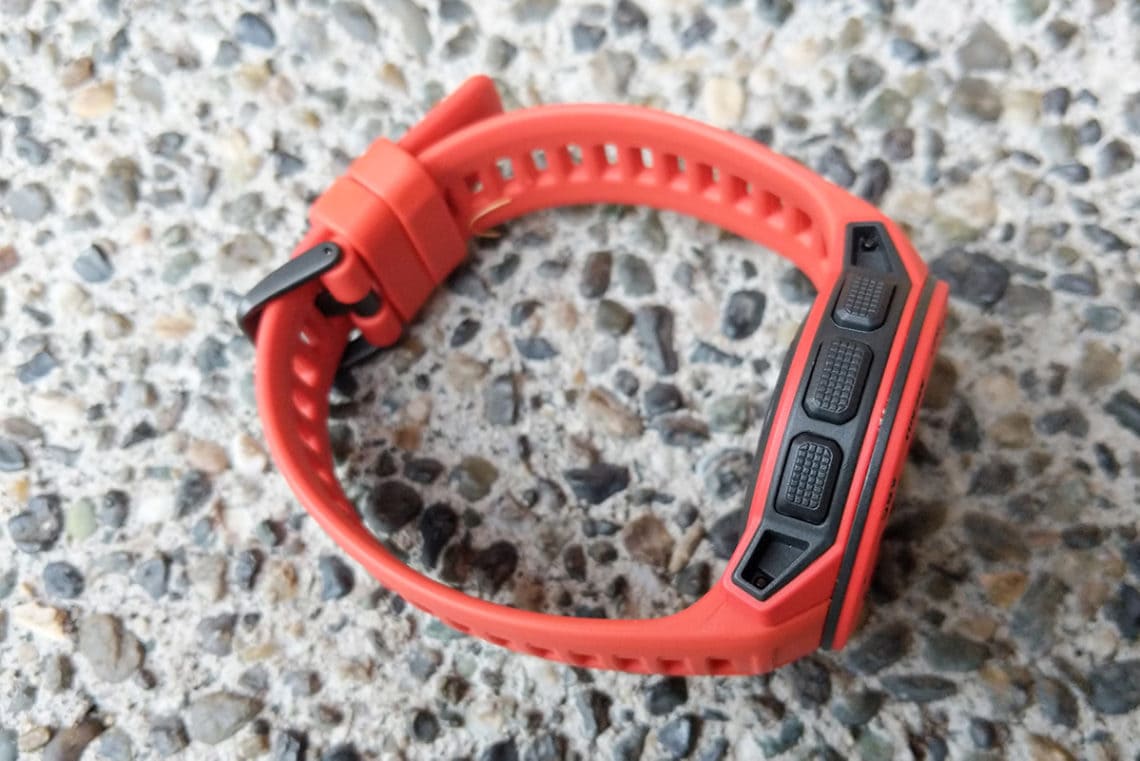 I shelved my Fenix 5X+ and used the Garmin Instinct as my sole watch for two weeks. I wanted to see if I could find anything about it that I disliked or felt was missing. By the end of the time I found myself focusing on the aspects of the watch I actually liked more than the Fenix 5X+. It weighs a lot less and I would sometimes forget I was wearing it.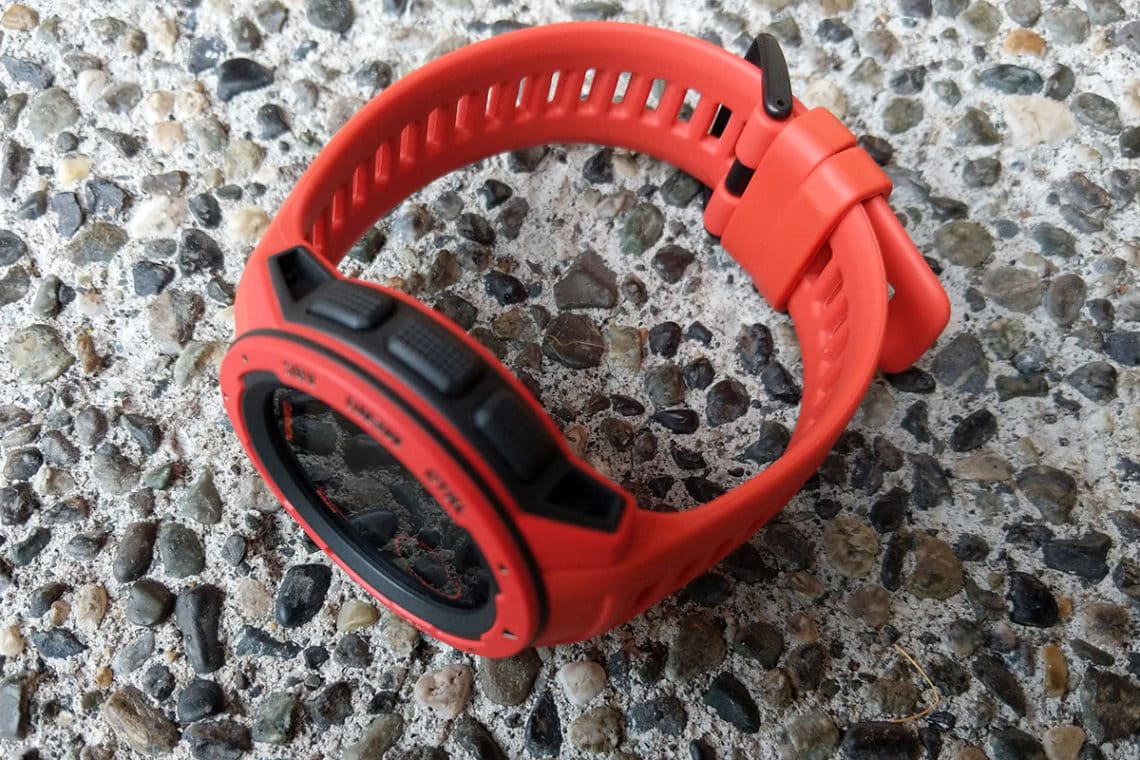 I've since moved back to the Fenix 5X+ (now on the Fenix 6X Pro) however I still find myself looking at the Instinct wanting to use it again. It's an awesome watch and definitely holds its own when it comes to fitness and endurance watches.
Final Thoughts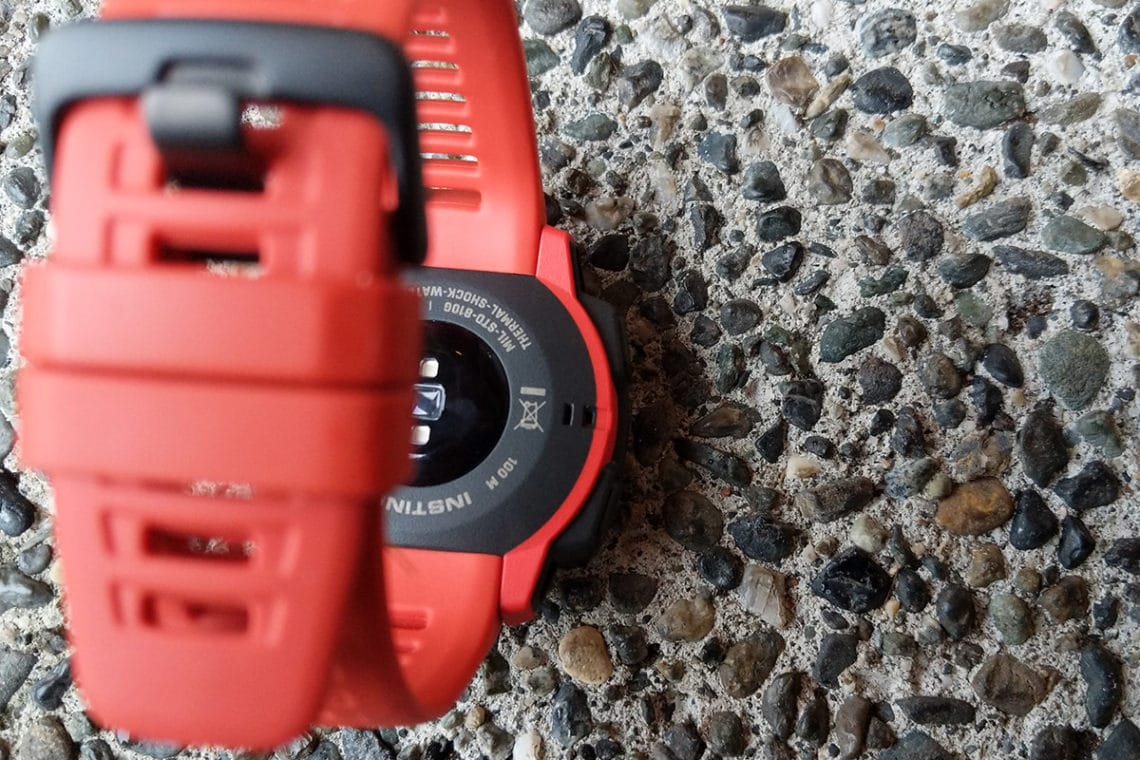 I think the Garmin Instinct is a great watch. It shines during runs, rucks, and hikes and works great during sandbag and ruck workouts. If you're set on getting accurate heart rate monitoring then you might want to grab a Garmin HRM-Run heart rate monitor and wear it during workouts. It is a lot more accurate than the wrist based tracking as shown in the heart rate accuracy section.
If your budget is between $200 and $300 and you want a GPS watch then make sure to check out the Garmin Instinct. Not everyone will love how it looks but if you do then it can be a great fit.