It has been over a year since the preview post for the GORUCK Rucker went live but I really wanted to put it through hell before writing the full review. After using it for so long as my main training pack and taking it through over half a dozen GORUCK events here is the full review.
GORUCK Rucker Review

As previously mentioned I used the GORUCK Rucker for six GORUCK events before writing this review. Three of them were Tough events and the other three were Lights and all put some abuse on the pack.
Quality

The GORUCK Rucker is built tough. This pack is designed to take a major beating and keep pushing through to the next challenge… and you can see that in the quality.

The pack is made of 1000 denier Cordura and features more than enough stitching over those high-stress points. The bar tack is used on pretty much every stress point which has a much higher strength than the standard stitch.

The sewing throughout the pack is straight and even which is to be expected. Nothing seemed amiss during any of my adventures and there were absolutely no quality complaints.

Here's a few pictures of the very much used pack sitting right next to a near brand-new one.

Can you tell which one has been through a half-dozen events and which hasn't?

Honestly you might be hard pressed to figure it out without a hint or two…

… the answer?

New one is on the left.
Design

The Rucker is… wait for it… designed for rucking. It really works as a great everyday backpack as well but since this is an event review I'm going to focus on how that aspect.

The Rucker features a thick framesheet (thicker than the other GORUCK packs) with the goal to make carrying weight easier. Unlike the GR1 the framesheet on the Rucker is sewn directly into the pack.

The shoulder straps are very thick and have more padding than most other packs out there.

The back of the pack is made of 1000d Cordura and features no breathable mesh. The idea there, according to Jason, was that it is near impossible to get sand, grit, and dirt out of that mesh fabric.

The front of the pack features the standard slant pocket (which runs to the bottom of the pack) as well as three rows of webbing. The webbing is great for attaching another handle to making those ruck workouts a little easier.

There's a 3″ wide x 2″ tall patch area as well so you can attach your current favorite (or new favorite) morale patch.

Each side of the pack features three rows of two columns of webbing. These can be used to attach a side pocket, water bottle holder, waist belt, or anything else you can find with the right about of webbing.

The handle on the top of the pack is heavily padded so that it's very comfortable to grab when the pack is weighed down. If you lose strap privileges during an event it's nice to know you'll still have some padding while you carry this.

Opening up the pack you can see there's two pockets on the rear side. Both are zippered and the bottom is mesh so you can easily see where items are.

The other side features the "meat" of the pack. There you find the two sleeves for ruck plates as well as the water bladder holder.

One side note is that it would be nice if there was a way to keep the ruck plates raised up a little bit so that they don't sit so low on your back.

Just above the water bladder holder is the hole that you can route the bladder's house out of.

If you're using this as an everyday pack you can fairly easily get a small laptop or tablet to fit within the ruck plate pockets.

If you're using this for an event or training then you can fit some serious weight in there as well. Just avoid putting both weight and a laptop or you're destined for a bad time.
Usability
This pack is designed for rucking and it truly excels in that aspect. Starting from the outside the deep zipper pocket is great because you can fit nearly whatever you need in there.

I'm a fan of spare gloves or food when rucking so that it's easier to get to. One thing I noticed is that it's ideal to only keep one or two types of items in there as it can be tricky to get something small out on the bottom if there's too much.

The two columns of webbing on the side allow you to easily attach a waist belt.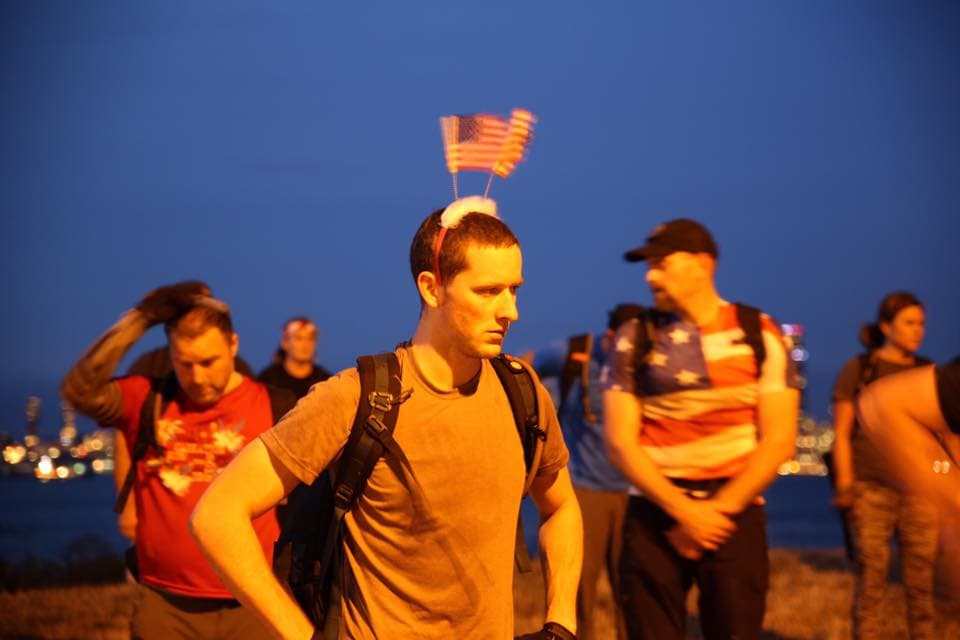 For those longer rucks it can be helpful to switch weight between your hips and shoulders to stay fresh longer.

Even though I'm taller at a few inches over six feet I have a shorter torso and prefer the 20L rucker over the 25L one. It's weird but there's less rubbing on my lower back with the smaller pack.

If you're trying to decide between the two sizes I'd look at your torso length more-so than your height… for what it's worth.

The webbing on the shoulder straps is great because you can easily add a Grimloc or Web Dominator to secure your bladder's hose.

There's not much worse than a hose bladder flopping around during an event so it's great to get that secured.

There's also a ton of padding in those shoulder straps which does a great job of protecting your shoulders when carrying logs or other large objects. As I mentioned previously there's the padded handle on top which is awesome if you lose strap privileges at an event. It feels a lot better in the hand than your typical non-padded backpack handles.

When I bought my first Rucker I started using it for training and events because I wanted to write a review for it. Since I've been using it I have not gone back to my GR1 for events… and not because I feel obligated to use it. I honestly prefer it that much more for training and events than the GR1.

It's easier to secure ruck plates in it and it's the same great quality. The frame sheet is thicker than the one in the GR1 which is great because the pack doesn't collapse on itself.

If you have an issue with getting ruck plates to sit higher then there's a cheap and easy fix for that too.
Value
The GORUCK Rucker is a huge bang for its buck. At the retail price of $195 it sits a solid $100 under the price of the GR1. In addition, it's only $100 more than the other go-to non-GORUCK packs for GORUCK events.

When the Rucker is on sale it is truly a steal. From previous sales we have seen these listed for as low as $99 (or free, with the purchase of a GR1) which is near-impossible to beat. If you are training for a GORUCK event and want a great pack then this is it.

The Rucker also features GORUCK's SCARS warranty which has been detailed a number of times on this site. It's tough to find a pack built like this with a warranty like that for much less.
Conclusion

Simply an awesome pack to take to your next GORUCK event. They're a great deal at $195 and a steal when on sale. Save your GR1 for everyday carry and abuse the crap out of a Rucker during training and events. It has the same SCARS warranty that GORUCK is known for is sewn just as well as their other packs. When they first came out people looked at the Rucker as a less worthy GR1 but I don't think that's the case at all… it serves a different purpose brilliantly.
The GORUCK Rucker can be purchased direct from GORUCK for $195.
Quality

Design

Usability

Value
Summary
Pros
Spot on sewing and stitching
One of the toughest packs available
Incredible deal
Amazing for training and events
Cons
Wish ruck plates sat higher
Used For: GORUCK Events
Tested For: One Year
Conclusion: Phenomenal pack. Designed to excel at GORUCK events and it does not let down.