In June, 2018 GORUCK announced they were creating boots then posted up a pre-order with an anticipated ship date of October, 2018. A few days after that pre-order went live I had MACV-1 boots in size 12, 13, and 14 ordered.
This post is going to be a long one (thousands of words) because there's just so much to talk about with these boots. To make life a little easier here's table of contents:
Table of Contents
Why is this review called "the story so far?" The MACV-1 boots are still new so I can only give my recommendations based on the time I have spent with them. As of August 12th, 2018 I have done the following with my MACV-1 boots:
As I put more miles and do more with these boots I will make sure to keep these stats updated.
MACV-1 Preview Pictures
These pictures were taken after the first ruck so you can see a couple of creases in the toe already. The uppers are made out of a combination of full-grain leather and 1000d Cordura.
The Soles of the Boot
The bottoms (outsole) are made out of high traction rubber and feature a unique pattern.
My first thought was that they're going to be a huge pain to clean if I ever step in horrible mud or dog crap. Please… please let me never step in dog crap in these.
The midsoles are made out of lightweight eva which, from what I've read, is exactly what you want your midsoles made out of. There's also a little GORUCK logo above the midsole on the rear of each boot.
The insoles are very thick… we've got the MACV-1 insole on top and the Rocky S2V insole on the bottom.
The bottom of the insoles features the GORUCK logo on one end…
…then manufacturing date and the shoe it's designed for on the other end.
The Rest of the Boot
There's six eyelets that run up the front of the boot. The laces that the boots come with are thin (3mm) and lace up well.
The top of the tongue features a GORUCK logo with the GORUCK text.
The inside of the tongue has all the familiar information you'd see on most shoes: brand, model, size, and manufacturer location.
The back of each boot has a thin piece of Cordura that runs the full height. I was originally worried that this would cause some friction or chaffing but thankfully there have been no issues yet.
You can see how that appears on the inside as well.
The final "feature" on the MACV-1 boots are the drain holes located on the inside just above the midsole. These are designed so that when you submerge the boots in water that water will have a means to get out.
The boots have a distinct look to them and I've lived both ends of the spectrum. I think they look fine, fellow GRT think they look great, and my wife absolutely hates them.
For testing and review purposes I'll continue to wear them daily but we'll see how long the missus allows that. Here's to hoping that GORUCK releases a coyote version soon because she somehow finds the coyote Rockys S2Vs more acceptable than these.
Some Thoughts on MACV-1 Sizing
I normally wear a size 13 shoe so I pre-ordered the MACV-1 boots in size 12, 13, and 14. I wasn't sure how they would fit and I wanted to end up with a pair that worked. GORUCK mentioned something about pre-ordering an additional pair if you were unsure about sizing which is exactly what I did.
I have wide feet so some shoes won't ever work for me. The size 12 were just barely long enough but not wide enough. The size 13 fit perfect with enough wiggle room on the sides and the toes. They felt a little loose in normal socks but better with the Darn Tough Cushion Boot Socks that I ruck in. When you are rucking your feet will swell so you want to account for that in sizing. The size 14 had good width but there was a ton of slippage from front to back. They might have been good for events but there was no way I could wear them on a daily basis.
I ended up keeping the size 13 and returning both the size 12 and 14. After rucking over 50 miles in them I'm confident that I made the right choice.
GORUCK MACV-1 Unboxing
If you're curious how the MACV-1 boots come packed then definitely check out our unboxing video!
https://www.youtube.com/watch?v=pfCOP46oeP4
There's some really good discussion on the boots in the comments of the unboxing video if you're looking for more to read.
The First Few MACV-1 Rucks
The GORUCK MACV-1 boots showed up on a Monday night so I wasn't able to get out in them that first day. The following day (Tuesday) I rucked four miles on pavement just to see how they felt. I was impressed with them right out of the box and was surprised at how comfortable they are.
The comfort might have something to do with the giant Workhorse insole in the bottom of the boot. Don't worry… yours won't come pre-loaded with dog hair.
It is incredibly thick. When the four miles were up there was no heel rubbing, hot spots, or blisters forming. I was nothing but smiles.
The second ruck occurred the next day (Wednesday) and was six miles which included some dirt paths. There are no true hiking trails near my house but we do have man-made dirt trails. I completed a loop numerous times over the dirt to make sure they could handle rucking off pavement. No issues with the dirt and again no heel rubbing, hot spots, or blisters beginning to form.
The third ruck was the following day (Thursday) and was a four miler. During that ruck I gave them some decent elevation change so I could figure out how they would handle hills. There were no issues at all experienced during this ruck and my confidence in the boots continued to grow.
Within the first three days of owning these boots I put fourteen miles on them and was feeling very good about my purchase.
The First MACV-1 GORUCK Tough
The Friday of the week the boots showed up (four days after their arrival) I took part in a GORUCK Tough. My initial plan was to wear my normal rucking shoes but the MACV-1 boots were doing so well I figured why not wear them. The pictures in this section are the boots right after that Tough event.
I went back and forth all day on this decision and eventually settled on wearing the boots and bringing my normal rucking shoes in the bottom of Rucker 2.0. Worst case scenario I could throw them away or down a hill if they were awful and wear my regular shoes.
Thankfully that did not need to happen. That GORUCK Tough Challenge was over 19 miles, nearly 15 hours, had 3,700 feet of elevation gain, and an equal amount of loss. It was something special.
The welcome party included the Cadre Roony WOD while we rucked up the mountain. The boots were absolutely amazing throughout nearly the entire event. I never thought about bringing my regular rucking shoes out of my ruck.
On the decent my big toes started slamming into the front of the boot. It was pretty steep and there were a number of people complaining about the same issue. I don't consider this a huge issue with the boots as it didn't start up until we had covered at least 1,000 feet of descent.
There is definitely some minor wear and tear on the boots after this event but that's common with leather. Thankfully you can kiwi them up and make them look like near-new again.
First GORUCK Tough Overall
In the end I was so glad I brought the boots.
Not only did they work well but now I know how they'll hold up to an off-road GORUCK Tough.
Now I just need to take them to an urban event to see what they think of the city.
Running in MACV-1 Boots
These boots are light so I was curious how they would handle an actual run. I ended up taking them out for a 3.2 mile run that I ended up finishing in 24:23.
That's not a terrible time but it's definitely not great for me. Throughout the run I started to notice the weight a bit more than I did when I was out rucking. They are definitely heavier than running shoes and the tall boot aspect of it was interesting. I'm not sure if it was bad or not but it's just something I'm not used to.
In the end I wouldn't consider these running shoes in their current form. Although you can run in them there are many better choices out there a strict running shoe. That being said there can be some amount of running at a GORUCK event and these will be absolutely perfect for that… just probably don't plan on getting a half or full marathon PR with them.
MACV-1 Everyday Use
There was a recent thread on Reddit where a fellow GRT was curious how these looked for casual use. I wasn't sure what I was going to do with these pictures but here we are… shots of the MACV-1 in a daily use setting.
We ended up at the beach with my kids and it turned out I was wearing the MACV-1 boots. Normally I don't tuck my pants into the tongue like that and this picture is embarrassing.
I didn't do any PT or rucking but they carried well in the sand.
We also went to a place that had a bunch of deer. I thought it would be funny to get a picture of the boots with the deer in the background… so here we are. What's up deer?
Mileage Updates
In one of the comments on the MACV-1 unboxing video I mentioned that I'd make updates every fifty miles with the boots. It will be interesting to see how the leather changes over time and how long the boots actually last. I regularly use running shoes until they have over 1,000 miles on them and I hope these last as long too!
Fifty Mile Update
The first fifty miles included those initial three rucks as well as the GORUCK Tough event. I'm not going to copy and paste those sections here so feel free to read about the three rucks or the GORUCK Tough event above.
After that Tough event I cleaned the boots then used them to finish up PATHFINDER Ruck Training 017 Forward and Endure. There was a number of shorter rucks which eventually led into an 8 mile coupon ruck. There were no issues with any of these rucks and the boots felt even more comfortable after each one.
Wet Grass Workout
The final ruck was six miles and was completed after a workout on the grass. I had heard that the boots weren't great on grass so I wanted to test that out before hitting 50 miles. That workout consisted of bear crawls, crab walks, lunges, and mountain climbers. I tried every exercise I could think of that would get the boots to slip.
Although they did slip a little it was nothing more than what I'm used to with the Brooks I take to events. If you are someone who is used to boots with a lot of tread or hiking shoes then you may notice the difference here. If you traditionally ruck in running shoes then these will feel very similar and possibly a little better.
Water Submersion
After that workout I went for the six mile ruck and made sure to completely submerge the boots.
I wanted to see how well the drain holes worked and spend some time rucking in wet boots. The drain holes are absolutely amazing. Every step you take seems to push more water out of them until there's nothing left. After 30 or so feet from leaving the stream my boots no longer had water in them. Incredibly impressed.
When I got home from the ruck I threw the boots in the garage and left them there for a few days. I had rucked a ton to get to the 50 mile mark within a two week time period and wanted to take a few days off.
Salt Stains
When I came back to the boots I noticed that they had built up some white stuff near the tops.
I had never seen this stuff before but after a little research it turns out they're salt stains.
It turns out they occur after your boots have seen salt and weren't properly rinsed off.
Time to give them another bath! After hosing them down and letting them dry the salt strains were mostly gone. After doing some research on salt stains I found that you can use a one to one mix of white vinegar to water to remove them.
Fifty Mile Appearances
How do these things look after 50 miles? I probably should have cleaned them before these pictures…
…but here we are again. Don't mind the salt stains!
The bottom still looks great. A little dirty but great. No real sign that they've seen 50 miles of use.
All four laces still have their rubber caps which is good news.
The toes are getting some nice creases in them. You can start to see what the boot does when I'm taking a step in them.
The heels have a few scuffs most likely from people stepping on them during the GORUCK Tough.
Some minor scuffing on the front as well. Again, nothing serious but it's fun to watch these boots break in. Honestly it reminds me of breaking in a new GR1 or a pair of jeans.
The drain holes have scuffed up a bit so I might grab a black sharpie and color them in. I've had other metal things that are colored black scuff and a sharpie usually fixes that right up.
The insoles have had the majority of the GORUCK logo fade off. Those things usually go pretty quick but maybe it's proof that I actually did put the miles on these.
Overall I love how these are breaking in. I'm a little upset with myself for not cleaning off the salt strains before taking these pictures but I'll remember that for the 100 mile update.
150 Mile Update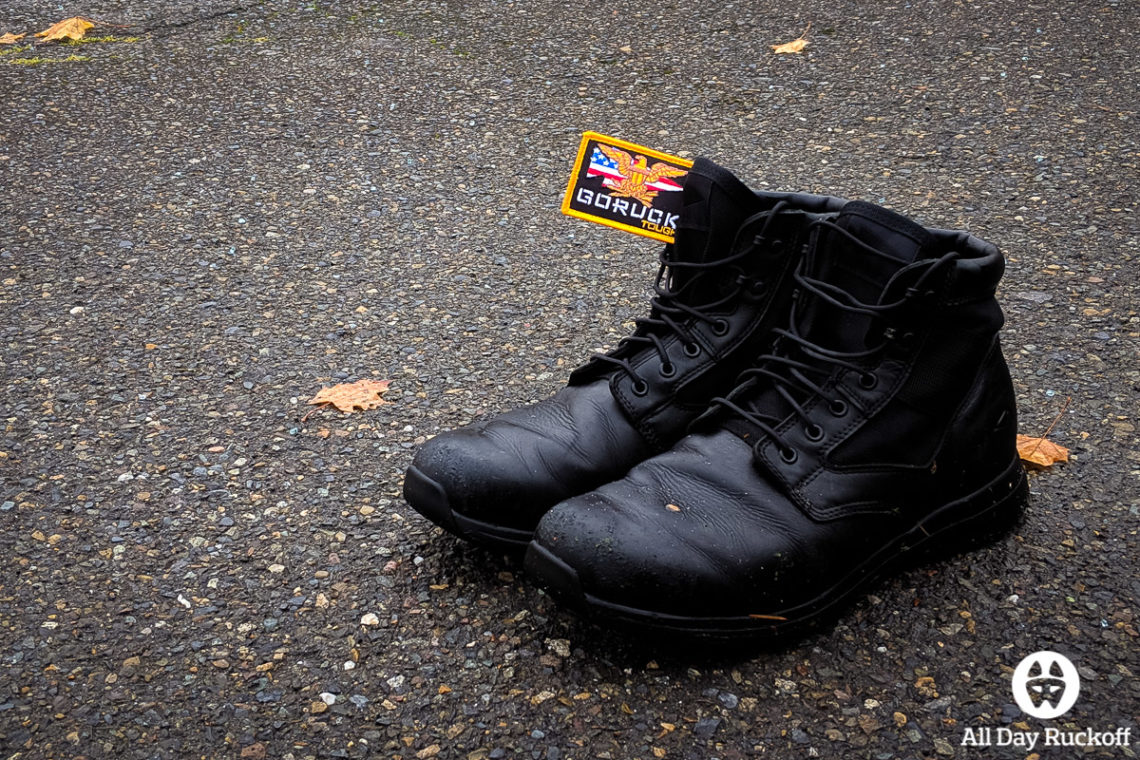 Since the last update I've used the MACV-1 boots for another Tough, a Light, a Constellation 6, and a Constellation 12.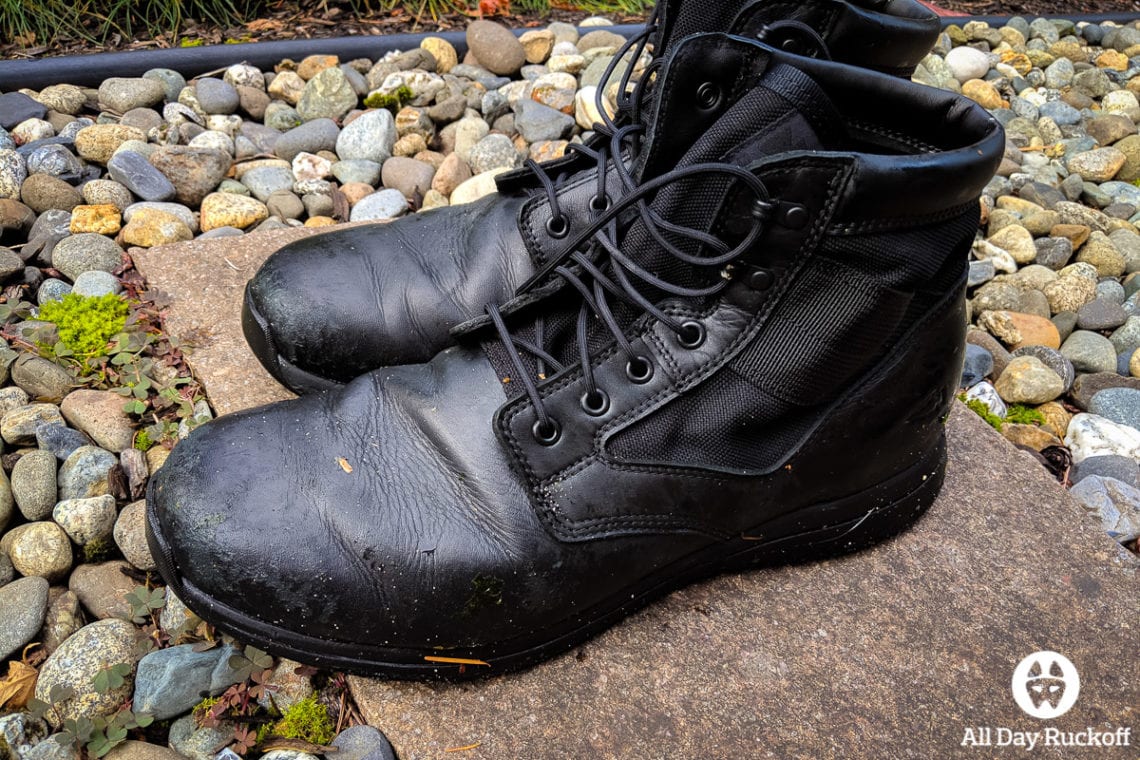 They always look pretty beat after a GORUCK event but a nice rinse from the hose will clean them up right. It's really important to wash them soon after an event if there's salt water involved. Salt water doesn't joke around when it comes to gear.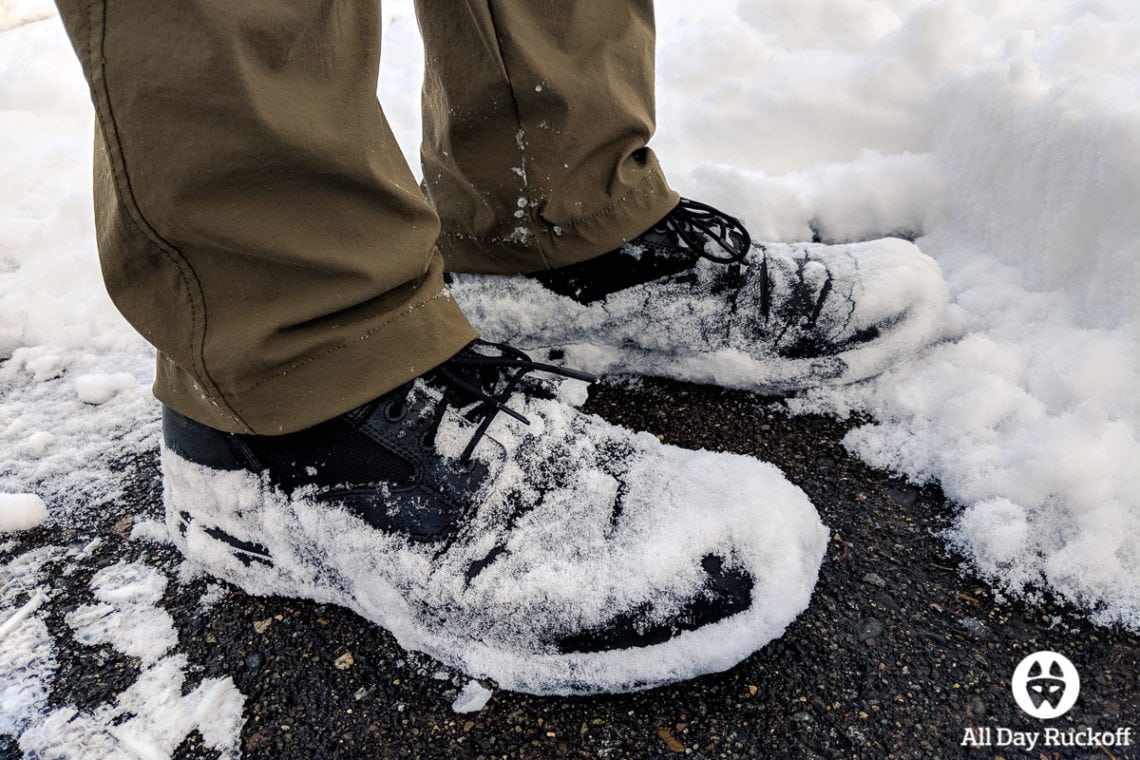 Through the past 100 miles of rucking the only experience worth truly notable was when I took the MACV-1 boots out in the snow.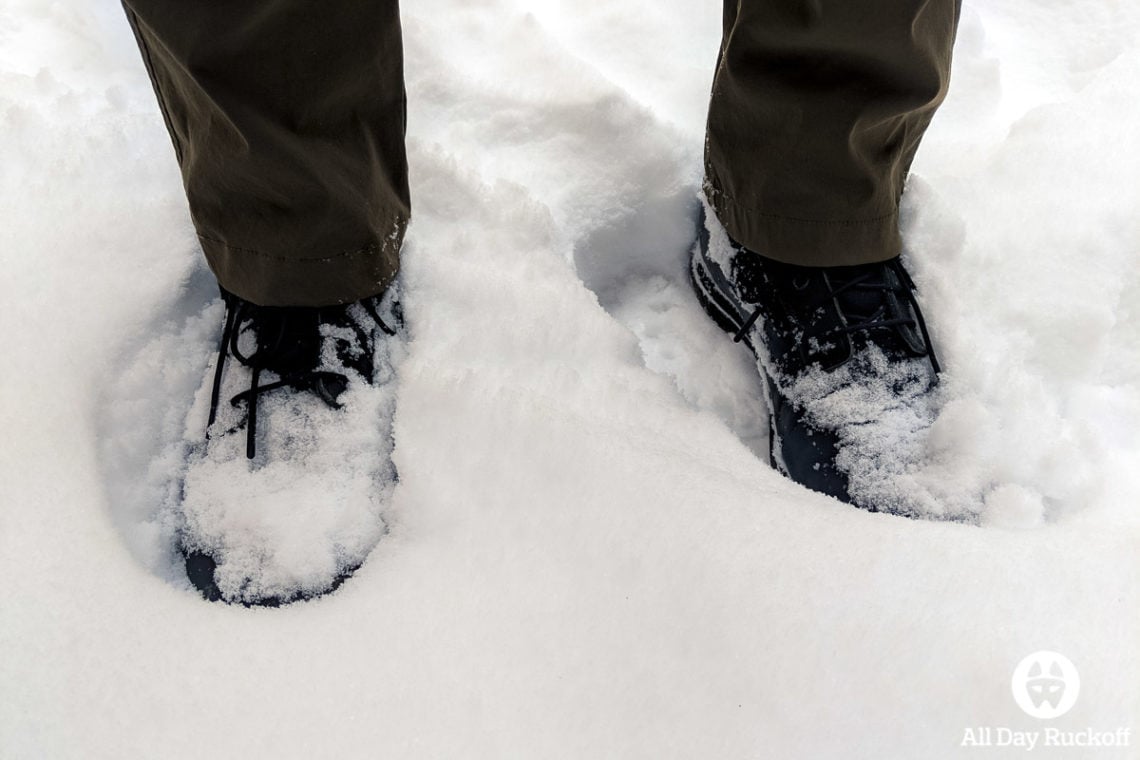 It dumped snow for weeks over here during February, 2019 and I wasn't going to lose the mile-a-day challenge. If you're curious what the weather was like I recommend checking out this post.
The MACV-1 boots performed about as well as you'd expect considering the bottom of them is fairly flat. They slid in areas and didn't provide the traction that you'd get in snow boots. Then again… they're not snow boots.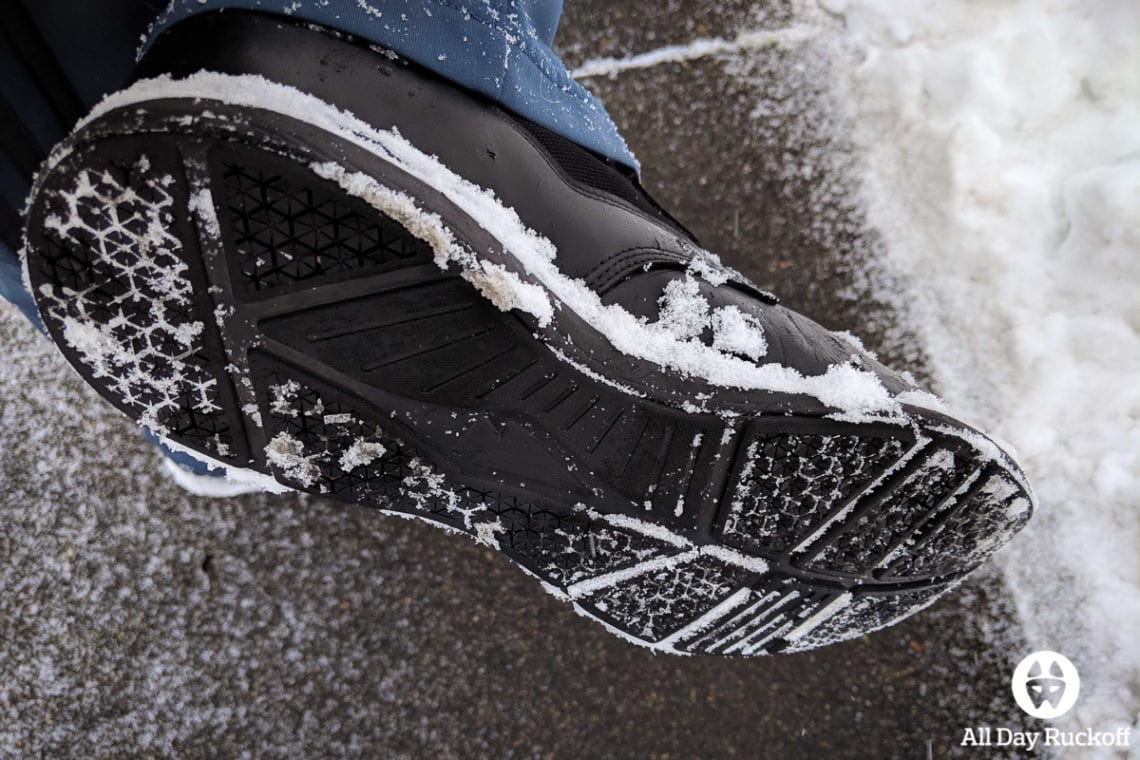 Here's what the snow looked like as it started to pack in the bottom. Definitely not ideal but I was able to get all of my miles in using the MACV-1 boots without falling. In the end that's all that really matters.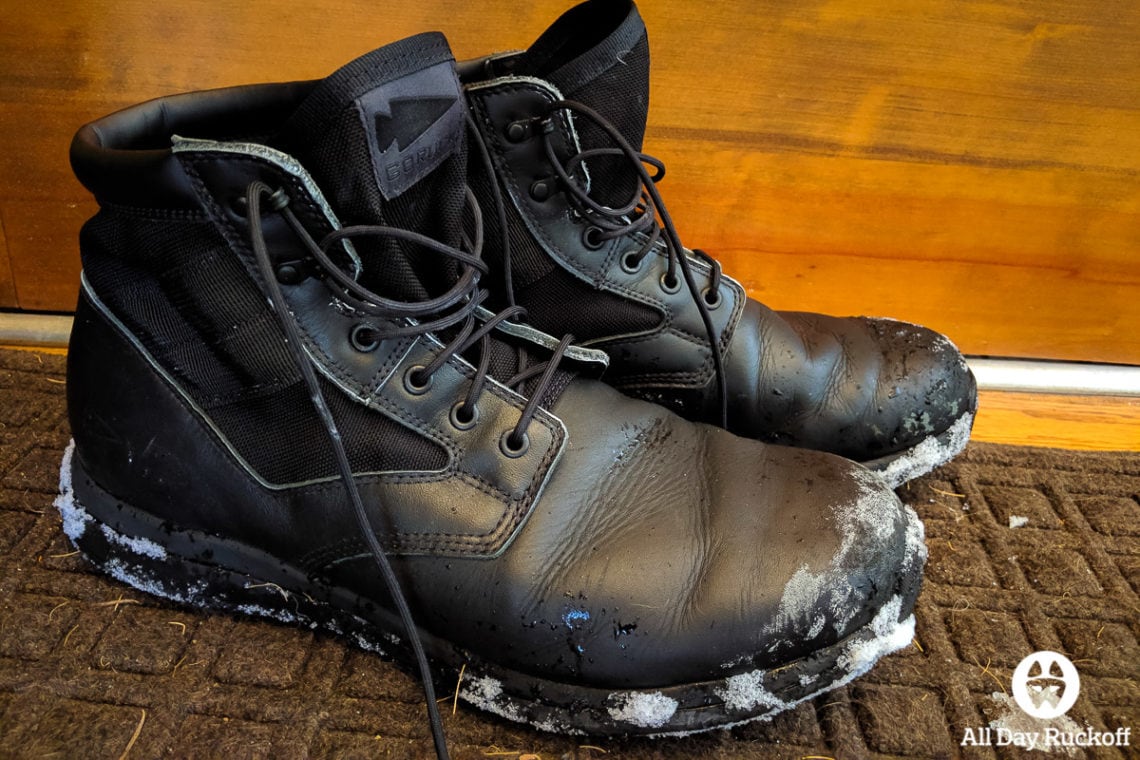 Every evening they'd dry off nicely and be ready for another ruck the next day. They definitely took a beating in the snow and ice.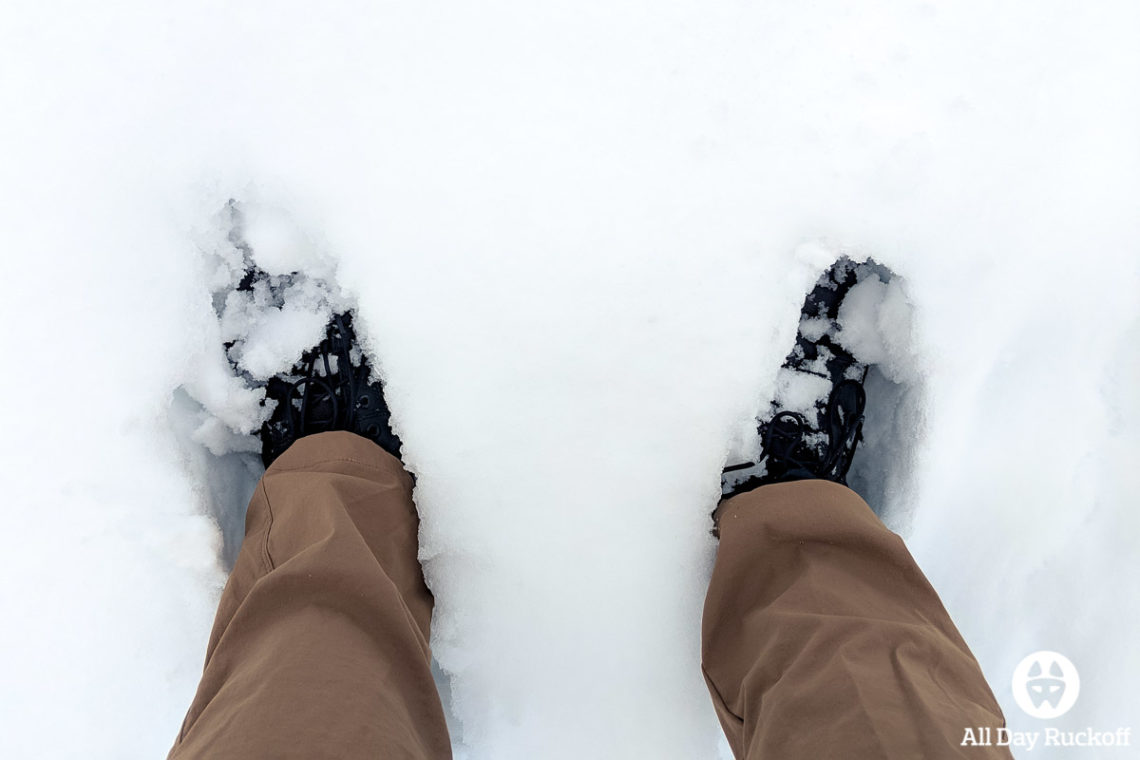 The name of the game when rucking in this amount of snow and ice is snow and steady. There's not much traction on the bottom of the boots so you need to careful. If you're not steady on your feet then rucking in the snow with them might not be the best idea. Getting an extra mile in isn't worth slipping and breaking anything.
Conclusion (So Far)
I've owned these boots for roughly 10 months and have put just over 150 miles on them. I haven't destroyed them or required the use of their GORUCK SCARS lifetime warranty. It has been interesting to watch GORUCK respond to the warranty claims for the MACV-1 boots. As far as I've seen they've replaced 100% of claims with a brand new pair of boots. Not bad.
As of right now I am still incredibly happy with my purchase. The MACV-1 boots have handled every task I've thrown at them and seem to want more. They fit my feet great and are surprisingly comfortable and light. I'm used to rucking in running shoes so I was happy that these feel like a boot version of a running shoe.
For $195 these aren't the cheapest boots out there. When you factor in the warranty however they might be one of the best bangs for the buck.
We'll see how they continue to perform but right now I'm beyond happy with them. I haven't experienced any feet issues with them and they're still my go-to footwear for rucking. Have any questions about the MACV-1 boots? Leave a comment below and I'll get it answered!