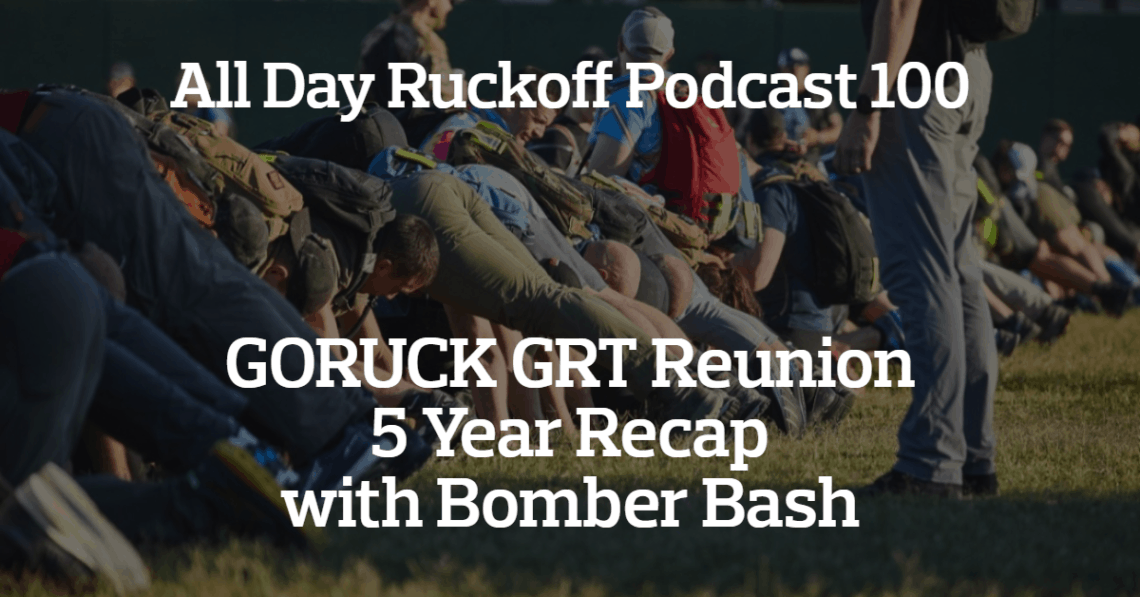 Podcast: Download (Duration: 1:06:49 — 61.6MB)
Subscribe: Apple Podcasts | Google Podcasts | Spotify | Stitcher | TuneIn | RSS | How to Subscribe
I went back and forth on which episode should be the one that pushes the podcast into triple digits. I have two recorded that could fit the bill… the first is GORUCK Cadre Danny Stokes interviewing me about my life outside of rucking. The second is a GRT Reunion Year 5 recap with Christopher "Bomber" Goad.
After thinking about it for probably longer than I should have I ended up going with the GRT Reunion Year 5 recap episode because of the community. The GRT Reunion events are supposed to be a huge focus on the GRT community and bringing everyone together. This podcast would have never made it 100 episodes without all of the incredible community support. The listens, the shares, the feedback… all of it.
Without the community this podcast would absolutely not be what it is today. 100 episodes deep and only 4 of them (roughly) have been solo episodes. That means 96 interviews. 96 times people felt that coming on this podcast and talking about rucking was worth their time. That is humbling.
Thank you so much for being part of this community. YOU are what make this special, you're what make this podcast possible, and you are truly appreciated.
Resources
Here's links to everything we talked about during the podcast episode:
YouTube
What's Next
Thanks so much for listening! If you missed any of our earlier episodes you can give them a listen right now. Hopefully you enjoyed the podcast and are excited about the next one. Did you enjoy the podcast? We'd love a review on iTunes or even our Facebook Page! Didn't enjoy it? Contact us and let us know what we can do better!
Thank you so much for all of the support! Subscribe through iTunes, Spotify, Google Podcasts, Android, Google Music, Stitcher, or TuneIn and never miss another episode!