Looking to buy something for the GRT or rucker in your life? Even if that person is you (we don't judge) we are confident they'll be happy (or at least appreciative) with something off this list. The list is broken down by cost so that you can find your target area and choose within.
We surprisingly get a large number of emails over the holiday season asking what people should buy their spouse who is "into GORUCK" which is always nice. We don't expect significant others to completely understand our love of rucking but the fact that some would reach out looking for suggestions says a lot about how much they care. To help those people we have included useful descriptions with each item so you not only know what you're buying but why you're buying it.
2017 Holiday Gift Guide by Price
Use our price categories to easily find something for an upcoming white elephant or for the love of your life. We get that price is king so we've sorted everything by that.
Spending Limit: $1.00 – $9.99

ITW Grimloc ($3): The ITW Grimloc can be attached to the shoulder strap of a backpack (with webbing) and secures a water bladder hose so that it doesn't flop around. You can never have too many of these (they're small and get lost) so one or two in a stocking is a great idea… plus that way the receiver will silently thank you every time they drink water.

Morale Patch Velcro Magnet ($5): A lot of us have morale patches we've gotten from events, friends, or bought off Ruck Mall. This magnet has loop on the front and magnet on the back so you can put your patch on it and slap it on a refrigerator, tool box, safe, or whatever else magnets stick to. They're small, cheap, and make great stocking or white-elephant gifts. Perfect for people who don't have a patch board but want to display a patch or two.

Morale Patch ($3 – $9.99): Fairly inexpensive and a nice little stocking stuffer… especially if you find one that fits the receiver's personality.
Spending Limit: $10.00 – $19.99

Sew Strong Patch Tag ($10): Sew Strong is run by a fellow rucker and GRT Margaret. These fit on key chains, through (most) carabiners, and on paracord. Personally, we've got a spare key on our patch tag with a "Your Mountain is Waiting" patch so we can try to motivate anyone who watches the place.

TactCan Koozie ($10.99): One of these koozies fitted with a new morale patch is a great stocking stuffer or white elephant gift.

Hydration Valve Mouthpiece ($12.00): If you know the person you're buying this for uses a Source Hydration bladder then you can't go wrong with an extra mouthpiece. There's nothing worse than losing one so having a second on hand could literally make or break their event.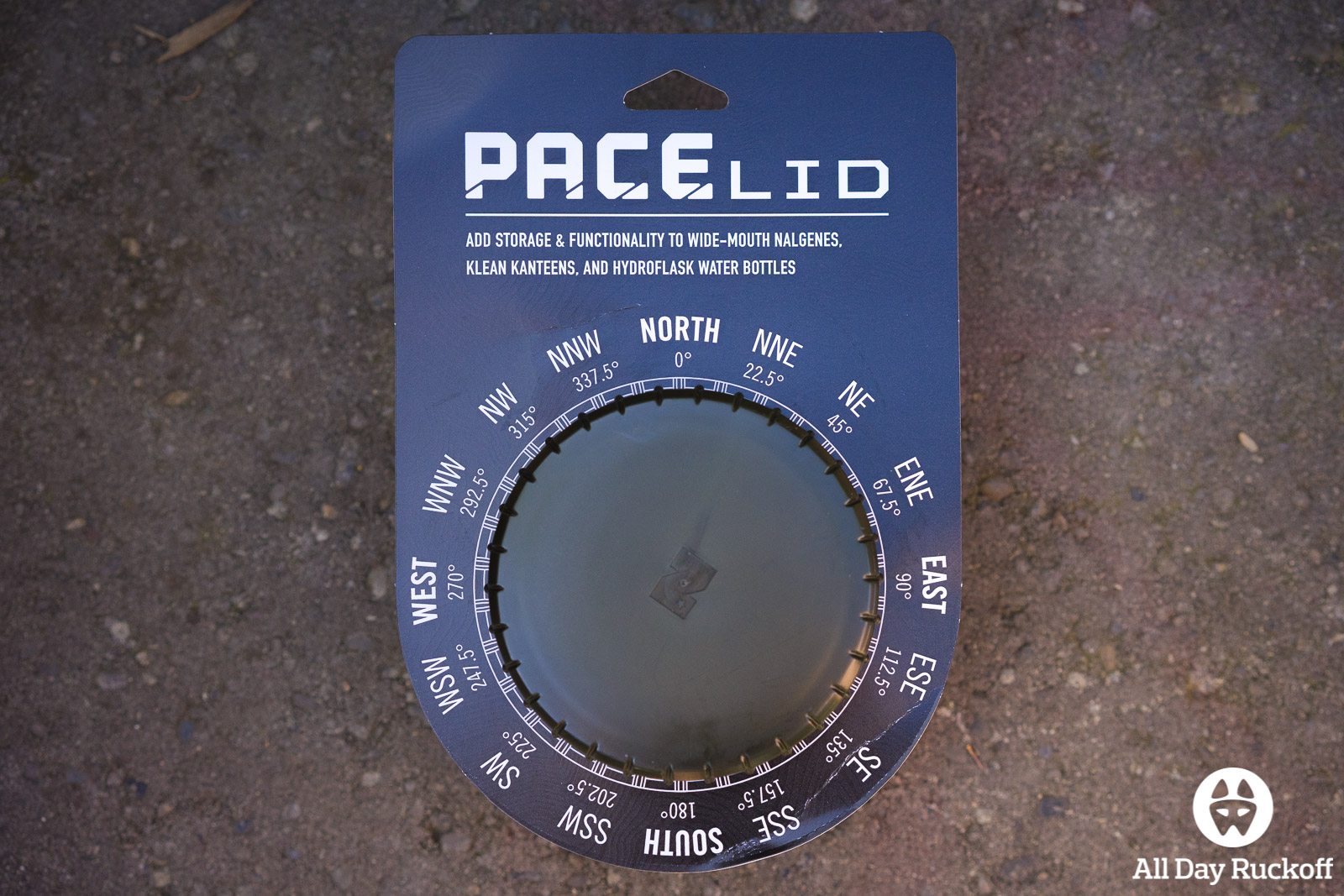 PACE Lid ($19.99): The PACE Lid was created by GORUCK Cadre and GORUCK Selection Finisher Chris Way. If you're curious about Chris we interviewed him both about PACE Lid and about his GORUCK Selection finish. It's a lid designed for Nalgene water bottles that allows you to store small gear within it. It's pretty cool and kids (and adults) love it when you fill it with gummy bears. Trust us.
Spending Limit: $20.00 – $49.99

Custom Knotted Cords Paracord Handle ($23 – $28): Get a custom-made (you choose the colors) paracord handle. They're usable, fun, and definitely something we consider handy. If you're curious about Knotted Cords you should listen to the podcast we recorded with them!

GORUCK Wire Dopp ($35): The GORUCK Wire Dopp is the single handiest piece of gear that GORUCK sells in their collection of ruck accessories. This thing can hold a ton of gear and fits nicely into the GORUCK rucks. We gave these a great review and recommend them to anyone who uses a GORUCK pack for travel or work.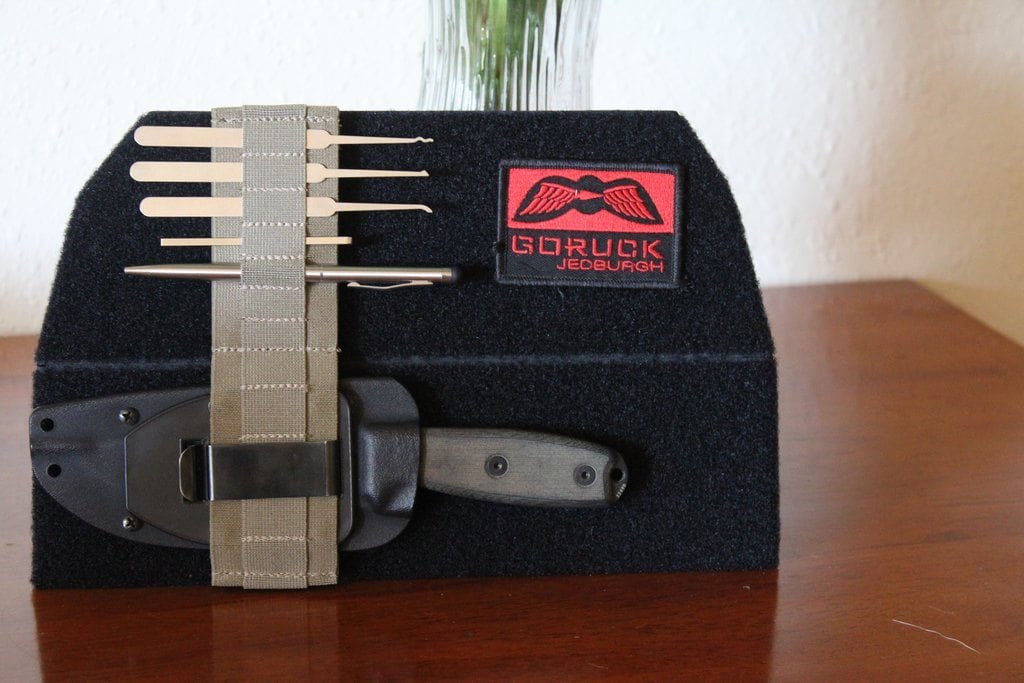 Ruck Customs Mini Shooter Conversion Kit ($40): The Ruck Customs Mini Shooter Conversion Kit is a great way to turn your internal webbing into a Velcro-filled dream. These fit on the 21L & 26L GR1s, the 34L and 40L GR2s, and the Radio Ruck… and they should also fit on Ruckers. With one of these you can add a Velcro pouch (which could easily hold a camera lens or first aid kit) as well as display a few extra patches.
Spending Limit: $50.00 – $99.99

Ruck Customs Shooter Conversion Kit ($60): The Ruck Customs Shooter Conversion Kit is a great way to turn a standard GR1 or GR2 into a Velcro-pouch compatible beast of a pack. They're very well made a dream for photographers. Check out our full review if you're curious about it.
Spending Limit: $100.00 – $199.99

Brute Force Athlete Sandbag ($129.95): We bought our Brute Force Sandbag before GORUCK was even selling sandbags. It has a very special place in our heart and we've abused it to no end. If you want to grab a non-GORUCK gift to improve a rucker's workout then you can't go wrong with one of these. Here's our full review of the athlete sandbag.

GORUCK Bullet Ruck ($145): The GORUCK Bullet Ruck is an incredible day pack. It's light and allows you to carry the essentials with you without adding much bulk. It is truly an awesome grab-and-go ruck.

GORUCK 60 lb Sandbag ($95) + 2 – 40lb Filler Bags ($58) (Total: $153): GORUCK makes a quality product and their sandbags are no exception. If the rucker in your life is looking to change up their workout and doesn't have a sandbag then that needs to be fixed. Outside of the ruck the sandbag is the tool that gets the most use around here.

GORUCK Rucker ($195): If the GRT/Rucker in your life does not own a GORUCK pack and has expressed interest in getting one for rucking you cannot go wrong with the Rucker. We reviewed the Rucker this year and have been beyond impressed. They are perfect for rucking and GORUCK events and will definitely bring a smile to the gift receiver's face.
Spending Limit: $200.00+
The $200+ limit is quite the price range to shop in. When you're spending that much money you want to make sure that the person receiving the gift will be happy with it. Because of this we're only including two items here: the GORUCK GR1 and GORUCK GR2. Both of these rucks have been time tested and are loved by many. In addition, GORUCK has a generous return policy so if it's not for them they can easily get the money or store credit.

GORUCK GR1 ($295): The GORUCK GR1 is the first pack that GORUCK made and stands the test of time.

GORUCK GR2 ($395): The GORUCK GR2 is one of the best packs you can use to travel with. It holds ample clothing and is an all-around awesome piece of gear.
Conclusion
Hopefully this gave you some gift ideas for either yourself for the rucker/GRT in your life! Every item on this list is something we wouldn't mind receiving as a gift and are confident in recommending. Feel free to leave a comment with ideas that we might have missed! We love hearing what people are hoping Santa might bring by this holiday season.