Podcast: Download (Duration: 38:11 — 35.4MB)
Subscribe: Apple Podcasts | Google Podcasts | Spotify | Stitcher | TuneIn | RSS | How to Subscribe
Throughout November we'll be featuring some amazing GRT companies that service the GRT community. This week we have an interview with Kevin Maestri who runs Knotted Cords.

Knotted Cords creates custom items from paracord meant to enhance and expand on some of the gear you already own. Their best seller is a paracord handle for GORUCK packs which has numerous uses that we get into during the interview.

We had a great time chatting with Kevin and hope you enjoy learning more about the GRT run company Knotted Cords!
Resources

Podcast: Download (Duration: 38:11 — 35.4MB)
Subscribe: Apple Podcasts | Google Podcasts | Spotify | Stitcher | TuneIn | RSS | How to Subscribe
What's Next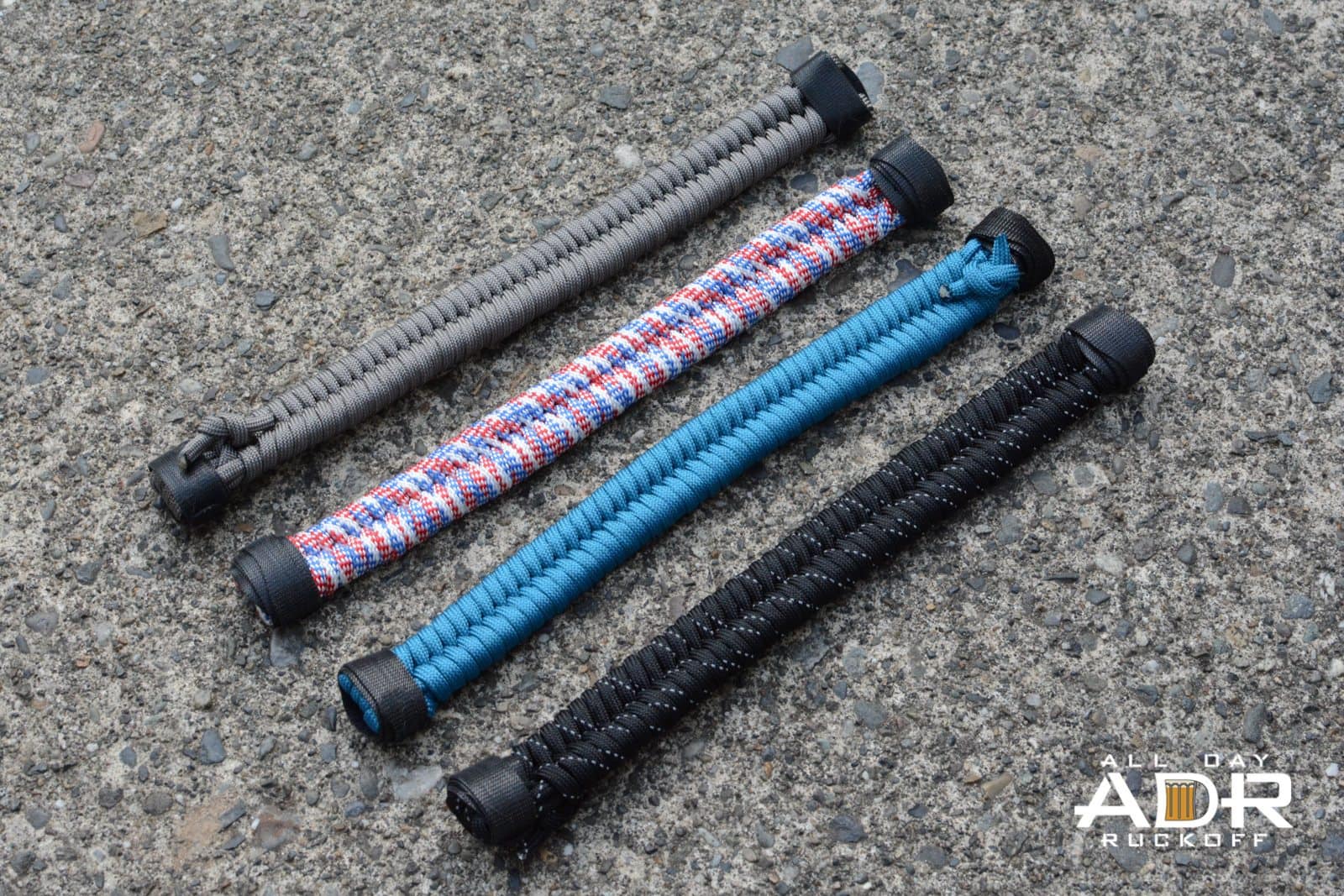 Thanks so much for listening! If you missed any of our earlier episodes you can give them a listen right now. Hopefully you enjoyed the podcast and are excited about the next one. This is very new to us so we would appreciate it if you would cut us some slack as we work on perfecting our methodologies. Did you enjoy the podcast? We'd love a review on iTunes or even our Facebook Page! Didn't enjoy it? Leave a comment here in the show notes and let us know what we can do better!
Thanks so much for the support and make sure to check out the links in the Show Notes. Subscribe through iTunes, Android, Google Music, Stitcher, or TuneIn and never miss another episode!
Podcast Transcript
Brian: I'm here talking with Kevin Maestri from Knotted Cords. For those of you who don't know Kevin, he is a GRT and started Knotted Cords a few years ago within the community. Knotted Cords specializes in a lot of gear made out of paracord but the hottest seller at least on All Day Ruckoff is the ruck handles, which Kevin handmakes. In addition to running Knotted Cords, you might have seen him around the Tough group as he volunteers a lot of his time with Cadre Danny Capital Ruck Tour, which is an incredible operation he's got going there.
I'm very excited that Kevin's here to chat about Knotted Cords, so let's get the interview started. Kevin, how's it going?
Kevin: Very well, thanks for having me on.
Brian: Absolutely man, I'm glad to have you here, it was great meeting you in Seattle when you came just to hang out with Danny, but it was great meeting you in person. I'm glad we're doing this.
Kevin: Yeah, it was just a nice visit up there, hanging out with Danny for a couple of days.
Brian: Awesome. Before we get into Knotted Cords, I want to talk a little bit about your involvement in the GORUCK Community. How Did you stumble upon GORUCK as a company?
Kevin: I actually first saw their bags online years ago. I have a feeling it was close to when they first came out. But never really had an opportunity to grab one, but my first involvement with GORUCK was actually my first event in May 2014. I had met some of the locals of the local GORUCK community here in Arizona in the fall before that so 2013 during a hiking event we have here in Phoenix and started rucking with them and decided to sign up for Light. That was happening in May. A couple of weeks out from that, they canceled it so I got talked into doing the Challenge, which at the time of the Challenge the night before the Light.
I had never rucked more than four bricks but yeah, that was my first experience with the GORUCK community.
Brian: That's wild. Sold you on the Light and then pulled the rug out from under you and got you into the Challenge, which is now called the Tough. How'd you feel about that?
Kevin: Correct, yeah. Really apprehensive. Like I said, I had never trained with more than basically packed up for the Light and ended up having to borrow a ruck because the bag I was using was not a GORUCK bag and wouldn't fit six bricks and water, so it was either six bricks or four bricks and water. So I had to borrow a ruck for the event and that was all four weeks out. First time, about four weeks before the event was the first time I did an overnight ruck. The first time I rucked more than about 15 to 20 pounds. So it was an interesting experience to move up to the Challenge. I'd like to say it nearly killed me but, as most people say, the team is what got me through.
Brian: That's wild, I mean, we both know water's important so I'm glad you got a pack so you could bring water with you.
Kevin: Yeah, exactly.
Brian: When you completed the event, what were your thoughts? Did you want to do another one or were you thinking, "Man, this was a little crazy."
Kevin: I wanted to do another one. The biggest thing for me though was, throughout 2013 and even a little bit of 2012, I was kind of on a path that I was like, kind of losing weight and trying to get back into shape. I'd kind of really let myself go and I wanted to get back in shape and so this was kind of like an evolution. I started doing some other events.
When I did the vent for the Tough, I really didn't feel like I performed very well, but it really just – I wasn't happy with my own performance. So I knew I wanted to do another event but I wanted to be in much better shape for it before doing another Tough event. But yeah, I knew I was going to do another one, I just didn't know when.
Brian: Got it. Did you ever get the Light in?
Kevin: I did get a Light in actually finally this year, 2017 was the first time I got a Light. So it's been about three years later, I finally got around to doing the Light, and I did Saint Patty's Day Light this year.
Brian: Oh Saint Patty's day lights are always a blast, that's great.
Kevin: Yeah, that was a lot of fun.
Brian: I'm glad you're able to finally get off out for one of those since that's what kind of drew you in and then just pulled away.
Kevin: Exactly.
Brian: Moving on to Knotted Cord, what made you decide to start the company and when did you first start it?
Kevin: I don't know that I had a like, "Hey, I'm going to start a paracord company or hey, I'm going to start doing this." It was really – I always had like an interest in knots and learning knots and I like learning little skills like that and I've always had this interest in learning things like that.
So I always had fun with knots. When I got my GORUCK bag, I wanted to get a handle for it so I decided to make one out of paracord for myself. I had a couple of people compliment it, like it so I made a few for some friends in the area that were doing an event up in Flagstaff and kind of started rolling there.
Brian: That's awesome.
Kevin: I think that was early 2015. So in the springtime of 2015 is when I made, I finally got around to getting my own GORUCK bag and making my own handle, making some handles for some locals doing the Flagstaff event in 2015.
Brian: Awesome. So how were they received by the people for the Flagstaff event?
Kevin: I wanted to have other people test them out. I had some local a friends that do events on a regular basis, so I gave a couple of handles out to have them test them out. I wanted to try it out before I really started mass marketing them anywhere.
They really enjoyed it, they have different uses and different thoughts on them. Some of them really like just having the handholds for overhead work. Some people actually liked having it to have a buddy grab on to help pull them as they're going on a route to make sure the spacing, things like that. There were a couple of different uses came out of it because of that event, because there were about four people that had them during that event and they kind of all sound different things that they really liked about it.
Brian: That's awesome. It's really interesting to see the different use cases once people actually started using the product and figuring out what they like about it, so very cool.
Kevin: Yeah.
Brian: Before we move on, would you like to describe for those who haven't seen one of your handles, what we're talking about here?
Kevin: The best way to describe them, I do two primary of like my standard paracord handles. They're designed to be attached to the front MOLLE of the GORUCK bags but I can make them custom to any size with the different brand pack but it's designed to be attached via carabiners and so I either usually do fish tail, which is one type of knot or a cobra knot and both of those can have some variation on one color, two color with some decorative stuff added to them. Things like that. But they're just kind of meant to be strapped to the front MOLLE so that you can have a good handhold on the bottom end of the ruck since the top handle usually is sturdy enough on its own.
Brian: Awesome. I'll link some pictures in too but like Kevin said, it goes on the three rows of webbing, and you should use a carabiner to put it in. I've seen some people use the Velcro it's attached with when you originally get it, but you should use carabiners and you can attach it on there and like you mentioned, it gives you a grab handle at the base of your pack and then you also have that grab handle at the top of your pack.
So you can basically turn your ruck into another piece of workout gear. You can do overhead presses a lot easier with it and like you mentioned, with one of these handles you can use it for spacing at events because, you know, the cadre, they love to catch you when you're a little too far away and turn you into a casualty. So they're very awesome.
When you first started out, were there any challenges that you faced with Knotted Cord?
Kevin: No challenge, specifically. I didn't have any specific goal in mind. The main purpose of Knotted Cords really has been to do – create a way for me to give back some of the donations to charities but also to kind of fund my own GORUCK addiction, my GORUCK bag addiction. That's been the primary purpose.
I haven't had a lot of like, challenges but I have to give All Day Ruckoff a huge credit to that because really early in the process, I reached you to you to try to get some paracord items on All Day Ruckoff and that really is where things kind of took off and the biggest challenge is actually just keeping stock available on your website.
Brian: Well, I'm glad I was able to help out, you know, in some way there. They're definitely a hot seller and there was always people on the waiting list. So, you make a good product.
Kevin: Thank you.
Brian: Is there anything you wish you had done differently or sooner when you started out?
Kevin: Not really. Like I said, really early in the process, I kind of reached out to you. I knew All Day Ruckoff was kind of the primary website out there for rucking and the GORUCK community. So I knew if I could get hooked in there, that would really help me as well. So I wanted to provide a product that you didn't have but also give me a means to get my handles and the other items I make and send it up your way out to a larger community that I would myself because I was so new to the community still as well.
Brian: Got it, that makes sense and thank you for that.
Kevin: No problem.
Brian: How was the GRT community reception when you first start out? I know you said that you kind of tested them with your local ruckers, but when you started bringing it out, I saw the post up in Ruck Mall.
Kevin: Yeah, it's actually been really good. There's always people that don't like the idea of having a handle on the bottom end of their ruck and that's fine and, you know, everybody has a different way of how they want their ruck setup.
But people that like having a handle, it's been very receptive, really well receipted actually. Being able to customize colors, that is one of the things I offer as well instead, in addition to you, like the primary colors and the standard colors that are on your website, people can contact me directly if they want handles in their favorite sports team colors or whatever the color scheme that they want.
I am able to kind of customize them and make the ruck more unique for them and that's why I think a lot of people use it for as well, to kind of just change their ruck up a little bit to make it theirs.
Brian: That has some added benefits as well, right? Because not only, you know, do you add some of your own personality to the ruck but there are times at an event where a cadre will throw all the rucks in a pile or, you know, something will happen and you'll be tasked with finding your ruck within 40 seconds or a minute and if you have something on there that's unique like a handle that has special colors in it or colors that you know then it's that much easier for you to get your pack and help the team out.
Kevin: Yeah, that actually helps me personally a lot as well. Like I said, I have a GORUCK bag addiction and collect all black rucks. I don't have any colored rucks at all. I had a black with green MOLLE rucker when they'd first come out and for some reason, I just couldn't bring myself to carry it.
So I ended up selling it so all my rucks are all black and I put different colors on them and it helped me separate them as well but that case works in an events as well when you have a sea of black rucks in pile, yours can stick out with just a handle unique colors in it as well.
Brian: Yeah, and I know that all too well. The ruck addiction. I actually just had a black and red GR1 show up this morning, so I was pretty excited about that. It took a long time to track it down but it's here now.
Kevin: That's kind of a unicorn.
Brian: It is, they did not make many of them but I was fairly persistent and I guess it paid off.
Kevin: I finally saw an orange with black MOLLE ruck last night and I was really surprised at how much I like it. It is super bright, though.
Brian: That's wild.
Kevin: I'm wondering if I would actually carry one of those, which is really weird considering I like all black rucks.
Brian: Only one way to find out, right?
Kevin: Exactly. I'll probably get one eventually.
Brian: That's power for the course right there. I would guess that your most popular item would be the ruck handle, has it always been that way?
Kevin: It has always been that way.
Brian: But I also know and I've seen posted recently that you're coming out with new designs outside of the ruck handle. What are some of the newer things that you're making?
Kevin: Yeah, ruck handles are by far the most popular and what I sell the most of but I like to create other items and customers that have come to me and said, you know, like, "Hey, I have this really cool idea but I don't know if it's even possible." I kind of take that on as a challenge and so I've had a couple of customers come to me like, "Can you make this out of paracord or something that does this out of paracord?" That has inspired a few other products as well.
The most recent one was a pace lid leash. So it's a handle attachment for your pace lid to attach it to a Nalgene bottle around the neck, kind of gives you a handle like the original Nalgene bottles do. Now the original Nalgene lids do. That's one item. I do key chains, I've done bracelets, I've had requests for watch bands, dog leashes, dog collars.
Brian: Very cool.
Kevin: Yeah, recently I just had a request for a gun sling so that's going to be the next thing I've got to figure out.
Brian: Well, that should be interesting. I saw that pace lid lease that you made, they looked really nice and, you know, I've got a couple of pace lids here, I really like them but the one thing I wish they had was some way to attach them to the bottle because you set the lid down and then you have to make sure to remember to grab it again. So I'm going to have to grab one of those off you.
Kevin: That was exactly my problem as well and I had always kind of thought about doing one of those but had a customer reach out to me and they were like, "Hey, do you have something like this?" It really pushed me, it kind of gave me the motivation to actually get out and make it. So about a month ago, I made a few and gave them out to some locals to try out and test them out and give me some feedback and that prompted a revision and that's what actually was kind of publicized just recently.
Brian: Very cool. Like I said, I might have to hit you up and buy one of those, because it would definitely come in handy. So it sounds like a number of customers a have reached out for custom products. What's the most interesting or memorable product that you've had to make?
Kevin: Like I said, I like finding and doing products that are kind of a challenge or something unique. They have a specific thing in mind that they cannot figure out a way to do. So those are kind of fun. I had a customer that does runs like an ultra-marathons and running marathons and the event series that they do was going green, which mean that they were not going to provide cups. You had to bring your own cup. So she had a clean canteen pint glass, which has a nice rim along the top.
But she couldn't find a way to stash it in her running bag, which is basically barely enough for her bladder as it was. So I found a way to create a small attachment to attach it to the outside of the ruck. It did swing around in gypsy camp a little bit but it gave her access to the cup anytime she was on the course. So that was kind of unique and kind of fun to do. The other probably most fun item I made was I did made a koozie out of paracord but that is not probably something I will be doing on a regular basis. They take quite a long time to make.
Brian: I was going to say –
Kevin: But it was kind of fun to figure out how to do.
Brian: That must have taken a lot of work and a ton of paracord.
Kevin: Yeah, it took about a hundred feet of paracord and about two and a half to three hours to get the way I liked it, which is extremely long for any kind of paracord item that I usually make but it was fun.
Brian: It's always fun to try out something new there so very cool. So what's the process for reaching out to you and trying to get something custom made or a handle in custom colors. So if someone is listening and they think they wanted one of these, what should they do to get in contact with you?
Kevin: I have a couple of different ways people could reach me. On my website I have a contact me form and that we will work on the Facebook page. They can message in directly to the Facebook page as well and I've had many people especially people that I know through Ruck Mall that know me, they will actually just message me directly. Any and all of those methods work but they can email me off my website, contact me via my page or my personal Facebook page.
Brian: There you have it and I'll include links to all of those in the show notes so people can get info quick, for sure. So is there anything that you have made for a specific use but then you found out it was used for something completely different than you intended?
Kevin: Yes, a couple of years ago I had made pacifier leashes out of paracord. So a clip on one end a loop on the other that you can attach to your pacifiers too when we had our first kid. My grandmother has recently asked me to remake it a little bit with clips on both ends because her and all of her friends when they're out eating wanted something to help hold the napkin up like a bib. So they actually have about 10 of them that they all wear, kind of like that clips on like you'd see at the dentist office to hold up their napkin as they are eating and I have never thought about using a pacifier leash to tie it like that for that purpose. But it was kind of fun to see and that was kind of fun to talk to my grandmother about.
Brian: That's amazing. Yeah, I bet you would have never guessed about that use.
Kevin: No, not at all.
Brian: So kind of on the same vein, speaking of customizing products for your own use, what are some of your favorite customizations that you've made to your GORUCK bags?
Kevin: The interesting part of customizations for my own bags is that I tend to come up with a product for somebody and ship them out and ends up not having a version for myself for quite a while. So I actually have quite a few products out there that I don't even have one for myself yet. So I really like shoulder holds. I've got a couple of handles that attach to the shoulder MOLLE, they have MOLLE on the shoulder straps. Kind of a nice way to hold your hands up so they don't get all puffy from long rucks and hanging out when you are out and about with friends and stuff.
So shoulder holders is something that is one of my favorite items I've made. It was something that was a request from a customer and we came up with the idea together and that's one of my favorite items I've made. The other thing I really liked is top handle wraps. I like wrapping the top handle of my ruck with paracord. But I tend to do it in a quick release fashion. So it's something that can get me 10 or 12 feet of paracord in about a second and a half kind of thing, if I ever need it.
Brian: Very cool. Yeah I have seen those in a number of packs wrapping the top carry handle. Haven't done it on any of mine because I can't really figure it out yet, but maybe I will spend half an hour someday and do it.
Kevin: I've had a couple of customers ask for extra cord in the custom colors of their ruck handle and I've shown them through either like a YouTube video that's out there that somebody else has made on how to wrap that top handle. So that their top handle matches their ruck handle. There's also a couple of different methods for quick release cord wraps as well. That's one of the items that I plan on doing also in 2018 is revamping my website and adding more of a how to section as well.
Brian: Well that would be fun, because I know a lot of people get the products and they are curious how they are made. So that would be pretty cool.
Kevin: Yeah, it will be – I mean there is a big want for how to even just attach ruck handles to your ruck.
Brian: I was going to say.
Kevin: Yeah that is one that has been requested a couple of times and a lot of times, I've even FaceTimed, Facebook video chatted with people as they're trying to get it all installed on their ruck handle. I will help out anybody that has questions on that as well. But yeah, I want to do a "how to" section with some picture or video tutorials on a couple of things like top handle wraps, things that I can't do for you because I would have to have the ruck with me.
So those kinds of things are kind of nice things to have for tutorial for how you can do it and if you want me to ship you a couple of extra feet of cord that's when you order a handle to max so you can do your top handle wrappings like that, yeah I can do that.
Brian: Very nice, that's a great idea and it's definitely more cost efficient than having them ship the ruck to you and then you shipping the ruck back.
Kevin: Yeah, I don't typically have that happen. I've had local, I'll meet up and then they'll pay me — they'll buy me a beer and I will wrap the top handle but that's about it. Anybody else I'll just send them the video tutorial.
Brian: Good call. So what's next for Knotted Cords?
Kevin: My primary task right now is working on an All Day Ruckoff restock. I know you've been out of stock of handles for quite a while. I have about 60 ready to go, I've got about 30 or 40 that I wanted to get done, but I might just ship you this 60 here right here soon. That's probably my number one task. It's been on my list to do for quite a while. I have a lot of small things that I wanted to get done, some key chains I want to get made just kind of like gifts and thank you's and stuff like that.
But really what drives where I'm going is a lot of more customer requests. So if I have customers that request something new I'll make a new product otherwise I'll try to get some stock built up of a few items and continue working on my restock for you.
Brian: That's awesome and that's really cool that you have so many people that like Knotted Cords that you can be customer driven like that, so congratulations. That's very cool.
Kevin: Thank you. It also helps like I said, this is what I do on the side. It's what I do for fun. It's what I use to fund my own things and also drive some charity giving and so I don't have a certain set of products that I need to get made each week, which is kind of nice. What drives me is customer orders and with the case that released recently that's pushing my work queue up a little bit again right now. So busy with some of those and getting your stuff done right now and then any other custom orders that come in.
Brian: Very nice. Well we are getting to the holidays, so I'm guessing that there will be a few more of those.
Kevin: Perfect.
Brian: So your event calendar this year has been pretty busy. You've been doing a ton with Cadre Danny's Capital Ruck Tour. I saw that Knotted Cords was a sponsor of Capital Ruck Tour, which is awesome and it's amazing what you guys have gotten done.
Kevin: Yeah, it's definitely been a fun year this year. It's been very busy. I am a sponsor of the Capital Ruck Tour as well as there's eight or nine other sponsors including All Day Ruckoff. That has been my primary events all year long. I actually just finished my sixth Capital Tour stop this week.
Brian: Congratulations.
Kevin: Thank you, thank you.
Brian: I mean those are no small feat. It's a lot of miles to get in in a night and that's awesome. Would you like to talk about Capital Ruck Tour at all?
Kevin: Sure. The Capital Ruck Tour is all about Cadre Daniel's, his motivation and project and what he wanted to do this year and I knew Cadre Daniel from, he was the Cadre for my GORUCK event. So at the beginning of the year he said, "Hey I wanted to do this project." He reached out to me and I got involved because of Cadre Daniel. I really didn't know much about Operation Enduring Warrior at the beginning of this whole process but I met a lot of them.
I met a lot of members of that organization and it's been nothing but even more inspiring than Cadre Daniel can be on his own. So he wanted to reach out and visit all 50 states and have a two-fold mission which was one, social fitness which is getting out, doing fitness and rucking with other people is good for your mental health especially for those fighting PTSD, things like that. So that was one half of the mission. The other half of the mission was raising awareness and funds for Operation Enduring Warrior, which is a charity organization he has recently become involved with as well.
So we ended up 53 stops on the tour this year. So all 50 state capitals. We added Washington DC, New York City and Phoenix ended up with two visits due to the calendar. He ended up having to drive through a second time so we did a second GORUCK stop here.
Brian: Might as well get a second stop in if possible right?
Kevin: That was my thought as well. Since I live here, we made him stop by and said, "Let's ruck again."
Brian: That's awesome that Capital Ruck Tour came through against, you got another chance to ruck your town. What's next for Capital Ruck Tour?
Kevin: The Capital Tour only has two more stops this year. Ln November 3rd there's the Carson City, Nevada and November 4th is Sacramento, California and then we're done. We are having a big end of tour party, Saturday night, November 4th after the ruck. At that point, the tour is done and we're kind of mission complete and then it's just wrap up, clean up, get stuff taken care of as far as getting all the thank you's out and all the information about the tour and especially about OEW.
Brian: Yeah, that is very cool and that's such a huge project, rucking to the capital of all 50 states and even went back and did what, a couple of them twice so.
Kevin: Only Phoenix twice.
Brian: Only Phoenix twice.
Kevin: Yeah. Danny does have somewhat of a connection here to Phoenix and his mom lives here. So he comes and visits.
Brian: Very nice, well can you let us in on any sneak peek of what's happening for Capital Ruck Tour or for Knotted Cords in 2018?
Kevin: Sure, 2018 for Capital Ruck Tour we're still kind of in discussion. We've got a lot of ideas. There's been a lot of ideas bounced around including something as big as a Capital Tour of all the countries in Central and South America. There's also been talks of trying to figure out a way to repeat the tour or some variation of the tour in 2018. We're not sure exactly how to do it.
There were a lot of things that worked really well and there is a lot of cities that we had that were really tough. So we want to ease that process and maybe make it more of a team effort so it's not Danny leading the rucks in every city. Maybe make it OEW athletes that can pick up their area and say, "Hey I want to lead a ruck march in the city for the ruck tour."
So there is a whole lot of discussions. We need to also talk to OEW and see what their thoughts on it. Danny is going to be more involved with OEW next year as well so this might fall under his bucket there. I'm not exactly sure what the Ruck Tour is going to be. We'll probably figure it out December timeframe and try to start planning.
As far as Knotted Cords, my goal for 2018 is really to be more consistent with the stock I have for items I have especially with All Day Ruckoff with some items I have. So that way I can have a few items pre-made ready to go all the time that people can just purchase on the fly. That's my goal for 2018 is just to get better at consistent inventory.
Brian: Awesome. I'm very excited to see what Capital Ruck Tour has for 2018 and it seems like you have great goals for Knotted Cords as well. What is your event calendar look like for 2018? Have you thought about any GORUCK events or anything else?
Kevin: I had some lofty goals but family always trumps that and I have a second kid arriving in January. So my fall calendar and early half of 2018 is kind of completely on hold until things are settled with the kid. So I do have a personal goal to become a little more involved with some of the OEW events. So they're big on running Spartan races and Baton Death March, the Ruck to Remember in DC. So I'd like to participate more in those including ready to do Spartan races where I can actually help out the team instead of just to run it on my own.
So that's kind of like a personal goal I have for 2018. I don't really have GORUCK events on my calendar. I do have a couple of credits I need to burn, which I will probably try to find an event that looks cool and sign up for that. I'll try to maybe jump in to some of the local especially lights or scavengers because we have a couple of scavengers scheduled here for 2018 as well. So nothing definite until more things are settled out with the kid.
Brian: Yeah, I completely understand that. My youngest is, well when this airs it will be five months or so and events are definitely up in the air with that age. So I've got a lot on my list too. I mean GORUCK has just been pulling out a ton of special events, which looks really fun to do, but family first.
Kevin: Yeah, they all look really, really cool. But exactly, family is first and I'll get out and do events and hang out and ruck with friends locally and that kind of stuff as much as I can until I am ready to go do some more events.
Brian: That sounds good. So before we go, are there any shout outs you want to give?
Kevin: My biggest thing is if you can find something that inspires you and makes you want to move forward, for me this year has been OEW but everybody has that. I just really want people to get involved and find something that really pushes them to better themselves. So I'm just glad that I am able to be a part of that for a lot of people this year that have participated in the ruck tour and so Cadre Daniel is a very inspirational person for me this year.
It's been really, really nice too. I have known him for a couple of years but I really got to know him this year and really call him a close friend. So thank you to Cadre Daniel for everything he's done this year, that's my biggest shout out.
Brian: That's awesome. Cadre Daniel is an amazing guy and that's just really good advice all around. Thank you for giving that.
Kevin: No problem.
Brian: Well there you have it. If you want to get something from Knotted Cords, you can check out their website, hit them up on Facebook, on messenger, check Ruck Mall, lots of ways to contact them. Sounds like we'll be getting a restock soon, which is really exciting. I know the wait lists are getting deep on those products. So everyone wants some and there's only one guy making them so awesome job, Kevin.
Thank you so much for taking the time to chat today. It's been great having you on and it's always a pleasure talking.
Kevin: Thank you so much, Brian. I appreciate it especially all the support you've had and I'll touch base with you more on what your wait list looks like and make sure that I get some of those taken care of as well.
Brian: Absolutely man, have a great rest of your week. Thank you so much again.
Kevin: Thank you.