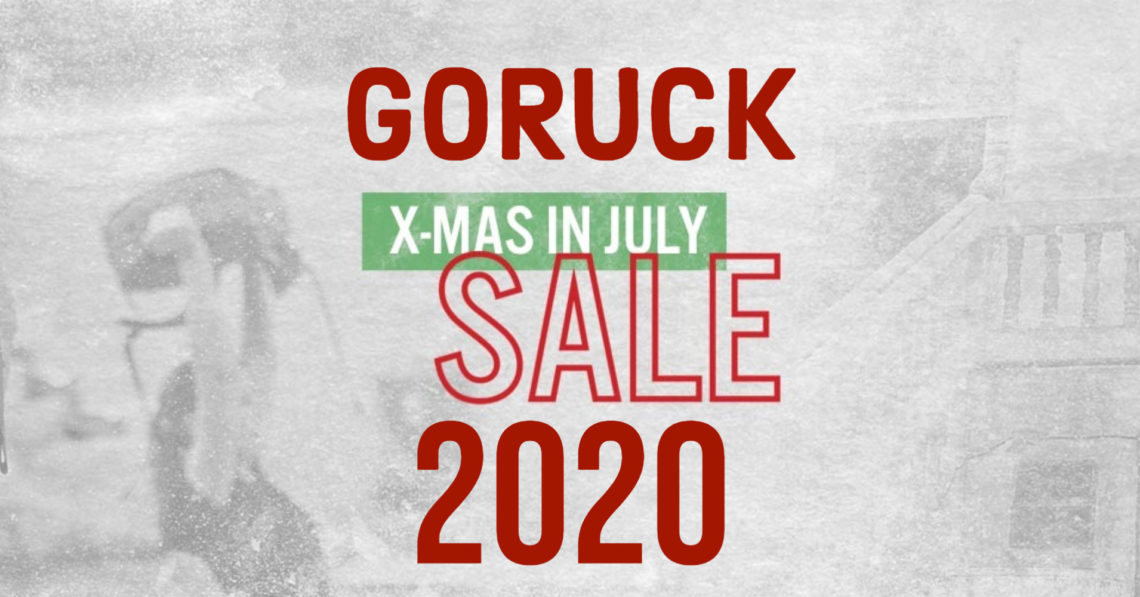 GORUCK has launched their 2020 Christmas in July sale which includes solid discounts on a decent selection of their gear. This is generally one of GORUCK's largest sales of the year so if you see something on sale it *probably* won't get much cheaper, if it ever does, before Black Friday.
The sale started at 12:01 AM EST on July 1st, 2020 and runs until 11:59PM PST on July 8th, 2020. Generally AFTER the gear sale GORUCK will have a Christmas in July Events sale… at least they did last year.
Sale Rules
This year GORUCK has marked all Christmas in July sale items as final sale which means no returns or exchanges. In the past you were able to buy multiple sizes to see what fit best then return the others… that doesn't appear to be the case anymore.
In addition GORUCK has announced that "(i)ndividual sale prices do not apply retroactively and are subject to change." While sale prices have never applied retroactively the "subject to change" portion reminds me of some of the sales last year. Prices were increasing and decreasing at seemingly random intervals and a lot of customers were confused. I guess GORUCK is just letting us know this year they're not applying refunds if they choose to decrease prices further and, on the flip side, prices might go up.
Notable Sale Items
Here's the pieces of the sale that I'm excited about and think will interest the most people.
GORUCK GR2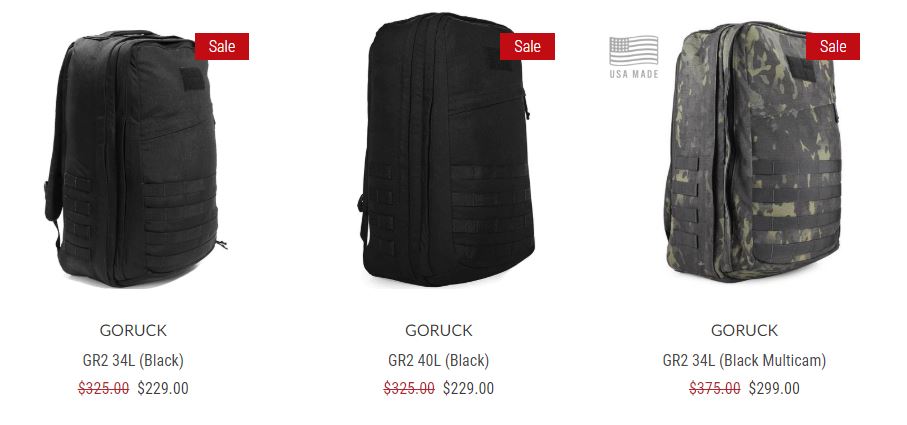 If you are in the market for a GR2 and don't care where it's made you can't beat the $229 price of either the 34L or 40L Black GR2s. If you want your GR2 made in the USA then you'll be paying $70 more which is still a deal.
GORUCK GR1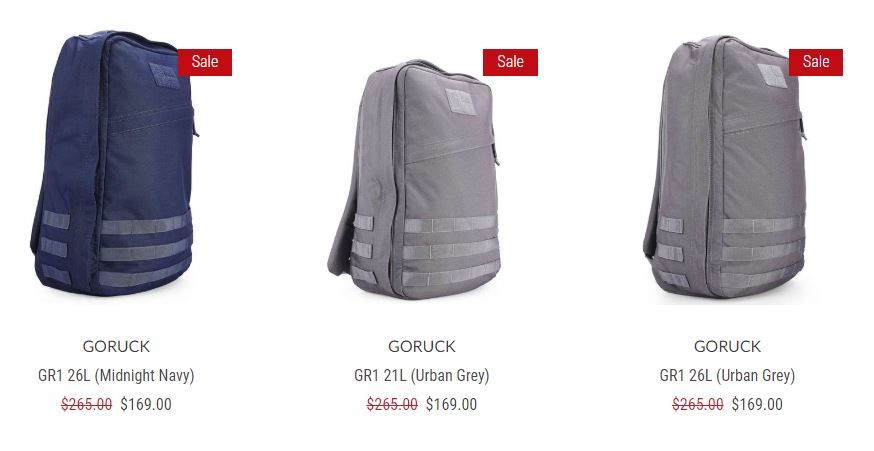 $169 for a GR1 is a solid deal that you won't find often. If you don't own a GR1 and have had your eye on one then here you go. Although most of the sale packs aren't made in the USA they still come with a lifetime warranty and you'll be saving a bit of money.
GORUCK Women's GR1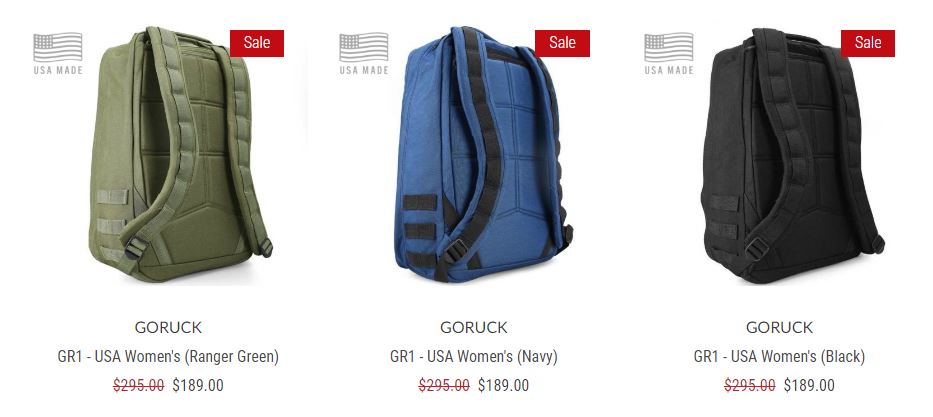 I wish GORUCK would go back to calling this the Curved Strap GR1 because there are a lot of guys out there who like it. This GR1 features curved straps and is made of 500d Cordura which makes it slightly lighter and less abrasive. Made in the USA and 36% off makes the GR1 Women's ruck one of the better deals of the sale.
GORUCK Bullet 15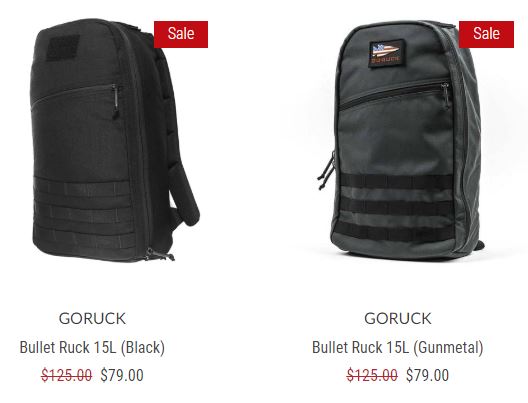 I feel like the GORUCK Bullet 15 slides under the radar for most people. It's an awesome piece of everyday carry gear that can fit most slimmer laptops so you can really use it for almost any task. I love mine and if I didn't have one already I'd scoop one up at the sale price of $79. It's 37% off of the original price of $125 which isn't anything to scoff at.
GORUCK Rucker 20L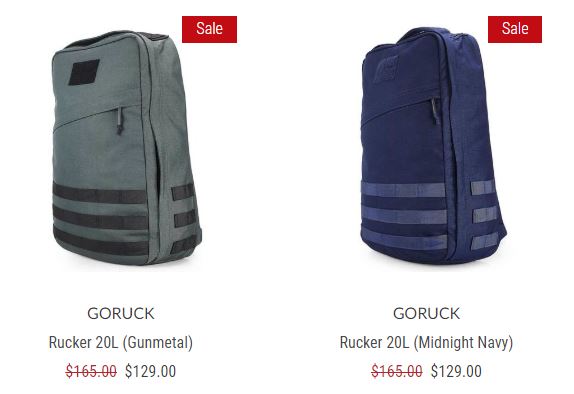 The Rucker 20L is my go to pack for 95% of the GORUCK events I take part in. It's one of my favorite packs to train in and it has never let me down. At a sale price of $129 from $165 (22% off) they're not the best deal but they're in stock and if you're looking for a bag to train with I'm not sure if you can beat this one.
GORUCK Rucker 25L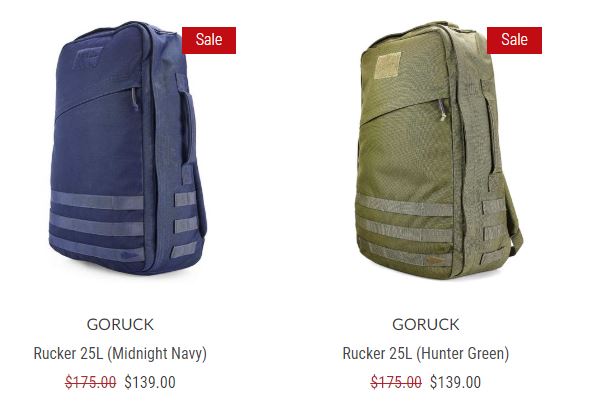 The Rucker 25L is a great pack and it's the one I use during colder events. The side handles on it are a nice touch if you're looking for something that's truly a gym on your back. Just like the Rucker 20L these aren't the best deal of the sale at $139 from $175 (21% off) but they're solid pieces of gear.
Monster's Mystery Shirts
If you need extra shirts to train in or trash then you almost can't find a better deal than Monster's Mystery Shirts. For $7 you'll get a nice quality tri-blend shirt that's probably an extra they had from an event you didn't take part in. All of the negative reviews here are due to lack of variety… if you're okay with getting all of the same shirt, assuming you order multiples, then you have nothing to worry about.
The Sale Page
Here's a screen shot of GORUCK's sale page when the sale went live the morning of July 1st, 2020.