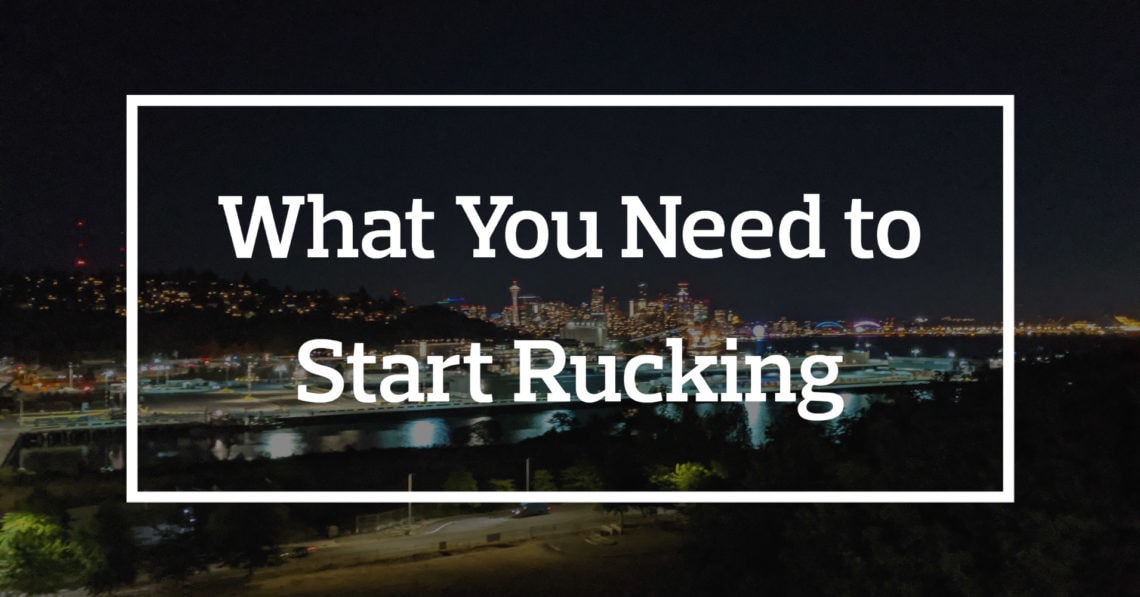 This is the first article in a series to help people who are interested in rucking but don't know where to get started. The plan is to hit the following topics at a minimum…
What You Need to Start Rucking (this article)
Your First Ruck
12 Week Beginner Rucking Plan
Upgrading Your Rucking Gear (Beginner to Intermediate/Hobbyist)
…then move on to some heavier stuff. With the pandemic keeping people at home I've had a lot of requests for this type of information so here. we. are. Let's get rucking!
What is Rucking?
If you somehow landed here (maybe a friend sent you) and you don't know what "rucking" is then this should clear that up. Rucking is walking with a backpack (also called a ruck) that has weight in it. You can ruck when you grab the mail, walk the dog, take the kids out, etc. You can also head out for a long ruck, enjoy the weather, and get in great shape. As long as you are wearing a backpack (with weight in it) and are moving (with your feet) then you are rucking.
The Gear You Need
One of my favorite aspects of rucking is that so little gear required to get started. Don't get me wrong… there's lots of extra gear you can buy to help out but, when it comes to the basics, there's not much you need to get started.
A Backpack
You absolutely need a backpack to get started rucking. This doesn't need to be an expensive backpack like the GORUCK Rucker. It doesn't even need to be a new backpack. It just has to be a backpack.
When I started training for my first GORUCK event I used my backpack from college. It was a basic backpack made by Nike and there was nothing special about it. I honestly don't even remember the model number. You don't need anything special… look in your closets for an old backpack or see if your kid has one you can borrow.
If there's absolutely no backpacks in your house and you're on a budget then hit up your local Buy Nothing Facebook group, thrift store, Facebook Marketplace, Craigslist, etc. I'm sure you'll be able to find something for free or cheap. If you are still figuring out if rucking is something you want to do then start out cheap. Don't spend hundreds of dollars on a hobby that you don't even know if you enjoy.
Some Weight
Once you've found a backpack you'll need some weight to put in it. This can be a nice plate from GORUCK or something from around your house. When I started rucking I grabbed canned food from the pantry and threw them in my backpack. After my first week I went to the local hardware store and purchased some bricks. A six pound brick cost under a buck which was the right price for my college budget.
Six pound increments were perfect for scaling difficulty. When I was starting out and would go long I'd throw in two bricks. When I was going short I'd throw in four or six. It was interesting to play with the different combinations and feel which muscles would get sore after a few miles. After building up my rucking muscles I'd increase the long ruck bricks to four then six then eight. Six pound increments made scaling weight a breeze.
When you're just starting out you can grab some heavy books or look in your pantry for canned food or rice. I always recommend starting out with around 10 lbs of weight (or less) depending on your fitness level. I know some people scoff at me for this but it's much easier to start out light and increase than it is to start out heavy, get hurt, and figure out what went wrong. You won't regret starting light and increasing weight every week. You will regret starting heavy and getting hurt.
I'm always looking to avoid getting injured so I usually approach training from the side of safety. I'm sure you'll eventually get to 40 lb or 60 lb rucks but don't start there even if you are incredibly fit. Take it light, increase in five to six lb increments, and avoid an injury.
The Gear You'll Want
There's so much gear and accessories you can buy to improve your rucking experience… literally dozens of odds and ends that you might think you need. These are the most basic that, I think, will have the biggest impact on your quality of life when you are just getting started with rucking.
Athletic Shoes
When I started rucking I wore my running shoes (old Brooks Adrenaline) and they were great. I've been rucking on and off in running shoes for the past 10 years (usually switch it up with boots) and just completed a 50 miler with some Brooks Ghost running shoes.
Whenever I go out rucking in non-athletic shoes I always notice a difference. I'll get hot spots in weird areas quicker, there will be rubbing that can leave skin peeling off, and it's not as enjoyable. This usually happens if I'm rucking a mile with the dog and don't want to spend the time walking to the garage to get my running shoes. I know it's lazy but when the dog is jumping all over the place sometimes it's just easier to put on sandals or my casual shoes.
The difference is huge. If you're new to rucking or fitness then getting a pair of athletic shoes will be great. They're not necessary but they should be one of the first purchases you make if you're going to start rucking consistently.
Water & Food (For Longer Rucks)
When I'm taking my dog for a one mile ruck or pushing the stroller around the block I'll leave water and food at home. When I'm going on these short 15 – 30 minute rucks I'll usually drink water before I leave and then drink and eat (if I'm hungry) when I get back.
Anything over an hour and I'll pack some water and something to eat. I don't always finish (or even touch) the food but it's nice knowing that it's there. Although rucking is "walking with weight" it does burn more calories, work different muscles, and will tire you out.
Although you might not need water for an hour long walk around the neighborhood there's a good chance you'll need it for an hour long ruck. In my opinion rucking is closer to running than walking when it comes to how you need to care for your body.
Final Thoughts
Rucking is simple. It's not easy (especially when you add on the weight) but the concept is still simple. If you're curious about rucking and want to try it out then I hope this guide gets you there. This is the "What You Need to Start Rucking" guide and I hope it helps get you there. Rucking isn't scary. Grab a backpack, put some weight in it, then walk and get the mail. Congratulations. You're rucking!