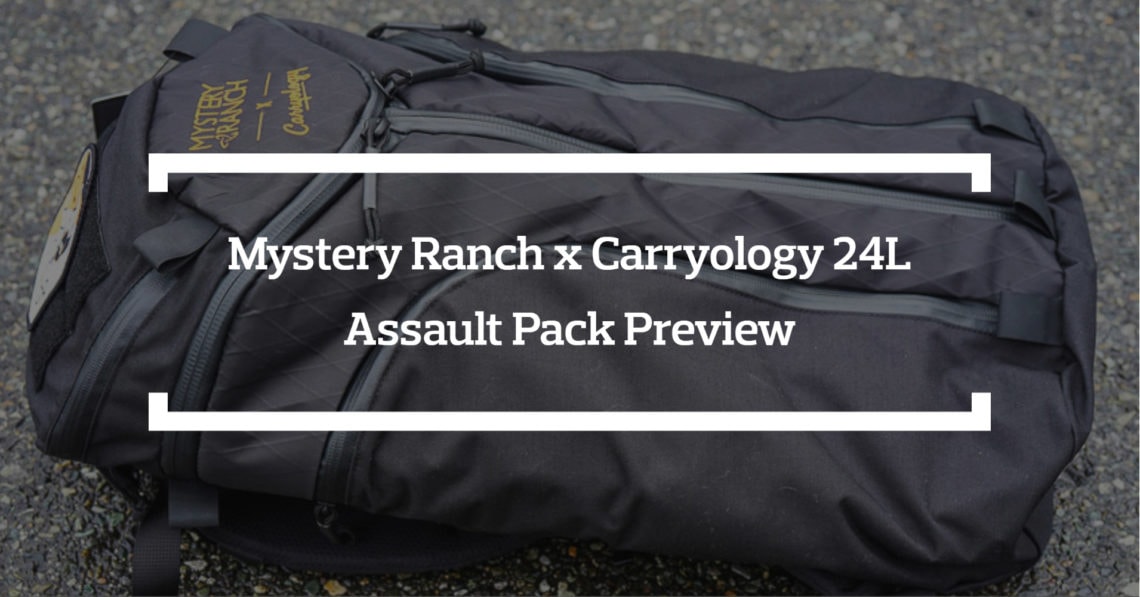 Carryology worked with Mystery Ranch to produce a very black 24L backpack. I love the quality of Mystery Ranch's packs, I've written for Carryology, and my buddy sent me a link to the product page when the bag was released. All the stars were lining up for me with this pack.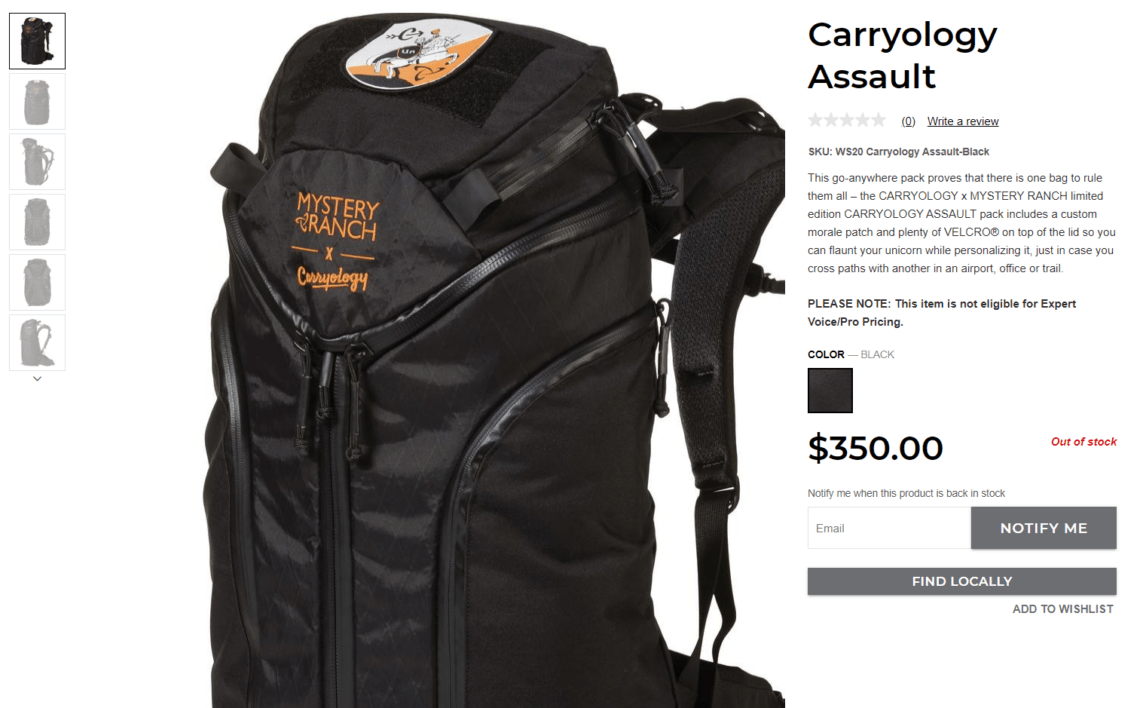 When I jumped onto the product page I tried to add 100 of the packs to my cart. This is something I routinely do to try and gauge stock of a given product. Mystery Ranch let me know that there were 65 left in stock. I refreshed the page and there were 63. Refreshed again and there were 57. After a few more refreshes we were in the 40's. With all that weighing on my mind I decided to make the purchase and spend the $350 on this limited edition pack. I wasn't planning on buying this pack when I woke up that morning but I guess it all ended up working out.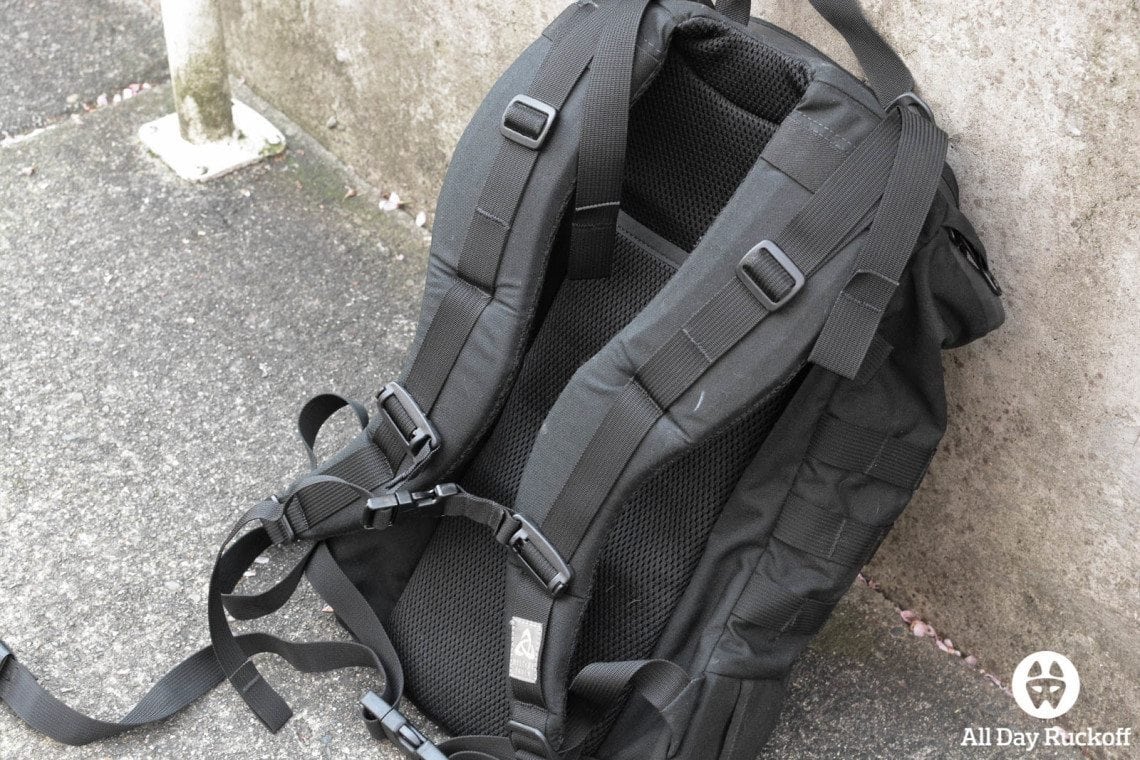 Mystery Ranch has been producing backpacks for years and years and years. I've used their ASAP and their 3DAP but didn't fall in love with either. In both cases the internal pockets annoyed me when I tried to shove my laptop into the pack. The removal of those bladder pockets in this pack was something I was very much looking forward to.
Where's It Made?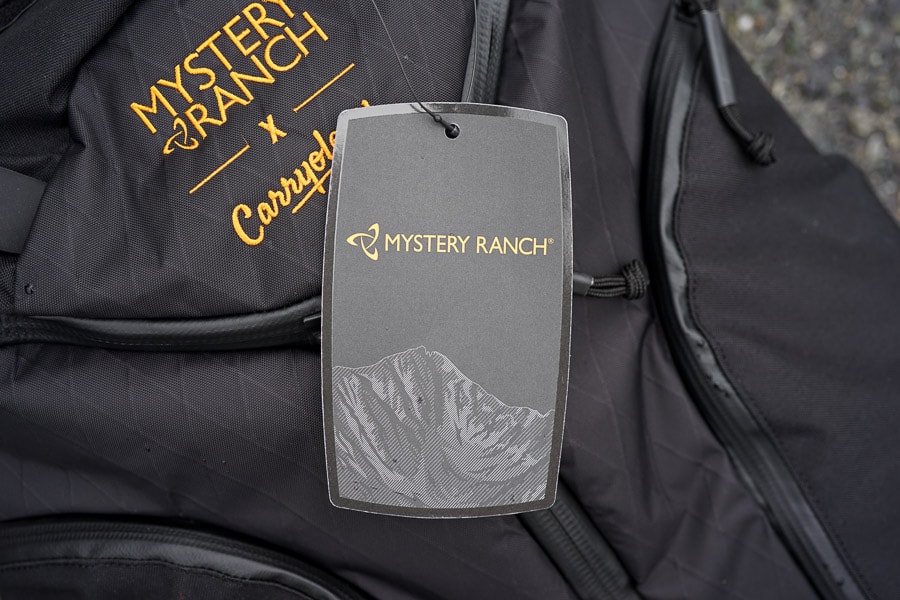 The first thing I looked at when I pulled the bag out of the box was the tag. It says Mystery Ranch on one side…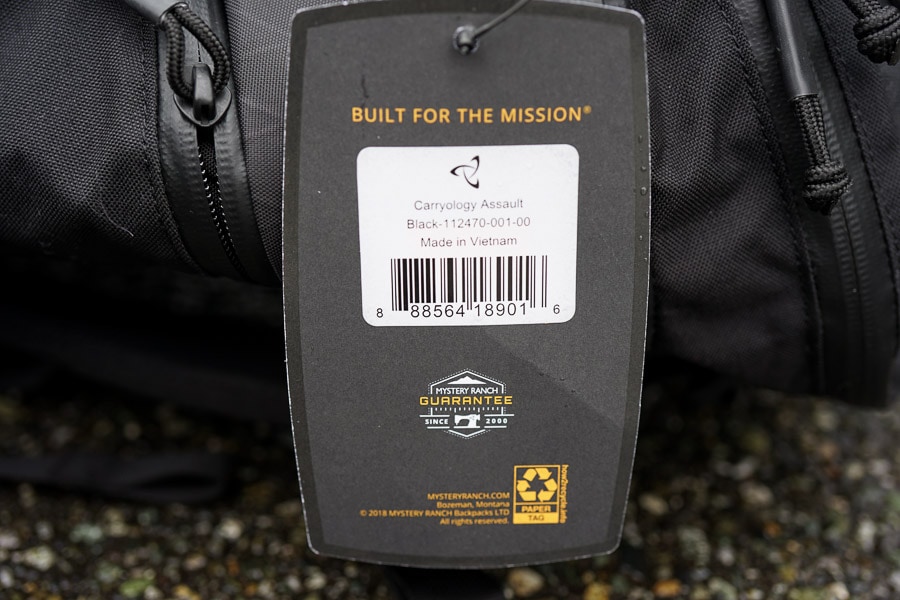 … and when flipped over it says the name of the pack and where it was made. Vietnam. I was a little surprised here given the price of the pack. The smaller $275 Mystery Ranch ASAP and larger $399 3 Day are both made in the USA. The Urban Assault 24 which is made in Vietnam and looks very similar retails at $165. At the $350 price point I just assumed that this pack would be made in the USA. I was wrong.


When I went back to the website to double check there was no mention on where the pack was produced. There was one person who asked in the Questions section which was answered three days later. The pack sold out in roughly 13 minutes so I'm guessing Mark76 didn't get an answer to his question while there were still bags in stock. I reached out to a few of my friends who also like bags. They let me know that the manufacturing location was released within the Carryology Facebook Group. I've been avoiding Facebook lately so I definitely missed that piece of information. I don't know if it would have impacted my decision to purchase or not but either way I was a little surprised when the pack showed up.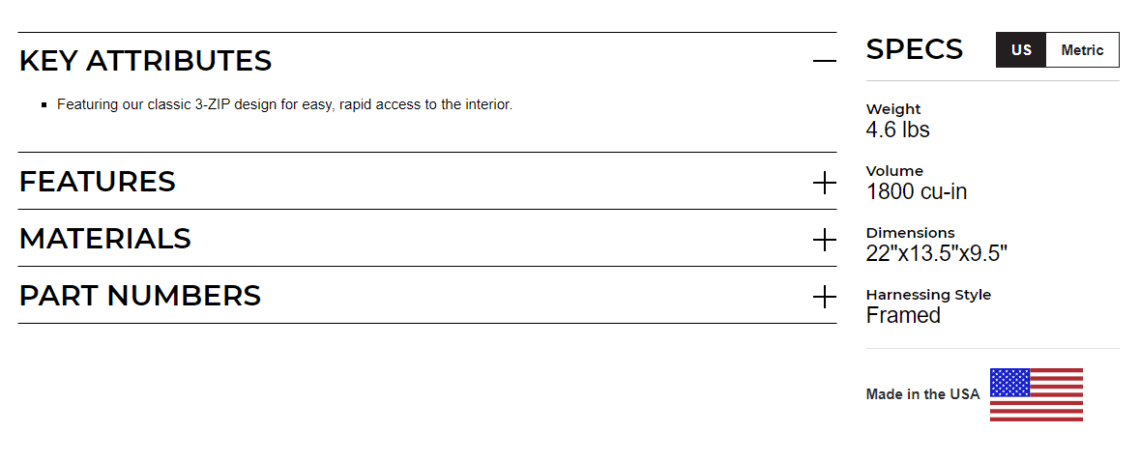 After spending some time poking around the Mystery Ranch website it appears that if a bag is made in the USA then that is called out below the specs.


If a bag is made in Vietnam then there's no indication of manufacturing location. I'm not sure this is the best way to display that information but apparently it works for Mystery Ranch.
The Outside
Let's start by looking at the outside of the Mystery Ranch x Carryology Assault Pack.
The Front of the Pack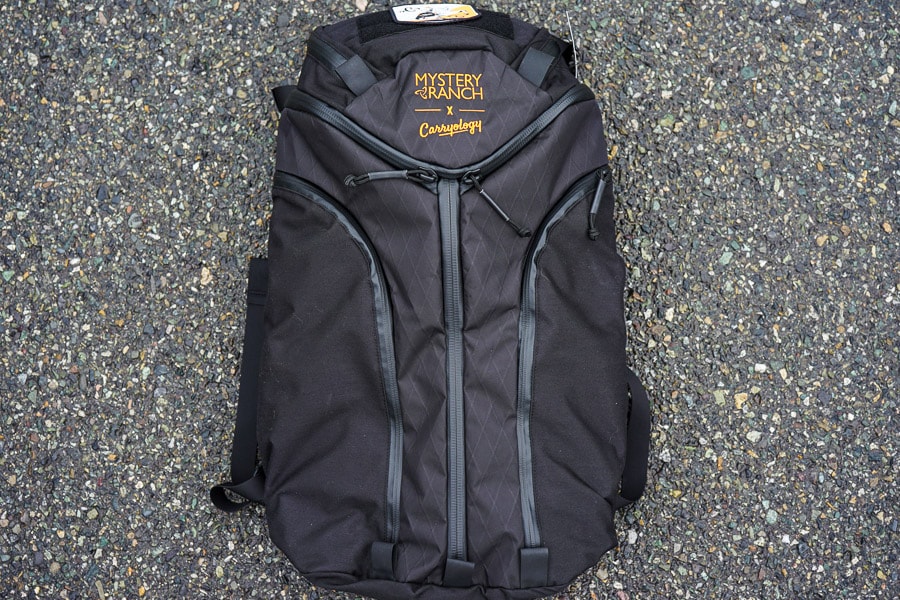 This is an absolutely stunning pack. It looks very black in person and I'm impressed every time I look at it. The pack is made of 500d Cordura and VX-42 420D X-ply. The specs for the bag say it's made out of VX-21 420D X-ply but as far as I can tell that's not a real thing.


Again, a user asked in the Questions section and Mystery Ranch answered saying it's made out of VX-42. Although it's cleared up in the "Questions" section but hasn't updated the product page yet.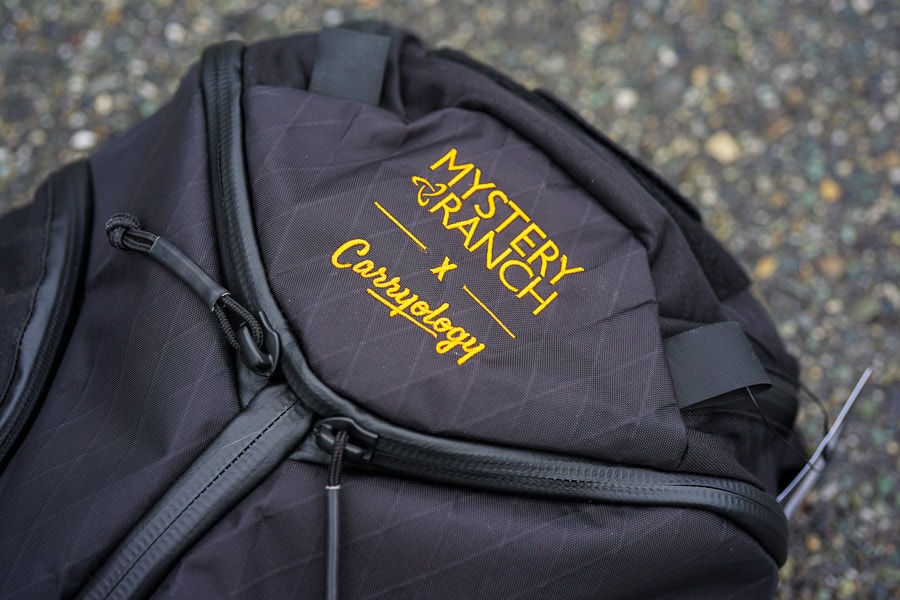 The embroidery on the top is really nice orange/gold color depending on the light. Although it looks great I'm not the biggest fan of giant logos on the outside of my bag so I might be taking a fabric marker to this one. We'll see…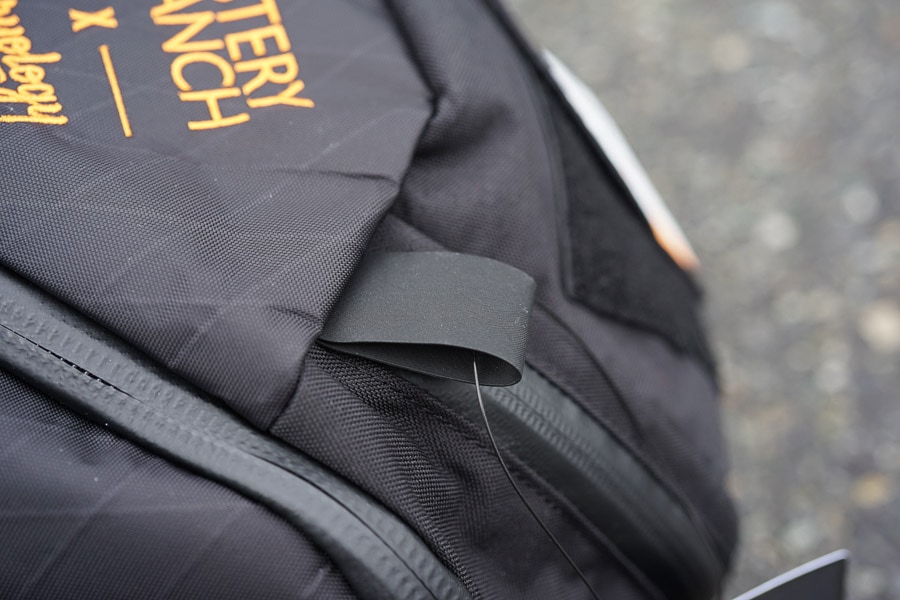 There's Hypalon pull taps throughout the pack which are great for grabbing as you rip the pack open.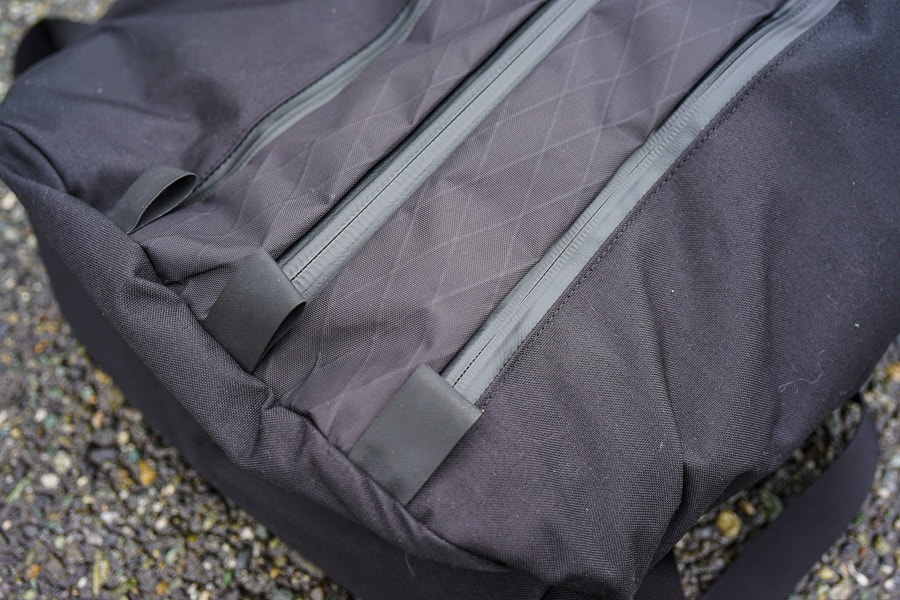 Nearly every zipper either starts or ends near one of these tabs. If you haven't felt Hypalon before it's a really fun synthetic rubber fabric.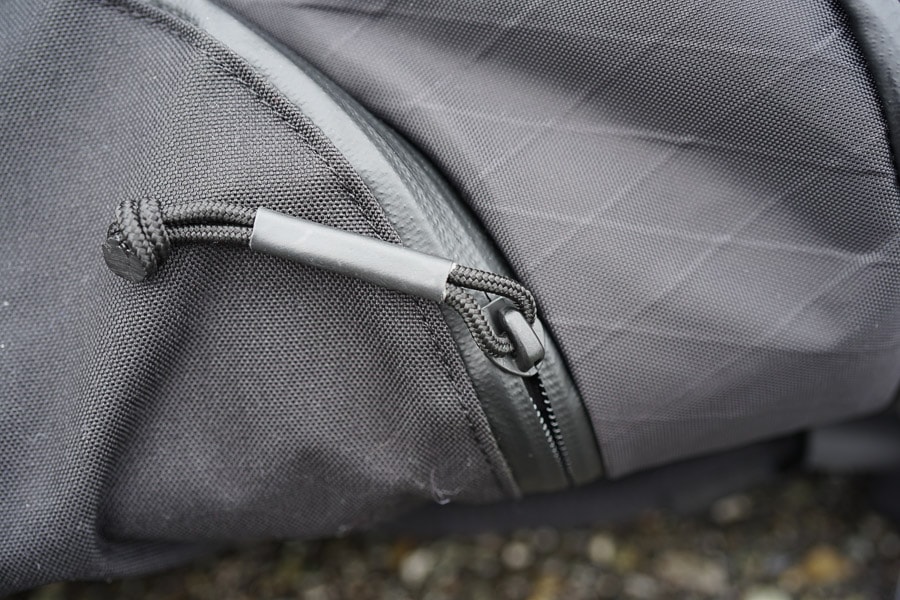 The zippers are all wrapped in heat shrink which should be a familiar look if you've seen a GORUCK pack. I've gotten used to replacing my zipper pulls with these heat shrunk versions so I'm glad Mystery Ranch already did that for me.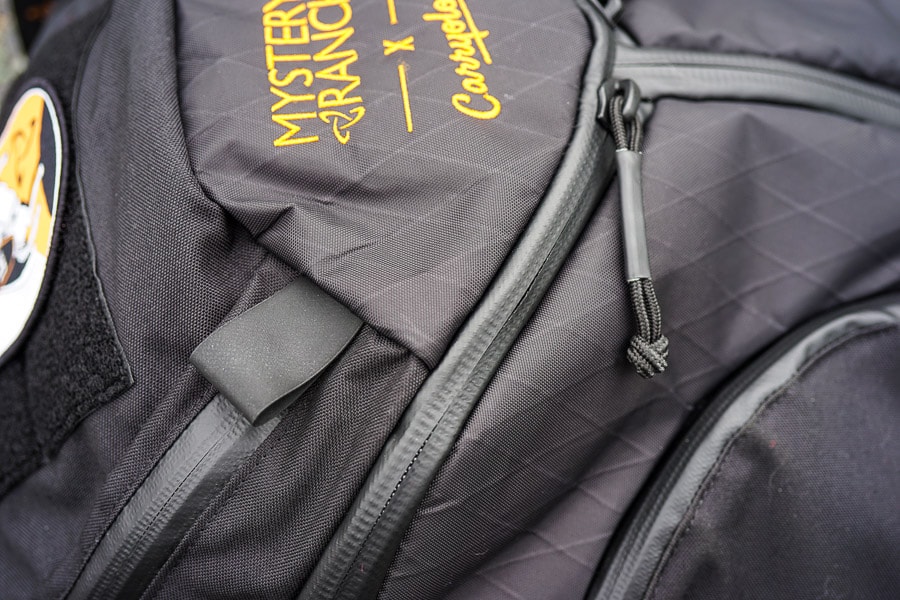 The size 10 coated AquaGuard YKK zippers on the outside are beefy and I doubt any water is going to sneak into this pack. Between the VX-42, 500d Cordura, and AquaGuard zippers good luck finding an opening.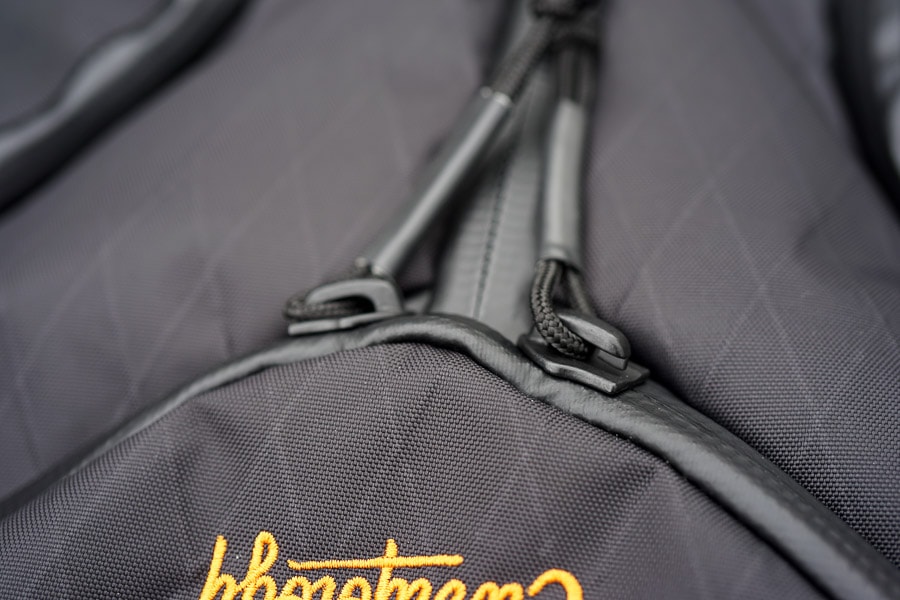 One thing I've noticed with AquaGuard zippers in the past is that they can be difficult to open if you're not running the zipper along the path.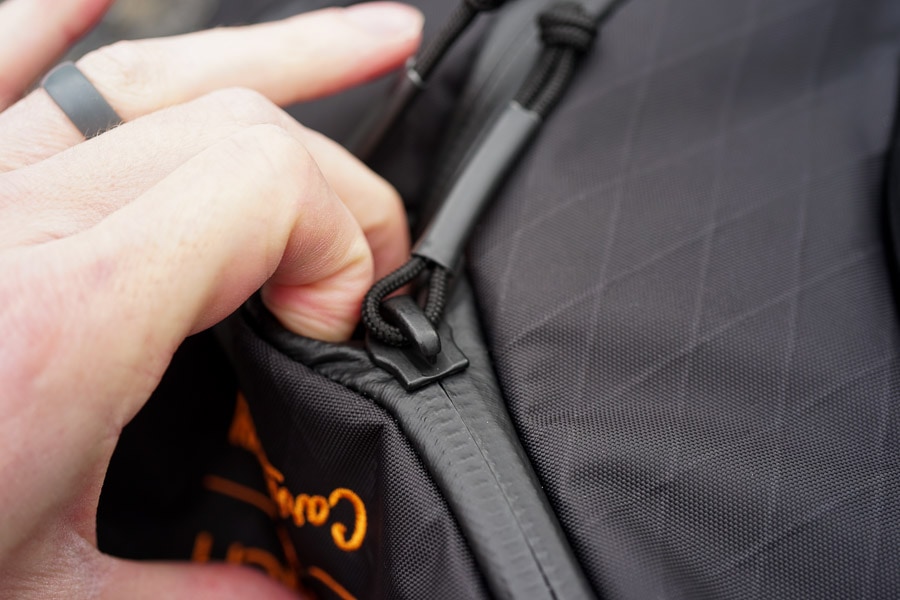 For example putting your fingers in the 3-Zip and attempting to rip it open doesn't have the smoothest initial action. It works and it will hopefully get better with time but my initial pulls were getting caught.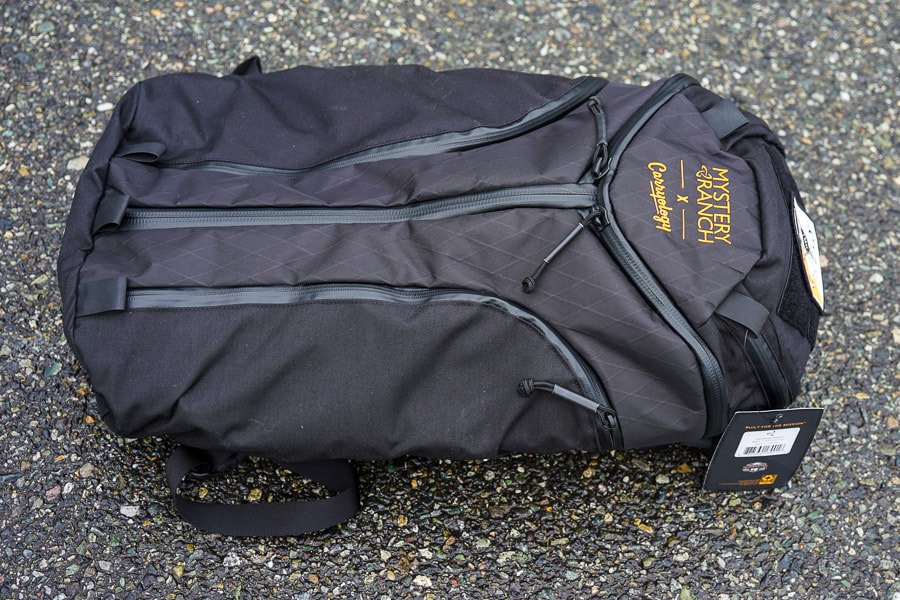 There's two pockets on the sides of the bag which include some handy organization.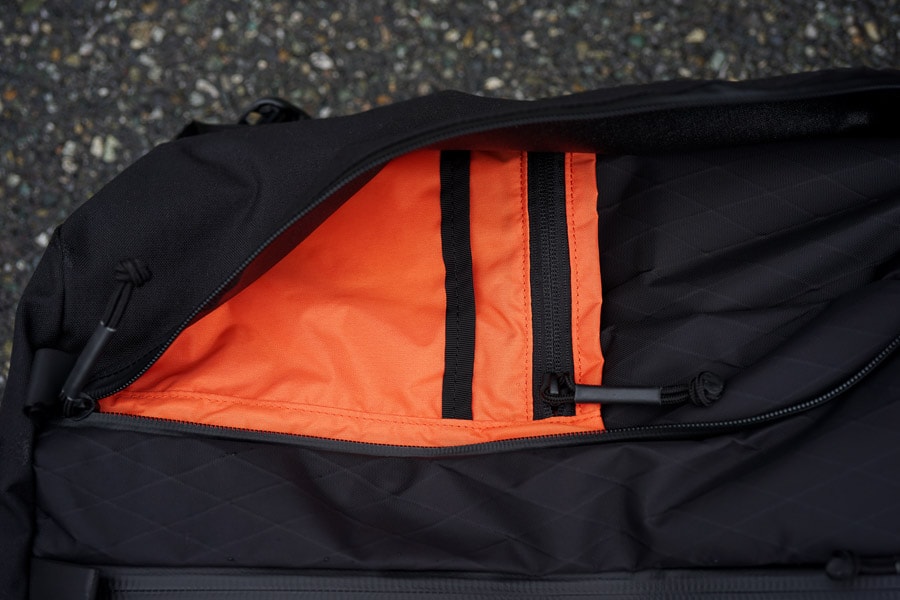 The left pocket has an open pocket, a zipper pouch, and another open pocket above that.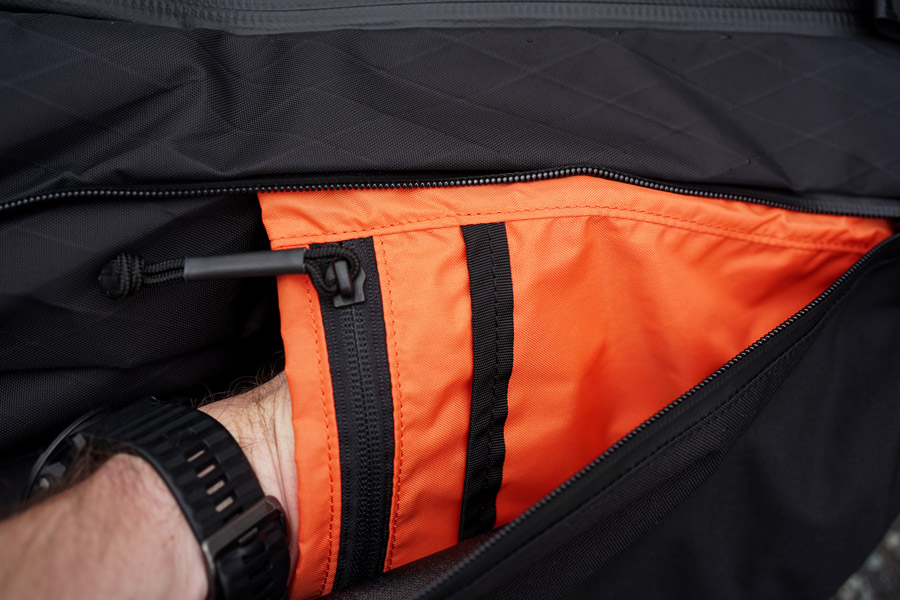 Due to just how black the pack is it can be tough to see the areas in the pictures. This spot above appears great for a water bottle.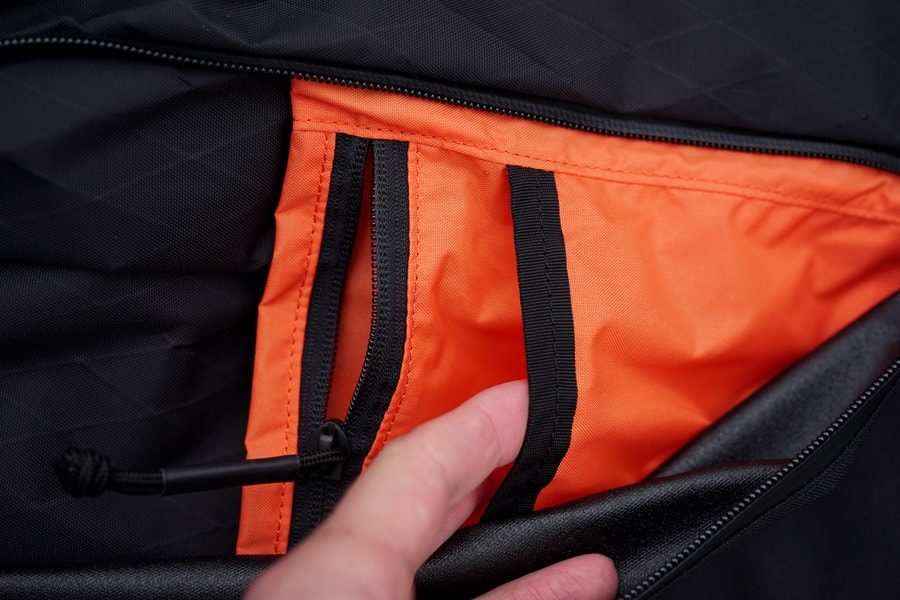 Then there's this pocket which I can already see myself putting protein bars and other snacks into.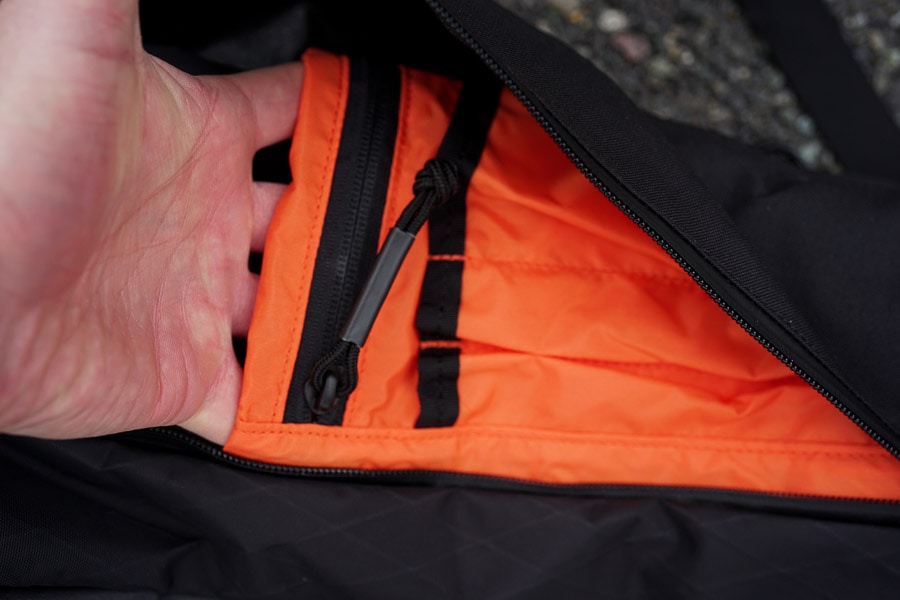 Flipping over to the other side we have a very similar setup.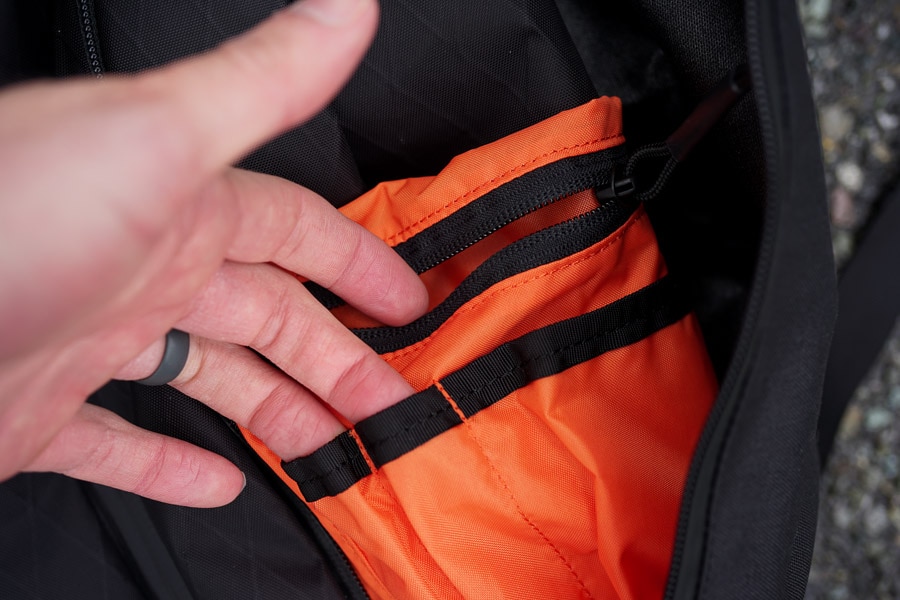 The only difference here is that this side features pen/pencil pockets which is a nice touch. I love bringing pens and a notebook (or two) with me so I definitely appreciate this.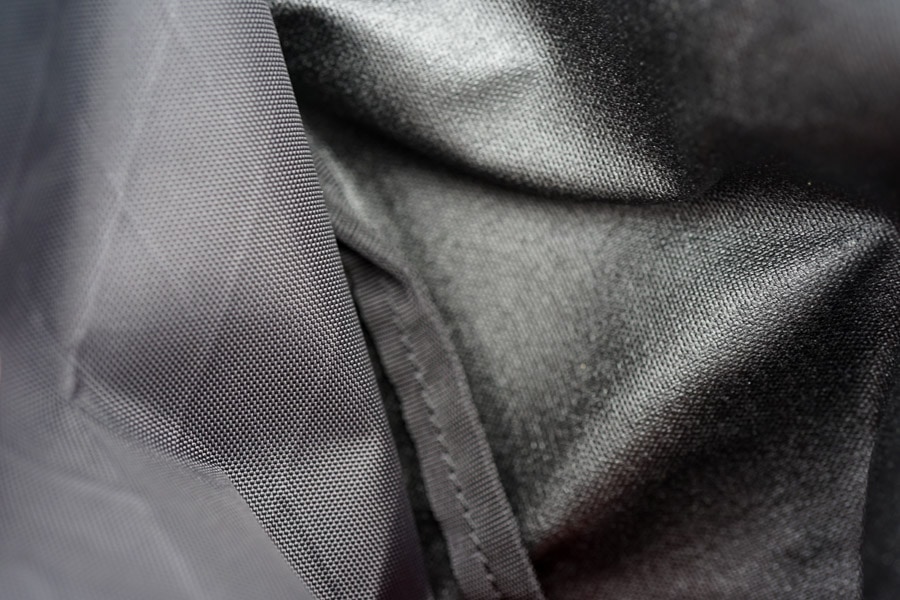 Inside this pocket you can see a nice difference between the VX-42 and 500d Cordura fabrics. The VX-42 is on the left and the 500d Cordura is on the right.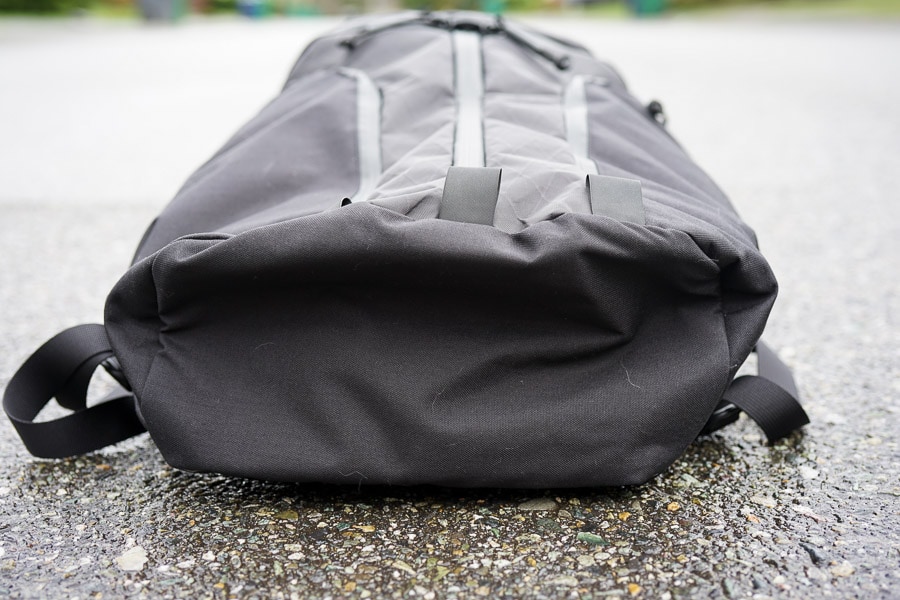 Heading to the bottom of the pack you can see that it's made of 500d Cordura. Definitely a good fabric to use there since most people put their bags down with this section touching the ground.
The Back of the Pack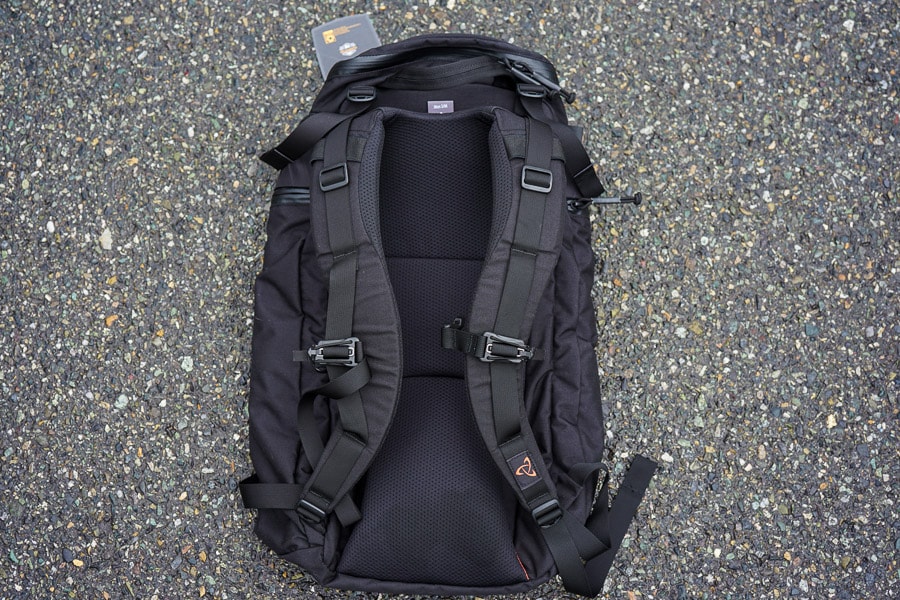 Flipping the pack over you can see the shoulder straps and a nice wet spot on the pack where I accidentally put this in a puddle. This thing was built for adventure… it can handle a puddle right?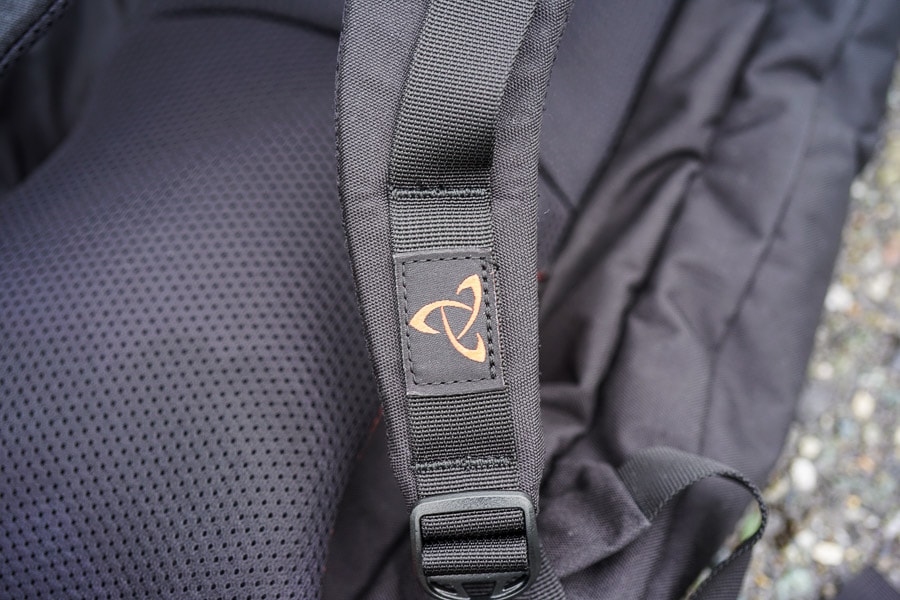 There's a Mystery Ranch logo sewn into the bottom of the left shoulder strap.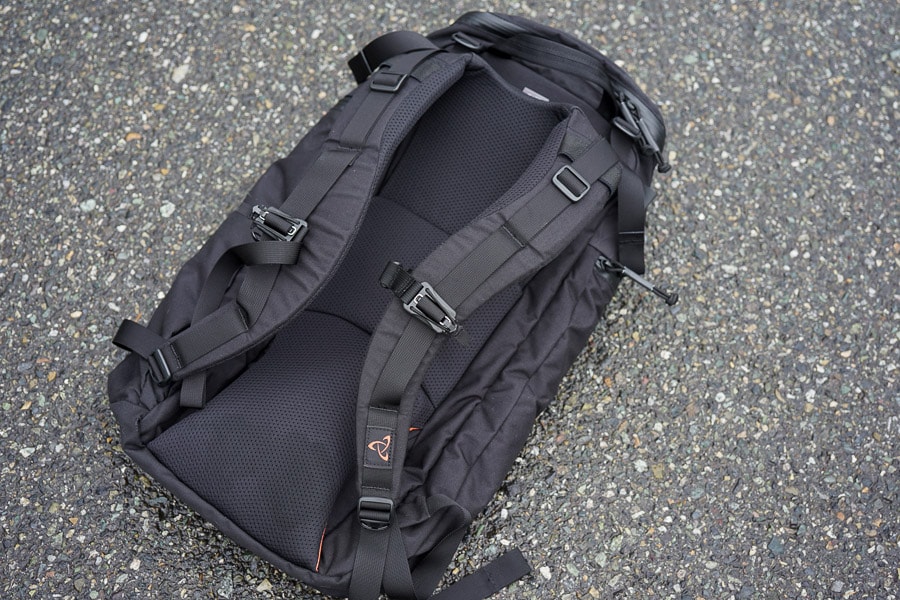 I half expected to see a Carryology "C" logo sewn into the other side but that's not the case. It would have been a nice touch for Carryology though.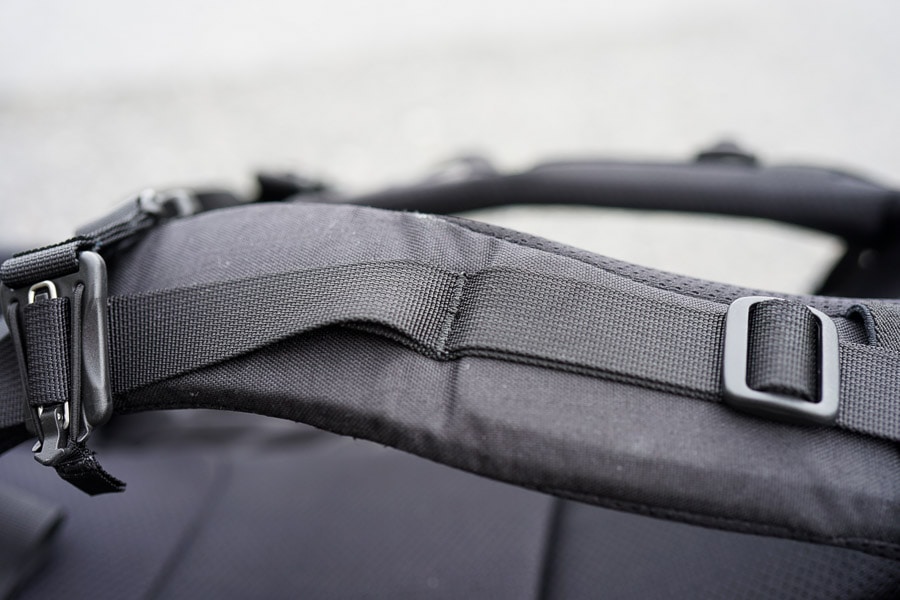 The shoulder straps have a nice curve to them which feels comfortable so far.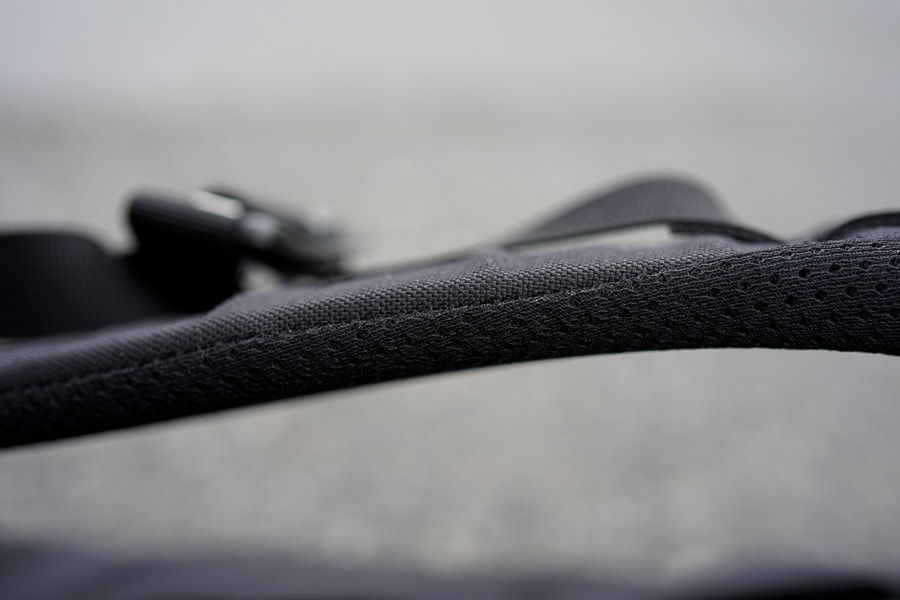 There's enough padding in there to make carrying even heavier loads easy.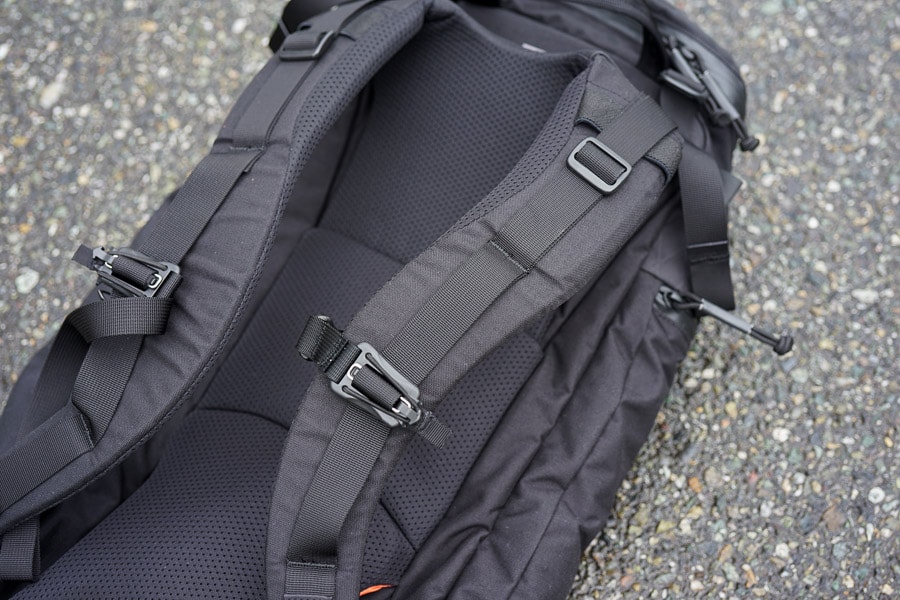 The sternum strap is very unique and I can honestly say this is the first pack I've owned with one like this.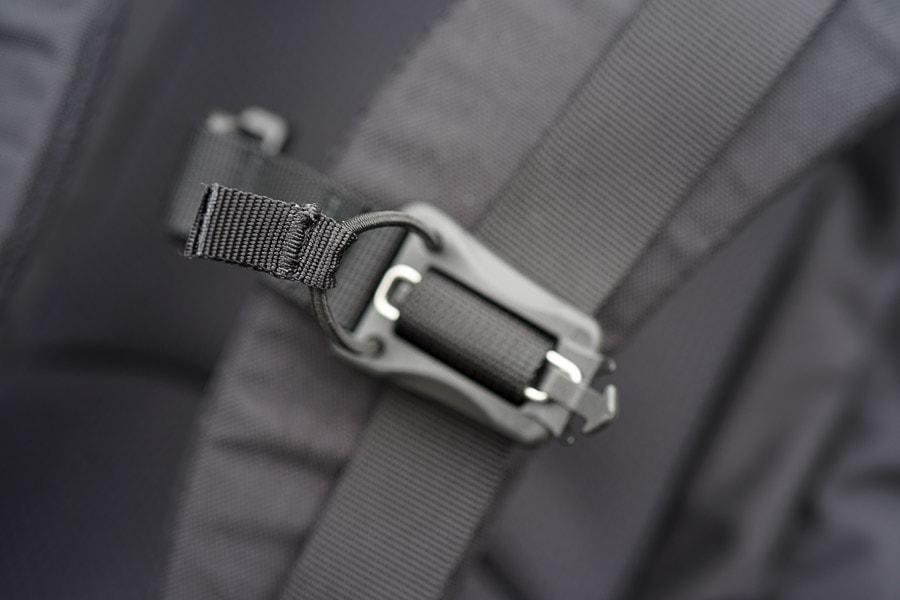 First you unleash the elastic band…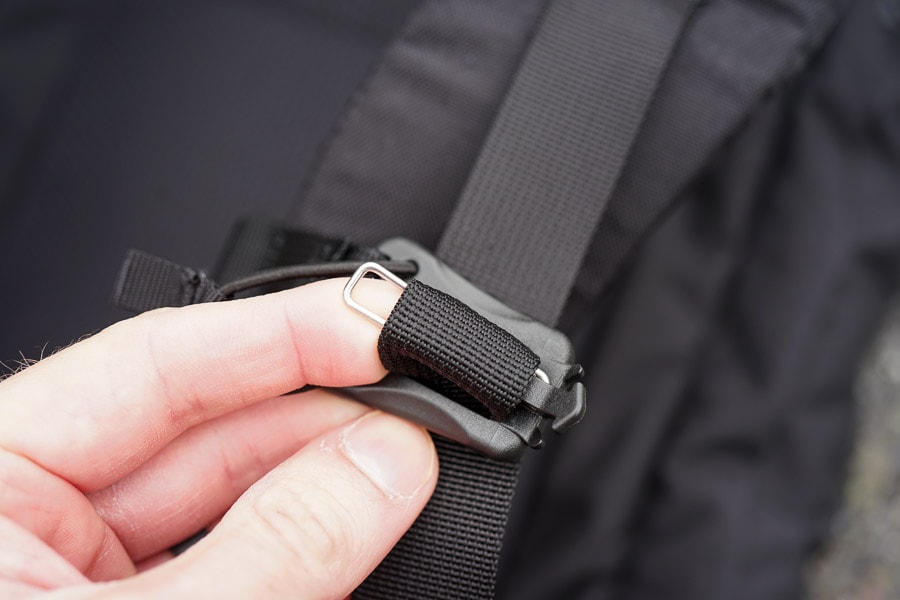 Then you can push the clip up and remove or adjust the straps. They seem to work well and they're a cool touch… definitely not your run of the mill plastic sternum straps.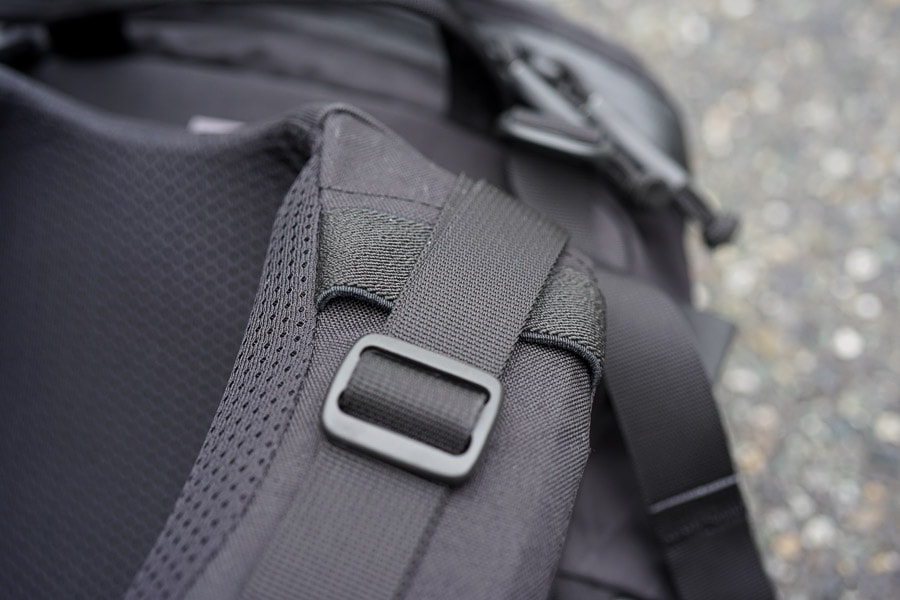 There's elastic straps near the top of the shoulder straps which would be great for securing a hydration hose. That being said I couldn't find a hydration hose exit port out of the main bag area so I'm not sure what those are used for. Maybe you could slip a compass or other piece of gear up there? They do look nice.
The Waist Belt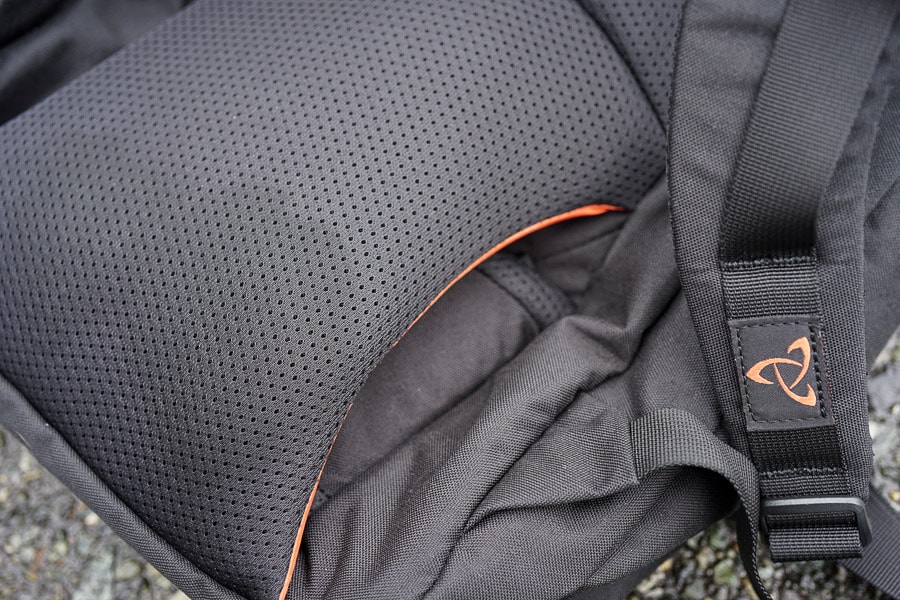 The integrated waist belt can be tucked away inside of the base of the back of the pack.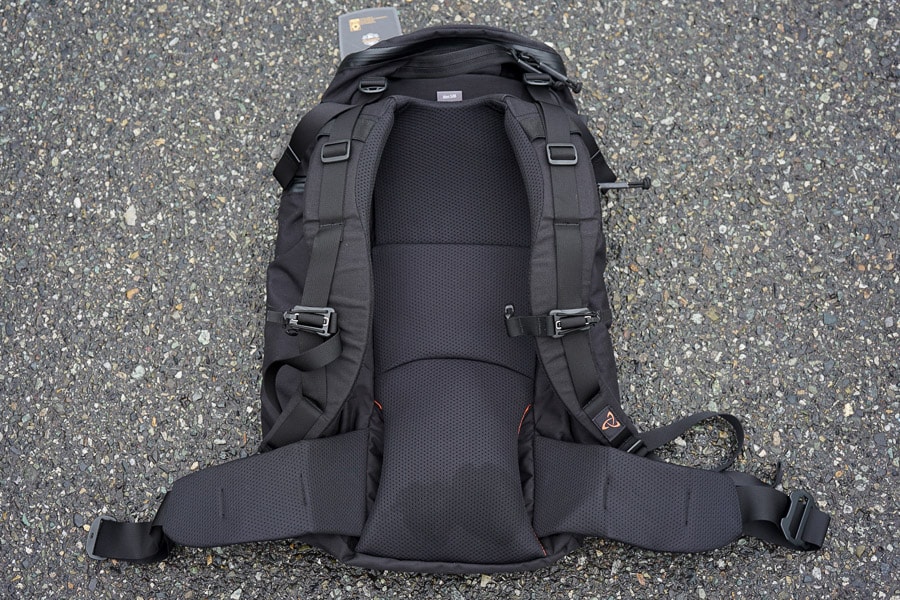 When you pull it out you can see it has very nice padding on both sides and a nice 2″ strap to connect them. Again, apologies for the water 😅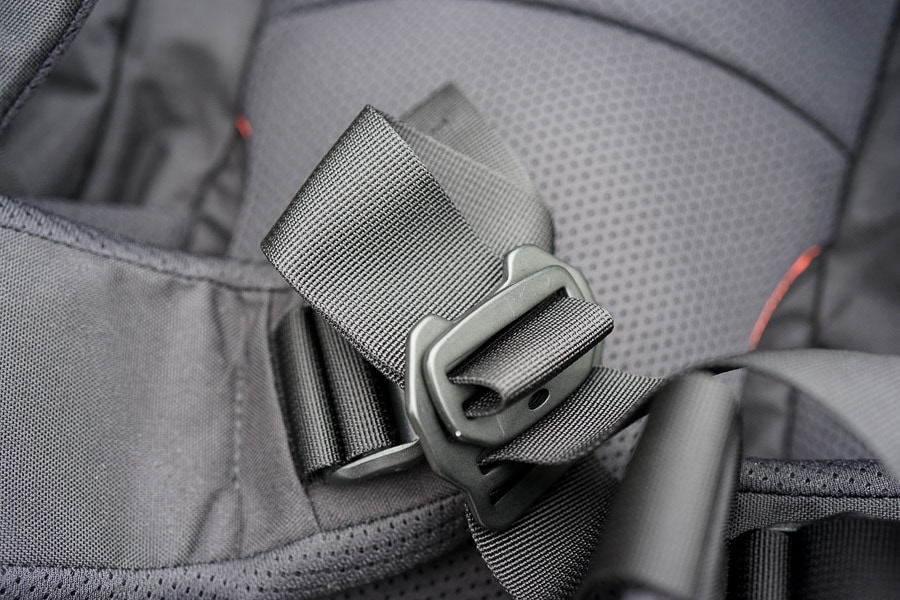 The belt attaches using a Alutica Tilt Head Hip Belt Buckle which is pretty fun to play around with. I haven't used it extensively but it's definitely unique compared to the majority of the packs I've used.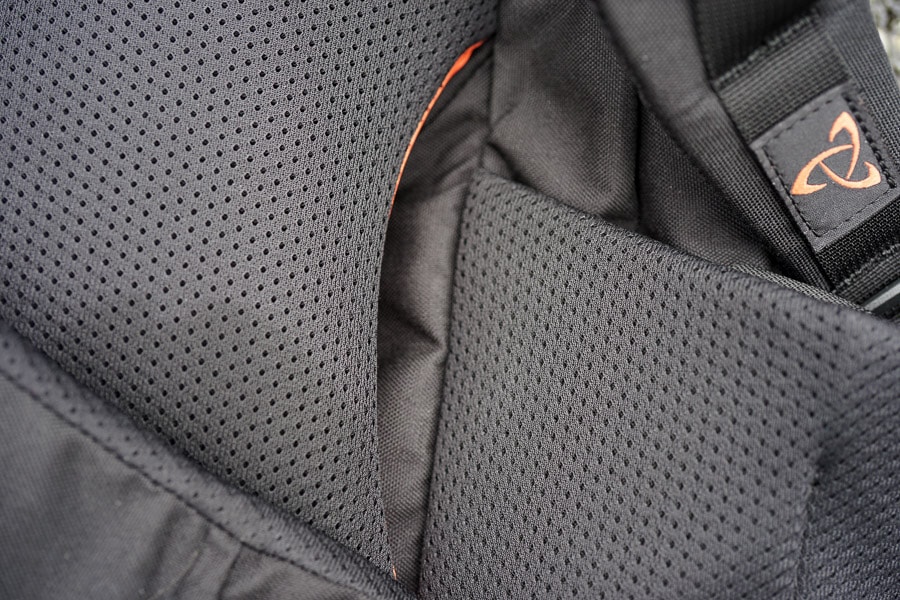 Here you can see how the waist belt is sewn directly into the pack. Thankfully it stores away nicely because I don't think I'd use it 90% of the time.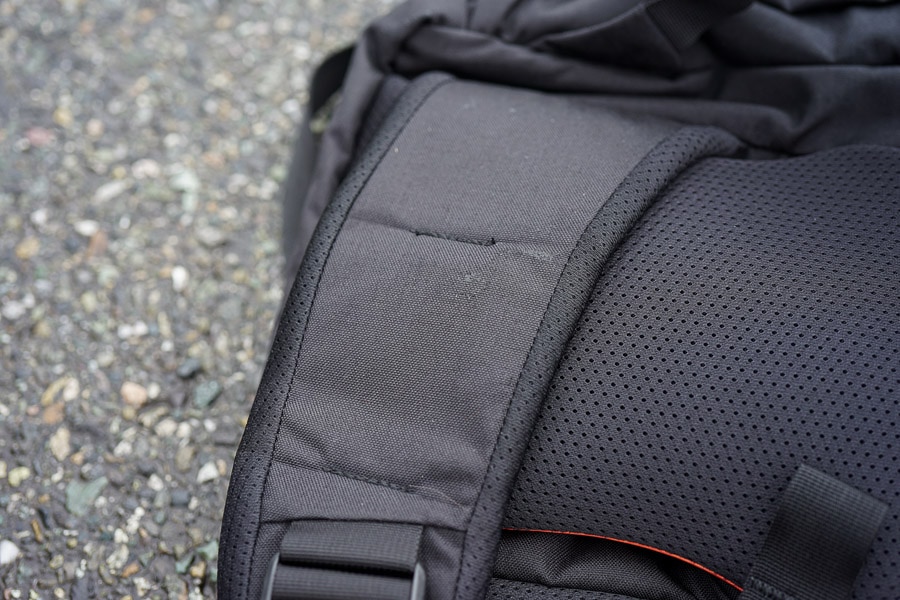 Finally you can see these little sew lines in the waist belt…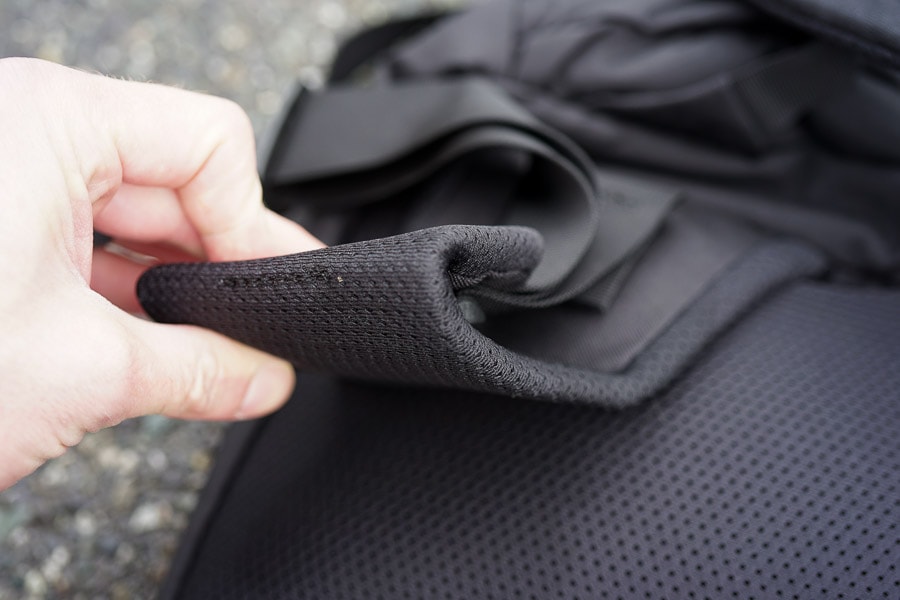 … they make folding it over for storage a breeze.
The Harness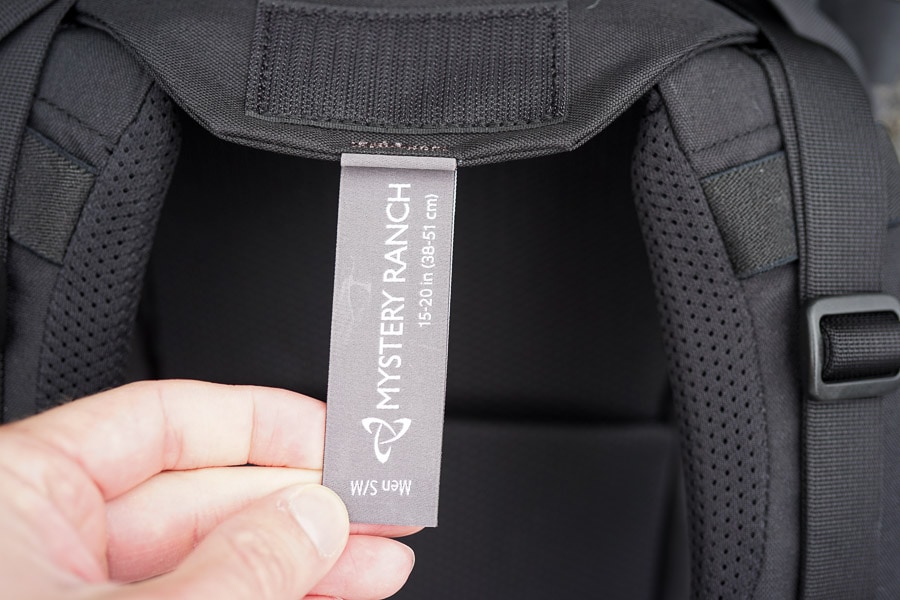 The pack utilizes Mystery Ranch's Futura Frame system. I've used this in the past on their other packs and I've been a fan of it. There's only one size for this (Small/Medium) but that should fit most people. From what I recall it's a fairly generous Medium.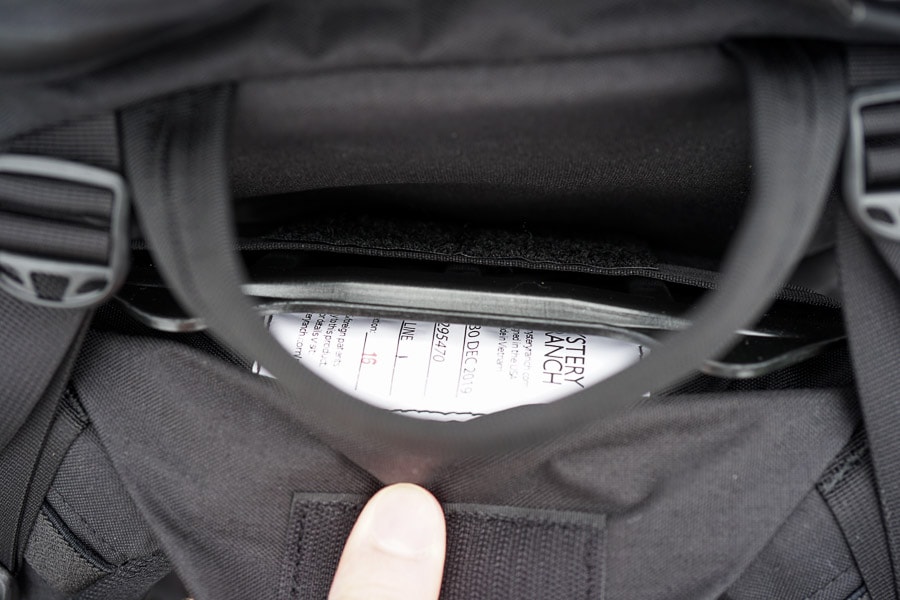 There's a nice little tag hiding away in the frame pocket.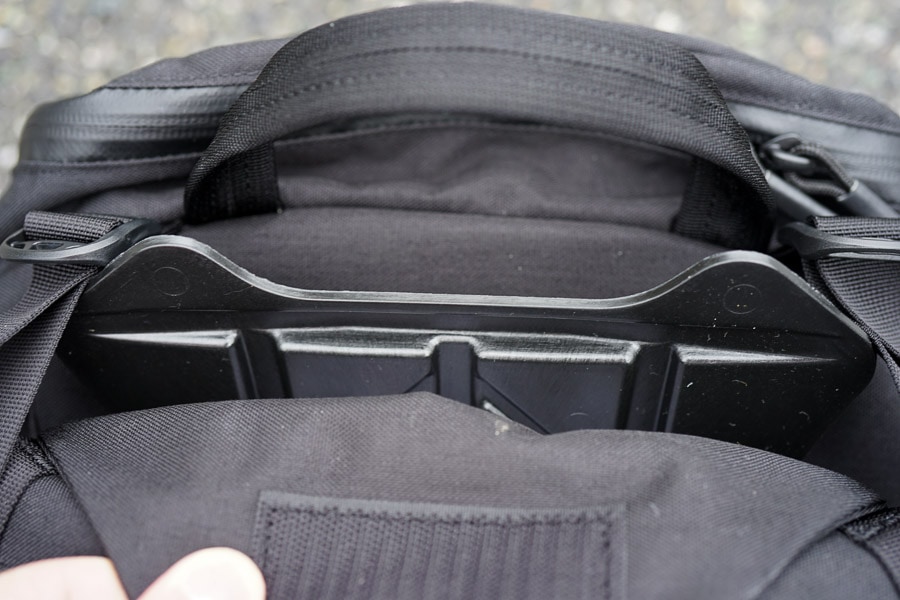 And here's part of the frame sheet! I didn't want to pull the whole thing out but you can get a good look at the thickness here. It's incredibly stiff and offers some great support. I've carried people around on other Mystery Ranch packs with ease and I'm guessing I could do the same with this one.
The Lid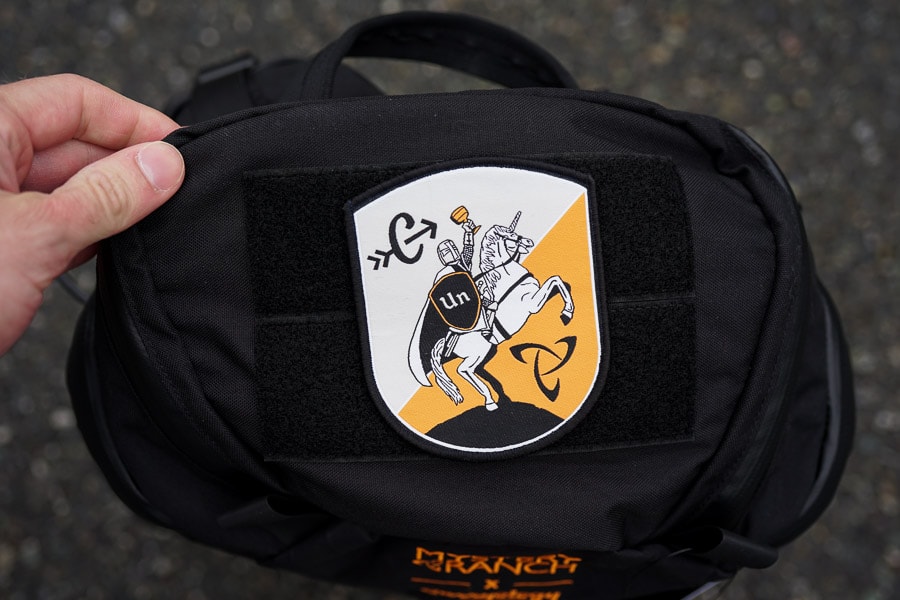 The way the 3-Zip is built means that there's a "lid" to the top of the pack. This is the area features a large Velcro loop area and comes with a limited edition Carryology x Mystery Ranch patch. It's a knight riding a unicorn with the holy grail and a shield that has the symbol for Unobtainium. There's only so many ways you can express that this pack is limited in one design and I think Carryology encompassed that here. That being said check out the section at the end of this article on how "limited" this pack might actually be.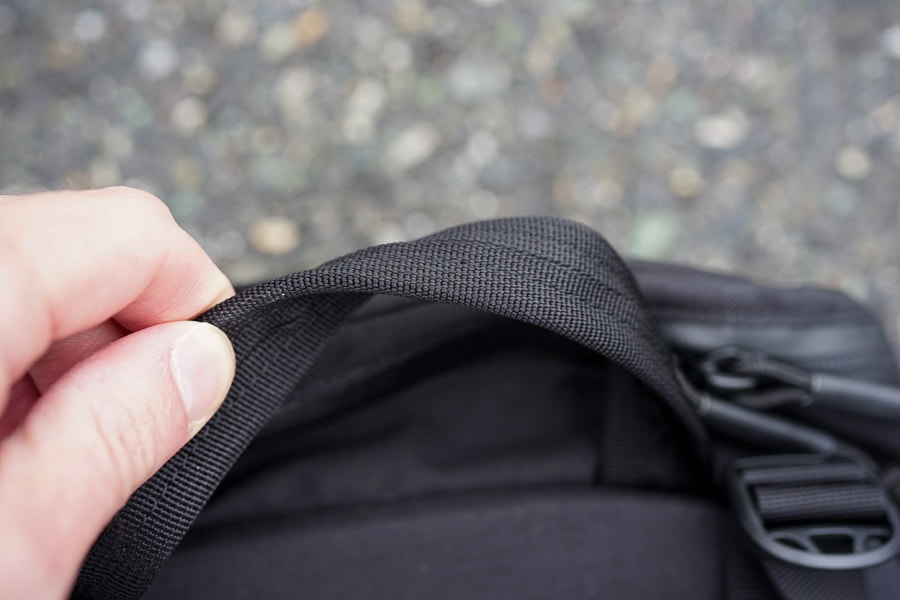 Before we open the lid here's a quick look at the top grab handle. It's not very padded but it should work if you need to grab the pack and go.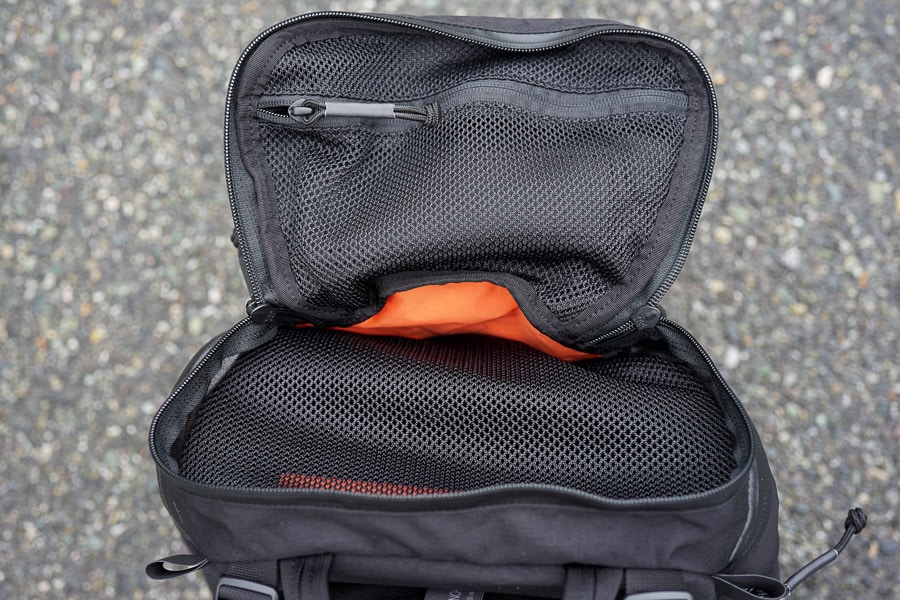 The lid of the pack actually contains a pocket which can be very useful. If you're familiar with GORUCK packs then I consider this to be something like a larger version of the internal top pocket. It can fit headphones, a cell phone, battery packs, etc. There's a lot of space here and it's easy to get to when the bag is at your side.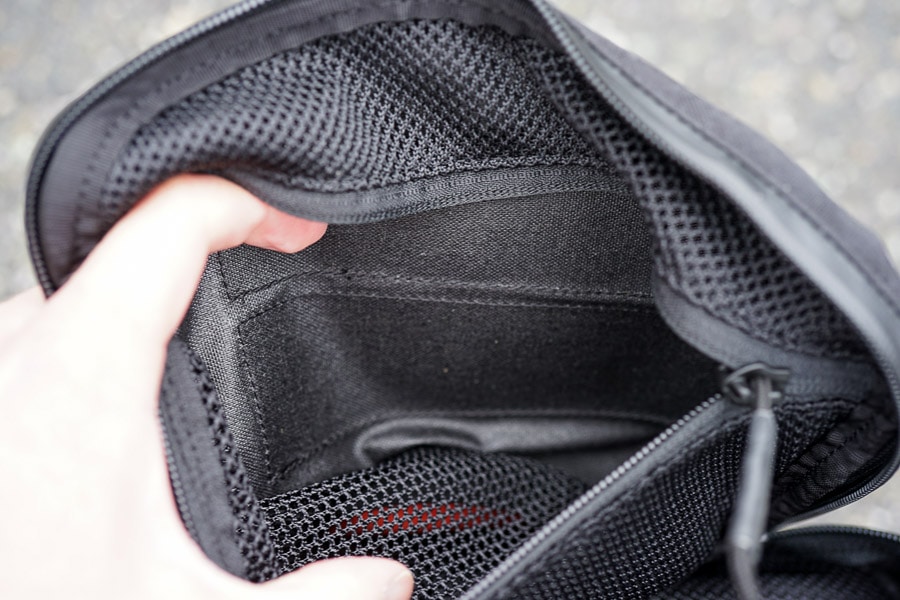 The mesh fabric is nice because you can easily see what's in the pack without having to actually open it. When you do open it you can see the sew lines on how they sewed all that Velcro loop into the top of the pack.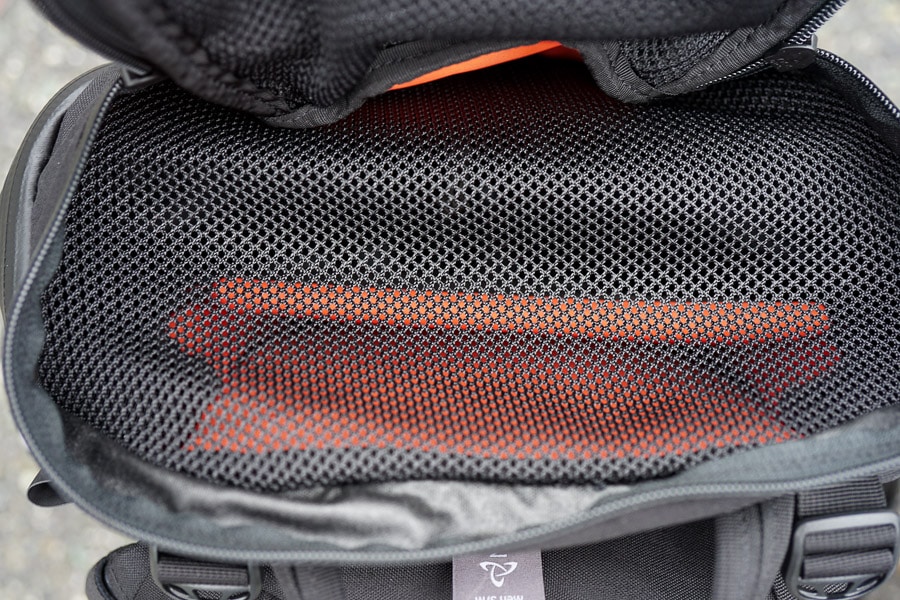 Another added benefit to all of the mesh is that you can actually see into the pack through this lid pocket. You can't get into the pack unless you open the 3-Zip but you can check on the contents if you want to.
The Inside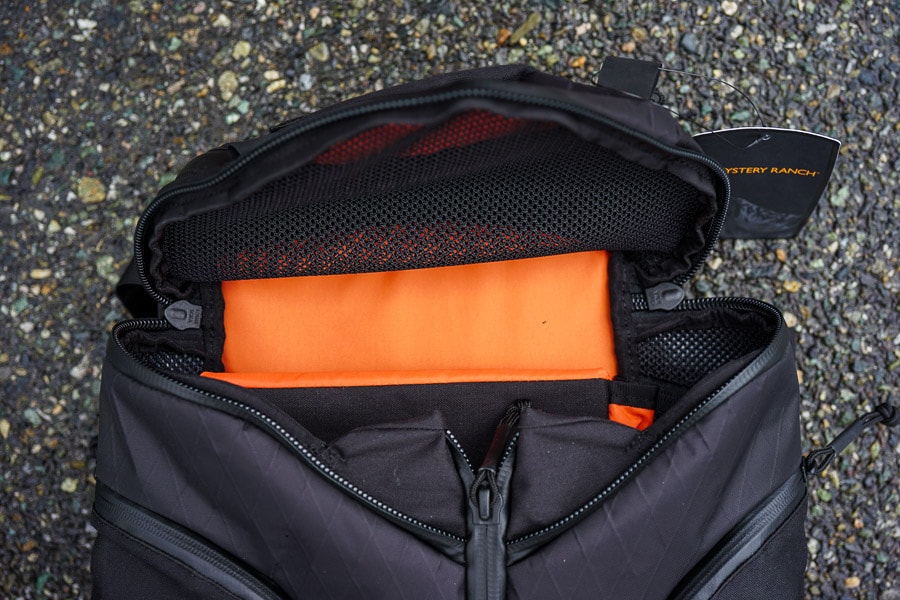 Let's finally get inside the pack! Opening up the top of the 3-Zip shows the bottom of the lid pocket and the top of the laptop area.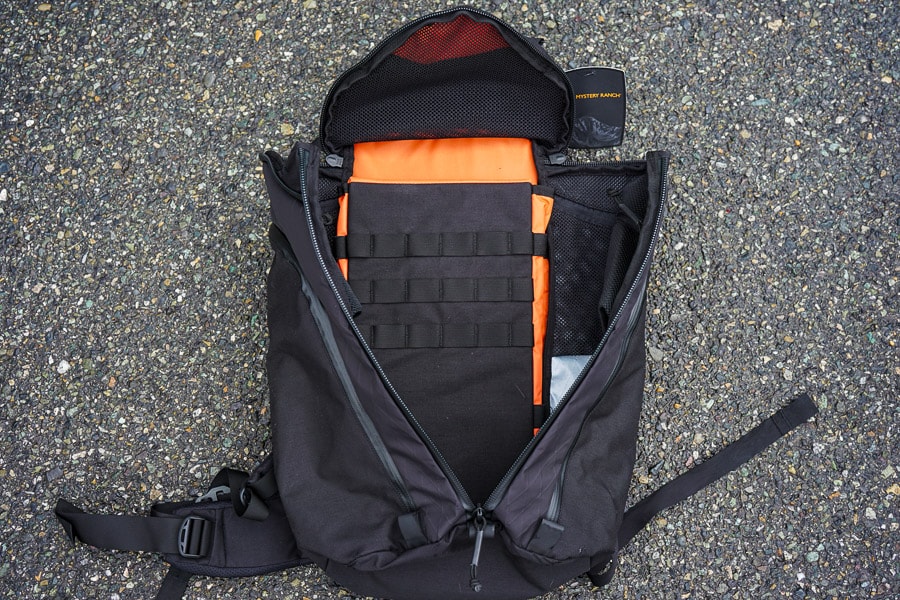 When you fully unzip the pack you get to see the PALS and other internal organization.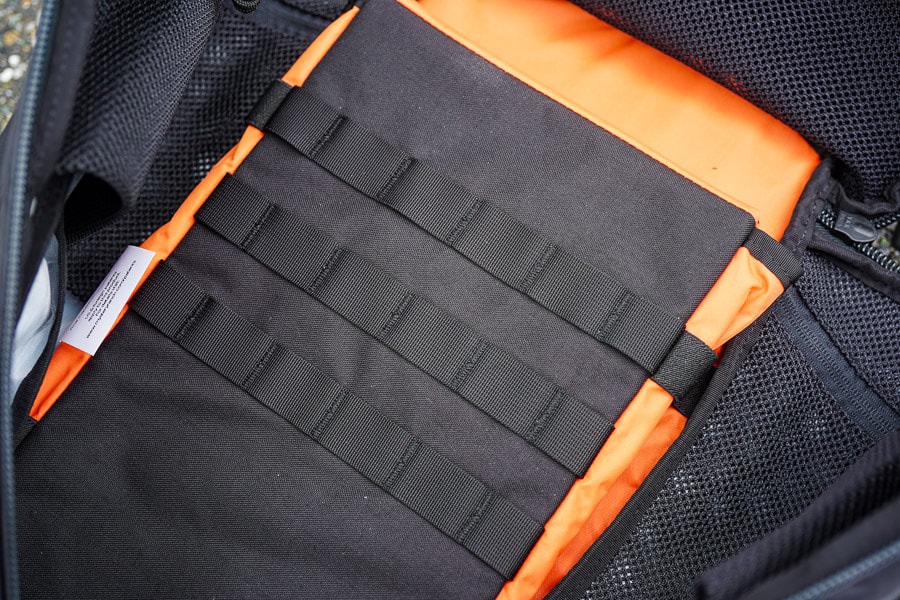 There's three rows of PALS webbing with six columns sewn into the laptop area of the pack. This area is attached via elastic so you won't want to put anything too heavy into the PALS otherwise it will probably pull the pocket open. I don't know that for a fact but it feels like what would happen.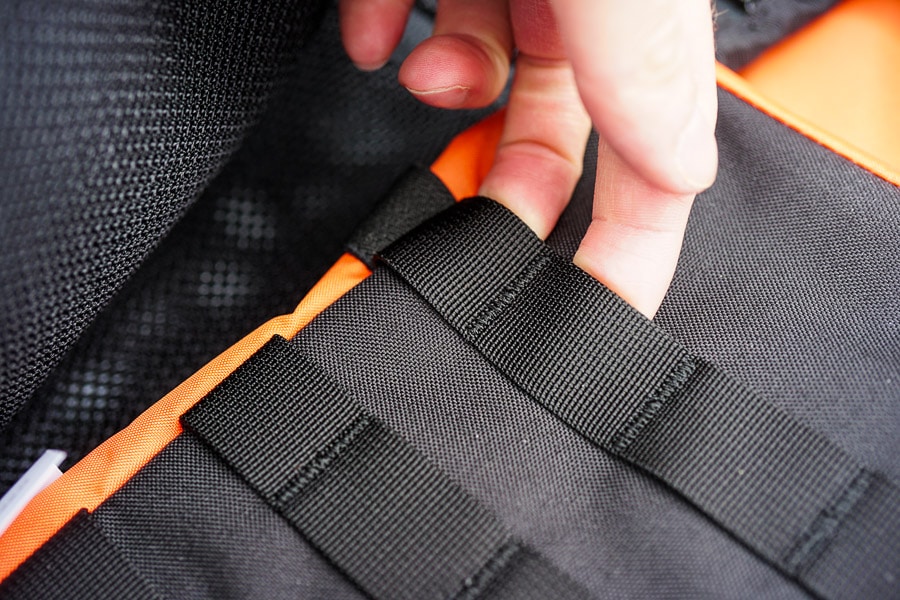 In addition when it comes to usable PALS it's closer to four full columns than six. the ends are a little tight and, depending on what you're attaching, there's a chance they won't fit. I measure the four inside columns at 1.5″ wide and the two side columns at 1″ wide.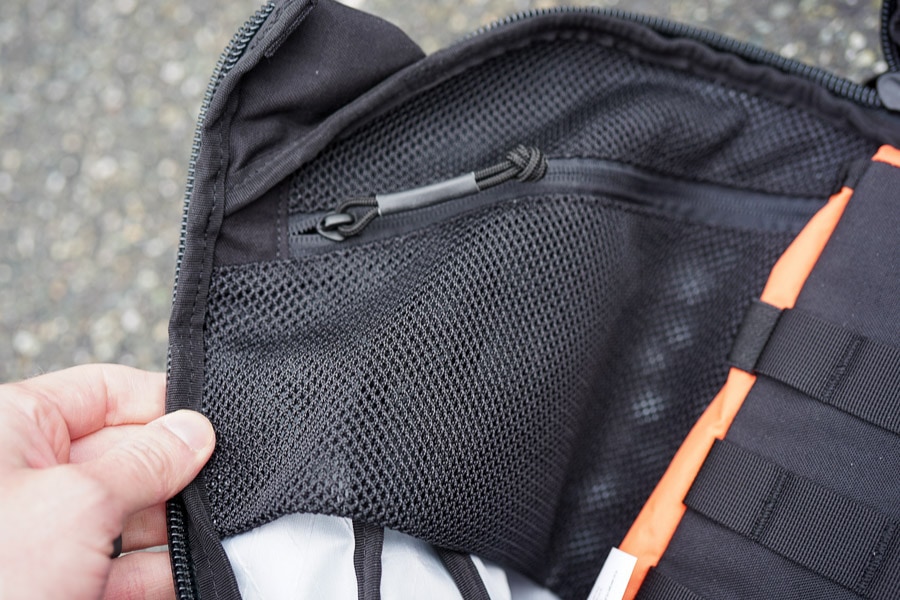 Moving over to the left side of the inside you can see a mesh zipper pocket. This seems like a pretty cool pocket because it's near the top of the pack so you shouldn't have any issue accessing it by only opening the lid.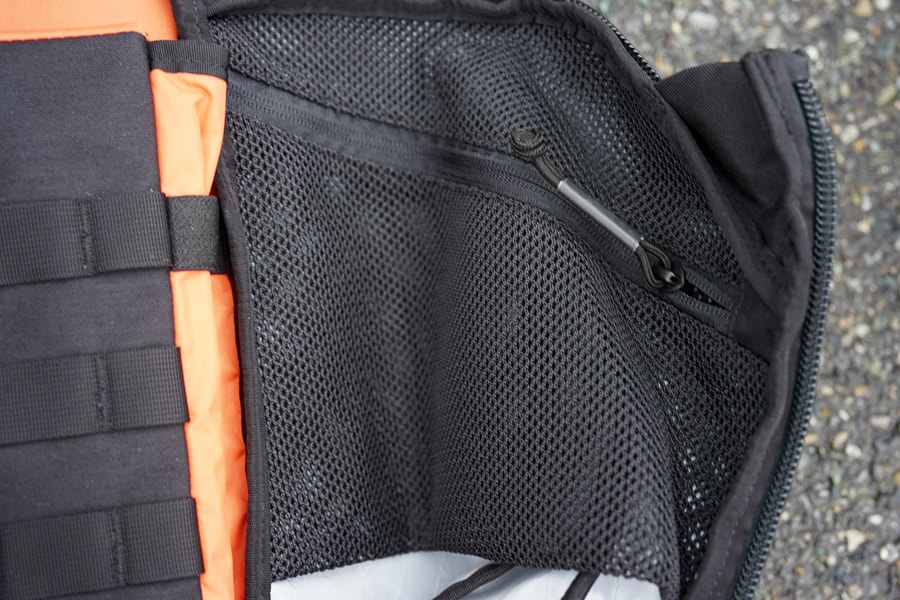 Moving to the right of the bag produces another identical mesh zipper pocket.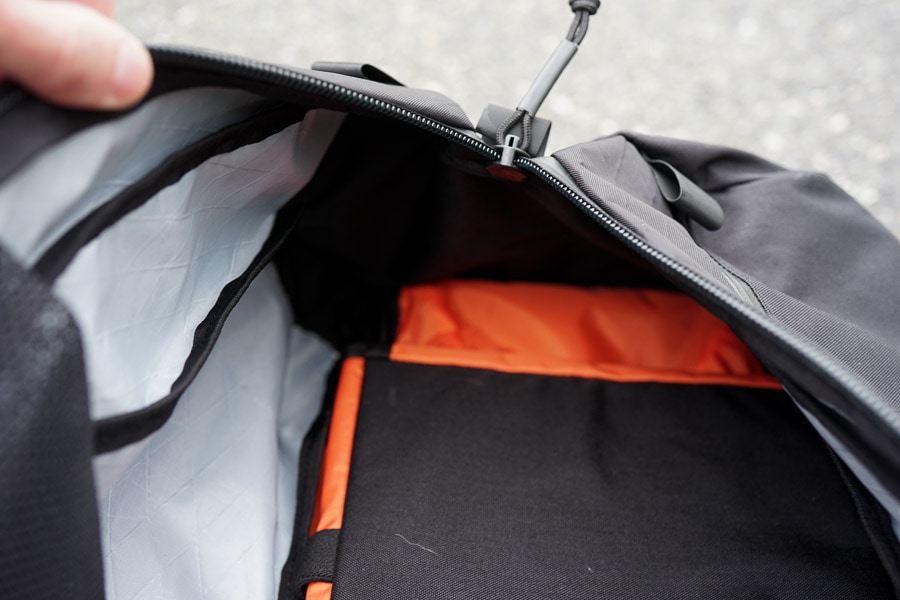 Here's the view looking into the pack from the top. Although there's a bit of orange and the VX-42 is white(ish) it's still dark on the inside. It's not exactly easy to see what's going on at the bottom of the pack without opening it a bit more.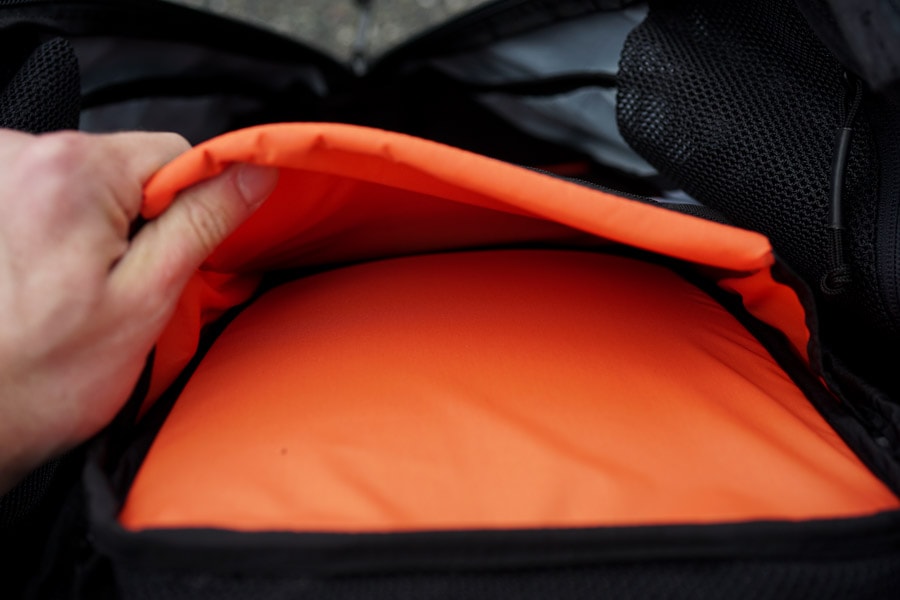 Here's the laptop area which has no issue holding my 14″ laptop. It's padded in the front and is lifted quite a bit off the ground. Most packs keep their laptops maybe an inch or three off the ground… this one keeps it a solid five or six inches away. It definitely makes me feel more secure about keeping my laptop in there.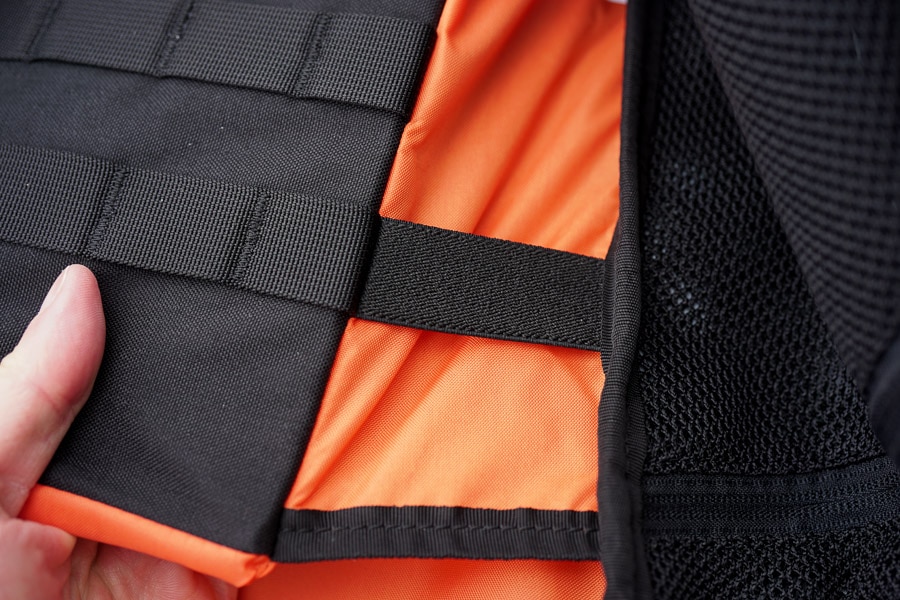 Here's the elastic used to keep the laptop in place. This is the reason you probably don't want anything too heavy in the webbing. When I say "heavy" I'm more talking about mounting a ruck plate or something that weighs pounds… not a knife, flashlight, or admin pouch.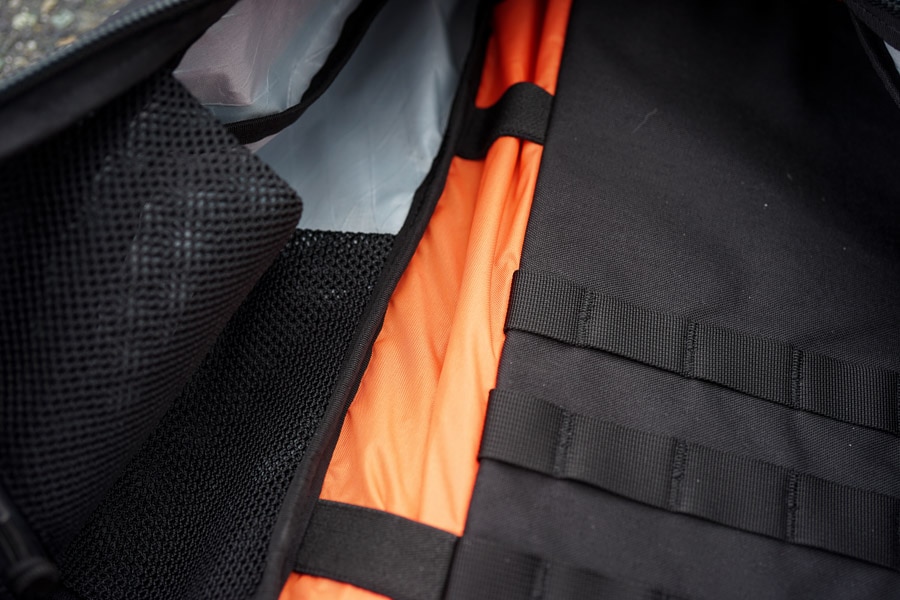 There's actually two pieces of elastic on both sides which keeps the laptop pocket secure. Although I didn't expect there to be two I'm glad that they're there… hopefully this means they won't wear out anytime soon.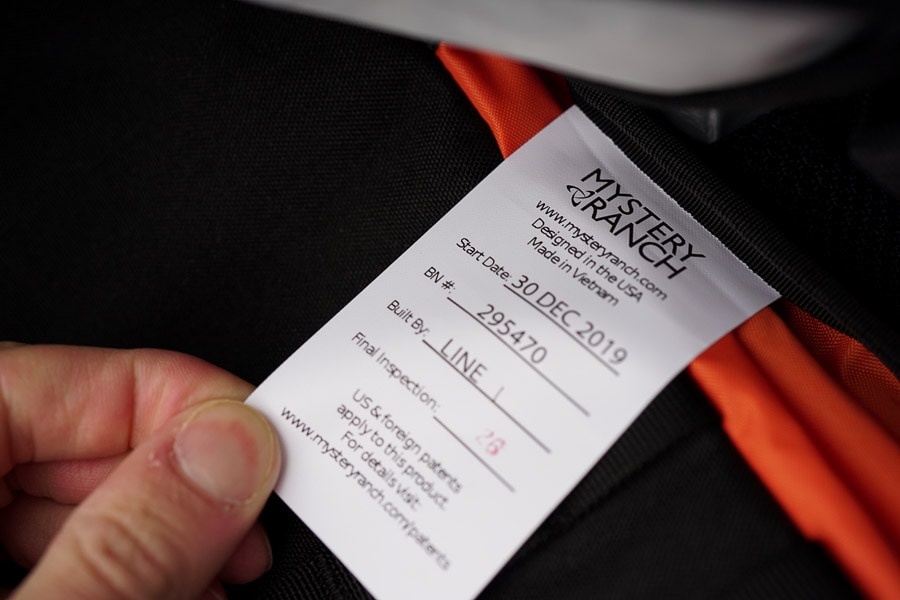 Final piece on the inside is the tag marking the bag as made in Vietnam and passing final inspection.
How Limited is Limited?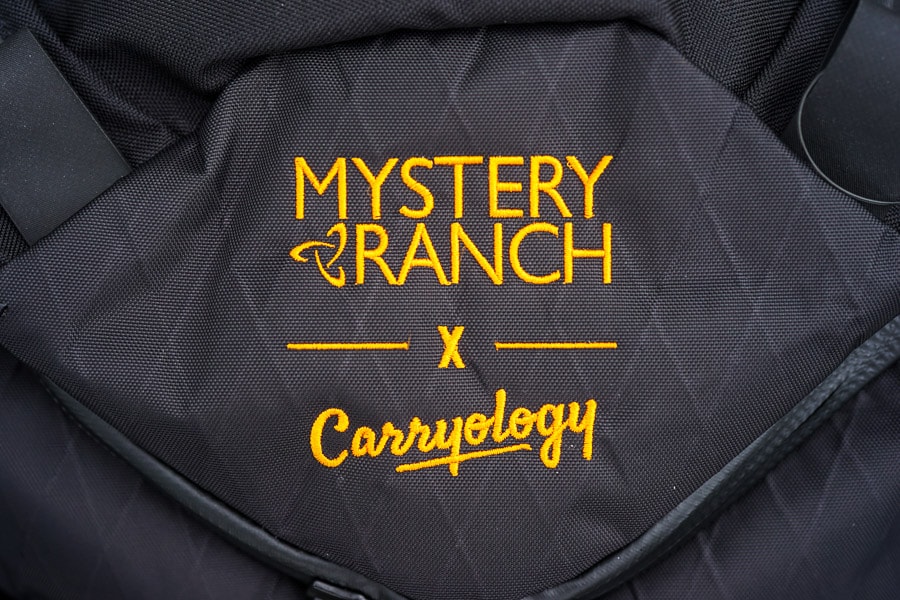 So how limited is this pack? All of the marketing leading up to the release of the bag mentioned that it would be a unicorn (rare) and there would be very limited quantities. When the bag finally released it sold out within 13 minutes. When I was on the website (maybe 8 minutes in) there were around 60 left in stock. If I had to hazard a guess I'd imagine there were maybe 200 – 300 of the packs made and released? It takes time to get through the checkout process and I could see them moving those bags pretty quick.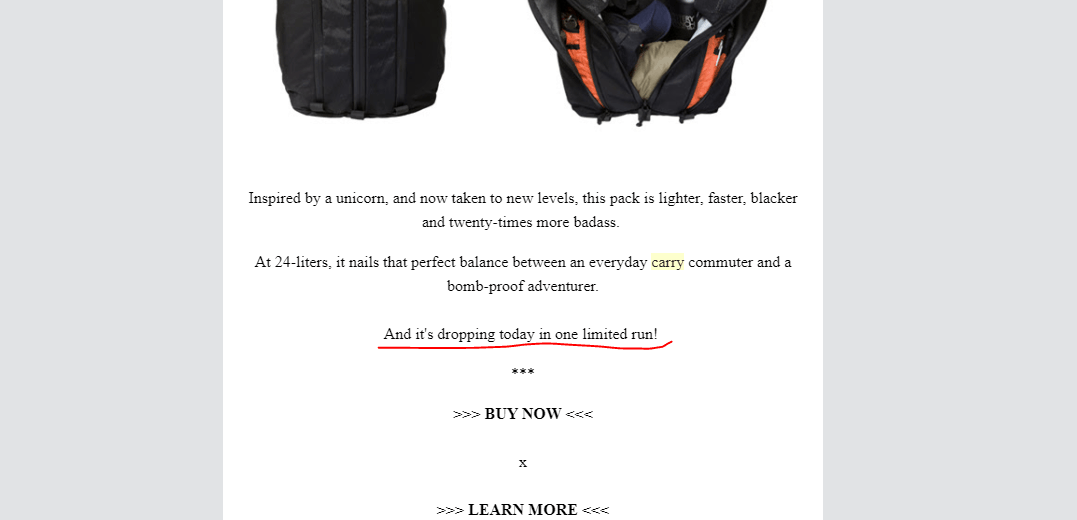 This was the marketing that was used in that initial announcement that the backpacks were available for sale. Dropping in one limited run.


With that in mind I received a follow-up email March 25th, 2020 saying there would be a second drop. Here's the contents of that email.
This is an official update for those who missed out on the drop of Collab VI (AKA The Unicorn Pack).

The pack sold out in 13 minutes flat. And the drop saw unprecedented amounts of people flood into Mystery Ranch's website. So many in fact, that their website melted under the pressure – it didn't have the right back-end coding and permission allowances to deal with such a tidal wave of traffic. We're told it was record-breaking stuff!

But the downside of all this success is that because the website wasn't designed to deal with a drop of such magnitude, it did some unusual and wild things. So a large number of you had your orders cancelled or frozen mid-purchase or similar. And that kind of experience wasn't ours or Mystery Ranch's intention.

Our number 1 goal was to stoke you guys. So, we're doing something wildly unprecedented. The first and last time ever. We're doing one last small drop to make it right. Keyword is SMALL. And it will surely be the last of this pack… for good. We have all officially agreed on that.

We're currently working with Mystery Ranch to nail down the details, as far as a new date and better ways to prepare. But it may take some time, so hang tight. All updates will be sent out via email.

Carryology
It sounds like the Mystery Ranch website had some issues, the bag sold out quicker than expected, and Carryology and Mystery Ranch will be releasing another small drop of these bags for those who missed out.
The part I'm most curious about is where the new bags are coming from? Either some of the bags were held back during the release (pretty common practice to account for mail loss, damaged products, etc) or there will be more bags being made. I'm really hoping it's the former than the latter.
I don't really have an opinion here until I know where the extra bags are coming from. Hopefully it's some that were kept in reserve and not a second run. I'd like to think that "one limited run" means one limited run. Either way if this is a bag you're interested in it sounds like you might have a second chance at getting one.
Initial Thoughts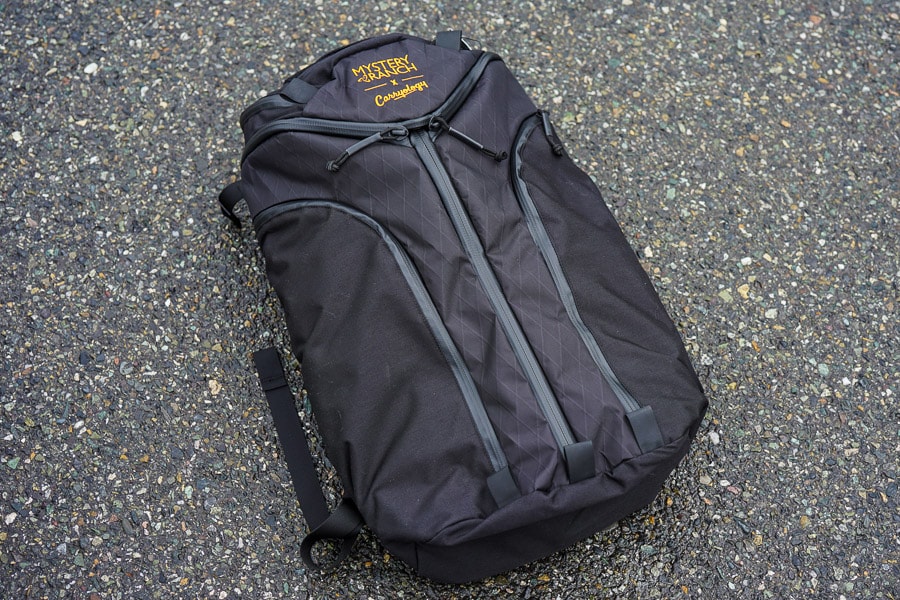 My initial thoughts on this bag are positive. It looks incredibly sleek, it's sewn together very well, and it's made of high quality fabrics. The organization on it seems great and I can't wait to use it a bit. I'm interested to see how the zippers break in and if the 3-Zip opening gets easier with use.
I'm not thrilled at the $350 price tag for a pack made in Vietnam. I realize that Vietnam does do some great backpack manufacturing but it's a hefty premium in price compared to the other Vietnam made packs Mystery Ranch produces. I'm also very curious about this second drop of packs. Is it some that weren't placed on the website? Are more of the packs being made? The answer to that question will definitely impact my thoughts on the release. Even with some number of more packs on the horizon a quick look at eBay shows that there's still a huge demand for these packs.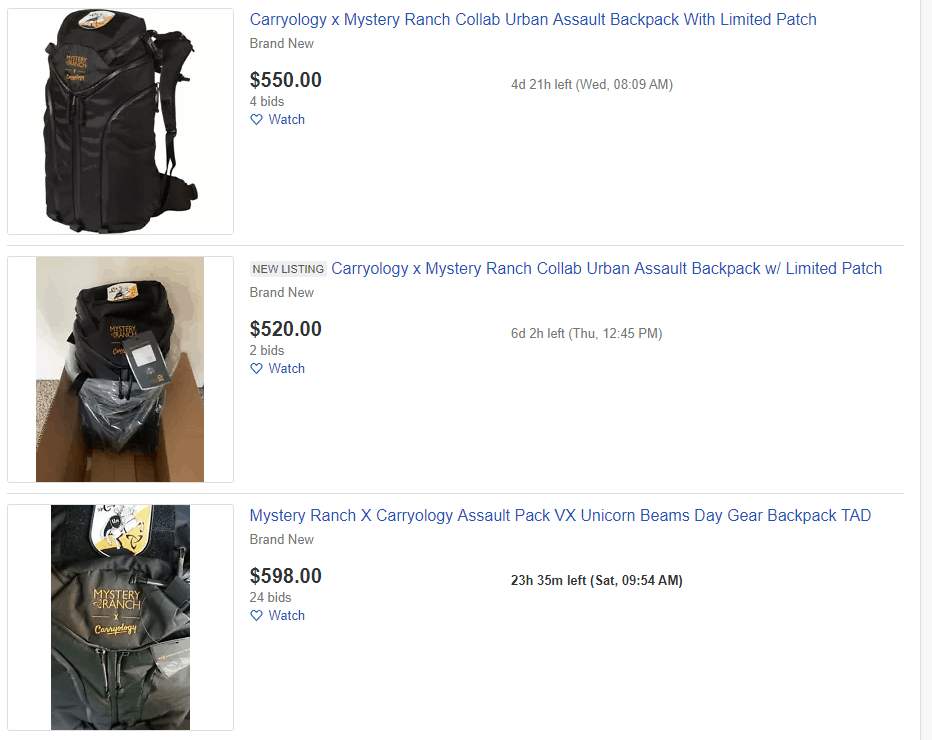 We'll see where all of these end up but for someone who paid $350 for the pack that's a decent amount of money to make. I'm not planning on selling mine on the secondary market but it's fun to know there is a market for it.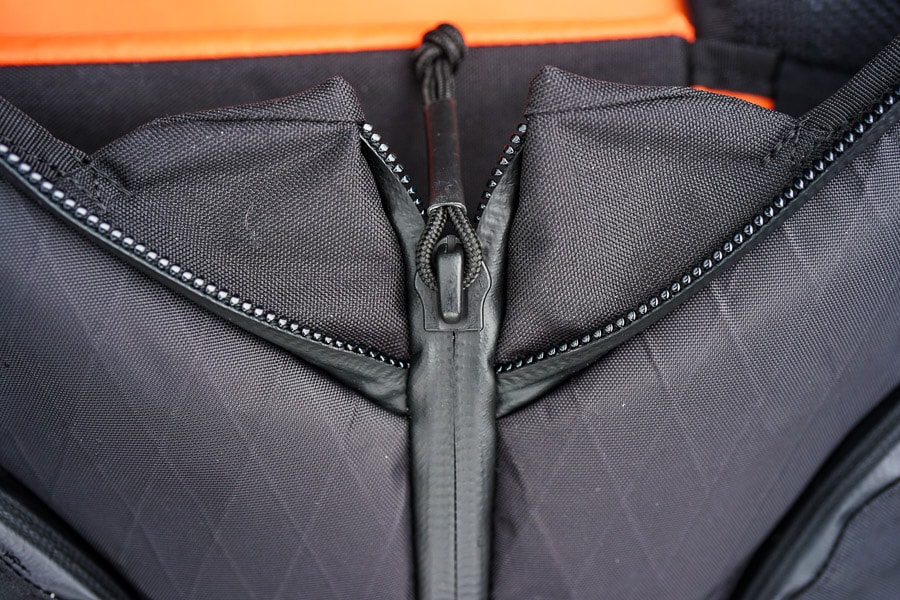 In the end it's a well built pack with what appears to be thought-out organization that I'm excited to try out. I just need the COVID-19 lock down to end so I can actually get out there and start using it!
I'd love to hear your thoughts on this bag in the comments. Like the looks? Hate the looks? Think I'm making too big of a deal out of the "limited edition" second drop? I'd love to hear it all.