The GORUCK Shooter line of packs and pouches were designed for both the firearms and photography community. The gear was released in Fall of 2016 and since then we have been putting both the GR1 Shooter and Shooter Pouches through a great deal of use.
GORUCK GR1 Shooter Updates
January 29th, 2018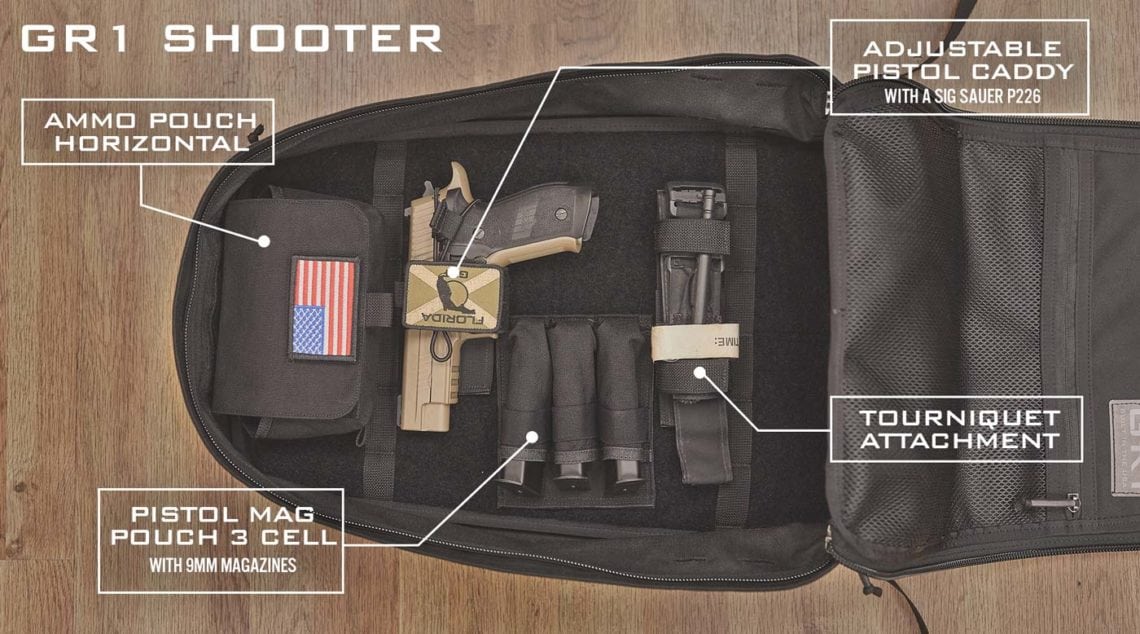 On January 29th, 2018 GORUCK re-released their GR1 Shooter ruck with a modified internal layout. Instead of only a full sheet of Velcro the GR1 internal now includes that full sheet PLUS two rows of webbing sewn over it. The two rows of webbing make this pack even more versatile than before as you can now easily attach both Velcro-backed and webbing-backed pouches to the ruck.
GORUCK GR1 Shooter Review
The GR1 Shooter has been used for months as a daily carry backpack and has been on numerous airplane rides, work trips, and vacations. In addition it served as the sole camera bag for the trip to SHOT Show 2017 as well as a trip to San Francisco… where it performed admirably in both locations.
Quality

The stitching on the GR1 Shooter is great throughout. It seems like each time we buy a bag from GORUCK the quality of the stitching gets better and more consistent.

This is apparent when comparing the current generation of packs against some of the first packs GORUCK made.

The zippers are all YKK and slide well. The bag is made completely out of 1000 denier Cordura which makes it nearly indestructible.

The buckles feel nice and the shoulder straps and handles are as padded as ever.

Overall quality is on point which is not a surprise to use when reviewing GORUCK products.
Design
The GR1 Shooter is designed nearly identical to GORUCK's now famous GORUCK GR1.

The one major difference is that the panel in the main compartment closest to the wearer's back is pure Velco instead of webbing and a pocket.

If you are not familiar with the GORUCK GR1 then here's a quick rundown on how the pack is designed…

Looking directly at the pack you see three rows of webbing (four rows for the GR2) with six columns. The webbing can be used to attach pouches and other gear to your pack.

There's a slant zipper pocket and a 3″ x 2″ Velcro area directly above the pocket.

The slant zipper runs to the bottom of the pack…

… and the Velcro area is perfect for your favorite patches.

Both sides of the GR1 feature three rows of webbing (again, four on the GR2) and two columns. Water bottle holders and small side pockets can be affixed there.

The area that presses against the wearer's back contains the laptop compartment which easily fits our 14″ laptop. The shoulder straps both have webbing that runs down them so that you can easily attach a Peak Design Capture Clip Pro or ITW Grimloc.

The top of the pack features the padded GORUCK handle which is near-famous now.

Below the handle is a Velcro area that allows a hydration cord to exit the pack.

The bottom of the pack is made from 1000 denier Cordura as well and is a stiff rectangle which is what allows the pack to stand up on it's own.

Open the pack and you find two pockets on one side…

… and a wall of Velcro on the other.

The top, smaller, pocket has a Cordura wall while the bottom, larger, pocket has a mesh wall.

The Velcro side runs floor to near-ceiling and is 100% loop Velcro.

The GR1 is designed to be a bag that you can customize to be your own. There are only two internal pockets and the rest can be set up however you would like. This is one of the aspects that we really like about the bag.

While some people love pen/pencil/whatever pockets we prefer to have an open space that we can add our own pockets to. We'd rather have that than for someone to dictate where pens should go and how your backpack should be laid out.
Usability

The wall of Velcro is what makes GORUCK's Shooter line of packs different from their standard (non-shooter) rucks.

Any pouch or pocket with hook Velcro on the back will be able to affix to this wall of Velcro. Watson apologies for getting his hair all over the Velco on the pouch.

Just toss the pouch on the Velco and you are good to go.

Here's a picture of the pack upside down and the Velcro pouches hold in there nicely.

If you have a pouch that you love which does not have hook Velcro then here is a solution for you.

Velcro makes "Velcro tape" which you can stick on gear and instantly give it a row of hook (or loop) Velcro.

We were able to turn a number of non-Velcro pouches into Velcro pouches with seconds. The most impressive pouch we modified was one of our standard camera cases. Turn a simple $15 camera case into a GORUCK Shooter compatible pouch easily.

Although the Velcro tape can lose it's sticky there is always the option to glue it on if you want it to be permanent. The above pouch is not glued on and it stays in fine. You can easily grab a number of non-Velcro pouches on the cheap from Amazon or a local surplus and turn them into gear compatible with GORUCK's Shooter line.

The GORUCK Echo Shooter Pouch is one of the more handy pouches for these rucks.

They are a great size for most of the lenses that we carry.

They also slide into the pack nicely and do not take up much space at all. If there's a pouch we'd recommend buying multiples of it would definitely be the Echo.

Here's a picture of how you can set up the pack… it's great because you can really do whatever you want to make it work for yourself.
As a firearms backpack it does a great job carrying a handgun, extra ammo, and anything else you'd need for a trip to the range. Our opinion is this bag is designed for the range over an active shooter environment. If you check out Vertx or other companies that design active shooter bags (with quick release and fast draw aspects) you will notice they are not present here.

That's not to say this bag can't be used for daily carry but there's nothing built into it to create that quick-draw that people like to see. If you don't know what I'm talking about there are bags that are designed to carry a plate, whip off your back and around to the front (quickly), and give you access to easily pull your handgun out within seconds.
GORUCK does not market the GR1 Shooter as that style of a bag so they won't lose any points for it but if that's the style of bag you want then know that this is probably not it.

As a photography backpack it excels in outdoor and non-humid environments. The pack is made entirely out of 1000 denier Cordura so there is not much breath-ability on to it.
When walking throughout SHOT Show (which was in a convention center) there were times when my back would warm up. Sweating through a shirt is not something I enjoy so I would always take a little break when that happened. I do know (from experience with other GR1s) that if I had kept going my back would have been a mess.

If you are a bigger person then this is probably something you are more noticeable of and possibly have experience with. I know when I get a little out of shape it's something I definitely pay closer attention to…
Humid weather brings out the sweat and although I did not take the GR1 Shooter into any humid environments I have taken the standard GR1 to some. Nothing noticeable has changed between the two packs so I'm sure the outcome (a sweaty back) would be very similar.
Value
At $295 the GR1 Shooter cannot be considered a cheap or even medium-priced backpack. While the other GORUCK packs have seen various sale prices the Shooter line has only experienced one… which does give some hope.

Sales don't happen often which means if you want one you'll either need to shell out the full amount or link through their ID program for the military/student/teacher/etc discount.

Although the price is definitely up there you are getting a high-quality and very extendable made in the USA backpack. After using the pack for months it's possible to say that the GR1 Shooter is more configurable than the standard GR1… which leads to the conclusion that if the original GR1 is worth the money than the GR1 Shooter should definitely be worth the money.

Some might argue that the folder and webbing in the original GR1 are nice there's no reason you could not re-create that in the Shooter with various attachments.
GORUCK GR1 Shooter Review Conclusion

The GORUCK GR1 Shooter is an awesome pack. We paid full price for ours and we do not regret the purchase one bit. It's still the current everyday carry pack and it's doubtful it will be replaced any time soon. While there are a number of available Velcro-backed pockets out there it would be nice to see GORUCK expand their line as well. Hopefully in the coming months they'll do so and make this pack that much better.
Quality

Design

Usability

Value