The Mechanix Wear Original gloves are a staple for me at GORUCK Challenges. If it's the night before and I can't find my pair I start to panic. I've lost dry bags, hats, jackets, you name it and been fine… but something about having gloves is so necessary to me.
Fit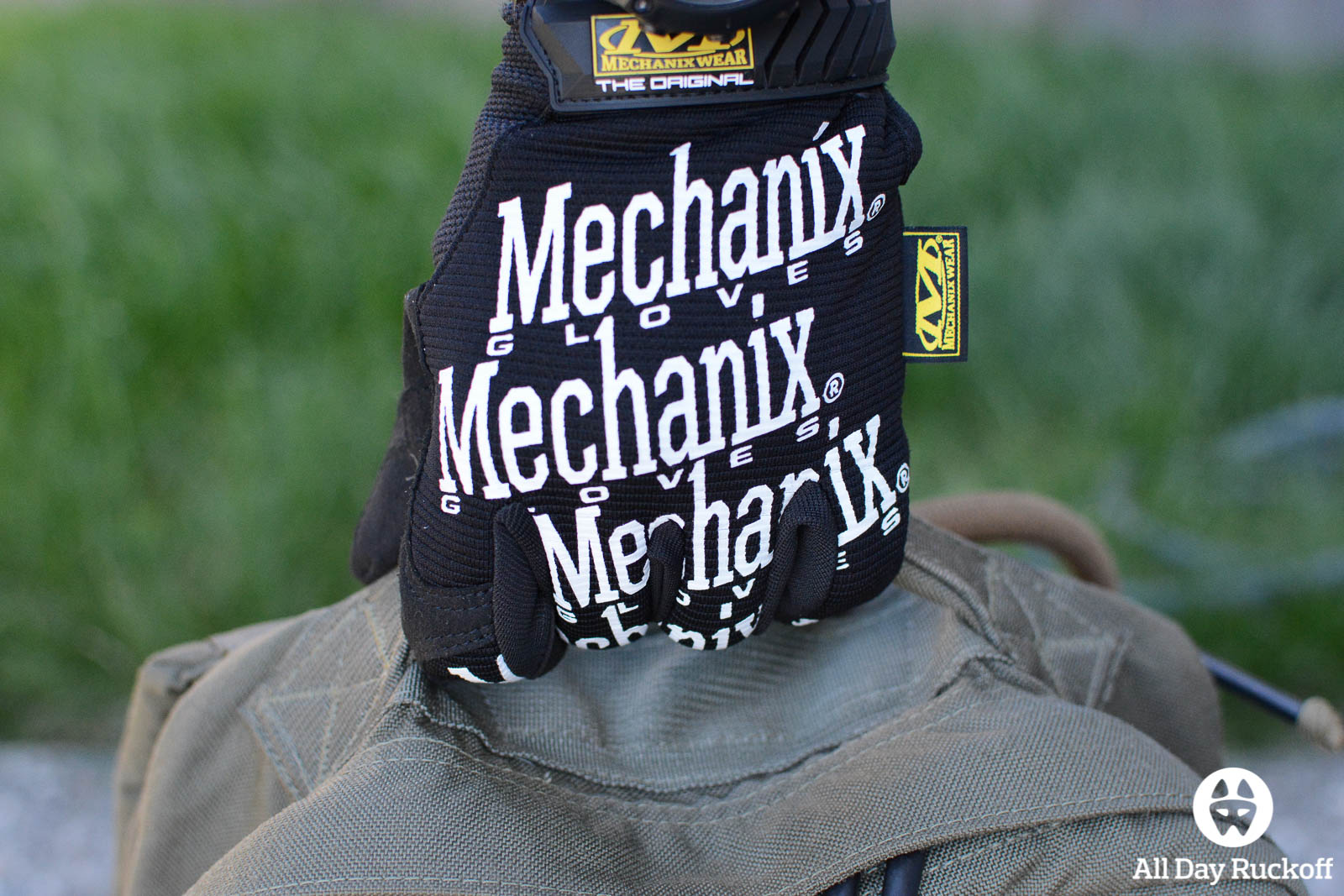 The gloves fit pretty true to size. I wear an XL in them and the adjustable Velcro strap on the wrist ensures that they're not too loose. You really want a pair of gloves that will fit so if you aren't able to make it to a store then I'd say buy the two closest sizes from Amazon and return the one that doesn't fit. If you say you're returning it because it doesn't fit they'll pay for the return shipping so you aren't out any money.
Feel


The gloves feel very soft but still have a tough nature to them. I don't mind wearing them at all and they don't feel like rough construction worker gloves. Because they are soft they can retain a little bit of water. My suggestion is to either come with two pairs (one for water and one for land) or to squeeze the water out of them after each water entry. You'll want to wear them in the water to protect your hands from getting cut on sharp rocks… trust me. I've seen plenty of bloody hands (my own included) and you don't want that.
Durability


These gloves are surprisingly durable. I generally lose a glove before I wear it out which either says something for the quality or something about my ability to locate gloves. The only pair that I have had break down I used extensively for training and in 3 GORUCK Challenges. They eventually wore through a little on the palm of the hand but were more or less still usable. Overall I was surprised at their durability especially for the cost.
Overall
Overall I'm very pleased with the Mechanix Wear Original gloves. They last a long time and protect my hands from everything I've thrown at them. I don't see any reason to search out a better glove because honestly I don't know what I would improve on these. They're also very reasonably priced.
Events
The Mechanix Wear Original Gloves have been used in the following events:
GORUCK Challenge 516
These gloves literally saved my hands from so much goose shit it is ridiculous. We spent a lot of time on one of the grossest parks in Seattle and I'm pretty sure my hands would have rotted out from goose disease if I had not had these.
GORUCK Heavy 009
I only brought one pair of gloves to this event so I figured I'd take them off when we went in the water. Bad idea! After our first entry I had three cuts on my hands each putting out a decent amount of blood. After that I wore gloves for the next 5 or so water entries and received no more cuts. Moral of that story is wear the gloves in the water!
GORUCK Light 067
What happens when you carry a log for an extended period of time? You get slivers. What happens when you carry the log and wear gloves? You don't get slivers. I was on a number of logs for the majority of this event and I want to give a big thank you to these gloves for saving my hands from some nasty slivers. I know this because a few teammates didn't wear gloves and they were fulling out awesome looking twigs from their hands after the event.
GORUCK Light 108
Used the same damn pair of gloves in this event and they were awesome up until the water. What happened in the water you might ask? I'll tell you. Crawling on your hands through a man made lake will small pebbles on the ground is terrible… no matter what gloves you wear. The pebbles got all up in the gloves and got stuck in the finger areas. I ended up having to take the gloves off and use a second pair afterwards. Not the worst thing in the world but still a pain.
GORUCK Light 116
Used the same gloves again… what's this the 5th GORUCK event they've been through… including a Heavy? I'm a little in shock that these gloves are still hanging in there but they look good as the day I bought them (just a little smellier).