During the first week of July, 2017 I reached out to Scott (the owner of Ruck Customs) about purchasing a Ruck Customs Shooter Conversion Sheet. I had seen his post on the Ruckmall Facebook group and was very intrigued. Shortly after contacting him I sent him the cash and within a week and a half the sheet was at my door!
Ruck Customs Shooter Conversion Sheet Review

I really did not need this item… but then again I really wanted it and I love supporting businesses that support the GRT community. You see… I already own a GORUCK Shooter GR1 (review) which I love. However, it is not the pack I've been using for years and have broken in throughout countless GORUCK events. When I saw the Shooter Conversion Sheet on the Ruckmall Facebook group it seemed like the perfect opportunity to turn the ruck I love into a pack that can do even more than before.

After using it for nearly five months in multiple GORUCK packs it is finally time for a well deserved review!
Quality

I have the say the quality of the Shooter Conversion Kit is truly great. There's visibly no wear on the sheet and it has been removed and attached to numerous rucks. The only wear is on the MALICE clips and that's because I used a knife to pry it open once because the knife was closer than any other tool. That's my bad… who would have thought plastic would have marks if you cut it with a knife?

The sheet is made of Kydex so it adds some rigidness to your pack. If you haven't used or seen Kydex before it's definitely thicker (read: less flexible) than the internal frame sheet that comes with the GORUCK GR1. This does not replaces that internal frame sheet but just use that as a reference to this feels in hand.

The edges of the Velcro are all glued down in the back. I've had absolutely zero issues with this while using it all over the place. Everything has held up perfectly.

I've attached and removed pouches from this hundreds of times and still no signs of wear or of the Velcro coming loose. Just in testing this I attached and removed a pouch one hundred times to make sure this thing could handle some use and abuse. Absolutely no issues there… the quality of the Shooter Conversion Sheet is great.
Design

The Shooter Conversion Sheet I purchased is designed to fit inside the 26L GORUCK GR1 and the 34L GORUCK GR2. It's really nice that GORUCK designed the heights and widths of these two packs to be the same because they're definitely my two favorite to use. The fact that I can buy one sheet and use it in both packs is a dream come true.

The Kydex sheet is cut perfectly and fits within the 26L GR1 and 34L GR2 without any issue. The Velcro is all attached straight and lines up so it looks great from a visual perspective.

The only reason there is 1/2 point removed from the design is that the back of the sheet looks unfinished. I say this because the lengths are all varied as you can see in the above picture. It probably doesn't need to be said but I'll say it anyways… this has no impact on the usability or look to the sheet when installed and in use. You only notice it when you receive it, give it as a gift, or are swapping it between packs.

This doesn't bother me at all… and if Scott offered a service for $5 to even them out I would only take him up on it if I were purchasing it as a gift for someone.

One thing that should be noted about GORUCK and their GR1 rucks. Sometime in 2012 or 2013 GORUCK changed the dimensions of their 26L GR1 making them somehow both wider and taller. The sheet fits in all of the newer GR1s but does not fit in the older GR1s. If you're curious how to tell which version of a GR1 you have you can check out our GORUCK GR1 Changes post which details numerous changes that the pack has seen over the years.

Here's a last quick picture of it within the older GR1. You can see how even though you can get it to fit it will push out against the seems.

The cuts are great and the sheet does a great job filling up the usable space on the ruck.

The sheet is designed to run to the bottom of the pack and does just that. It slides in as if it were designed by GORUCK just for their packs. The attention to detail Ruck Customs puts into this is truly nice.
Usability

My daily carry is a GORUCK GR1 that I've had for years. It's not my original GR1 but it is the second GR1 I ever received and it was from the old GORUCK Guard program there's definitely some sentimental value there. I attached the sheet into that GR1 and left it in there for a few weeks as I lived my life.

One of the interesting aspects I noticed was that you can lift the sheet up and stash paper or magazines behind it. If you have enough space you can even lift it all the way up and slip items into the folder pocket behind the sheet. When I work I sometimes need to carry two laptops so one goes in the laptop compartment and the other goes into the folder pocket. Even with the shooter conversion sheet installed I was able to slip that laptop behind the sheet.

The Ruck Customs Shooter Conversion Sheet uses MALICE clips to securely attach to the internal webbing on your GORUCK pack. MALICE clips are very easy to get attached but can be a serious pain in the ass to detach especially if the angle is tricky. This is a good thing because it means the sheet is not going anywhere once attached to your pack.

If you're someone who likes to quickly swap gear between packs then do yourself a favor and attach a multi-tool to the sheet so that you can use it to get the sheet out. Using your finger nails (if they're trimmed semi-regularly like mine are) will only frustrate you. I've been using MALICE clips for years on tons of different gear so this is nothing new to me but it's here as a heads up to you.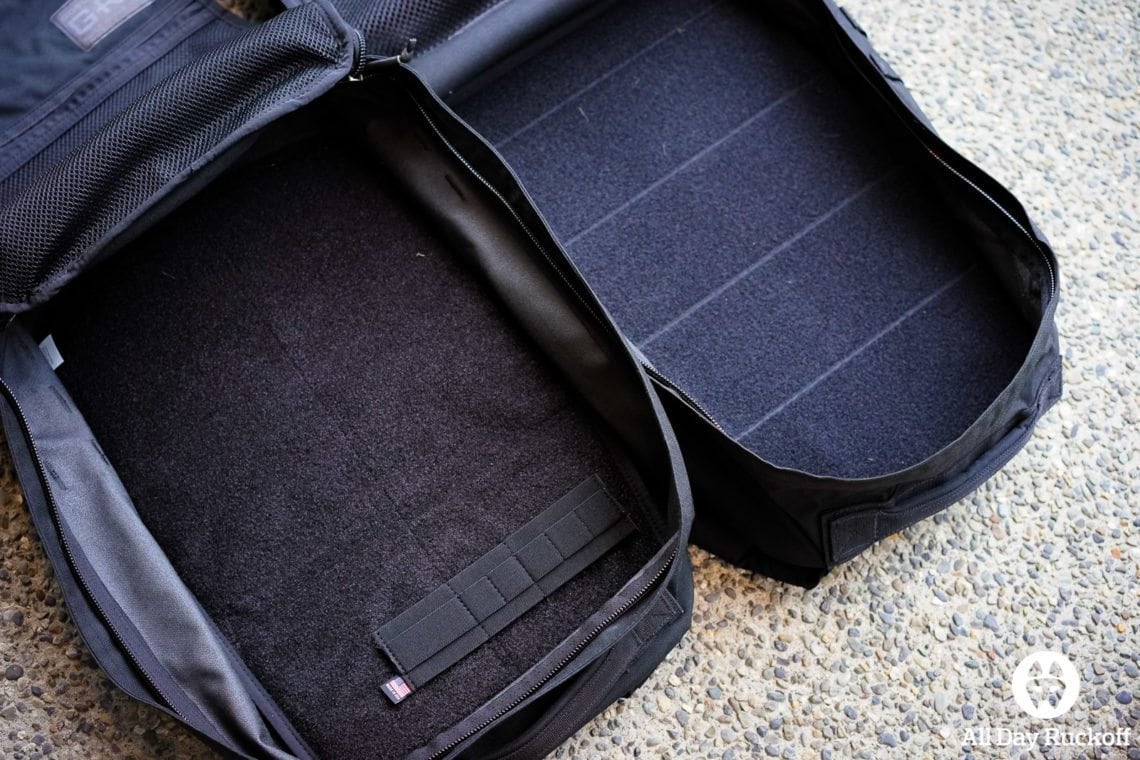 Having owned and operated a GORUCK GR1 Shooter for months I'm familiar with how that pack works and functions. I can confidently say that this sheet does indeed turn your standard GORUCK GR1 into a GR1 Shooter. The only difference between the packs is the loss of ~1/4″ due to the thickness of the Kydex and Velcro that you're adding to the standard GR1.

The Shooter Pockets are just like the standard GORUCK Field Pockets except that they have Velcro on the back. I had grabbed a full set when I purchased the GR1 Shooter so I had them on hand for testing.

One of the benefits to using the Velcro pouches is that you are not constrained by MOLLE. Want to put a pouch in vertically instead of horizontally? No problem. Want to slap it in diagonally? You can do that!

Although there's probably few use cases for putting the pouch in upside down or diagonally being able to attach it vertically is quite nice. If you're storing camera lenses you can store them vertically and then get them out easier without having to unzip the entire pocket.

GORUCK isn't the only company in town who makes gear with a Velcro backing. The above is a Control Tab 1 from Triple Aught Design which fits in nicely.

If you've got some extra space left on the insert then you can load it up with all your event or All Day Ruckoff patches. :)
Value

Here is how I perceive the value of the Ruck Customs Shooter Conversion Sheet. It is a sheet of Kydex cut perfectly to fit inside your ruck with Velcro glued around it so that it is completely covered. Two MALICE clips are attached to the top of the sheet so that it can be attached to the inside of your ruck. You're getting cut Kydex, Velcro, two MALICE clips, and four screws (all put together) for $60 shipped.

This seems like a great deal to me. First off GORUCK isn't even selling their Shooter Rucks at the moment so buying one of those is not currently an option.

Second… most readers have spent $295 on a GORUCK GR1 at some point in their life so spending another $295 isn't that appealing for the option to use the Shooter pouches.

Third… we have no free space in our office to cut or create one of these and if we did there's a good chance we'd spend more than an hour doing it or screw it up. At this price point it makes so much sense to buy one (if you want one) instead of attempting to make one yourself unless you just want a project to work on.

Even if not comparing it to the cost of a new ruck the added benefit of being able to use Velcro pouches and expand on the usability of your ruck is 100% worth it to me.
Conclusion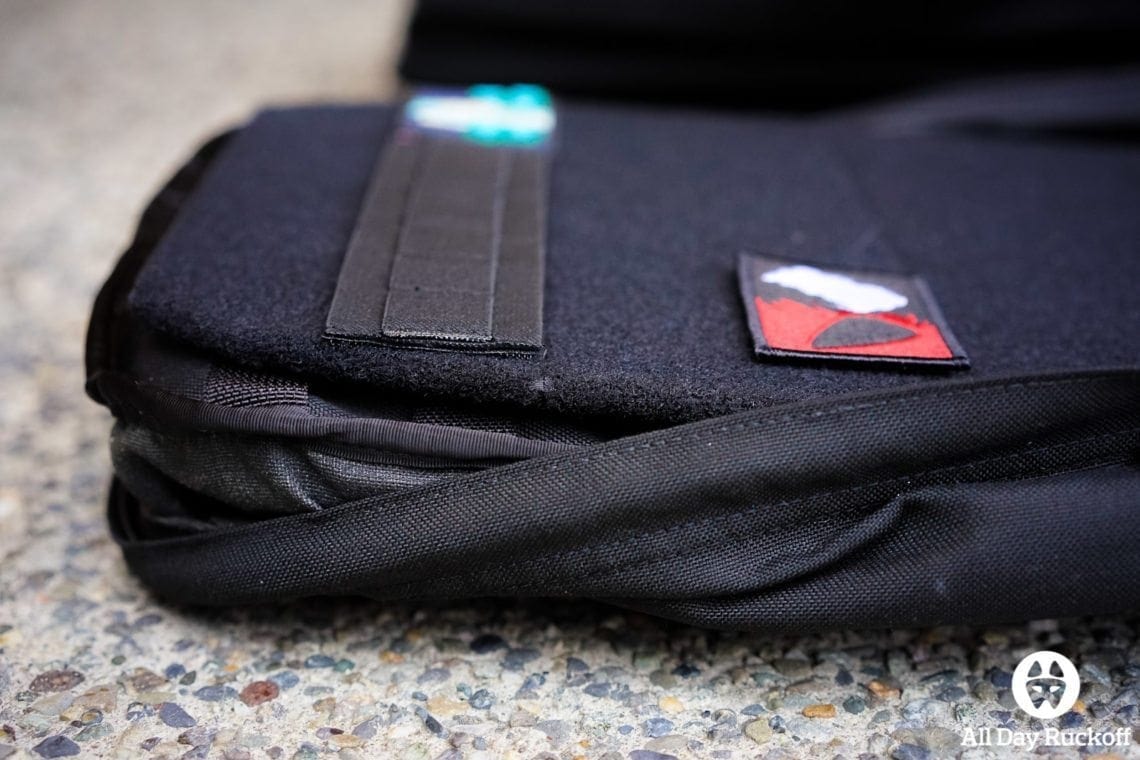 Overall the Ruck Customs Shooter Conversion Sheet is a great addition to a ruck. It's made incredibly well, is very affordable, and allows you to use your favorite ruck as a Shooter Pack instead of having to buy another ruck from GORUCK. I'm glad I purchased this from Ruck Customs and would do it again in a heartbeat.
Quality

Design

Usability

Value
Summary
Pros
Use shooter (and Velcro) pouches in your GR1
Quality is top notch
Made by a GRT in the USA
Cons
Used For: Everyday Carry
Tested For: Three Months
Conclusion: Own a GR1 and want to use the Shooter Pouches? Buy this.