Blayne Smith became the president of GORUCK back in August of 2017. The announcement came as a surprise to some but having met Blayne in the past and seeing his interactions with Jason it really seemed to fit.
Podcast: Download (Duration: 47:14 — 32.9MB)
Subscribe: Apple Podcasts | Google Podcasts | Spotify | Stitcher | TuneIn | RSS | How to Subscribe

Blayne was nice enough to take time out of his day to chat with me about his new role at GORUCK, what he's been doing, and what it's like competing with Monster who is the president of GORUCK Nation.

Hopefully you enjoy this episode and if you had any questions about what Blayne is doing at GORUCK it clears them up. In addition, it will be interesting to see what Jason is able to tackle now that Blayne is involved and handling some of the tasks he used to do.
Resources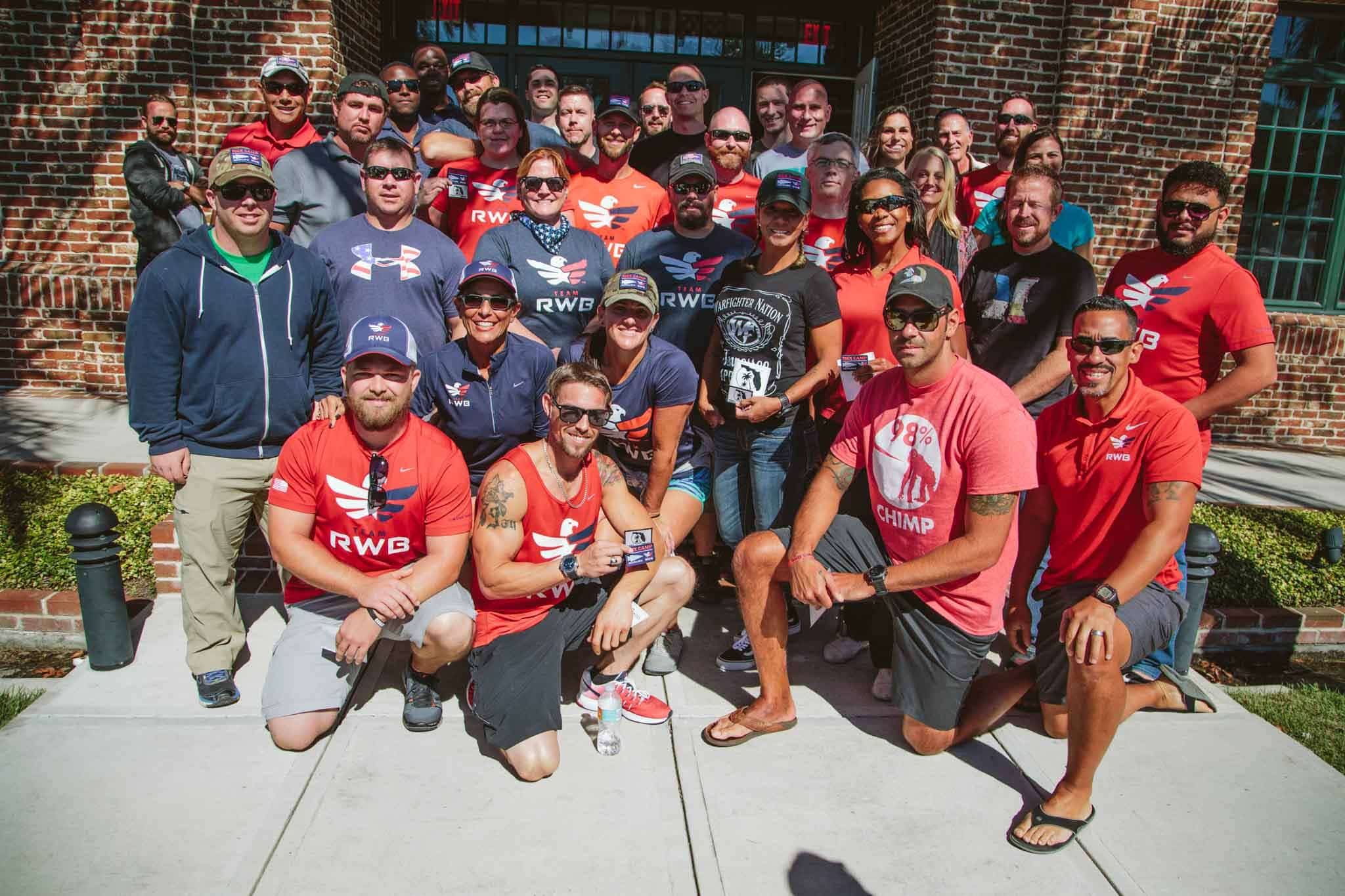 Podcast: Download (Duration: 47:14 — 32.9MB)
Subscribe: Apple Podcasts | Google Podcasts | Spotify | Stitcher | TuneIn | RSS | How to Subscribe
What's Next
Thanks so much for listening! If you missed any of our earlier episodes you can give them a listen right now. Hopefully you enjoyed the podcast and are excited about the next one. This is very new to us so we would appreciate it if you would cut us some slack as we work on perfecting our methodologies. Did you enjoy the podcast? We'd love a review on iTunes or even our Facebook Page! Didn't enjoy it? Leave a comment here in the show notes and let us know what we can do better!
Thanks so much for the support and make sure to check out the links in the Show Notes. Subscribe through iTunes, Android, Google Music, Stitcher, or TuneIn and never miss another episode!
Podcast Transcript
Brian: Blayne, thank you so much for taking time out of your day. I know you're an incredibly busy person being the president of GORUCK. Thank you. Thank you again for chatting with me. How are you doing?
Blayne: I'm good, man. Thanks for having me.
Brian: Absolutely. It's my pleasure. Before we get into your current position as the president of GORUCK, let's start out with your involvement in GORUCK and the GORUCK community. How did you stumble upon GORUCK as a company?
Blayne: I'm not 100% sure, but I think my first sort of real exposure to it was I had a friend named Mike Pick, who's a cadre, Cadre Chase. If any of you guys have had him out there. We went to the same CrossFit gym in Tampa and he was one of the early members actually of the Tampa Team RWB chapter there as well, and we just kind of got to know each other a little bit. He kept mentioning over the weekend, he's like, "Hey, I can't do anything this weekend. I'm leaving town to do a GORUCK event." I was like, "What are you talking about? You're making people — What? Like do flutter kicks or carry logs or burpees?" I didn't fully understand what he was doing.
He started to explain it to me and then I started to look a little bit more into it and I kind of got an understanding of what it was, and this must have been back in 2012 probably. That was my first kind of exposure to it, and then the first time I actually participated in anything GORUCK-wise I think was out in California. I was at an event out there. I think it was like the Clinton Global Health Summit or something, and there was like a custom GORUCK Light challenge that was going on at the end of the event for people that wanted to do it, and I had Aaron down in Cape Coral, Florida. He was out here, and that was the first time I did a Light and actually sort of understood how the whole thing worked, and that was really cool. Then from there it picked up steam pretty quickly once Team RWB and GORUCK started doing some work together.
Brian: That's awesome. It sounds like you had a good time with that first event.
Blayne: Yeah, I really did. For me, I was — Just a complete transparency, I was very, very skeptical as people were telling me about GORUCK, and you guys are familiar with their community, so you know how it is. People get involved and a lot of them really get excited about them because it could be life-changing and it's something that you're not going to do in your everyday life. I would run into these people that were so pumped about GORUCK, and my initial disposition towards the whole thing was like, "I already served in the military. I already went to the real selection. I'm good. I'm certainly not going to pay somebody to make me do flutter kicks and low crawl and carry heavy stuff through the middle of the night. I'm all set with that. I understand that experience and I don't really need more of it."
When I did that first Light and I got a chance to do it alongside a really diverse group of people, some had served in the military, some not, some were like big GORUCK enthusiasts and some were new to it. To see the way that it affected the people and the way that they changed from the beginning of the challenge until 5 or 6 hours later at the end, the amount of confidence they had, the way the team formed together, the professionals and with the cadre, kind of quickly realized that this was actually not only a lot of fun, but it was providing a real service to people and that made me really start to love it.
Brian: Very nice. I know you've done a number of Light events especially with team RWB. Have you done a Tough?
Blayne: No. My first Tough was supposed to be NYC 9/11, and we had to evacuate because of the hurricane. I ended up driving up to Atlanta with my wife and daughter instead of going to that event. I think I'm going to do Zombie Apocalypse down in St. Augustine in two weeks, two weeks from today. That will be my first Tough as a participant, and then over the course of the next couple of months I'll shadow probably several events and start to actually cadre some events probably the early part of next year.
Brian: Very cool. That was a question I was going to ask you later since you have the prerequisites to be a GORUCK cadre. I was going to ask if you've planned on doing that, and it sounds like you are. Very nice.
Blayne: Yeah, 100%. I think it would feel right to me. Frankly, I want to be involved with as many events as possible. You can count on seeing me out there both as a participant at times and as a cadre at other times. I really want to be as much a part of the community as I can and meet as many people and see as much. I haven't done a Constellation yet. Big Daddy assures me that I've got to get out for a full weekend of firearms day events, so I'm excited about all of that.
Brian: Very cool. You're going to have quite the busy schedule coming up.
Blayne: Yeah.
Brian: When did you start working for GORUCK?
Blayne: My first official day I guess was August 1st of this year. It would have been about 2-1/2 months ago, but it was probably — God! I guess it was about a year ago that Jason asked me to join the board of advisors at GORUCK, and so I've been involved in, I guess, some of my official capacity now for about a year, maybe a little over a year just kind of in that role, not doing much active, but being involved in the organization and having a better understanding of the business and everything that goes on kind of under the hood at GORUCK.
I've been doing that for a while. Then before that, in my previous job as executive director of Team RWB, Jason and I had grown pretty close and GORUCK and Team RWB had worked really closer together. I've worked with GORUCK for probably over three years now and have been, I guess, kind of officially involved for maybe a little over a year, but my first day as president was August 1st.
Brian: Very nice. Yeah, I know GORUCK and Team RWB have a decent history together now. I figured you had experienced a bit of GORUCK before stepping in as president.
Blayne: It was obviously not a decision that any of us took lightly, but it was something that — The more time that I spent around GORUCK and the more I got to know GORUCK, and Jason, and Emily and the whole team, the more excited I became about the potential and the possibilities for the organization. I think that's pretty rare, by the way.
There are a lot of companies out there and brands that they look really good on social media. They advertise well and maybe they look like big companies or whatever, but once you start looking at them a little bit more closely, you can kind of start to see their warts. When you talk to people that work there, they're like, "It's really not that great after all." That's really been the opposite with GORUCK. The more I got to know about the organization and the closer I looked at it and the deeper I dove into it, the more encouraged I felt. The more I liked it and the more I saw a real opportunity to do something important here.
Because that was the case, it sparked a lot of conversation between Jason and I about like, "What could we do with this? How great can this be? What if we could work together on some of this stuff?" Took the leap and I've been really excited ever since.
Brian: It's so true, many companies look great. They have a pristine Instagram presence, and then as soon as you put them even remotely under the microscope or start seeing what's going on, it's not as good as it's cracked up to be. I think that's one of the reasons why GORUCK has such a strong following, is that the people who do get close to GORUCK like it that much more.
Blayne: Yeah, I think leading with transparency is the way that Jason would describe it, and I really like that phrase. We were doing a Facebook Live thing yesterday and somebody was asking why do we do the state of GORUCK? Why does Jason just offer this completely kind of transparent look at everything from things we've screwed up to things we're excited about to our financials? That's just what we've decided to do. I think in 2017 and beyond, people want to be a part of brands that they know and they trust and they feel like they've got some voice in.
It can be a double edge sword, because it's a lot of work to be in the Tough group, answering people's questions and to do a Facebook Live every week to tell people what we're up to, to take criticism and shots from people that aren't happy with not having the right color they want or having a bad experience in an event. It is no small task to keep up with the fact that we really are directly in touch with our members, our customers, our community. That's just something that's unique to GORUCK and we're committed to it.
Brian: That's awesome, and I did catch most of the video. I have to finish it up today, but it's really cool that you guys are doing that. They're super informational and it's just great to get that view into GORUCK HQ.
Blayne: Yeah, we've had a lot of fun with it. I think that we look forward to it now. I think we've done three in a row, but on a Wednesday we're already talking about, "What are we going to do tomorrow?" It's really a highlight of the week for Jason and I, because we love feeling connected to our work and what we're doing. We have a lot of fun at HQ and we certainly enjoy our jobs and the company that we do it with, but there's still plenty of spreadsheets, plenty of marketing meetings, plenty of conference calls. There are a lot of the things that exist in any business that make it hard or strenuous. It's not all just kind of like surfing and rucking every day, as much as that would be cool. Having a chance to do something like that is exactly what we want to be doing most of the time. That's easy for us.
Brian: Nice. You're the president of GORUCK, and Jason is currently the founder and CEO. I know when you stepped in people were wondering how your two roles differ.
Blayne: Yeah, it's a good question. To be completely honest, we're still figuring some of that out with me being 70 or so days into the job, but I think the intent from the beginning was a couple of things. One; for Jason to really have a partner and someone that we can share ideas together, we can bounce things off each other, we can strategize and do some kind of the topline thinking about the direction of the organization. That's from new products, to new events, to sort of strategic financial decisions, whether we should take on some investment or whether we should borrow some money from small business administration's so that we can try to grow and buy more inventory and all of those things.
GORUCK's had a really solid team for a long time and a lot of the components of it work very well almost autonomously. Gear ops runs really well, event ops with BD which runs really well. I think having an additional set of hands to help with some of that stuff on the strategic side is really important. I think part of it was Jason and I just really liked and trusted each other and had a very common vision, a very closely aligned vision for what we thought GORUCK could be.
The biggest kind of impetus for it was let's get our heads together. Let's work on this together. It will be a blast and we'll be able to get more stuff done. There is that, but for the first kind of — I don't know. Let's say few months, 90 days, 6 months, maybe something like that, I've really been focused on a couple of things. One is kind of internal coordination and synchronization within the organization. Jason is a brilliant mind when it comes to kind of strategy and product development and storytelling and really kind of growing GORUCK as a community. I've been spending a lot of my time working with making sure that finance is talking to gear ops so that we're buying the appropriate levels of inventory and we can pay for it and coordinating that with marketing to make sure that we have the right plan in place so we have good visibility on what products we're going to have available this year in like let's say Christmas time so that we can promote those products and make sure that we're selling them in an appropriate price, just doing a lot of kind of back office kind of business operation stuff.
I've spent a lot of time doing that, and then the other piece that I've spent a fair amount of time looking at is kind of business development and growth opportunities. We function primarily as a business that is business to consumer, B to C. We make products and have services, events that we sell directly via an online website to customers. I think that's the intent for us to kind of always do that, but I've spent a lot of time thinking about how are ways that we can do that better. Who our audience is that we can reach that would love GORUCK and would love to be a part of this community but they just maybe haven't met us yet.
I think a lot about and spent a lot of time talking to people from other industries, whether it's in the kind of like the training and fitness industry or kind of the military and paramilitary spaces to basically find people who are kind of GRTs, they just don't know it yet, if that makes sense. So that we can continue to grow GORUCK through a base of customers and a base of a community that is consistent with who we are and what we want to be, because we know those people are out there. We just have to think hard about where they're at and how we connect with them, rather than just taking some sort of like nuclear bomb marketing approach where we just want to sell GR1s to anybody, because that's not really a sustainable way I don't think to build our business and to grow and be something great in the future. We want to find the people that resonate with our brand and with our culture and get them into the GORUCK family. That takes a little bit more work and it's a little bit slower process, but I'm spending a lot of time thinking about that.
Brian: Very cool. That's awesome. You mentioned that you're doing a lot of work in the B to C space, business to consumer. I know in the past GORUCK has done some stuff in the B to B space with GORUCK solutions. Are you looking into expanding that at all?
Blayne: We are looking at it for sure. At this point we haven't really made a firm decision on what's that going to look like, but it's something that I've spent a fair amount of time on over the last month or so trying to study and understand what the opportunities really look like. If we can do them as kind of a best in class provider.
This falls into a category of something that I call opportunity management, and it's a high quality problem. It's something that we're fortunate to be in the position, but anytime you take energy or resources; money, anything like that, any kind of resource; your time, energy, money, and you apply it to something, you have to understand that you're taking it away from something else. We don't just have cash sitting around such that we can hire 15 more people right now to go work on a new problem.
If Jason or I or anybody at GORUCK decides to spend some time, energy, money on exploring a new opportunity, let's say it's GORUCK Solutions type stuff where we want to do maybe leadership teambuilding and communication training for a corporation or whether we want to do some firearms instruction as a subcontractor for a government entity. We have the capabilities if we wanted to to do any of those things, which is awesome. What we need to understand fully is how much work is going to go into getting those types of accounts. How much work is going to go into servicing those types of accounts? How well does that pay? Is it worth it when we consider that that's going to take some time away, at least initially from our ability to focus on things like gear, apparel, Lights, Toughs, Heavies, Constellation, Firearm's Day?
We are looking at it. We may or may not get a little bit more into that. I think it would be exciting. I think it would be cool, frankly because I think we could do it really, really well. I don't mind saying. I think we could do it better than a lot of people that are currently kind of providing those services just because we have this depth of knowledge and experience around things like teamwork, leadership, communication, firearms, tactics, etc. The question is; when do we do it and how much effort do we put into it, and is it worth it if it's going to take away some effort from something else?
We're first committed to improving our quality and our experience through gear and events and apparel, but if the opportunity is there to do some other stuff, we'll definitely look at it.
Brian: Awesome. Very logical approach, and it's always nice to hear that. GORUCK is a little unique and that there's actually two presidents there. You're the president of GORUCK, and I believe Monster is the president of GORUCK Nation. What do you two argue about the most and who usually wins?
Blayne: Monster always wins. That's an SOP at GORUCK, that Monster is the boss. Ultimately we all work for him, and he's ultimately going to get his way. What do we argue about the most? Two things. One I would say is that Monster shows up at my feet pretty regularly and just lays on his back as if I should drop whatever I'm doing and just rub his belly. I'm wresting with it on a daily basis as to whether I actually just cave and like scratch his belly. Maybe he'll get up and go away, or whether I hold out and I just kind of say, "Hey, Monster. This is not my job to rub your belly, and I've got a lot of important stuff to do right now. You can just kind of lay there on your back."
But he will hold out. He'll lay there on his back and show you his belly for an extend period of time until you sort of cave. His will power is pretty good. Then he'll kind of lay on my feet so I'm paying more attention to him. There's that.
The other thing is we order a new couch. Anyone who's been to GORUCK HQ and has seen the old brown couch knows that that is — It's not a couch you probably want to sit on at this point. Maybe you do, but no lifeguard on duty. You're assuming some risk.
We got a new couch in our new office space that it's awesome. It's leather. Emily ordered it form some place in Canada and people love to sit on it and have meetings and whatever, and Monster will not get off that damn couch. It's not even worth — I used to try to shoo him off of it and it's like, "Hey, man. This is the new couch. I don't want you scratching up the leather or whatever." He doesn't not give one shit about that, and I've completely given up, and so now it's Monster's couch first.
Brian: Oh, man! That brown couch was something. That was one of those that you kind of sit on for the experience and then you quickly get up and make sure nothing came with you.
Blayne: Yeah. Before Selection, we knew we're going to have a lot of people in town over Selection weekend. Jason and I carried that couch out on to the street in front of the building and we totally took it apart, all the cushions off of it. We pulled — There's like a Hide A Bed in there. We didn't take any photos of what that looked like, because it was appalling and it took us quite a long time to get all of the animal hair and crayons that Bomber had eaten and spilled on there and food. It was really bad. It's a little better now, but there are some stains that just don't wash it off.
Brian: No kidding. Speaking of GORUCK Selection, how much did you know about that event before class 019 started?
Blayne: I knew a fair amount about it. I paid pretty close attention to last year's selection, and then obviously Jason and I talked a lot about Selection in the months kind of leading up to it. I'd never experienced it firsthand. I had never been there like to watch it around the clock, but I had a decent idea of mechanically how it ran.
I didn't fully understand like how it would play out, because if you just look at it on paper it looks like, "Man, that's just a ton of physical activity." Just physically, it's going to break a lot of people off. I remember asking Jason like, "Why are people leaving? Why are so few people completing it? Is it just physical?" He's like, "No. Most of them quit." I was like, "Oh, okay. Interesting. Let me see how this works." I was really curious about it kind of going into it.
In terms of how we were going to cover it and do the Facebook Live and all of that, we were — I guess we had a little bit of an idea of what we kind of wanted to do, but we were sort of winging it, because — Also because we didn't think that the community was going to come through and sign up for enough challenges in 2018 to sort of earn the live coverage.
Up until I left and I did the 12 miler with the candidates, and I was out walking on the 12 miler and I got a text on my phone from Jason saying they did it. They hit the 2018 points. I was like, "Oh! Crap!" Turned on Facebook Live and we just kind of started doing it.
Brian: Yeah, it was quite the experience this year with Facebook Live. Did you know going into it that you entire weekend might be consumed by following the candidates around filming?
Blayne: Yeah. We laid down — When we kind of laid down the gauntlet and said, "Look, guys. If you want Jason and I to live out of a truck and stay awake all weekend filming this thing, sign up for 2018 events. I've informed my wife and I said, "Hey, I might be completely out of the loop for the whole weekend."
Then, like I said, it looked like it wasn't going to happen. I had kind of started to assume that, "Well, it's just going to be a normal weekend. I'll go out there and I'll watch it, but late at night I'll go home and sleep in my own bed and all of that." It wasn't until late in the game that we realized it was for sure going to happen that way.
Brian: That was awesome. I was one of the people who figured out that you can actually cast a Facebook Live video to your TV, so I had a beer, some popcorn, some chips and had GORUCK Selection going on the big TV. It made for quite the weekend.
Blayne: Dude, it was crazy. I could not believe the number of people that were interested in watching it. I guess I just kind of have that mentality myself. I'm like, "Who wants to tune in to watch this thing that we're doing?" But I was actually looking just this morning. I can probably pull it up for you. I was looking at the stats of the number of people that watched just that last video, so that the one from kind of Alex walking down the beach during the long walk until the completion, when he earned his patch, and the number of people that saw that video that tuned in and commented and stuff was absolutely mind-blowing. Let me see if I can — I've actually got those stats right here. Let me see if I can pull it up.
That video reached over 720,000 people. It got over 208,000 views and was commented on over 11,000 times. That is mind-blowing, that people tuned in to watch one guy walk down the beach for like an hour and a half and get thrashed during the shark attack. It was compelling to be there, so I guess I'm not saying it was a silly thing to do by any stretch, but I was blown away by the number of people that were interested in the story.
Brian: That's incredible. I'm guessing if someone sat you and Jason down and said, "Hey, how many people do you think are going to view this?" You wouldn't say 700,000.
Blayne: No. No, of course not. Jason told me before, he was like, "Selection, for whatever reason, is just electric. They're interested in it. They get behind it. It's always exciting." I'm like, "I'll take you at your word." If he was really being honest, I don't think he would have imagined that that many people would have gotten exposed it.
Brian: It's awesome, and it's quite the intro for some of them into GORUCK. It was really nice that you guys spent some time explaining during the live videos that this was GORUCK Selection and not every GORUCK event.
Blayne: Yeah, that was a little bit of a double edged sword, because thousands of people were exposed to GORUCK for the first time through this coverage of GORUCK Selection. That's great that they're interested and they know what GORUCK is now, but the danger in that is GORUCK Selection is not indicative at all of a GORUCK event. It's the only event that's like that. It's actually really almost nothing like all of the other GORUCK events. The last thing we would want was for people to think that if you sign up to GORUCK, this is what you can expect.
Some of the events are tough. They're definitely strenuous and the cadre are up in your business, but it's not —
Brian: Never on that level.
Blayne: Not like that. Yeah. It definitely took some explaining, and I'm sure there are some people that just tuned in and are like, "What the hell am I watching? This is crazy. No thanks. Not for me." But I hope at least some people were able to kind of separate the two. The truth is GORUCK isn't for everybody. That's okay too, right?
Brian: It's true. You said before that you're looking for people who are GRT and just don't know it yet, haven't done the event. I think anyone who falls in that category after seeing GORUCK Selection, which is give GORUCK a nice Google search and see that GORUCK Selection is one of over a thousand events I think you guys put on a year. It's just .1% of the GORUCK Event calendar. It's not the whole GORUCK Event calendar.
Blayne: Yeah, for sure. Look. There are lot of people that look at something like Selection, and if you don't get a little bit fired up, if that doesn't make you at least a little bit want to put your rucksack on or do some pushups or climb over a wall or do something, then you're probably not a good fit for GORUCK. I'm not saying you need to like rush out and sign up for Selection, because that's certainly not for everybody and I would not recommend that, but it's just like when you were a kid. When you were a kid and you watched Rocky or you watched Rambo or Terminator or something, you're hyper afterwards, right? You were like wrestling in the living room with your brother and you were like going out in the yard playing guns or playing commando, because it inspired you to want to do something.
If GORUCK Selection does anything for people, it should inspire them to want to train, to want to be active, to want to commit to something, to take up some challenge that is worth working for and is worth sacrificing for. It shouldn't be GORUCK Selection for most people, but whatever it is, if you're not at least a little bit inspired to get out of your house, get off your ass and go fight for something, go work for something, after watching Alex Stavdal put in that kind of performance, then you're not kind of what we're looking for, and that's okay.
Brian: It's a great way to put it. Speaking of getting motivated, getting fired up, a lot of people watched the live feed, have never done an event, are considering signing up for either a Light or a Tough, what advice do you have for those people who have never done a GORUCK event but are listening and considering either one of those, a Light or a Tough?
Blayne: Yeah, I would say two things. One is you're almost certainly capable of more than you think you are. I talk to a lot of people that they're like, "I'm not ready to do a GORUCK challenge. I've never done that before. I've never carried a log. I'm not in great shape right now." That kind of thing.
I would say especially for the Lights, you are far more capable that you think you are. Once you get in the environment, once you get started, once you start doing that first kind of welcome party pushup or whatever, you're going to be — Part of it, there's going to be the people there, the energy there, and that's going to allow you to achieve more than you think you can.
I think in most cases we believe more in people than they believe in themselves. Believe you can do it, especially, like I said, in a light, and just show up and give it a go and you're more than likely going to surprise yourself. That's the first thing.
The second thing is GORUCK events are team events. These are team challenges, and there are people there that want to see you succeed. I'm not recommending you show up to like the Joe Warner heavy as someone who's like out of shape and where the team has to carry you. What I will say that if you show up and you work hard and you do your best, the rest of the team, the rest of the class is going to want to help you. That's one of the beautiful things about GORUCK is that we want to see the people to our left and to our right be successful. We want to see them finish. Nobody wants you to quit. Nobody wants you to get hurt or be unsuccessful.
If it's your first time, especially if you can get a friend or someone to go with you, show up and the class will help to pull you through the event far more than you might think. I've seen a lot of times where people, they want to quit, and someone else from the class is like, "No. Don't quit." I've even seen a cadre — Don't tell him I said this, but I've even seen some cadre get in people's ear and kind of say, "Hey, don't fucking quit. Trust me. You're going to be upset with yourself if you do. You can do this," and people carry on.
You're probably capable of more than you think, and there are people there that want to help you be successful. Just put in a little bit of training, show up with a good attitude. It's more important probably to be mentally prepared than physically prepared, and you'll be fine.
Brian: That's great advice. That's so true. People are much more capable of things than they think, especially when it comes to these events and just that smile in that face, because they're good. It's a good time and it will end eventually.
For people who watch the live feed and get pumped up about GORUCK Selection and possibly signed up for GORUCK Selection based on that, what advice do you have for them?
Blayne: Yeah. This advice would be a little different. I noticed a bunch of things during Selection, and one of them is it's so hard and it's so long that some things are just going to happen. You could roll an ankle really bad. You could get dehydrated really bad, things start to cramp up. You have to show up to Selection understanding that there's a real possibility, maybe even a real likelihood that you're going to fail. By fail I mean that you're not going to finish Selection, failing by that definition only. That's hard for a lot of people, and I commend everyone that shows up and wants to start Selection knowing that there's a greater chance than not that they are not going to be successful in completing this task. That's an important thing, because most people in this world just avoid things they're not good at. They won't sign up for something unless they're 100% sure that they're going to be successful at it. You see this all over the place in every kind of endeavor, whether it's in business, whether it's just like a new lieutenant that's out with his unit and like doesn't want to do the radio class with his troops because he doesn't know how to do it and he doesn't want to look foolish for not knowing how to use it.
One of the worst things you can do in life is avoid the things that you're not good at, or just avoid signing up for or going after or committing the things where there's less than 100% chance of success. If you want to be mediocre your entire life, live that way. That's the first piece of advice I would say is have the stones to sign up and show up and put in your best effort knowing that your best might not be good enough. That's a painful pill to swallow, but that is life and it's going to make you better. You're certainly not going to — You might fail at GORUCK Selection, but you're definitely not going to be a failure if that's the attitude you have. That's number one; give it everything you have, knowing that everything you have might not be good enough and be okay with that. You got to be satisfied with the effort you put in.
Now, having said that, what's going to make you successful or not is going to be what you do leading up to the beginning of Selection, what you do from the first — The gear layout until the final end, at the patch ceremony, that's important, but you're only going to be able to endure that if you've put in a ton of work on the frontend.
What I saw — And I commented a little bit of this on the live feed, I saw several people show up and they didn't even have everything on the packing list. Unacceptable. If this is serious to you, if this is something you really want to be successful and you think you can finish GORUCK Selection, you need to show at least the level of detail to bring everything on the packing list.
There were almost half, I think, of the 30 or so — Not half. Over a third of the people didn't pass the pushups or the sit ups. Look, that's not a character assessment. Again, if you think you're really going to be successful at this, then you should be able to pass the pushups and the sit ups by like double. You should be able to do that. You should be able to roll out at bed at 2 in the morning after being out drinking the night before and pass the pushups and sit ups, because you're probably going to be nervous. You're going to be graded to the standard. It might be hot. It might be cold in Ohio next year. If you can just barely do the requisite number of pushups and sit ups, if you can barely run 5 miles in 40 minutes, that's not a recipe for success. You should have plenty of buffer space in there to account for the unknowns and to account for the conditions and the fatigue and some of that.
Control what you can control. Show up at a minimum knowing that you have every single thing on the gear list that you can crush the pushups, crush the sit ups, crush the run and crush the 12-mile ruck. If you're "iffy" on any of those, you've already got doubt in your head. You're already stressing yourself where you don't need to. At a very minimum, make sure that you can absolutely destroy those basic physical requirements, and that way it's no stress on your mentally, it's going to be a limited stress on you physically. You can just sort of get that out of the way before the real fun begins at the welcome party.
Then, from there, you guys have seen a lot of this now, whether it's through last year's Selection coverage or this year's, which was more live. You have an idea of the physical test you're going to be put up against. Prepare yourself, show up ready, and you've got a real shot. We're certainly not trying to prevent people from passing, but in my mind there were only a handful of people that showed up to Selection this year truly committed and truly prepared to the extent they could have made it. Unfortunately, only one of them made it through to the end, but you got to put in the work out a ton.
Brian: Absolutely. Specially a lot of people watching the live coverage don't realize that or might not realize it if they aren't used to GORUCK, but you have to put in 17 miles before the event even starts. Just part of the admin phase; the pushups, the sit ups, the 5-mile run, 12-mile ruck, that's 17 miles you're putting on your body before you even get to the welcome party into the real GORUCK Selection event. You've got to come in being able to crush.
Everyone who's been on the podcast so far who's completed Selection had said that you have to come in being able to just crush those standards at the beginning if you want to have any shot at completing the event.
Blayne: Yeah. I had a mentor when I was a cadet, because one thing that future lieutenants are always really worried about is Ranger School. There's so much anxiety around Ranger School, like, "I've got to get my Ranger tab." "How am I going to pass Ranger School?" "Oh my God! How hard is Ranger School? Tell me about Ranger School." Anyone who's been in the infantry or has an experience with this in the army, you know exactly what I'm talking about. There's so much damn anxiety around Ranger School, that it's like some crazy Holy Grail thing that — By the way, hundreds of people graduate from every month, so it's clearly doable.
The advice that this — I think he was a major, gave to me, was, "You need to do two things. You need to be able to absolutely crush all the PT standards, because that does not need to be a concern for you. You need to go in knowing physically, "I got this," because that will reduce your physical stress and it will also reduce your mental stress and anxiety, because you're not worried about whether you're going to fallout of the ruck or fail pull ups. That was his first piece of advice.
The second was, "Just pay attention and do what you're told." They're going to tell you exactly what they want you to do and they're going to lay it out in pretty fine detail. Don't overthink it. Just follow their instruction and do what you're told.
Ranger School is a good course. You certainly learn a lot there, but I would dare to break it down as simply as that and say show up completely physically prepared and just shut up and do what you're told, be a good teammate, and you're going to be successful. That goes along with a lot of things in life probably.
Brian: It's so true. I think from watching the live coverage people can tell that — You told all the candidates what they had to do. You didn't leave too much open for interpretation. It'd do what you're told.
Circling back real quick to your new role as the GORUCK president, I mean you've done a lot in your first couple of months there. You've got just engulfed in GORUCK culture, you got to experience GORUCK Selection on the ground at the event doing the live stream, just tons of different opportunities. What surprised you the most about working for GORUCK?
Blayne: What has surprised me the most about working here? Not to cop out, but I would say I've not been terribly surprised about anything, because I was pretty familiar and spent a lot of time at GORUCK HQ before I started. I haven't been terribly surprised by anything. I think I kind of had eyes wide open in getting into this.
One of the things that has been I guess sort of interesting for me is this kind of change for me and that I get to work in the office with everybody every day, and I really, really enjoyed that. In my last job we had a distributed workforce. We had about 30 employees, but they're all spread out all over the country. I had a couple of people I ended up working with in the office in Tampa where I was, but for the most part it was Skype and Google Hangout and email and it was all very virtual. I spent the first few years working on that job basically running the organization out of Starbucks on Howard Avenue in Tampa, and that was okay. That has its perks, but I really missed being on a team and being kind of close to people every day. I've been — I don't know if surprised is the right word, but I've really enjoyed being able to get on my bike and go into the office every day and be surrounded by people who are working their butts off out of this and to be able to like bullshit about the CrossFit workout that morning or just pull someone aside, just like, "Hey, what do you think about this?" Rather than having to make it a big thing, do emails.
I guess I've been surprised at how much more efficient and effective you can be when you've got a close knit group of people that are right there with each other. That's been awesome.
Brian: Very nice. Definitely answers the question. Before we go, is there anything else that you want to talk about, shout outs you want to give or anything you want to say to the community?
Blayne: I would just say thanks to the community at large. I know that I've come into this somewhat recently, and although I have a background in Special Forces and Jason and I have been friends for a while, I've really only just kind of been involved in the GORUCK community and I've not been sort of a hardcore, diehard GRT that's got like a hundred events under my belt.
I'm sure that there are people that were kind of wondering if things were going to change or who is this dude, but I've not seen much of that. People have been really accepting and supportive, and I've had a blast already just getting to know a lot of people across the GORUCK community, whether they stop in at HQ or whether I've seen them out on an event, or just interacting with them over email or over social media. I really, really appreciate it and I know that this is something that you guys take really seriously. Believe me, I understand that, and that's incredibly important to me as well. I would just say thanks for kind of welcoming me into the family and being so supportive and putting some trust in Jason and I and kind of our vision for the future, because I can tell you, I sit next to him every day at work. We don't take it lightly. We take very seriously the community that has been around GORUCK. We definitely don't want to let you guys down. Yeah, I'm looking forward to years more of it.
Brian: Awesome. Glad to have you. Been great so far, Blayne. Thank you so much for everything, man. Thanks for taking the time to chat with me. Thanks for being so great with that live coverage on Selection. It's been fun.
Blayne: Yeah, that's been a blast, man. Thank you for having me.
Brian: Absolutely. Thanks so much for taking just so much time out of your day to chat. You've answered a lot of questions I have and I know some questions that the rest of GORUCK nation has had. Truly appreciate that. If you want to do an event with Blayne, St. Augustine Zombie Apocalypse.
Blayne: I will likely be at the Veteran's Day in Jacksonville, but I'm not sure. I may be somewhere else at the Veteran's Day event. I might push out and go to one somewhere. St. Augustine on the 27th of this month, and then I will likely be around HQ at one of the events for Veteran's Day as well.
Brian: There you have it. October 27th, St. Augustine, do an event with the president of GORUCK; Blayne Smith. Thank you so much for taking all these time out of your day. Truly appreciate it, and I'm just really excited to see what you continue to bring to GORUCK and just everything that you've got going on. Thank you so much, Blayne.
Blayne: All right, Brian. Appreciate it.
Brian: All right, take care.