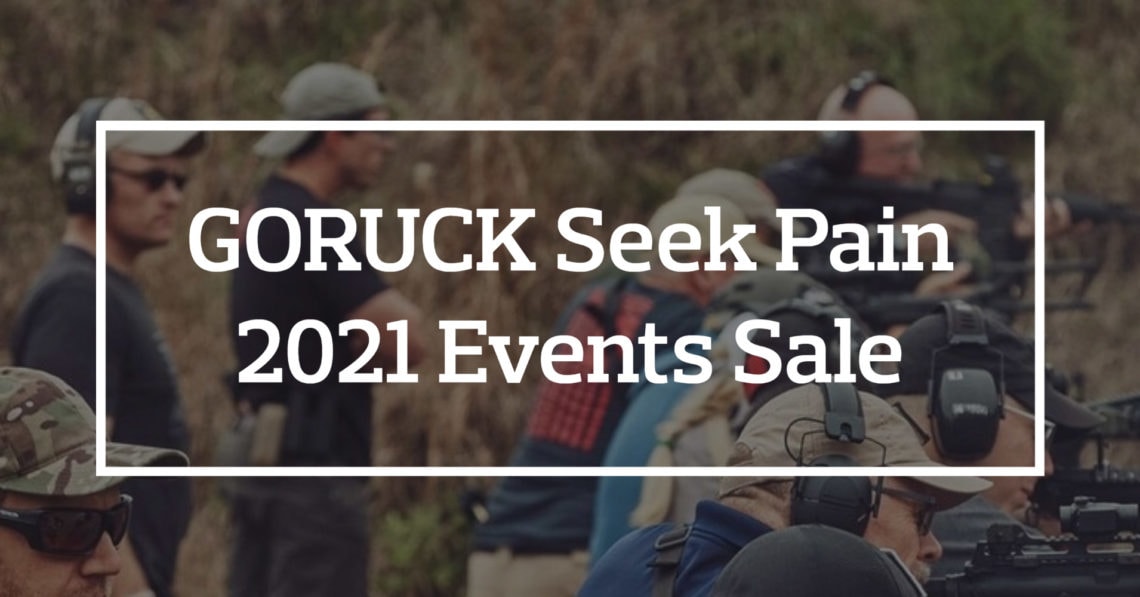 In 2011 when I completed my first GORUCK event the only way to get a discount was to purchase gear during registration for a GORUCK Challenge. Fast forward to present day and GORUCK has relaxed their discount policy with routine sales and short-term discounts.
For years I have tracked GORUCK's major sales (XMAS in July, Black Friday, Cyber Monday etc.) but never logged their smaller sales and discount codes that would appear from time to time. That has all changed with this page.
Current Discounts, Promotions, and Coupons
The below list of discounts, promotions, and coupons should all be active and working.
Active Promotions
None at this time.
Active Coupons
SEEKPAIN: 25% off ALL events.
Permanent Discounts
GORUCK has a 15% earned service discount (previously 25%) that they extend (through ID.ME) to a huge list of groups which includes Military, Veterans, Police, Firefighters, Government Employees, and Students. Here's the complete list from GORUCK's original announcement.
Ruck Club discounts
Ruck clubs hold a special place at GORUCK and sometimes receive special discounts or coupons. Check out the list GORUCK's affiliated ruck clubs and join one near you. The point of contact should, on occassion, be able to hook you up with a nice discount.
Previous (Probably Expired) Coupons
Conclusion
Hopefully this has helped you save a couple bucks and possibly given you some insight into the types of discounts GORUCK has offered in the past. Whenever new sales come around we always take advantage of them if there's something on our wish list.