Big news out of GORUCK HQ that service components are no longer required at GORUCK Light, Tough, and Heavy events. In May of 2017 GORUCK made service components mandatory at all Challenge events. There were people on both sides of that decision but in the end GORUCK committed to it.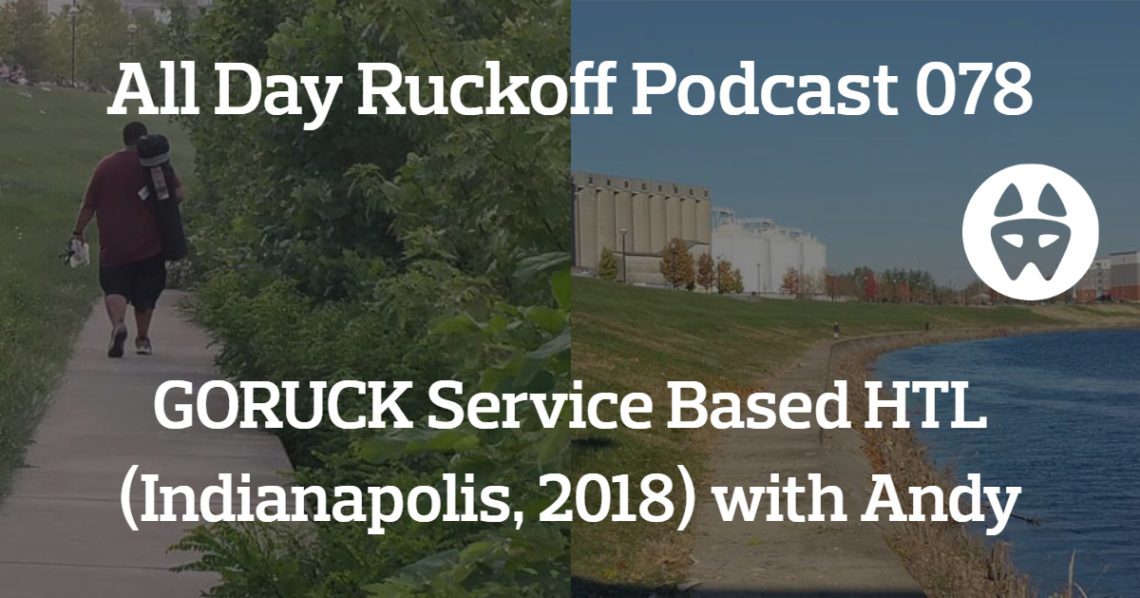 We saw a TON of amazing service projects come from this requirement. Indianapolis, in particular, dedicated an entire HTL around a service component and did something amazing for their community.
Video Announcement
[embedyt] https://www.youtube.com/watch?v=wnbdd2OG9mY[/embedyt]
Do you prefer video? Get all of the details related to this change above!
Service Component No Longer Required
Nearly two years later GORUCK has announced that service components are no longer mandatory at GORUCK Challenges. The news trickled down through cadre and the rumor mill went wild.
I'm not the biggest fan of rumors especially when they're easy to get a solid answer. I sent an email over to GORUCK to see what was up. My question to them was: "are service projects no longer required at events? I know there's the whole be a good person thing but is there an official response on service projects?"
Their response?
Based on participant feedback we have decided to not make the service component a requirement, BUT we strongly encourage participants to look for service-related opportunities and work with the cadre on it .

GORUCK HQ
And that's the official word on the service component.
Quitters Cash for Donations
Shout out to Year of the GORUCK for quoting Cadre Fagan's post in a recent GORUCK Tough Facebook Page. I headed on over there and took a screenshot on the "quitters cash" update.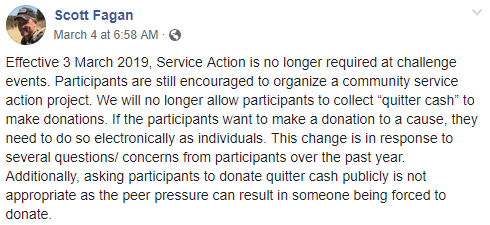 There you have it on the quitters cash side of things. I know in the past we raised a lot of money for charity that way. Cadre Fagan does make a good point (in a comment on the event page) that you don't know for sure where the money is going when you hand it off to a participant.
Your Thoughts?
Service components are no longer a requirement but they're strongly encouraged. Quitters cash can no longer be collected at the end of the event. Is this good news? Bad news? I'd love to hear your thoughts on this in the comments!