Every now and then you dig through your Evernote account and you find old stray notes. I recently gave my account a cleaning and stumbled upon this near-complete AAR from October, 2014. I guess better late than never is happening right now and I wanted to get it posted because it was one of the more interesting events I've done… and not for the reasons you're probably thinking. Here we go…
Date: 10/18/2014
Location: Seattle, WA
Signed Up: 28
Showed Up: 19
Drops: 2



On Saturday, October 18th 2014 we had the GORUCK Halloween Light in Seattle. The start point was right on the water which always mean you'll have a good time. The Cadre for the event was Cadre Ed Hall (of Pain) and with a nickname like that you know you're in for a treat. There were 28 people signed up for the event but only 19 showed up.
The Parking Lot
So there's 17 of us hanging out in the parking lot waiting for the show to start. Before the brief even begins one of the 17 said he was out and drove off. Down to 16 and the timer hasn't even started yet. What is going on.



So we're now all listening to the standard GORUCK brief… dont' wear a watch, waterproof your cell phone, this is a team event, don't quit, etc. then all of a sudden we see two people walking towards us go into the bathroom. We don't know if these people are here for the event (if they are they're double digits late) but either way it's push-up position for us.



I don't know what was happening in that bathroom but it felt like it took forever… thankfully it didn't and one of the two came out and walked towards us. He had a backpack (empty) and said he was here for the GORUCK event. Push-up position with the rest of the team yells Ed. We're now up to 17 people again so that's something at least.



Still in this position in the middle of the parking lot and his buddy decides to stroll out and head over to us. Finally, I didn't train for this like I should have and my arms were starting to get a little sore from probably 7 – 10 minutes of push-up position. This is the best part… his friend walks up, doesn't stop, and keeps on walking. Ed asks him what he's doing and the guy says some like, "go on without me, I'll catch up." Ed responds with, "that's not the type of event this is" and the guy says then he's out. Two drops and we're not even though the brief aka info session not to be confused with the welcome party. If your math skills aren't that great the current count is 17 people with 19 showing up and 2 quitting.
When you sign up for these events you must have some idea of what you're getting yourself into… I mean it's not like there aren't tons of AARs out there or anything. I was really perplexed with what I was witnessing… in all the events I had done I had never seen anything like this. I guess that's what happens when the popularity of GORUCK goes through the roof… people show up expecting a patch and are surprised when something (hard work) is expected of them).



Cadre Hall had been on the Facebook group in advance of this event and had told us that the teme for the Halloween event would be Good Vs Evil. The first thing we do is line up on the beach in two rows… you guessed it one good and one Evil. We had nine on the good side and eight on the Evil and it would have been even if a certain someone aka Erwin the Hulk aka hulke (or ehulk twitter link) had joined us but that's for another time. I guess it would have also been even if one of the two people didn't quit but that's ok… Erwin is more fun to blame ;). I was on the good team (because I was mother f***ing Thor) so for future reference my team is the good team and the "other" team is the Evil time.



The first thing we did was get in the water and sit down. It was time to learn a little about each other. While sitting in the water we went around in a circle and told everyone why we were here at this event. There were some goofy answers but there also were some very special ones. Even though I told the group I was doing it because there's nothing better to do on a Saturday it made me think about why I do these. I know I can do them… I've completed a number of Lights, Challenges, and Heavy but I guess I keep showing up because my friends are there. GORUCK events brought us all together and I guess we use them as a means to stay in touch. There's nothing like seeing a friend's smiling face when they see you rolling up on another event.
Welcome Party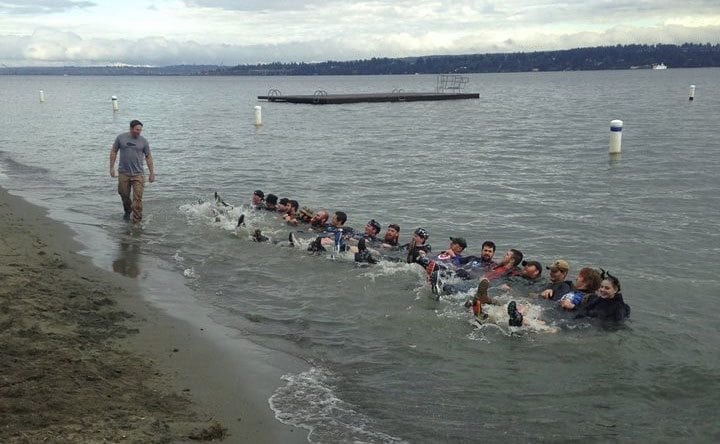 Our welcome party involved rounds of water PT followed by some low crawls on the beach through a log.



Once that was finished we lined up for some Trick or Treat Halloween competition. The game was called Downed (or Drowned?) Duckies and was set up as follows: one team member starts in the water and the rest are up on the beach waddling around in the duck position. The person in the water sprints up to the group and buddy carries a duck back to the water. Now both people in the water are free to head up on the beach and pick up ducks and carry them back. This progresses until all of the ducks are off of land and have been buddy carried back to the water.



I was the first to be picked up on my team and ended up carrying two people back to the water by the end. I think our team did so well because we grabbed the GRT first then got the newer folk at the end. If you've never buddy carried before then this is a little stressful way to start. It was a blast of a game and our team won… which means we got to choose trick or treat.



Being the current team leader (from the start) I was given the opportunity to choose… trick or treat. I chose trick which means the other team got the treat. The treat, for the other team, was a bag of 30 candy bars which needed to be consumed in sixty seconds. The Evil team made a valiant effort and we only had to help out a little… there's nothing like starting off a GRL with a couple candy bars in the stomach. We got the trick… which means that our team was in charge of all three team weights… not bad for our Good team of 9.
The Event


Our first objective was to get to a park in the Capital Hill area with a time hack of 45 minutes. We headed out and, after getting slightly lost, continued on and hit the park. The deal was as follows… for every minute we were late on our time hack we had to do 10 reps of an exercise. Turns out we were 19 minutes behind schedule which meant 190 reps led by Cadre Ed. Now Cadre Ed does have a heart (somewhere in there I'm told) and hit different body groups in sets of 10 – 20. This was great because we didn't burn out a muscle group in the first few hours.



After the PT it was time for another game. All I remember from this section was that it was a two person race. They had to get to some tree (via bear crawl?) then low crawl back. We lost this event but the Evil team didn't want us to have two turns with the team weights so they grabbed them. People can get jealous like that if they don't get their turn on the team weight.



Our next stop was Pike Place market… which, if you've been in the Seattle area on a Saturday afternoon, was packed. Our rule was that if we bumped into someone on the street we'd receive a casualty. I'm not sure how we did it but we managed to bump into absolutely no one and, in addition, made our time hack. This meant no PT down at Pike Place which was great… if there's one thing I despise it's PT in front of large groups of people ESPECIALLY at Pike Place. Tangent time… there's this fish market place that's famous for throwing fish around. When you do PT around their area they get super pissy and try and get you kicked out because you're taking their crowd away from them. As much as I love to see a Cadre go off on them I was happy to avoid that confrontation.
From Pike Place we headed towards a park in South Seattle with another 40 minute time hack. Along the way we found a log which made for a good time… nothing builds teams like a log. When I say we found a log I mean Cadre Ed found a log and when I say Cadre Ed found a log I mean his son found it and told his dad. Cadre Ed is raising a special boy there and who knows… GORUCK class 30,000 might be lead by him. When we finally arrived at the park we were given an out… the opportunity to guess how late we were. If we guessed correctly then we would have to suffer no PT and if we guessed incorrectly it would be doubled. We discussed what we thought the number could be… five minutes? six minutes? maybe less? We ended up not guessing and decided to take our punishment. Nineteen minutes… we were nineteen minutes late again. Good thing we didn't guess because 380 reps would have been a nightmare.
After performing 190 reps of various exercises we were given a short break then told to return to our start point. Of all the exercises we did the most difficult one for me was this ridiculous overhead clap thing. It's a four-count exercise where on one and three your heads are clapping over your head and on two and four they're at a ninety degree angle to your body. I'm not sure why but when we did forty of these my shoulders started really
having issues. Thankfully it was only forty of those… I guess for next time I'll know to increase that shoulder strength. I'm always good on legs, abs, arms, back, it's just the shoulders that I continue to have issues with.
On our way back to the beach we were allowed to drop the log we had been carrying… which I knew meant some different pain was coming. There were seventeen of us, three team weights, and one flag… Cadre Ed told us that the math said that six people needed to be up in the air until we got to the end, which was a ways away. I started out carrying my ruck, a second ruck, and a team weight and it was slow moving for our team. When we were maybe halfway to the beach we were given another out… one chance for everyone to come back alive. The catch was that we had to run to the top of a huge staircase and back in sixty seconds. We tried but we didn't make it which meant not only did we have to resume but we burned some much needed energy running stairs. After the staircase some people were really feeling the pain. I ended up with two rucks and a person on my shoulders and man it felt like it was never going to end. Whenever we're in situations like this I always try and assess the situation to make sure I'm carrying more than my weight. I encourage everyone to do that as it can be easy to try and hide with the flag or less weight. Challenge yourself to help out your team.



Cadre Ed must have been in a good mood becase we were given a second lifeline… if we could get to the bottom of the hill we were on in seven minutes then we could set the casualties down and ruck back to the beach. Finally something we were able to accomplish. Once at the bottom of the hill we began the ruck back to the beach. On the way to the beach we passed through the parking lots that many of us had cars parked in. There were some longing looks towards those cars but thankfully no one quit early.



At the beach we were told that we were late… again. That's fine… into the water we go! With eighteen minutes behind schedule we were tasked with 180 reps in the water. This was really a blessing in disguise because we were dirty, sweaty, and probably needed a good rinse. We burned through those reps, came out, and were instructed to head to the parking lot. It was here that we received our patches and were able to hear Ed Hall's story of why he does GORUCK. As is the case with all my Ed Hall AARs I won't spoil the story but will instead highly recommend that you try and take part in an event with him. It's well worth it.
The End


Receiving the GORUCK Halloween Light patch from Ed Hall was great. Being the one to hold our special team weight has the new patch was affixed to it was nothing short of an honor. Thank you Ed Hall for that.