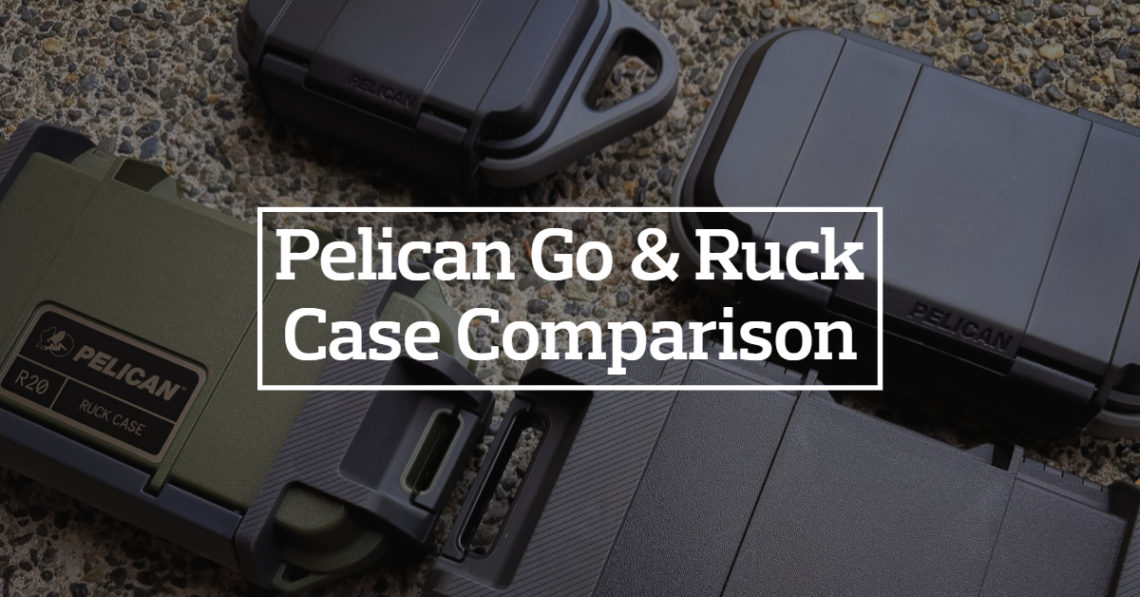 Pelican recently released five new protective cases designed to protect small personal items. These five cases are separated into two categories: Go cases and Ruck cases. I have to imagine that the Pelican marketing department had a bit of fun coming up with those names. I picked up the G10, G40, R20, and R40 to see what would work best for GORUCK events. Also, if you couldn't tell, the 'G' designates Go cases while the 'R' designates Ruck cases in their naming convention.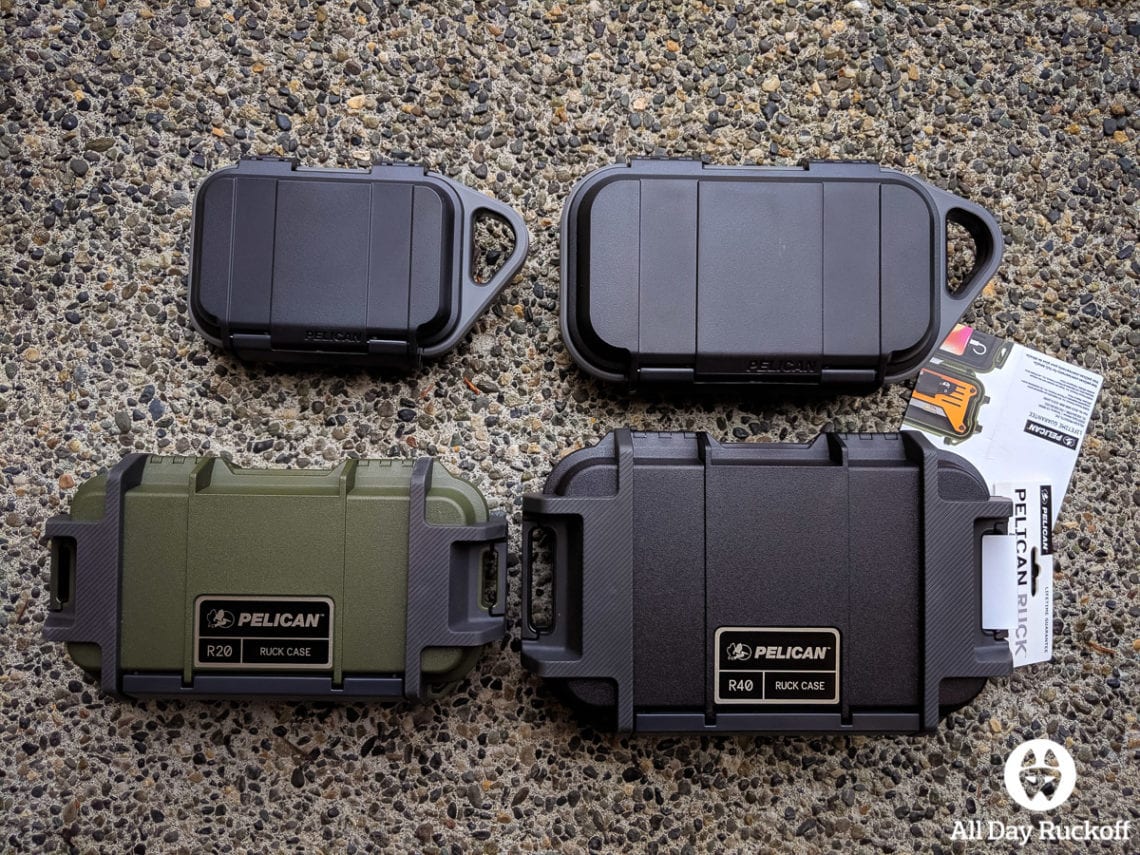 I did not pickup the RUCK 60 due to both the price and size of the case. If Pelican wants to send one over to review I'd be more than willing to work through that but as it stands I'm not paying $64.95 for a case that I don't have a use for.
The Video
Go vs Ruck Cases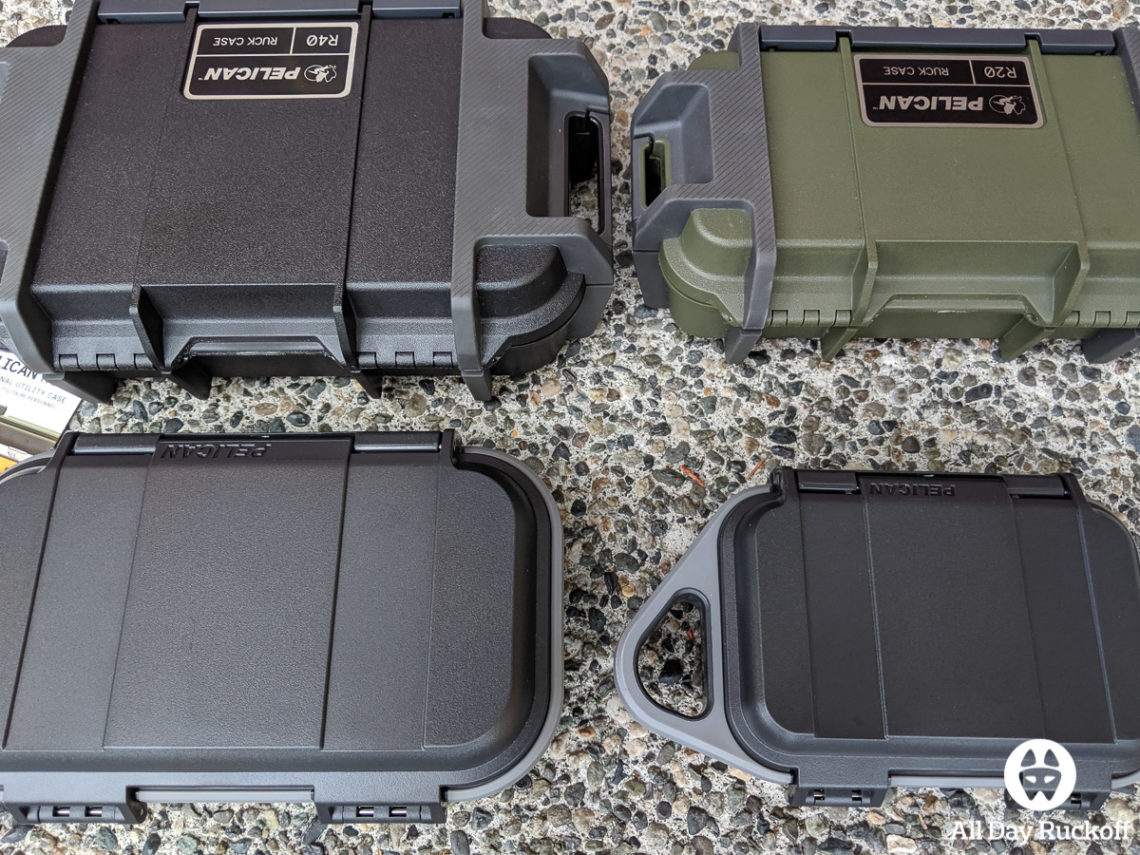 There are some obvious differences between the Pelican Go cases and the Pelican Ruck cases that should be detailed before we start getting into the cases.
Starting off the Ruck cases use a latch system to close the container which feels more secure than the single snap system on the Go cases.
In addition the Ruck cases are rated at IP68 while the Go cases are IP67. IP68 is waterproof at 2 meters for 30 minutes and IP67 is waterproof at 1 meter for 30 minutes.
From the pictures you can probably tell that the cases weigh quite a bit different. The Ruck cases have a bit of extra rubber and padding on them compared to the Go cases. In addition the overall design uses more materials which means more weight.
The G10, G40, R20, and R40 Cases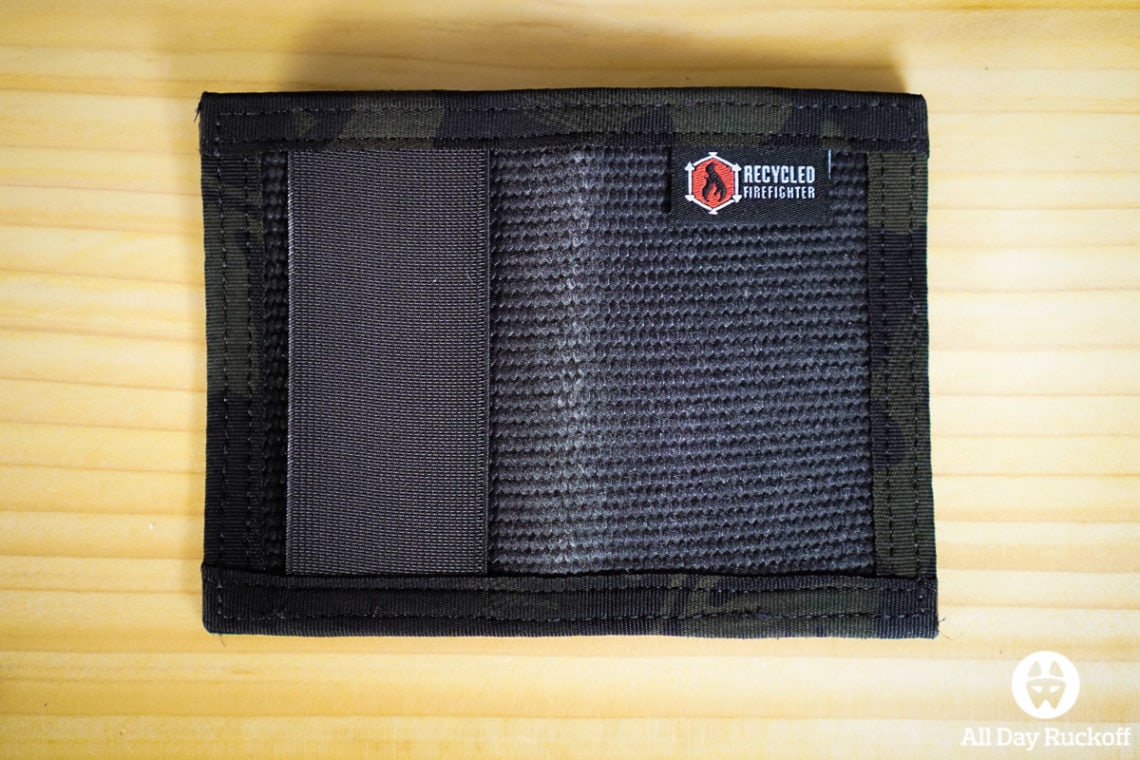 With all that out of the way lets get into the Pelican Go and Ruck cases! Throughout this comparison I use a Recycled Firefighter Rookie wallet to compare sizing. The Rookie comes in at 5.5″ long and 4.125″ wide when open which means it's 2.75″ long and 4.125″ wide when folded in half.
The Pelican Go 10 (G10)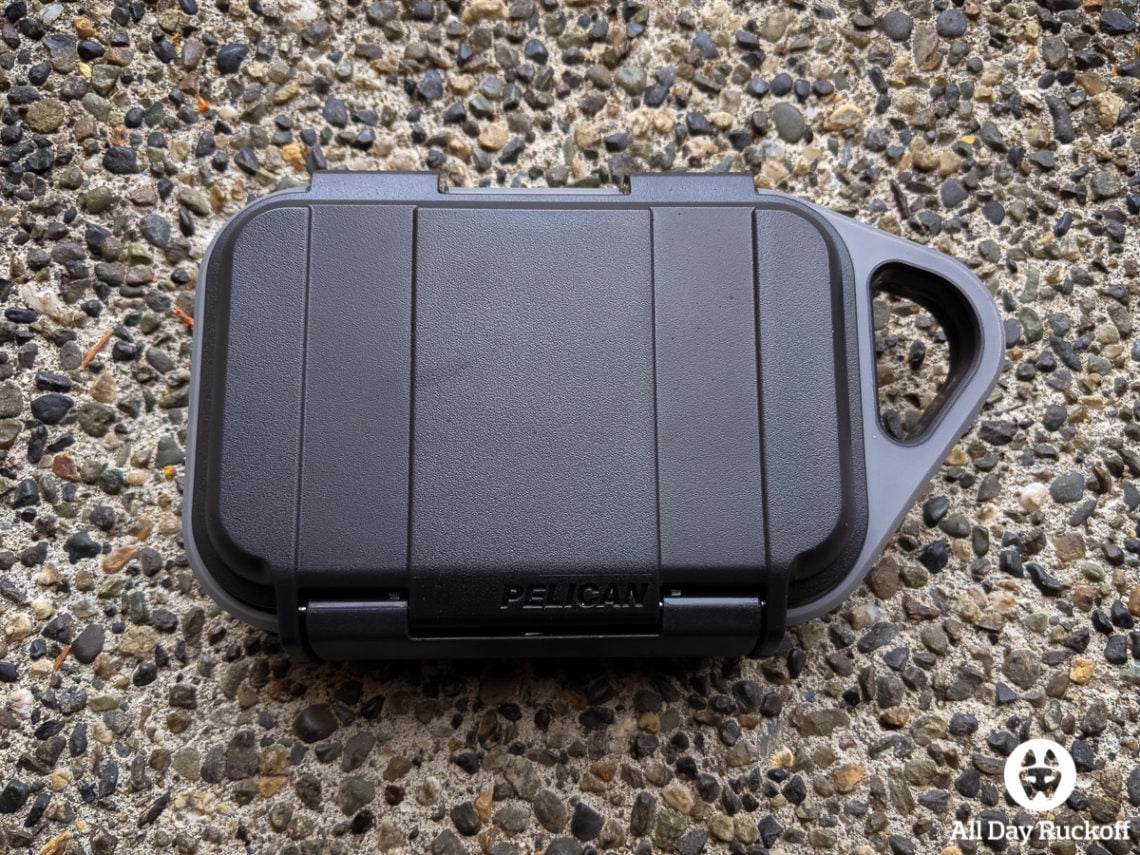 The Pelican G10 is Pelican's smallest and lightest case in this line. Here's the stats on it:
Exterior Dimensions: 7.05 x 4.37 x 1.81 in
Interior Dimensions: 4.8 x 2.8 x 1.6 in
Weight: 0.57 lbs
When I weighed it my scale had it at under half a pound so either my scale (or Pelican's) is off. The loop on the right is handy if you want to clip the G10 onto something like the webbing on a bag.

The G10 opens using a snap system that seems secure enough. It does make me a little nervous how easily it opens and closes however I haven't had any issues yet of it opening unexpectedly.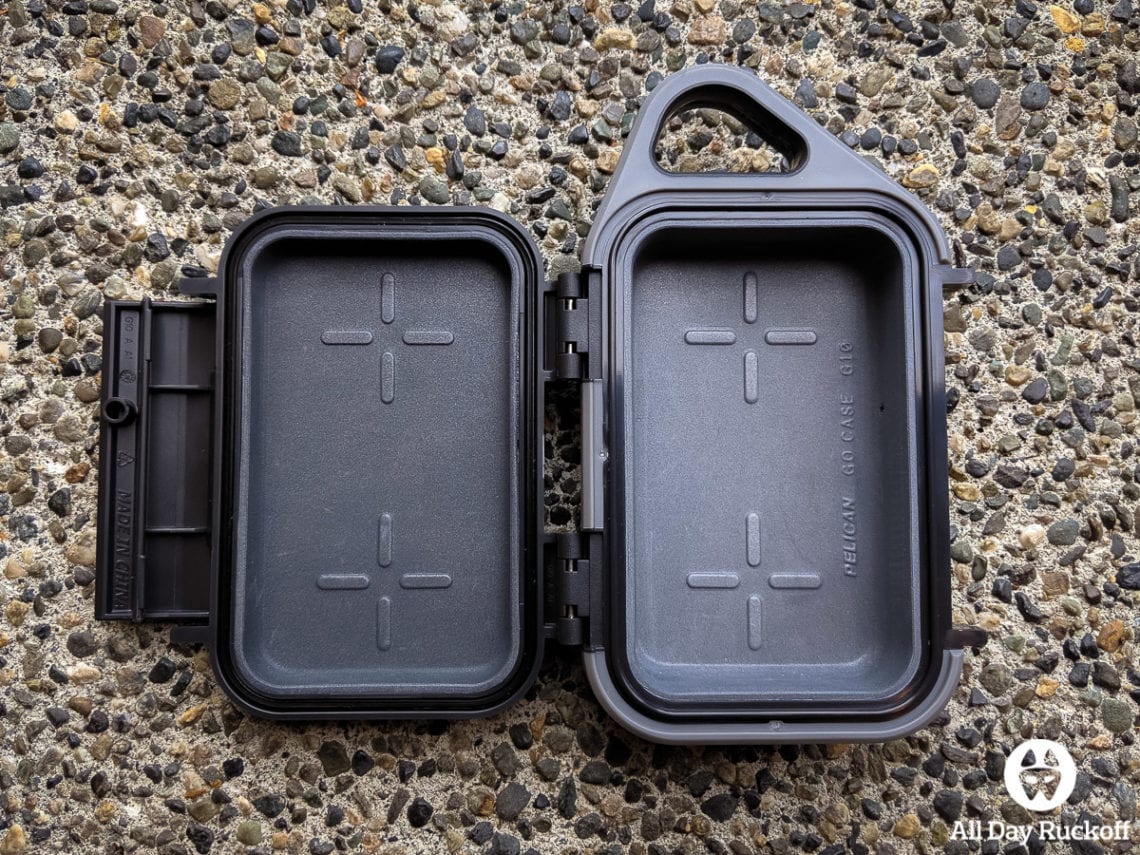 There's a small amount of rubber on the inside to keep whatever you're storing in here safe.

For reference the Recycled Firefighter Rookie fits in here no problem. If I were bringing this to a GORUCK event I wouldn't expect to have any issues storing a small wallet and a car key in here.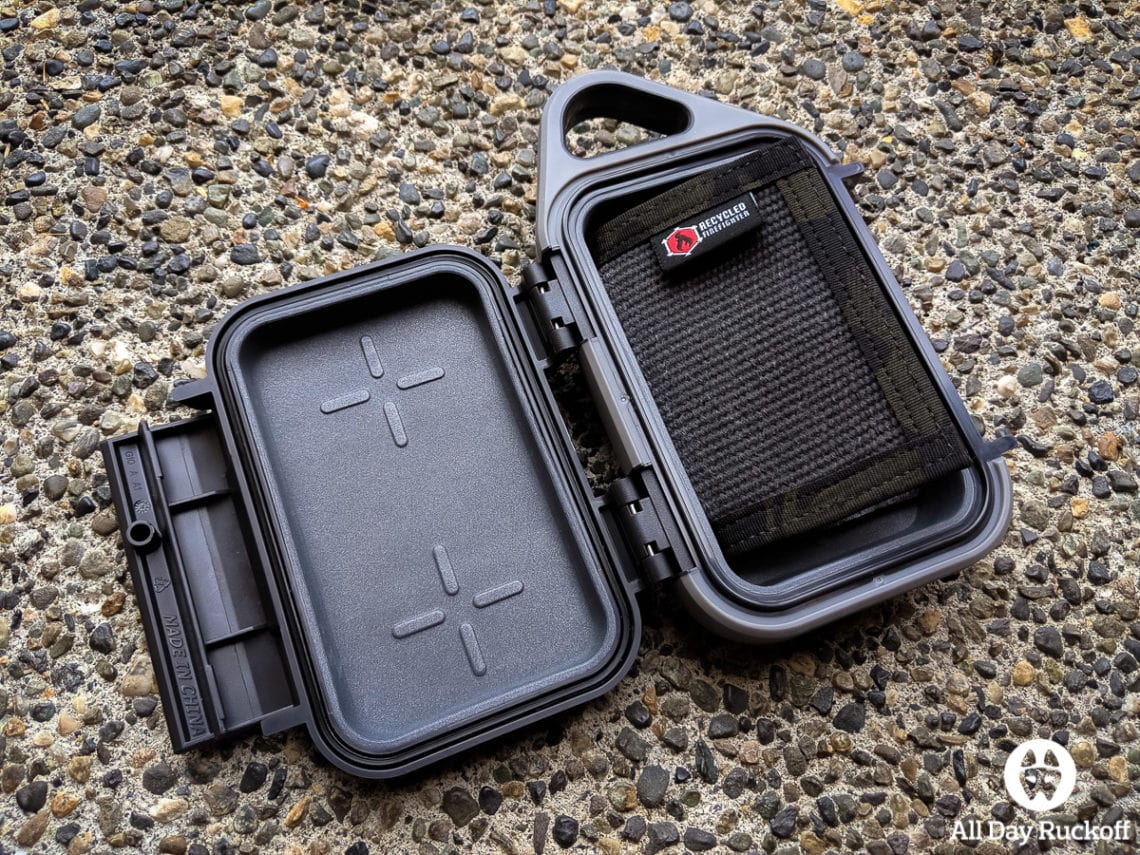 Although the G10 cannot fit a phone there are absolutely times when you do not need to store a phonein a case. I've found that you don't want the largest case you can afford you want the smallest case that gets the job done. If you're looking to store some small items then the Pelican G10 might be the perfect case for you. At $29.95 it's not cheap but it is pretty handy.
The Pelican Go 40 (G40)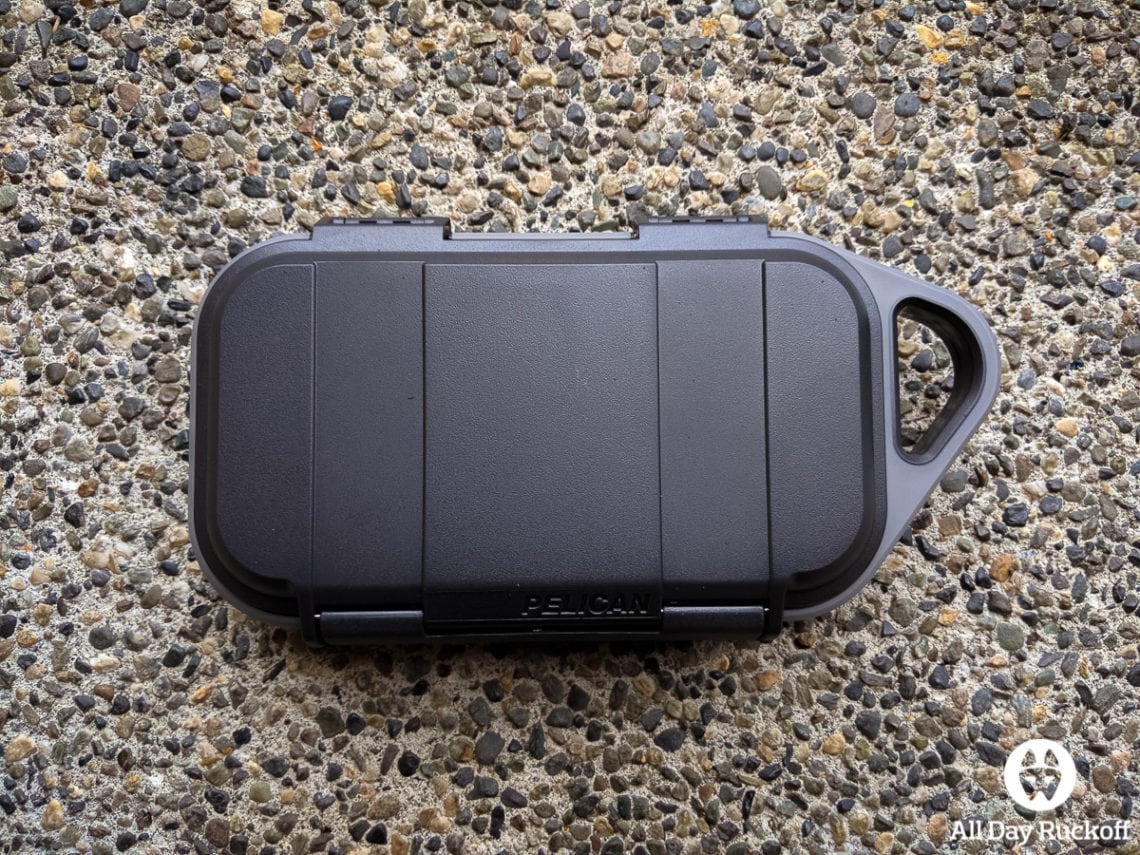 The Pelican G40 is substantially larger than the G10. There's plenty of room in here for much more than just a wallet and keys.
Exterior Dimensions: 10.63 x 5.39 x 2.42 in
Interior Dimensions: 7 x 3.5 x 1.6 in
Weight: 0.93 lbs
It is noticeably larger and heavier than the G10.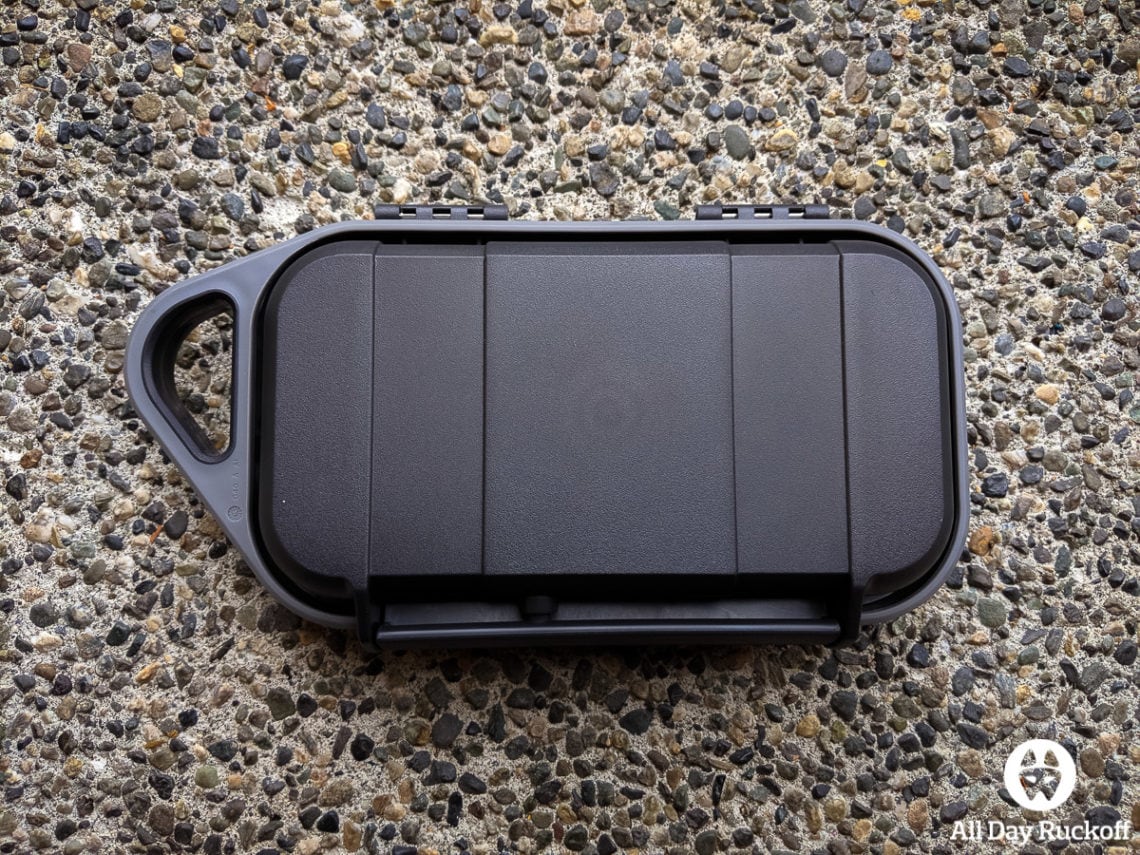 Flipping it over you can see that it has the same general look as the G10 just in a larger size. There's a hook on it that you can attach a carabiner to if you want to clip it into your backpack or onto something else.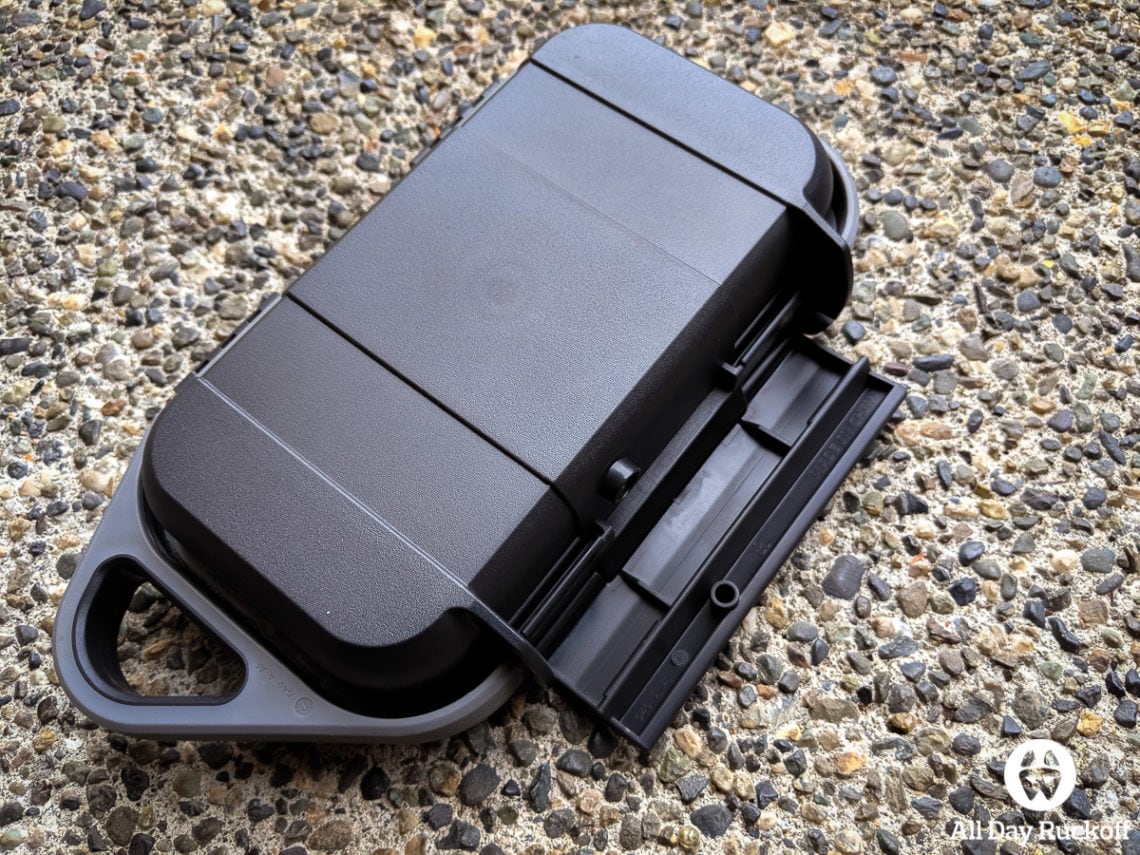 It uses the same method of opening and closing as the G10 uses. I haven't had any issue with this yet however I also haven't used it much.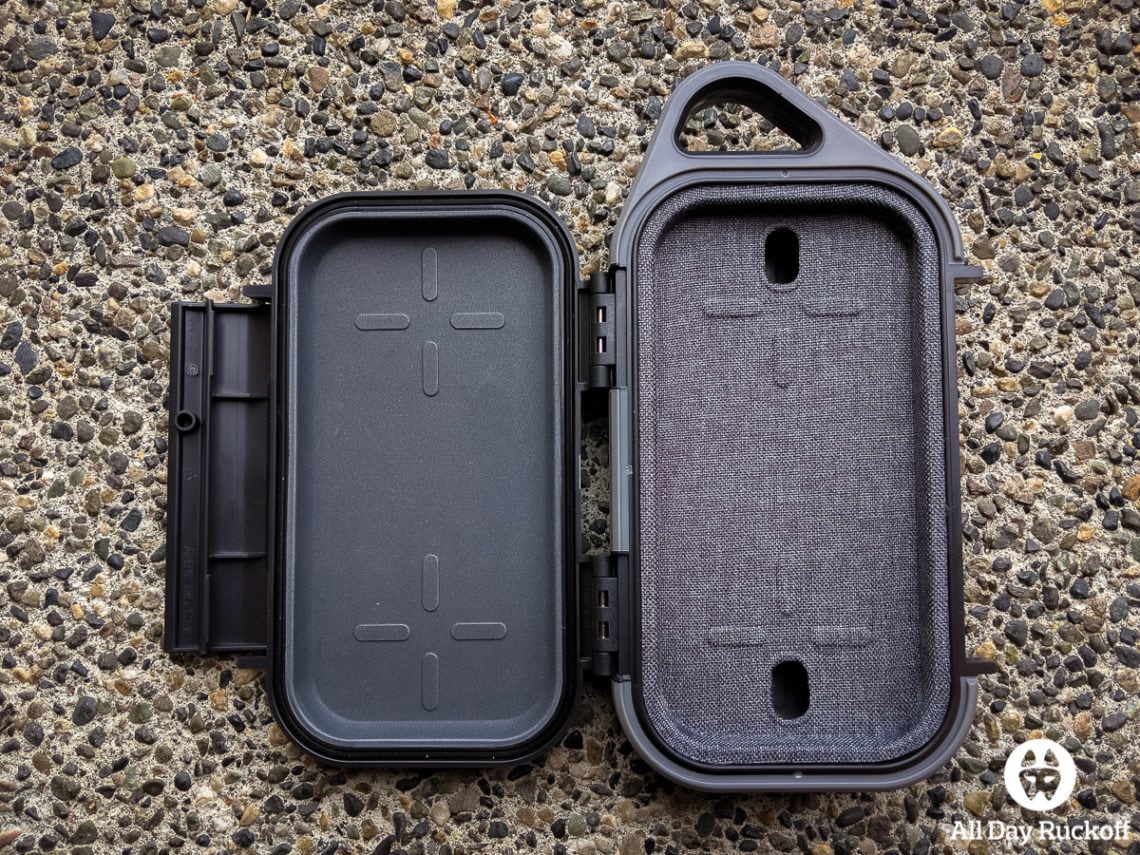 Getting the case open you can see that it comes with an pretty awesome removable tray. There's cutouts in the top and bottom in the event you want to store a phone on top and a battery pack underneath. That way you can route a charging cable through.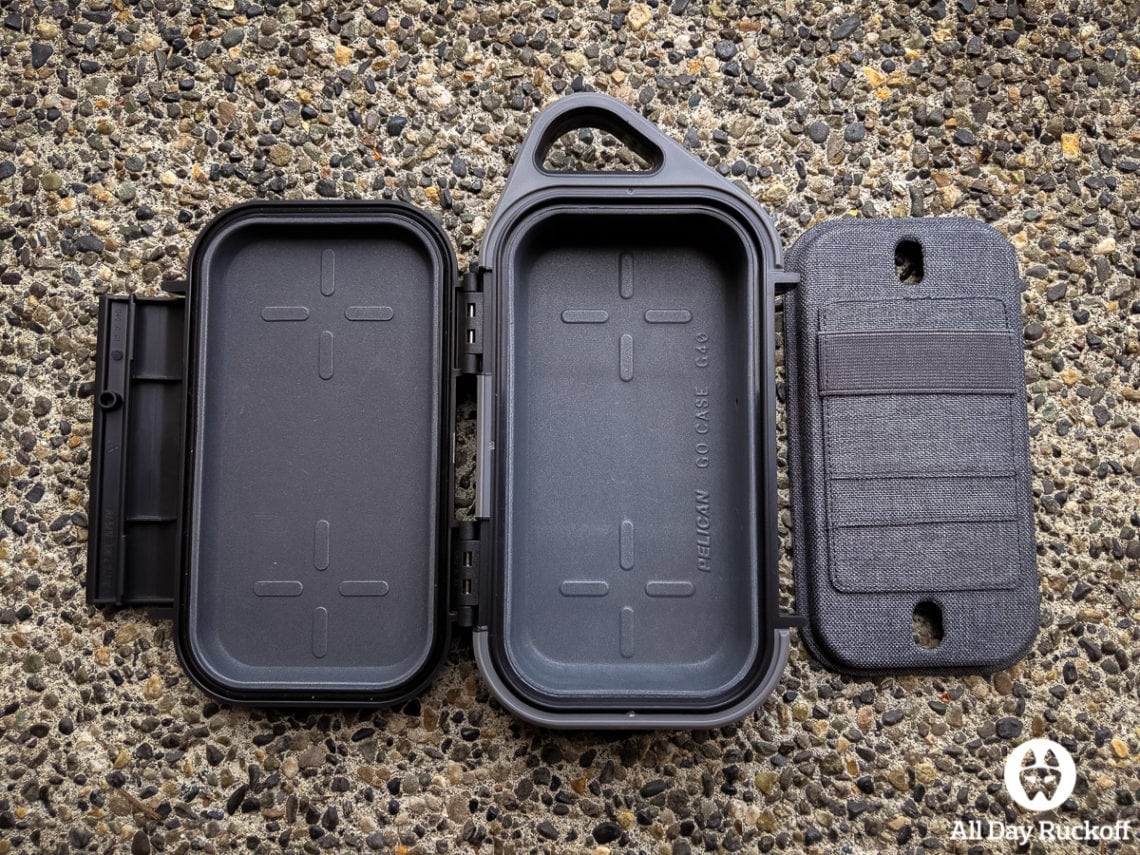 The insert tray is removable so you can use the G40 as either a large case or two smaller cases divided by that tray.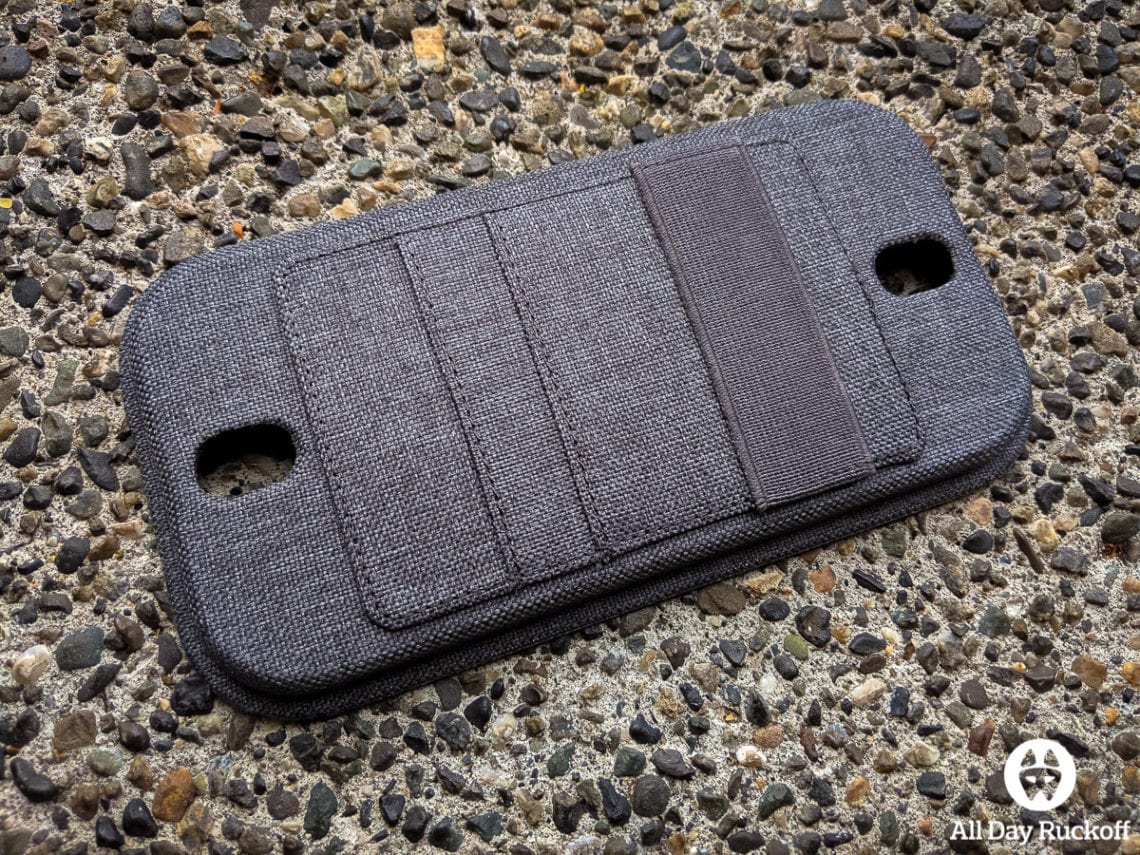 The back of the tray has slots for cards as well as an elastic band. You can easily slide some credit cards plus your ID in there. After that you can strap your $20 cab fare (for a GORUCK event) into the elastic strap and you'll be set!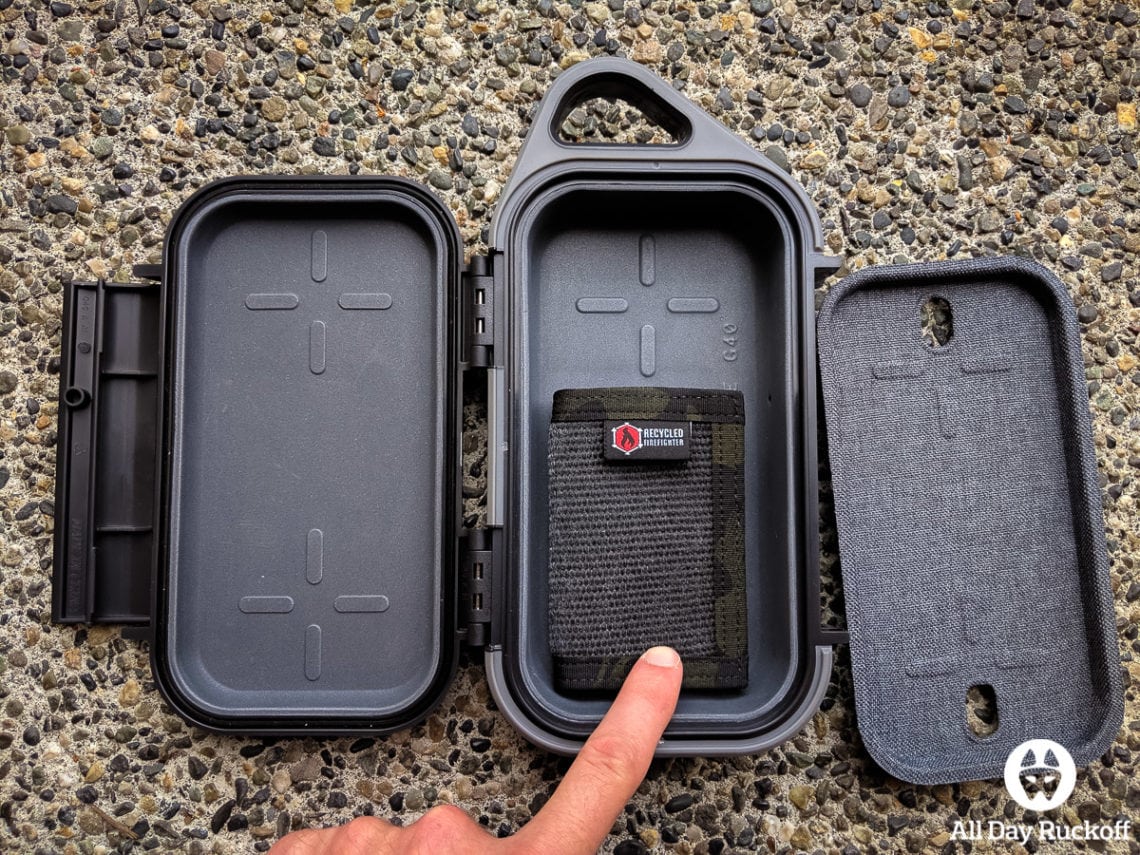 Here's the Recycled Firefighter Rookie wallet in the G40. The G10 had just enough height for the wallet while the G40 has plenty more for the wallet and other items.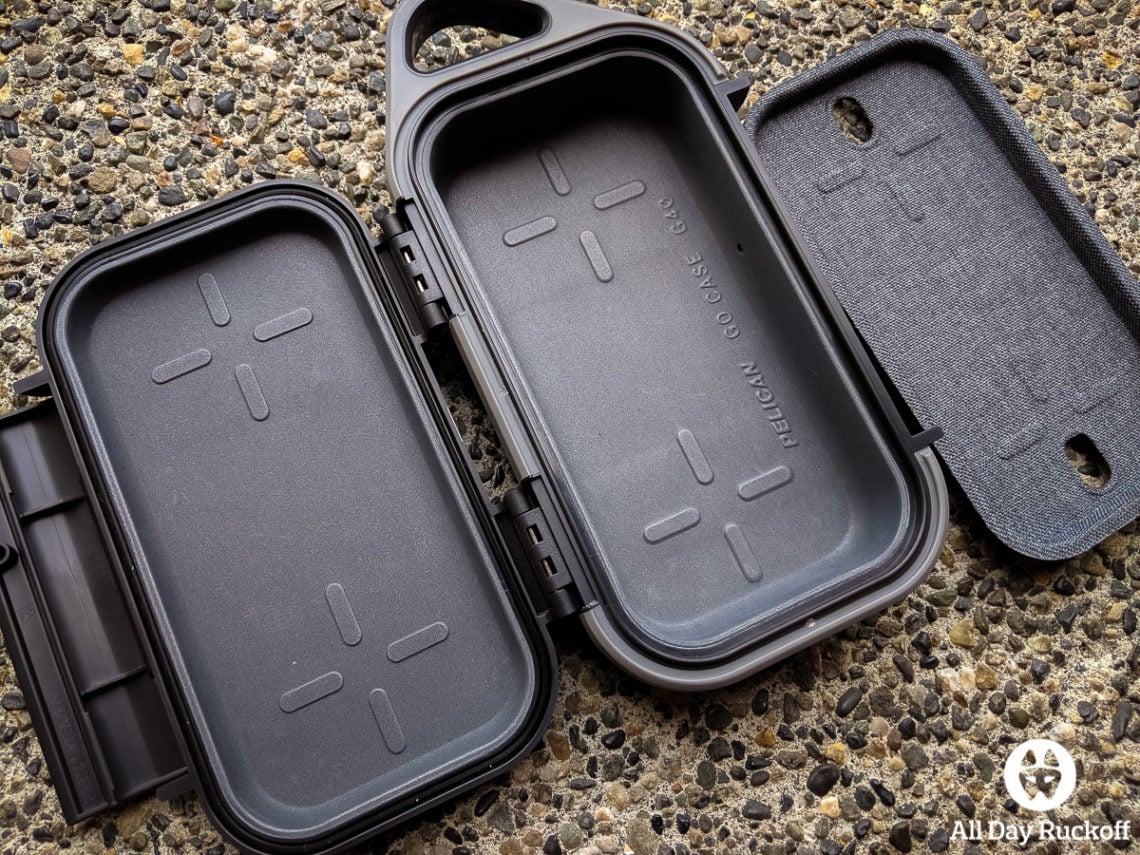 In some ways the G40 can be too much case and in other situations it's perfect. It fits most phones (check the dimensions) and can even fit a battery to charge them. At $39.95 it's moderately priced for what you're getting. I know there are cheaper cases out there but Pelican has a history of producing awesome gear. if you're going to be storing your phone in something I wouldn't skimp on the case.
Pelican Ruck 20 (R20)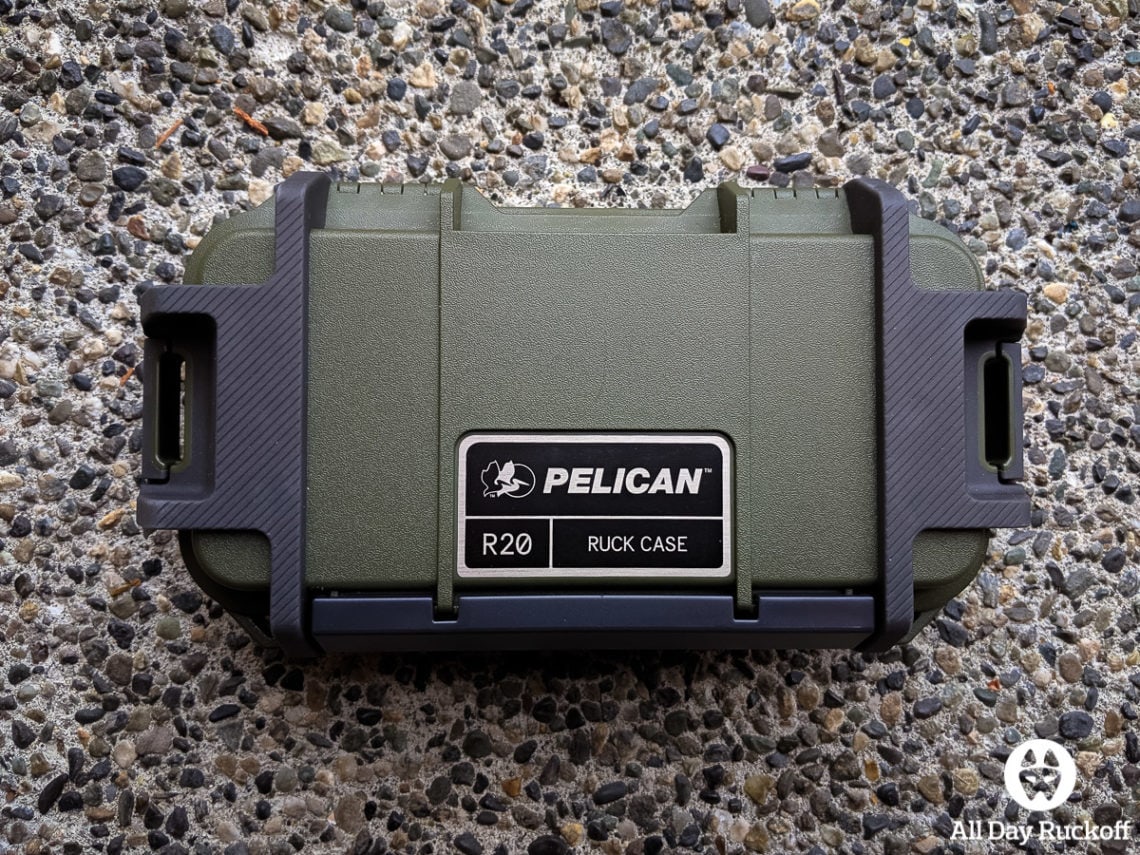 Moving to the Pelican Ruck line of cases we'll start off with the R20. These cases different from the Go line and they feel like a separate product line.
Exterior Dimensions: 8.96 x 4.83 x 2.88 in
Interior Dimensions: 7.07 x 3.39 x 1.95 in
Weight: 1.26 lbs
Now only do they feel like a separate product line but you can see some noticeable differences from the stats. These cases are quite a bit heavier than the Go line.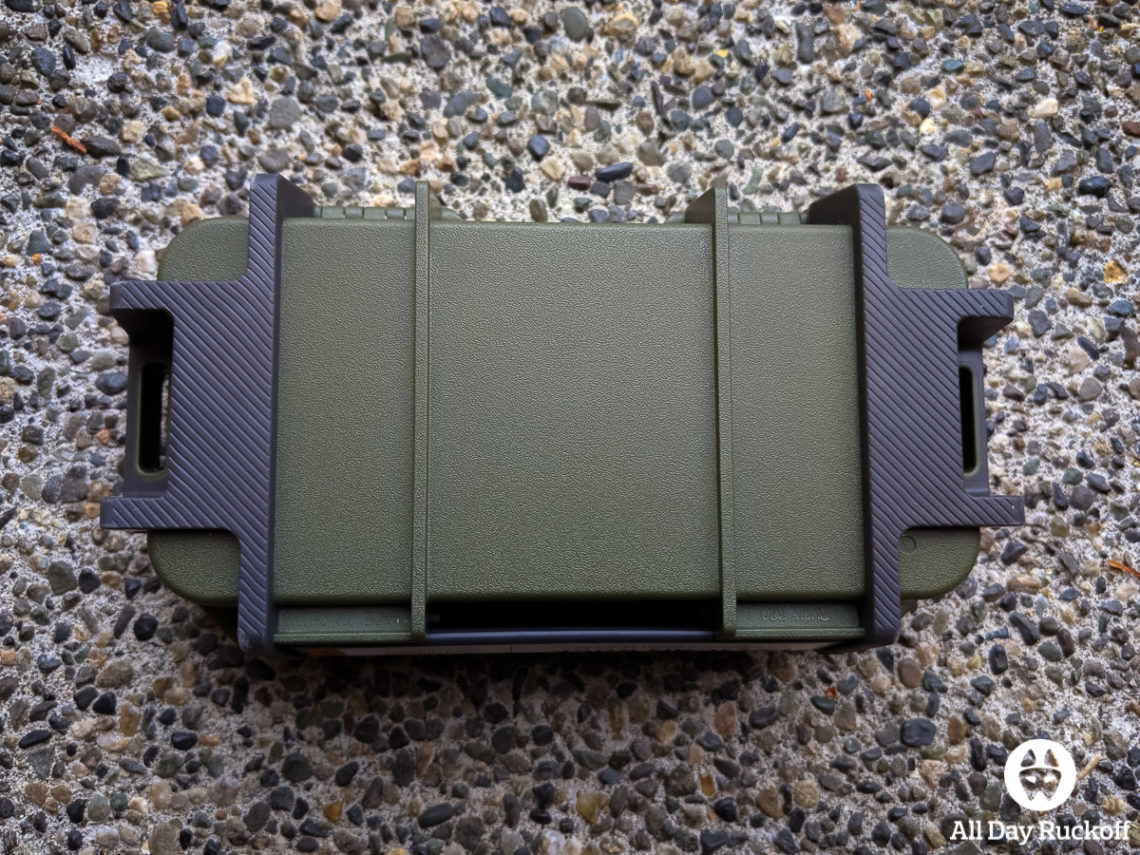 There's rubber bumpers surrounding the case which should prevent it nicely from drops and the event you use it as a football.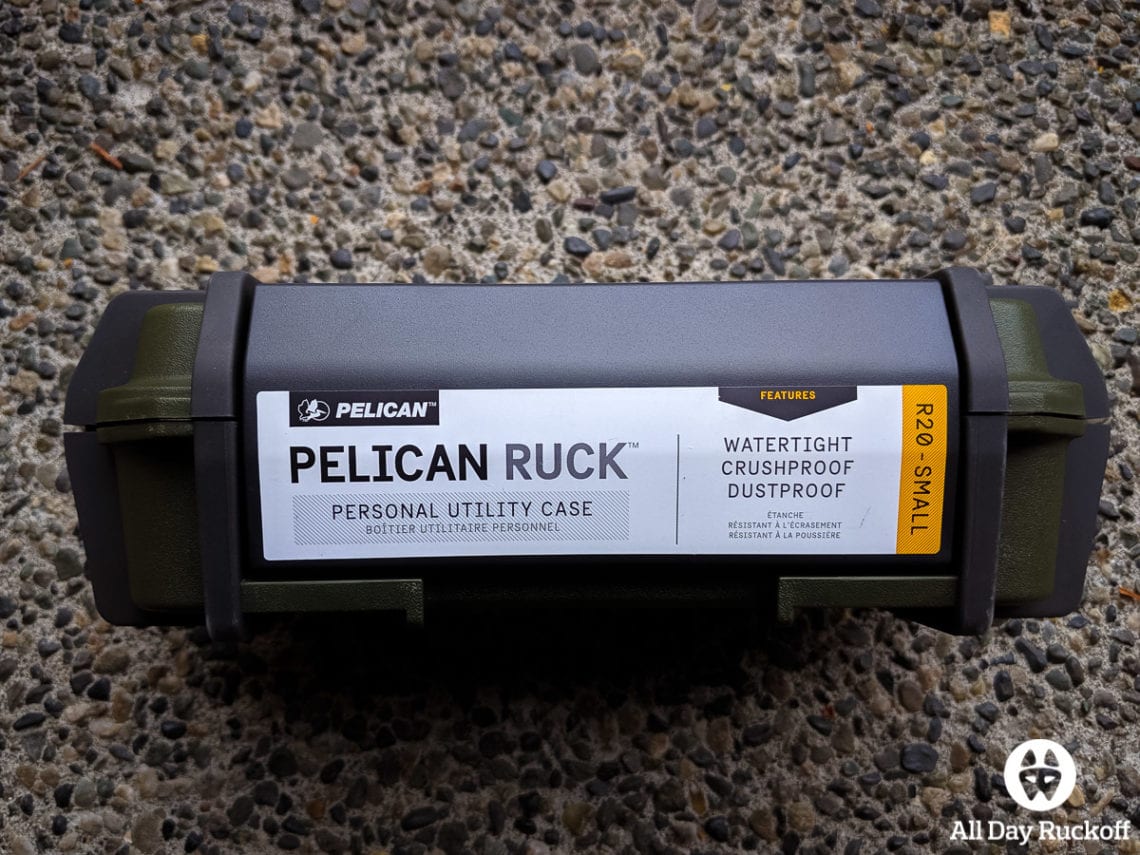 I have absolutely no clue why Pelican called this the Ruck case unless they're just trying to troll GORUCK at this point. The Go label makes sense… you grab it and go. The Ruck name? Who knows… I feel like I'm being a little negative here but I'm honestly stumped on the name.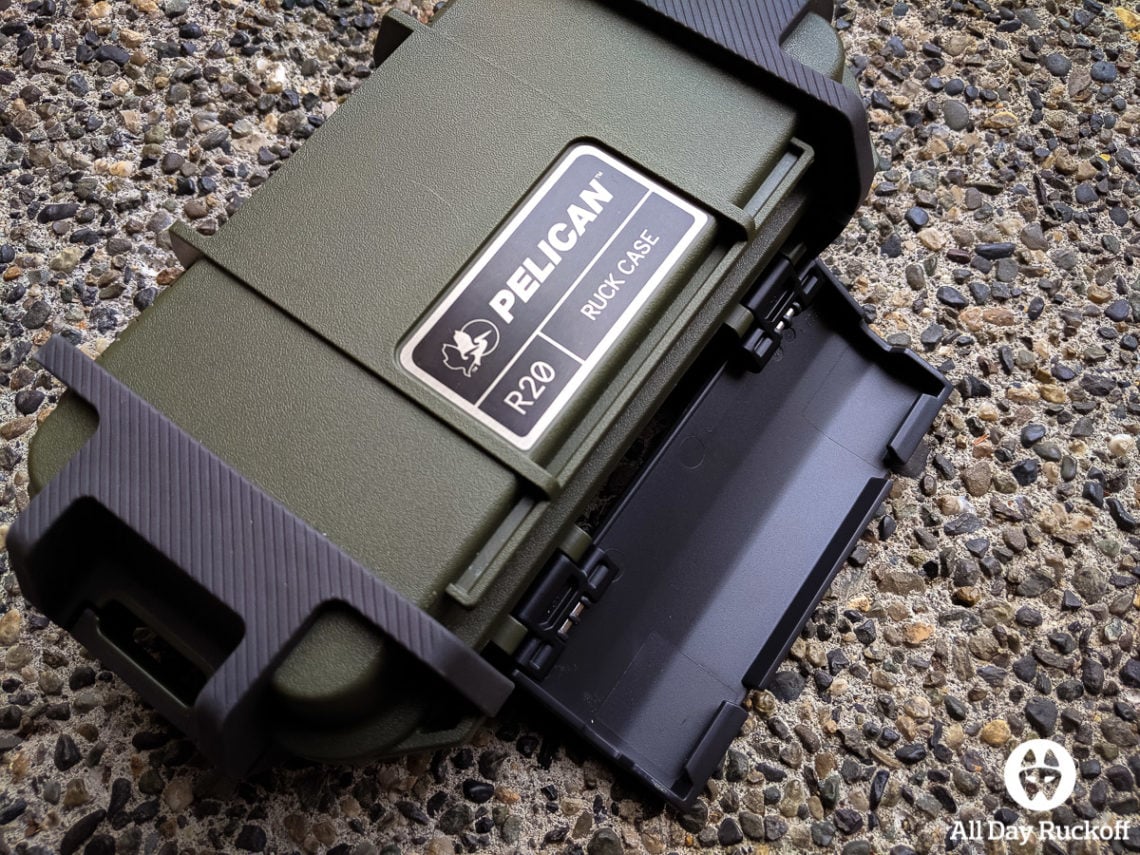 The Ruck line of cases open using a latch system that feels more secure and is noticeably different than the Go cases.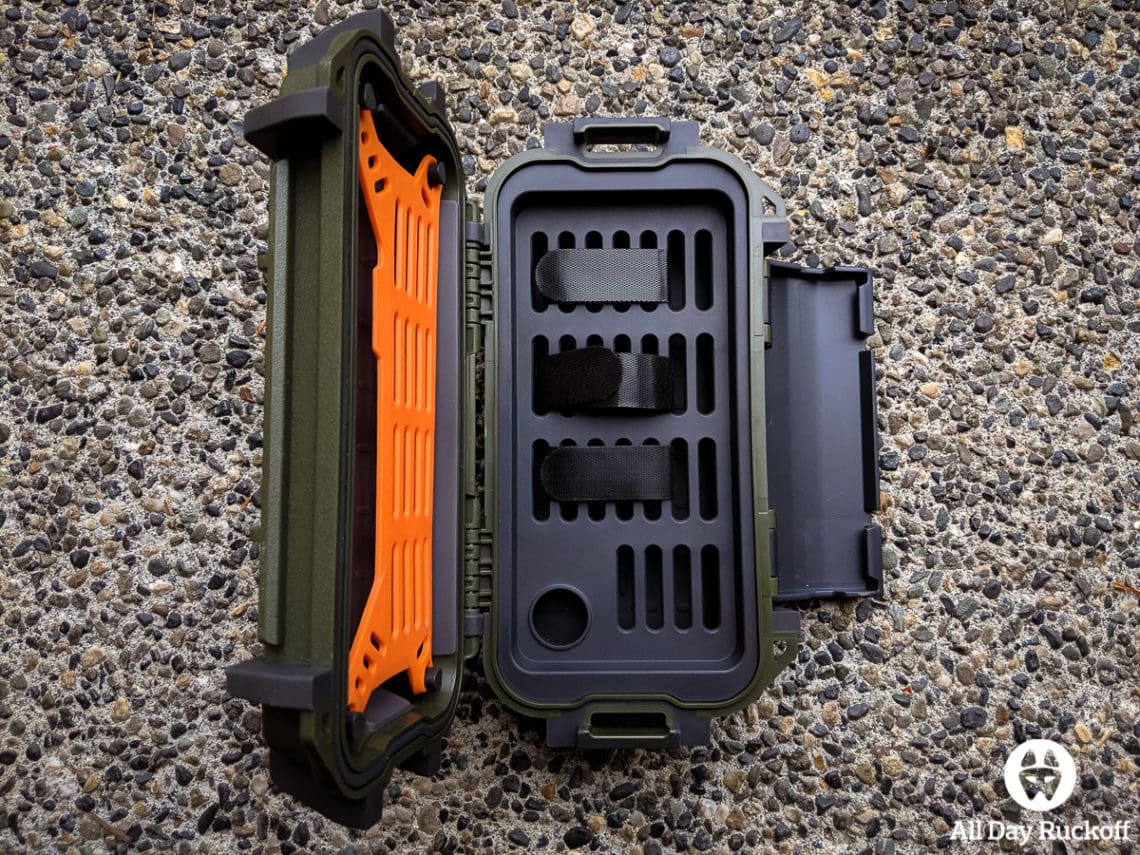 Getting this thing open you'll immediately see the tray sitting in the bottom and the plastic catch area on the top. The tray allows you to turn this into two separate areas for storing your gear.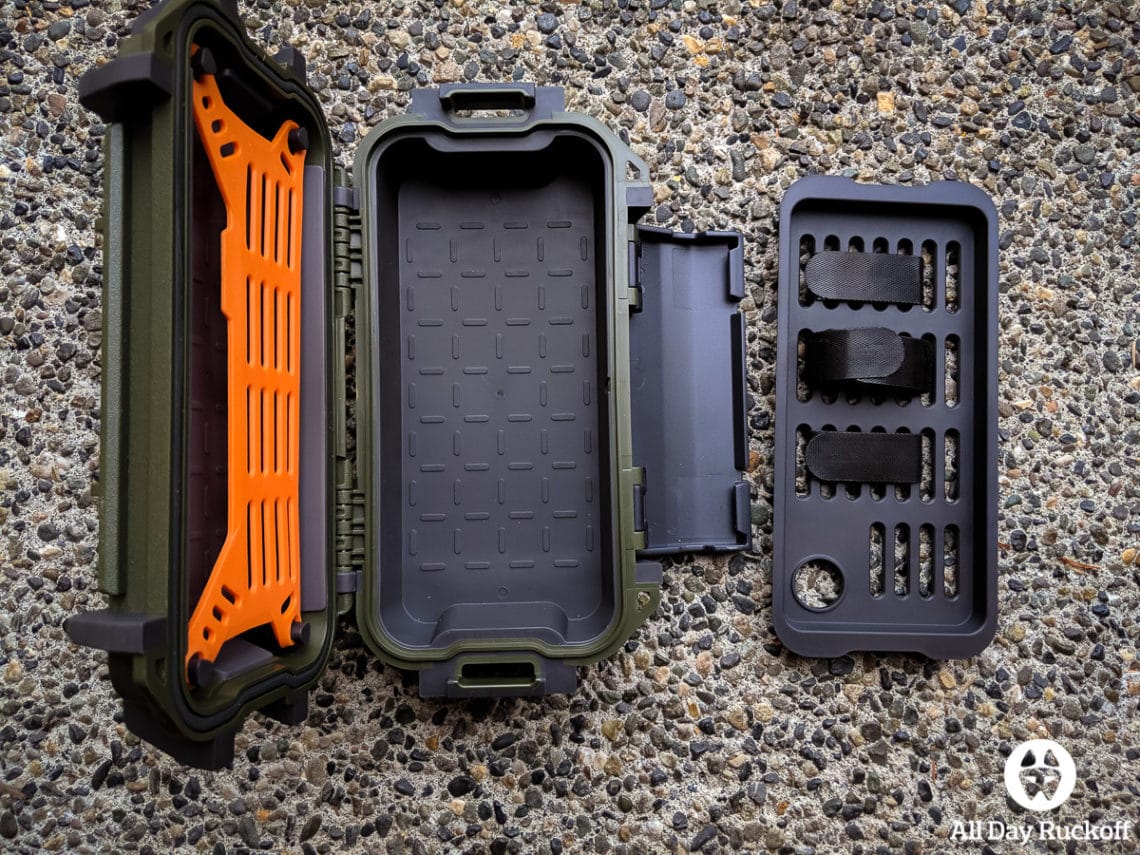 You can remove that tray as well and make this one giant case… it's nice how versatile it is. There's Velcro hook and loop straps included that you can use to hold items to the tray. It's a fairly unique system for a case that I've already found at least one really good use for.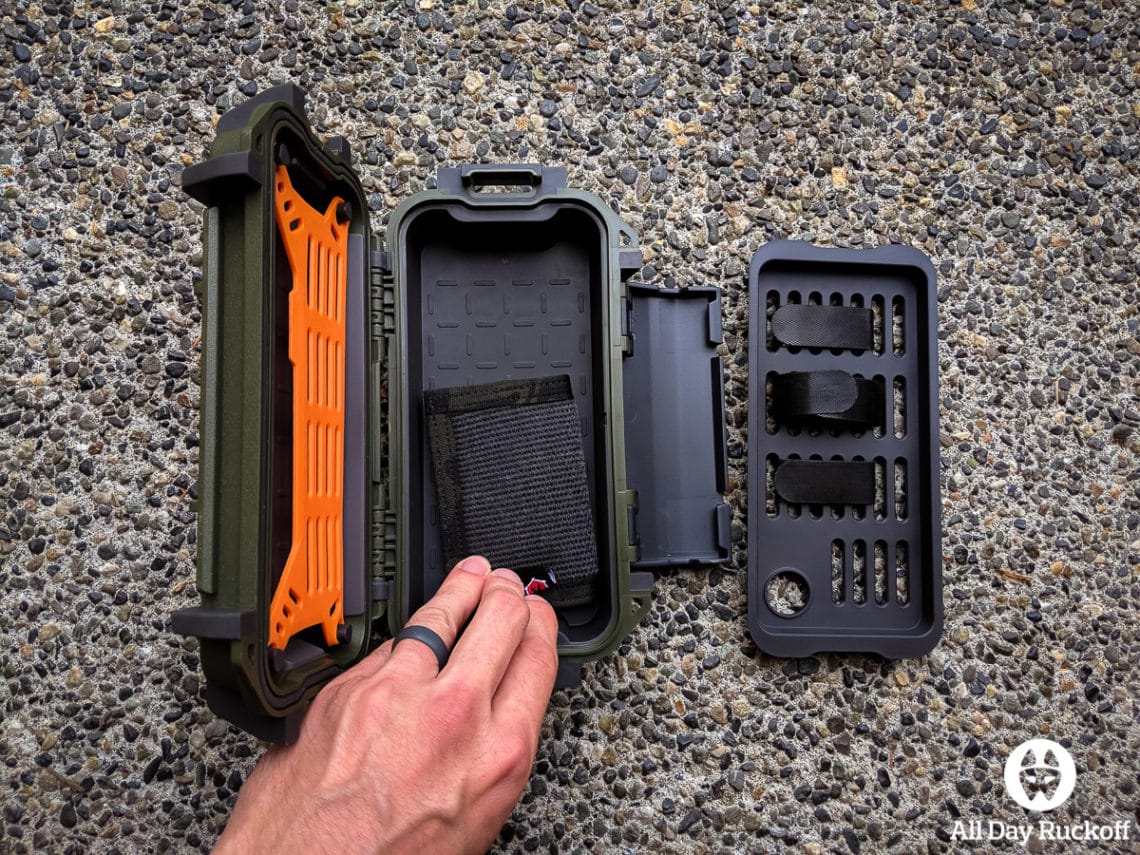 Here's how the wallet sits inside the case. It was having trouble staying closed so my hand is in there as well. There's plenty of room for the wallet down there plus some keys.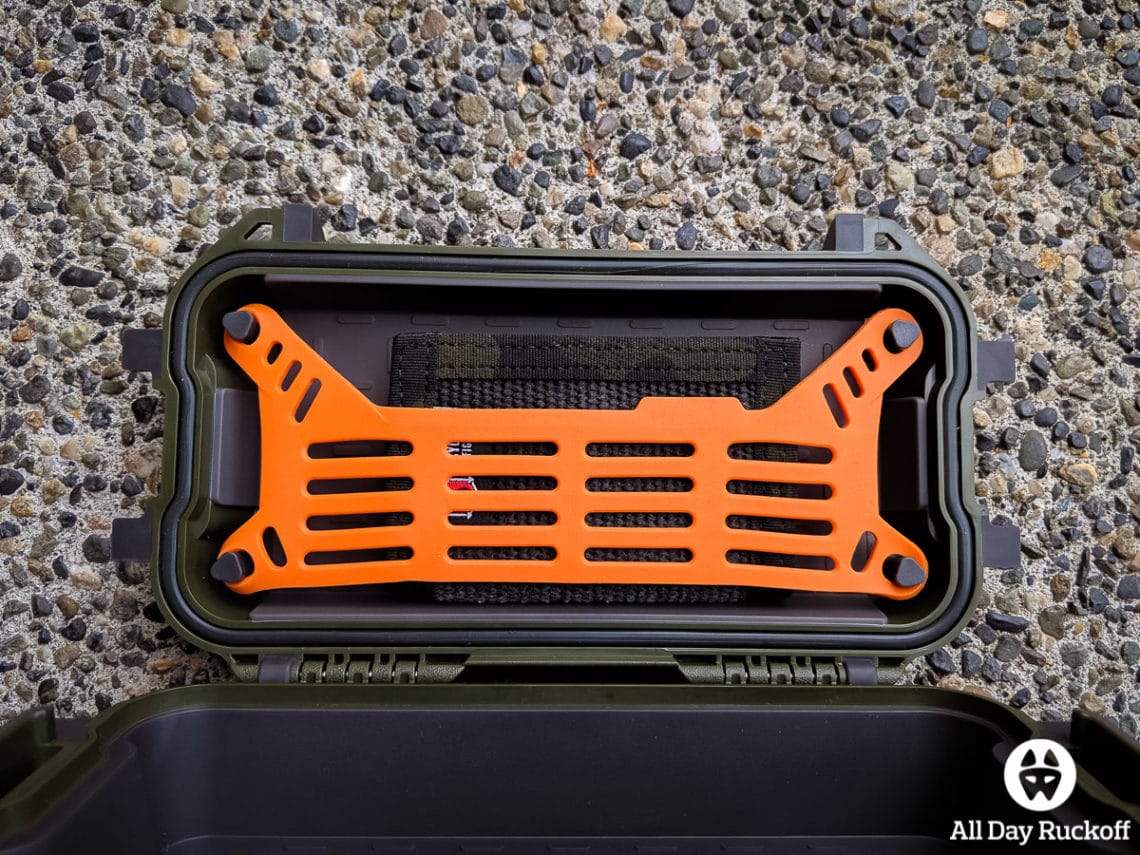 I actually found the top plastic trap area perfect for the wallet. Slip it in and it's not going anywhere. The perfect size for it. Overall the case is well made, holds a decent amount of stuff, and feels secure. The R20 retails for $44.95 putting it at a higher price point than the comparable G40.
The Pelican Ruck 40 (R40)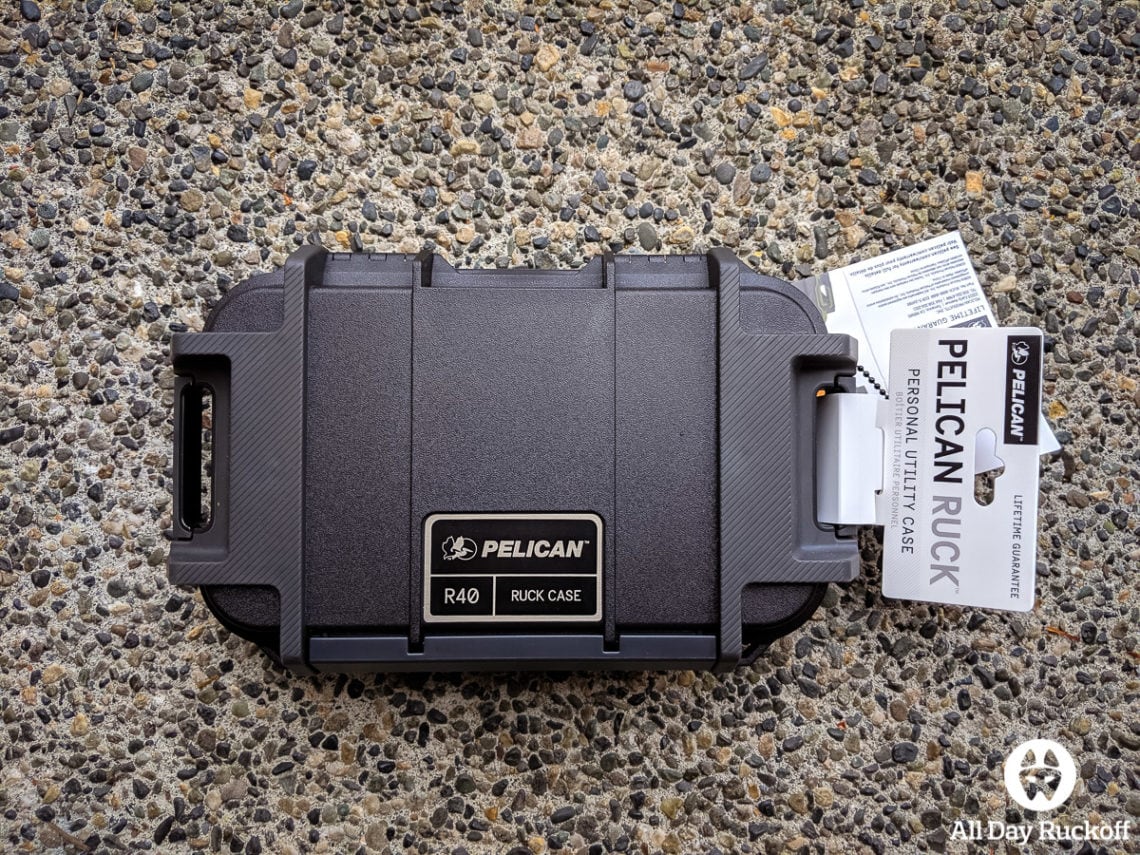 The Pelican Ruck 40 is quite the case. It's built similar to the R20 just quite a bit larger and heavier. After getting the R40 I'm sure I won't ever have a purpose for the R60 so don't expect a review of that in the future.
Exterior Dimensions: 9.84 x 6.12 x 2.89 in
Interior Dimensions: 7.63 x 4.70 x 1.90 in
Weight: 1.68 lbs
At 1.68 lbs there needs to be a good reason for me to put this in my pack. It's heavy but it also holds quite a bit more which brings its own pros and cons.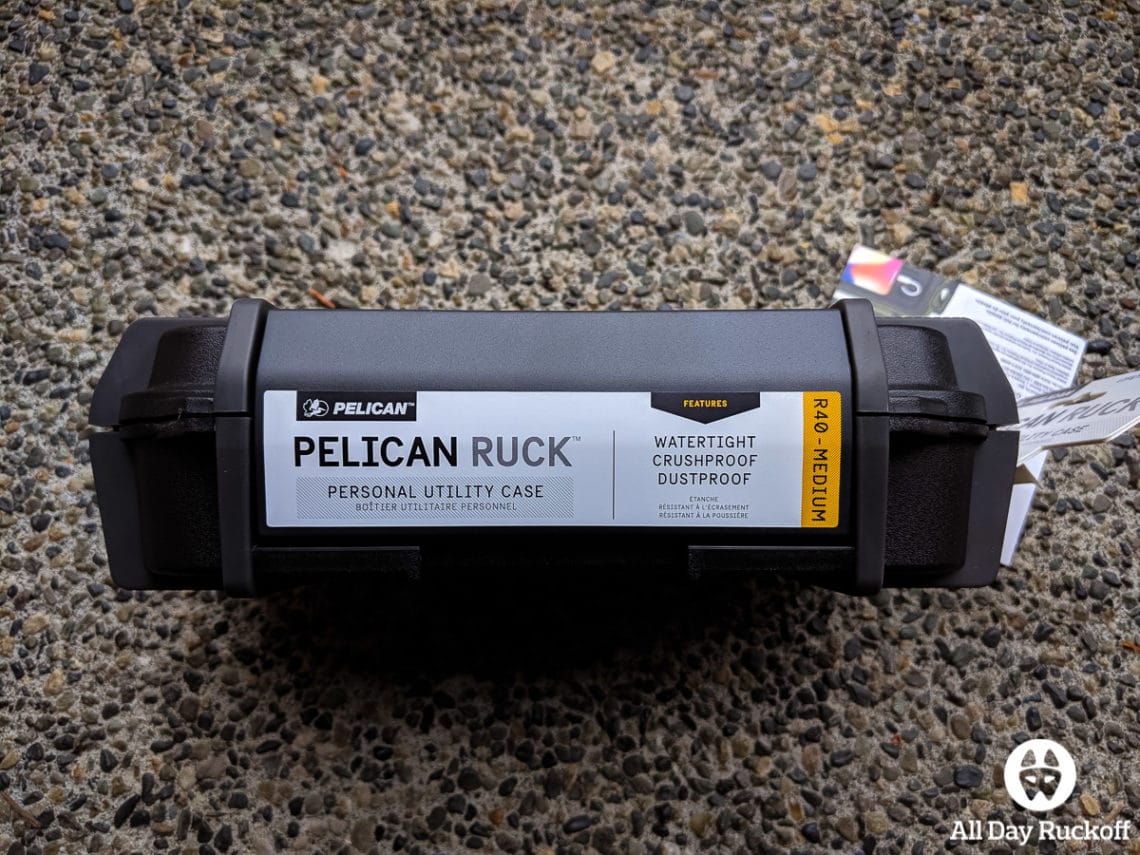 The R40 is touted as a "medium" case but it sure doesn't feel medium. It has the same latch system that the R20 has and feels secure when closed.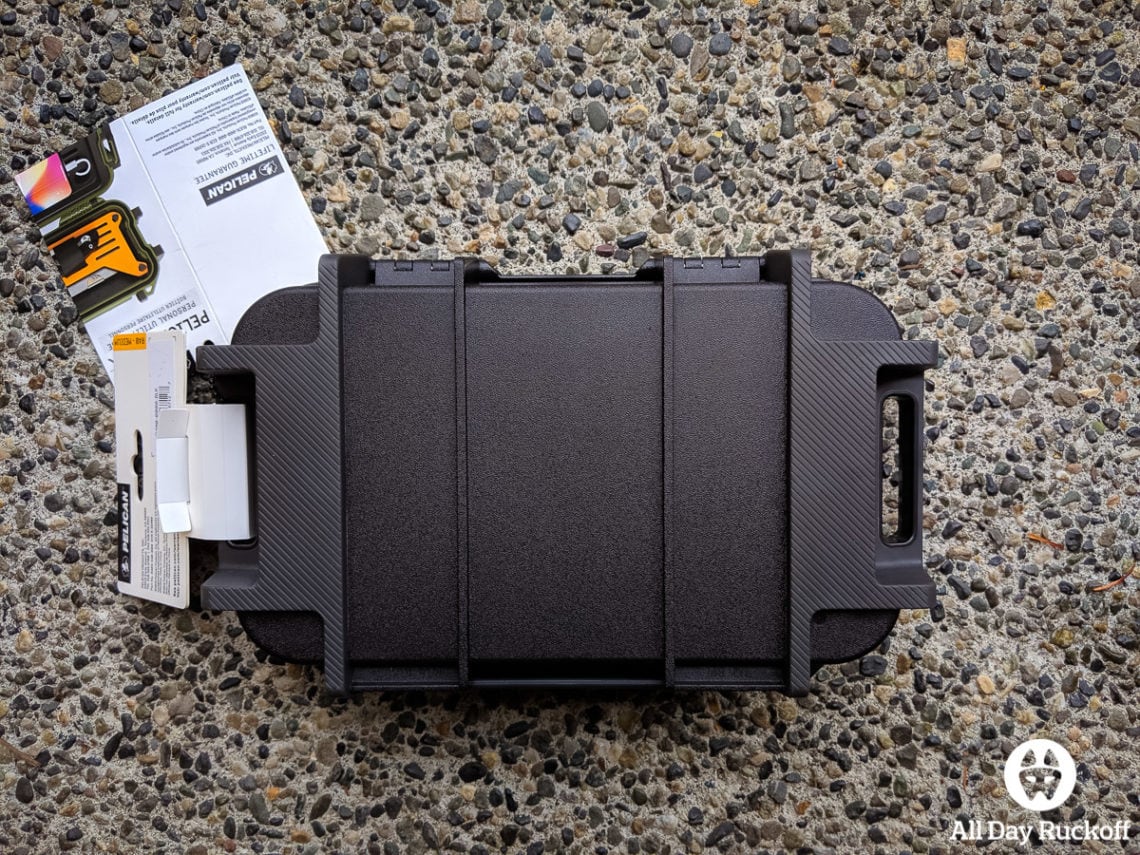 There's giant rubber pieces on both the right and left that will keep things safe if this falls. Due to the size of it I'm not sure if it will keep the case safe or if it will keep you safe if it falls on your head. Did I mention it's big?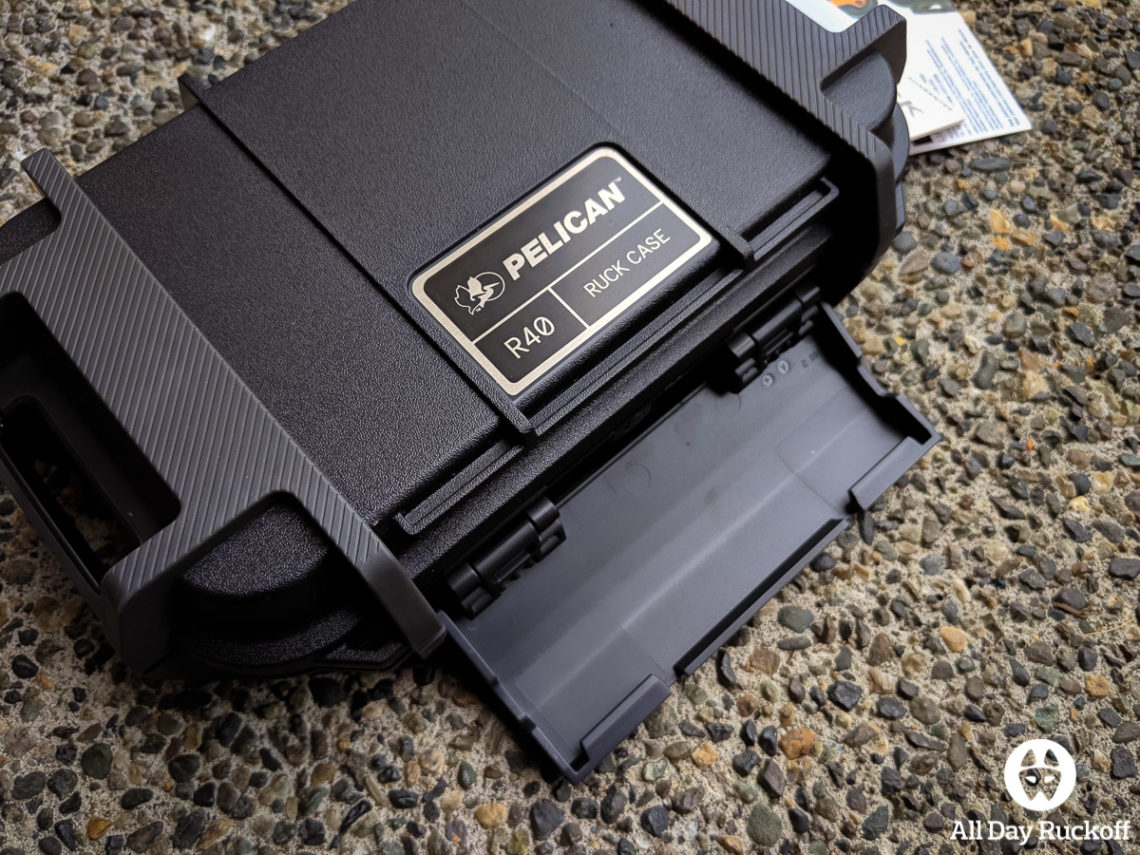 Here's that latch system in action. I really like how much more secure this feels over the Go line.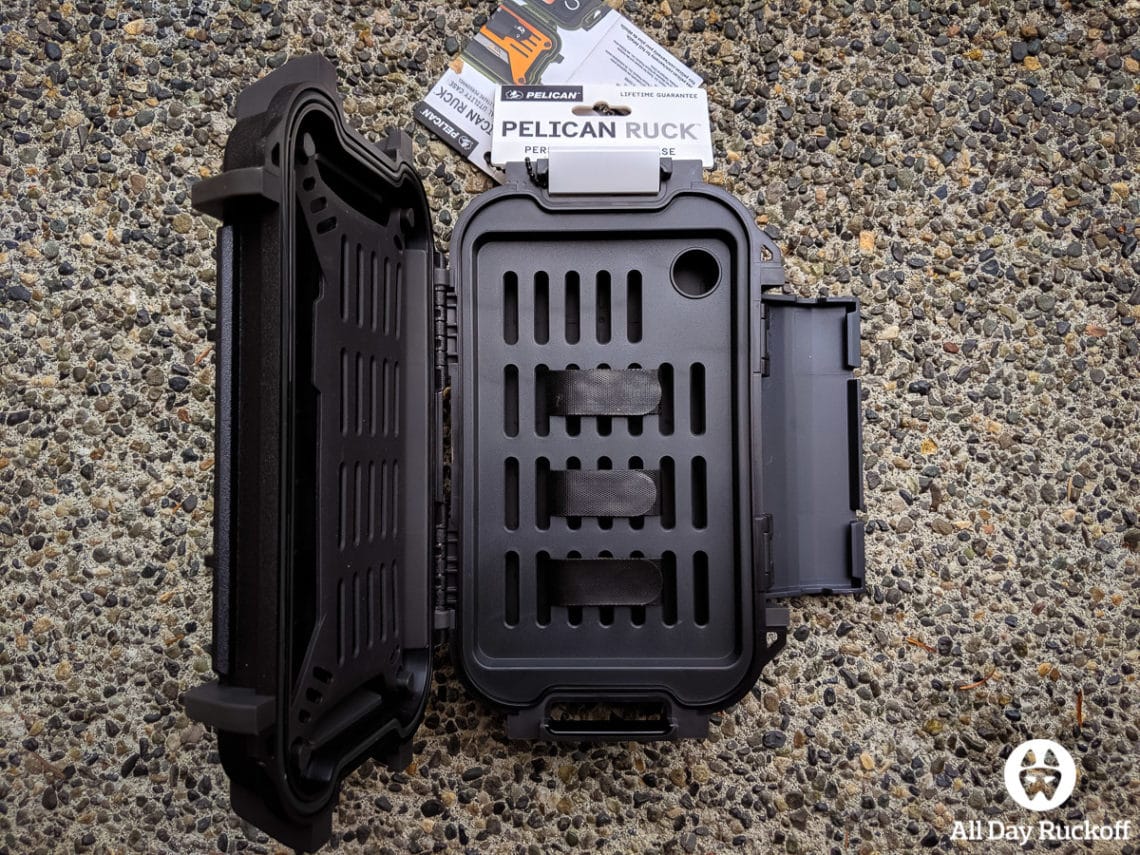 The inside looks very similar to the R20 with the tray and plastic catch area. This is the black colorway and I have to say I prefer the interior on the green case.

Having contrasting colors can make finding things easier and everything just seems to blend in. There's the same Velcro system in place as in the R20.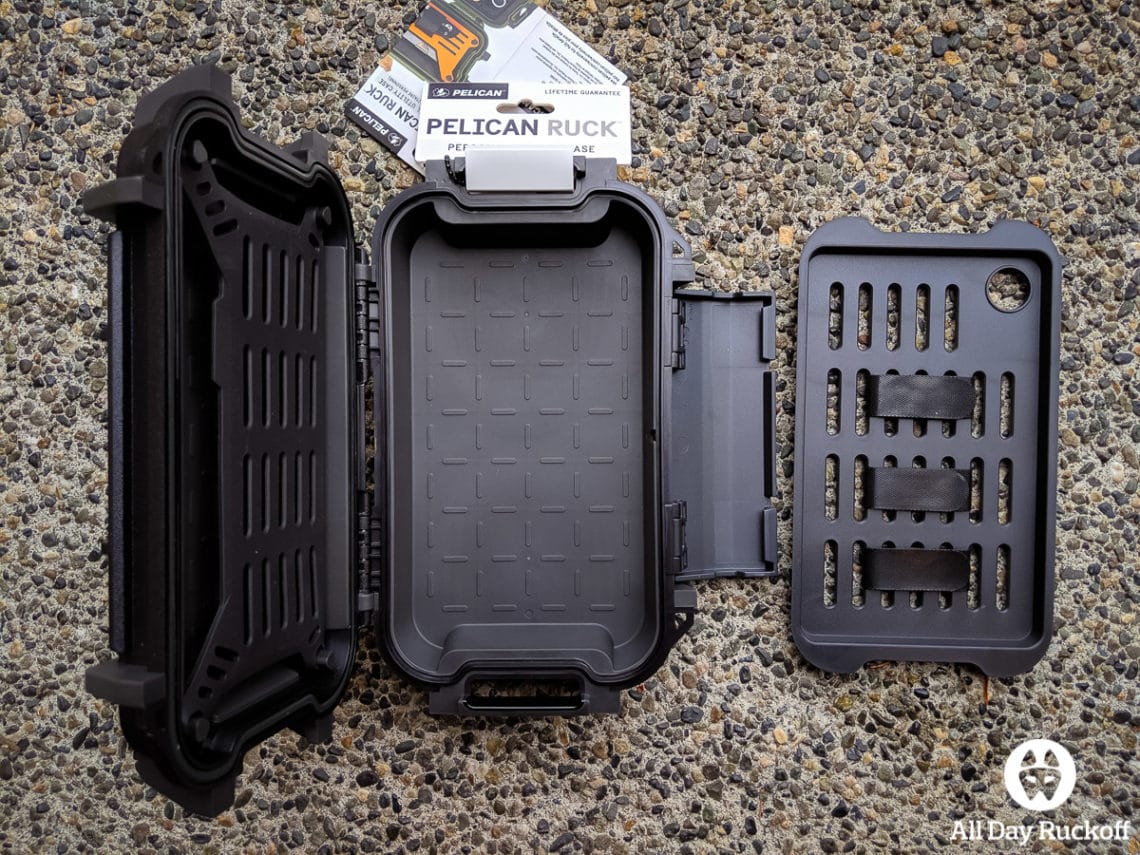 The tray is removable which means, again, you can separate this into two sections or have one giant area.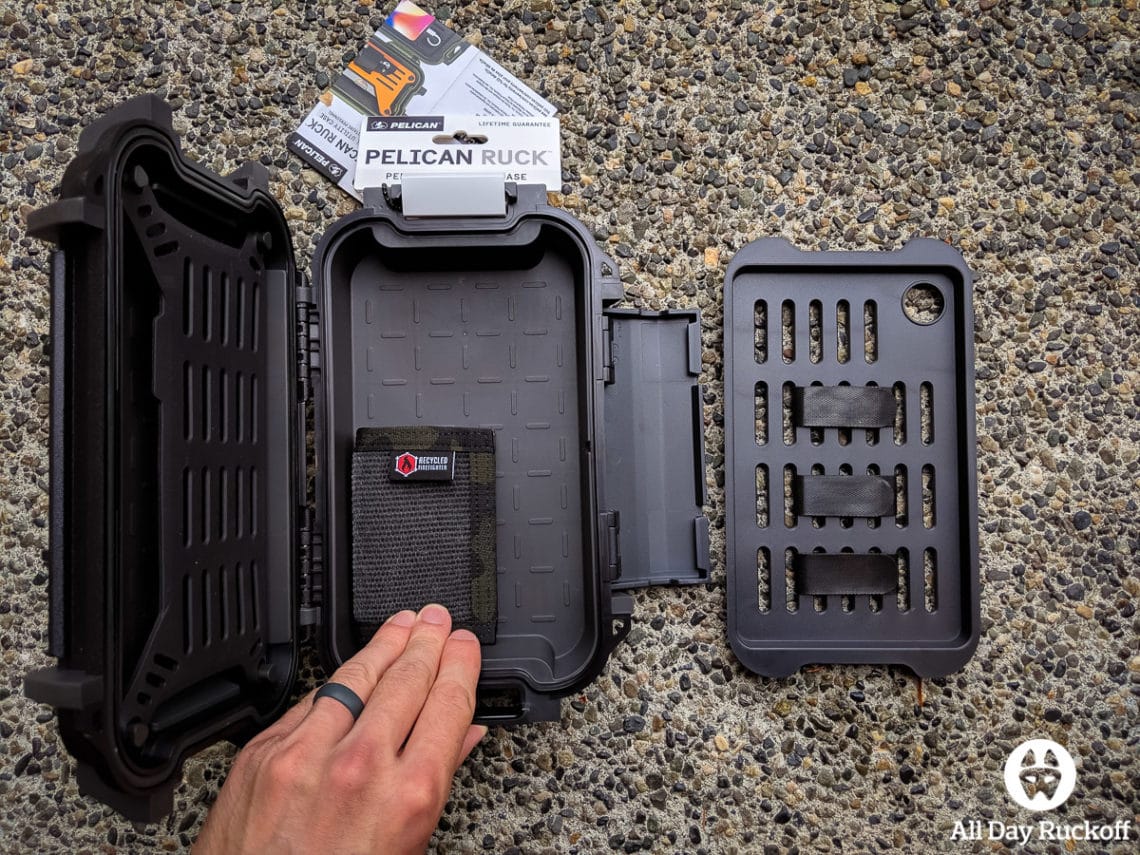 The wallet almost appears to be drowning in the R40. It's worth noting that the R40 is not the Ruck version of the G40. I'm not sure why Pelican changed up the sizes between the Go and Ruck lines but they sure did. The R40 is substantially larger than the G40.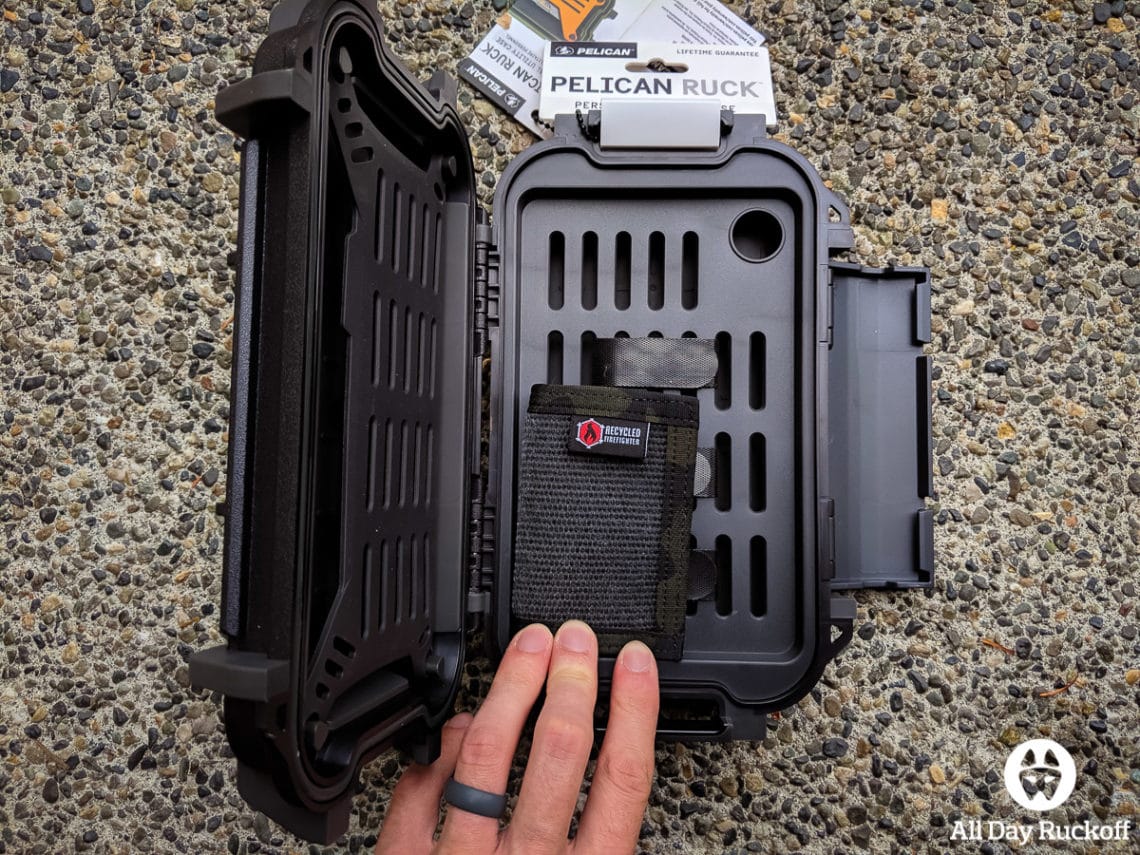 Here's the wallet sitting on top of the tray. The R40 is a well built although large case that will keep your valuables safe. You do need to be careful if you're buying a case this large because you'll want to fill it. If there's too much gear floating around (especially if you can't strap it in with the Velcro) then things can get damaged. Having a phone slamming into the sides of an over-sized case is no good and at $54.95 you don't want to buy it unless you need it.
Conclusion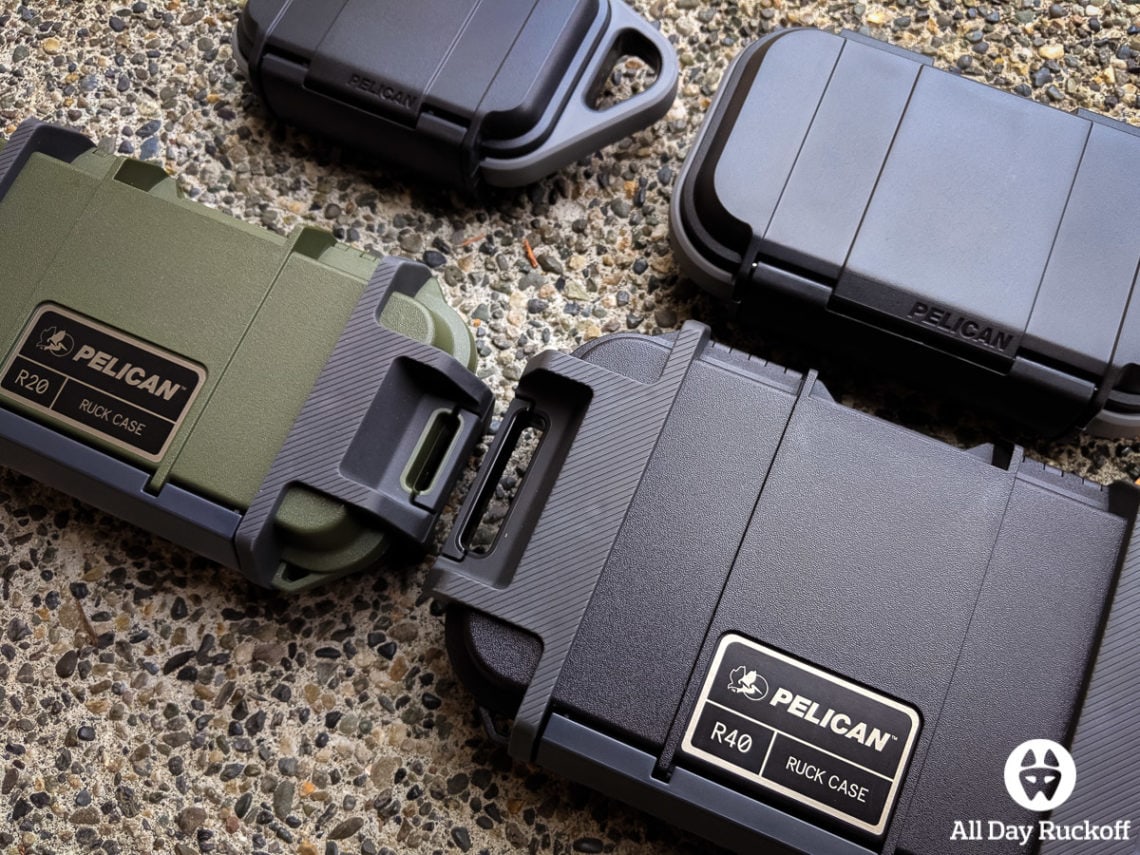 The Pelican Go and Ruck line of cases great for protecting the essentials while you're out around town, hiking, or taking part in a GORUCK event. My G10 and R20 have already survived one event together and it will be good to put them through more abuse in the future. If you're looking at these cases and are only planning on grabbing one you'll need to consider a few factors.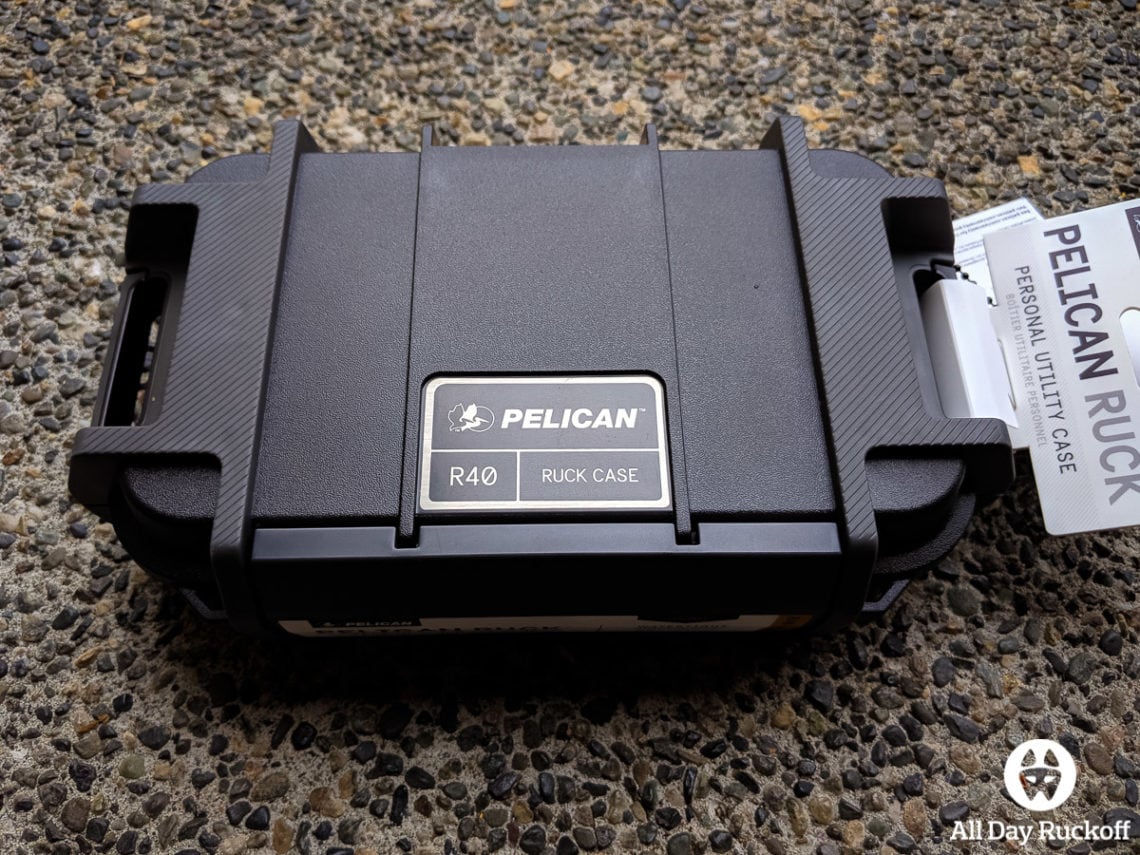 You'll need to decide if the extra gear catch, ruggedness, weight, and price is worth the difference when looking at the Go line and Ruck line. The Ruck line is substantially heavier but also more rugged and the closure system feels much better. The G10 is lighter but with that lightness comes less features and a closure system that *might* not be able to take a beating. The G10, G40, R20, and R40 are all available for purchase now and, although I haven't used these a ton, I'm excited to see what becomes my favorite. Have any comments on these cases? Let me know in the comments below!