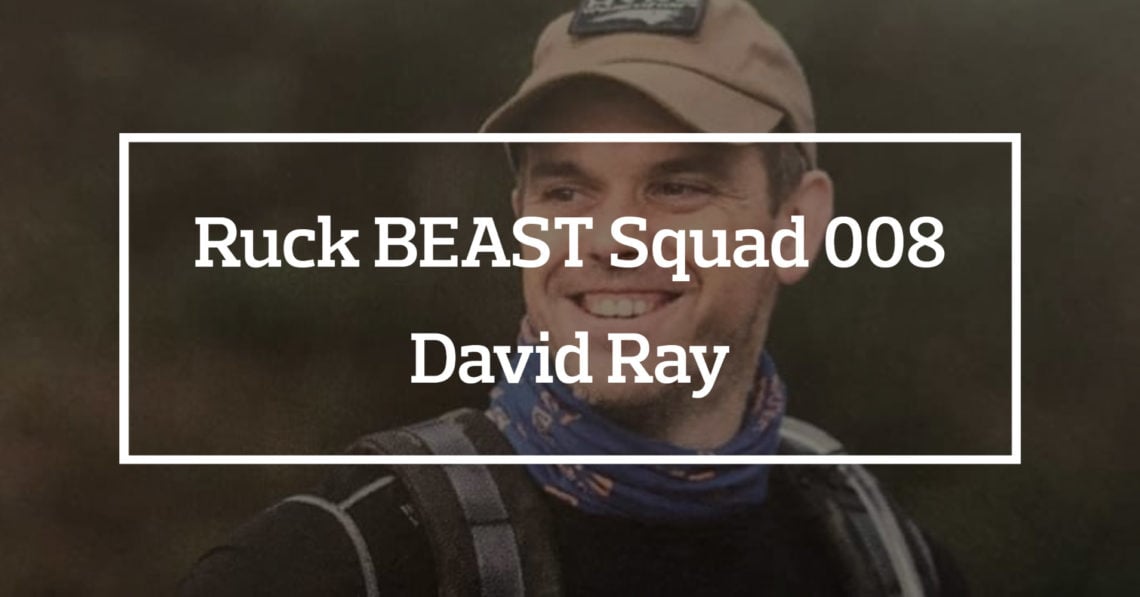 Ruck BEAST Squad features interviews with members of the community to highlight their lives, training, gear, and insight. Hopefully as you read through this you'll be able to take away advice that will help you train better and perform better that upcoming events. In this issue of Ruck BEAST Squad we get to hear from David Ray.
Q: Tell us a little about yourself to get us started.
A: David Ray, 45, currently residing in Chapel Hill, North Carolina. Backtracking, I've lived in Logan Utah, Houston Texas, SoCal, and was raised in Redding, California. I have two amazing kids (Alex, 16, and Eva, 11) and an even more amazing wife of just under 21 years, Leslie.
I am a Senior Software Engineer (although by education I am an operatically trained tenor), working on tools to support ops, production and engineering department and mentoring junior developers.
Q: Where did your GORUCK journey start? What was your first event? What stands out from that event?
A: My GORUCK journey started in the Spring of 2017. I was overweight, I was unhappy in my work, had few friends, and was still coming to terms with how to navigate a diagnosis of Early Onset Parkinson's Disease (PD). For those that are not familiar with PD, it is a progressive neuro-degenerative disease that affects, among other things, fine and large motor skills, flexibility, balance, and mobility. I recall, early on, my neurologist told me, "You can treat PD like an anchor: it will either fix you in place and cause rapid declination in your ability to enjoy life, or you can drag that anchor along as best you can."
Quite frankly, neither of those options sounded great. The more I read, the more I learned that consistent exercise was the key to slowing down PD progression. I decided to not just drag that anchor, but pick it up and move as fast as I could with it for as long as I was able.
Fortunately I happened upon a local men's fitness group (F3) that exercised in the pre-dawn gloom. There was a subset of them that met even early for 'extra credit' rucks. When they first explained it to me, it honestly sounded like the most ridiculous thing ever, walking around with a backpack, with weights, at 0430. Well, I went once, and was hooked, really, really, hooked.
I signed up for my first event, the 2017 Chapel Hill Tough, lead by Cadre Heath. With about 4 months to prepare, I signed up for Pathfinder Endure. What stood out for me at that first event was that you could take a collection of individuals from all walks of life, who otherwise may not even give each other the time of day for any number of reasons, and turn that rag tag group of people into a functional team within 12ish hours. I had to have more.
Q: What was your most recent event or events. What would you like to tell us about it / them?
A: Two come to mind: 2019 New York 9/11 HTL and a custom Tough that I served as Cadre for. The NYC HTL was noteworthy for two reasons: 1) 3 of us flew up for the 2018 NYC 9/11 HTL and it absolutely ate us for breakfast. We all survived the Heavy. In the break between the Heavy and Tough we all quit. It was a huge disappointment, but we felt that we had given the event everything that we could. 2) 4 of us returned in 2019 and completed the HTL (my first).
I almost quit within the first 2 hours of the Heavy. Parkinson's is a cunning enemy, it betrays the mind and body as the dopamine cycles down in your system. I take dopamine 4x a day, and I generally know how I 'should' be feeling during the 4 hour cycle. We were about to dive into some painful PT with Cadre Cleve, and I just did not feel right. He pulled me aside, asked what was up (I preemptively send Cadre notice of my condition and how I cope with it), and I told him I just did not feel right. He asked me if I wanted to give up so soon after all the hours of training and expenses put out to get here, and then he relayed that his Dad has PD, and he knew what I was going through. He gave me a few minutes to clear my head and decide what I wanted to do, stay in the fight, or quit. That moment was poignant for me as it was the first time I truly understood that the Cadre were looking for maximal effort from each person at that person's current capabilities. I may not have carried the heaviest loads for the longest times in that HTL, but I gave it whatever I could, for the entire event. It reaffirmed my conviction that I was not going to go down to PD without a fight.
The other recent event was an unofficial 12 hour event modeled after a GORUCK Tough for a local fraternity. This was the 3rd event that they'd run as part of their pledge process. The first two, I served as a trainer for 8~10 weeks leading up to the event, and then a Cadre would come deliver the beatdown. For a variety of logistical reasons, we could not secure a Cadre. Rather than let the event not happen, I recruited a couple of my rucking buddies and we ran a glorious event. This event was meaningful as it allowed me a glimpse of the other side, and it kept alive one fraternity chapter's desire to change the face of the pledge process.
Q: Favorite Ruck?
A: I have two, no three, no ten…
For EDC, Stormtrooper White 26L GR1.
For events, 20L black multicam Rucker with a GR1 Field Pocket externally attached for my PD meds and whatever else I need quick access to.
Q: Proudest accomplishment as a GRT?
A: Participating in and completing two Lights with my then 15 year old son. He learned a great deal about himself and what he was capable of, and it was awesome to be a part of that.
Q: How many events have you done? What's your favorite event or type of event? Why?
A: A dozen or so. My favorite even is the Heavy. It's a good balance between how hard one needs to train, how much time away from family, and how much recovery time is needed while still providing a thorough physical, mental, and spiritual beat down.
Q: Why do you continue to do events? What keeps you coming back?
A: I keep doing events to check in and see if I still can, if that makes sense. Parkinson's will eventually rob me of the ability to complete one of these. I use them as a barometer of my progression with the disease. The people keep me coming back, newbies, oldies, cadre, onlookers….it's always a unique experience and I enjoy learning about other peoples' journeys.
Q: How do you train for events?
A: We have a dedicated crew (Hope Valley Ruck Club) that holds two sessions a week. I've done a few rounds of Pathfinder (Endure and Advance), Heavy Drop Training, and am currently working with Joe Baker and Baker Dozen XIII.
Q: Best Rucking and / or GORUCK event advice you have gotten?
A: Pack all of the food and supplements/snacks that you think you'll need, and then leave 75% of it at home.
Q: Other than packing list items, what is a must have in your ruck for events?
A: Skittles. Not many people can resist a Skittle at 3AM.
Q: A book or a few that have impacted your life? Why?
A: Can't Hurt Me, David Goggins. I took to his callus the mind philosophy with regard to my Parkinson's. Some of the symptoms are omnipresent, and I have had to callus the mind and body to them, else I'd just stay home, instead of get after it.
Q: What other hobbies do you have?
A: Mountain biking, support team for my wife's ultras, Dungeons and Dragons (yeah, I'm a nerd).
Q: What's the best purchase under $100 you've made in the past 12 months.
A: Ruckwrap
Q: How has rucking changed or improved your life?
A: It's made me understand where my limits actually are versus what I perceived them to be. It's helped me become a better coworker, mentor, husband, and friend.
Q: How do you recruit new people to ruck, or do events with you?
A: I've got multiple extra rucks on hand, that usually gets them past the equipment barrier of entry.
Q: Best Beer to drink after a ruck?
A: A cold one. After an event, all other criteria are moot.
Q: Advice you would give to someone before their 1st Light?
A: Skip the Light and do a Tough.
Q: Advice you'd give to someone before their 1st Tough?
A: Find a few buddies to go on this journey with you. Having accountability partners or battle buddies will get you to ENDEX.
Q: If you get overwhelmed during an event how do you refocus on the task at hand?
A: Communicate; don't go dark.
Q: What's the next event or events on your calendar?
A: At present, I'm looking at Igor and Belman's Double Tough in October.
Q: Any parting shots? Things the community needs to know?
A: People do these events for a wide variety of reasons. Take the time during an event to get to know your teammates and what their 'why' is. I guarantee that it will make the event more memorable. And remember to have fun! No poopy faces!
If you know someone (or are someone) who would be a good fit for an upcoming episode of Ruck BEAST Squad please reach out to Derek Hill (derekhill1 AT gmail DOT com).