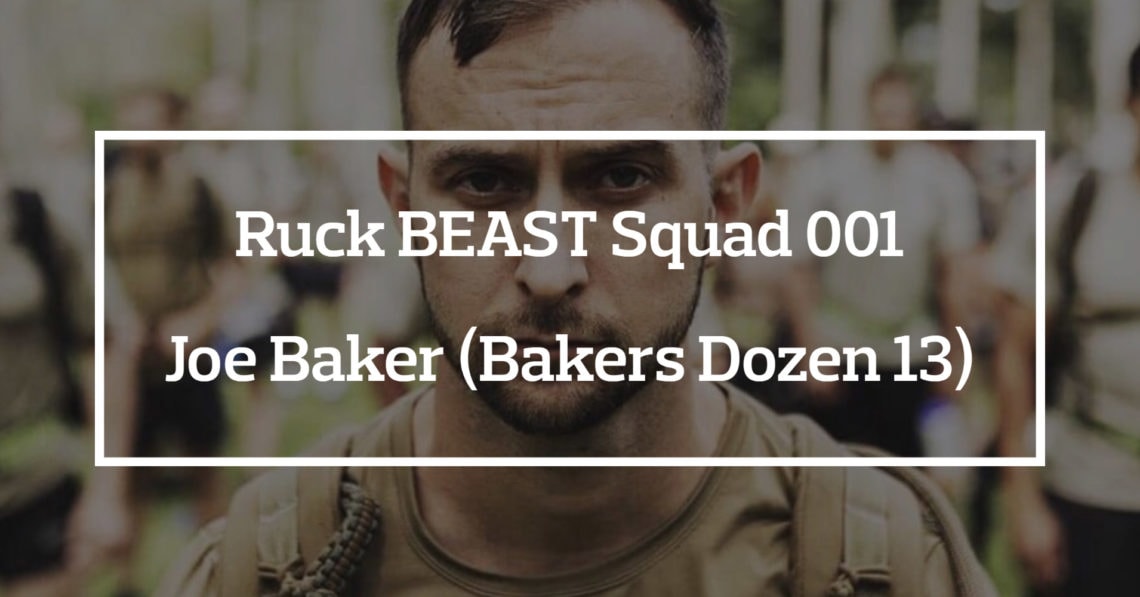 From Brian: BEAST Squad is a new feature thought up and put together by long time friend and supporter Derek Hill. Derek has reached out to fellow ruckers, GORUCK cadre, and other impressive athletes to put this together. BEAST (Backpack Endurance and Strength Training) squad interviews will focus on the individuals and what makes them who they are. Without any further chatter from me here's the first BEAST Squad interview from Joe Baker conducted by Derek Hill.
Meet the first awesome member of the Ruck BEAST Squad. Joe Baker is a great guy and I know you're going to enjoy learning more about him.
Q: Tell us a little about yourself to get us started.
A: Joe, 33, Wife and 2 Daughters Life is a journey of change. I have a lot of things I like to do, but keeping certain core activities that provide the tools to do many things in life. For instance, reading, eating well, eating not so well, training, being a husband and a Father. Being around the people who are great influences and challenges thinking.
Q: Where did your GORUCK journey start? What was your first event? What stands out from that event?
A: It started with my local F3 dudes talking me into a training SIM event called 1/4 Ruck. That was the hardest, well 2nd hardest, event I have done yet. I wasn't ready at all. Then I signed up for a F3 Custom Heavy in Black Mountain, NC. I decided after signing up for that I might as well sign up for the local HTL (#FUBB). Then I decided maybe I should do a light to see what GORUCK is all about. So I signed up for 2 lights prior to my first Heavy. The 2nd Light I did was the Dale Beatty Custom. Chuy made it a 5-6hr tough. But it was a very special event. Along with a great cause of the event, my Dad and Wife completed it as well. They hate me for it but it was awesome to see them complete the challenge like studs.
Q: What was your most recent event or events. What would you like to tell us about it / them?
A: Selection 021 and the Hard Hitter HTL Selection was amazing! I absolutely love this event. It's hard to describe it. It has this feeling to it that is just Raw, Savage, purposeful, challenging, and inspiring. I can't wait to go back, even though it sucked. The Hard Hitter HTL was epic. I highly recommend it. The Cadre crushed this event along with the participants. The honor of just getting to be apart of this event will forever be in my soul. (Authors Note: Joe finished Bragg heavy after submitting this. I'm sure there are some good photos of him crawling through the mud.)
Q: Favorite Ruck?
A: GR1 26L
Q: Proudest accomplishment as a GRT?
A: The friends I have gain in my little circle of life.
Q: How many events have you done? What's your favorite event or type of event? Why?
A: 25-30 My favorite event so far has been Selection. Even though it beat me this time, I'm truly glad It did. I wouldn't have gotten as much out of Selection if I would have completed it. That I am grateful for. I also like Heavies. They have a way of teaching things you never knew about yourself if you are honest with yourself before, during , and after the event.
Q: Why do you continue to do events? What keeps you coming back?
A: Easy, The like minded people.
Q: How do you train for events?
A: CrossFit style workouts at the gym. F3 Workouts Bro Challenges Ruck WODs Ruck 10# over event weight/packing list
Q: Best Rucking and / or GORUCK event advice you have gotten?
A: The 4 Pillars "Quitting is Forever"
Movement
Nutrition
Recovery
Mindset
Q: Other than packing list items, what is a must have in your ruck for events?
A: Ruck Wrap
Q: A book or a few that have impacted your life? Why?
A: Fearless. Mental Fortitude of Adam Brown was epic and his life was such a struggle on a daily basis and could still switch on and off. Unbelievable. 
Total Money Make Over: Changed our Families way/life of thinking about the money coming in. 
The Servant: Awesome Leadership Book that really simplifies what a true leader should strive to become.
Q: What other hobbies do you have?
A: Shooting, learning, and cooking
(Author's Note – See the parting shots section. Since the writing of this Joe has launched a training platform and is truly helping build better Americans. I did one of his workouts tonight and it was terrible and awesome all at the same time).
Q: What's the best purchase under $100 you've made in the past 12 months.
A: Hands down it has to be the ruck wrap. You've got to try it. 
Q: How has rucking changed or improved your life?
A: Rucking has changed/improved my life by the conversations I have had with the people I have rucked with. You can solve allllll the worlds problems by rucking a few miles. It also gave me my Parents back. Especially my mom. They have been on a Healthy journey or eating better and exercise and Rucking has played a huge factor!
Q: How do you recruit new people to ruck, or do events with you?
A: Tell them it's super easy and there is NO running!
Q: Best Beer to drink after a ruck?
A: A Cold One
Q: Advice you would give to someone before their 1st Light?
A: Smile. It will all be over soon.
Q: Advice you'd give to someone before their 1st Tough?
A: Pack Minimum & Don't let the cadre pitch a tent in your head.
Q: If you get overwhelmed during an event how do you refocus on the task at hand?
A: Look left and look right. Don't let those people down.
Q: What's the next event or events on your calendar?
A: Bragg. (Check).
Q: Any parting shots? Things the community needs to know?
A: If you are thinking about signing up for a tough or heavy or even selection. You can do it. You have to commit to the training and the training will make you successful. Don't think you can't do it. 
Also check out @BakerDozen13 on Instagram. Baker Dozen 13 will help you find yourself by providing fitness and nutrition knowledge, so that you can face the world with confidence. Becoming more Bulletproof!
Baker Dozen 13 is a current startup company. Started from an idea of something that I am truly passionate about, fitness, nutrition, and useful gear. Currently training clients with their personal goals in fitness and nutrition in mind. Along with mentoring them with life coaching, mindset, and discipline.