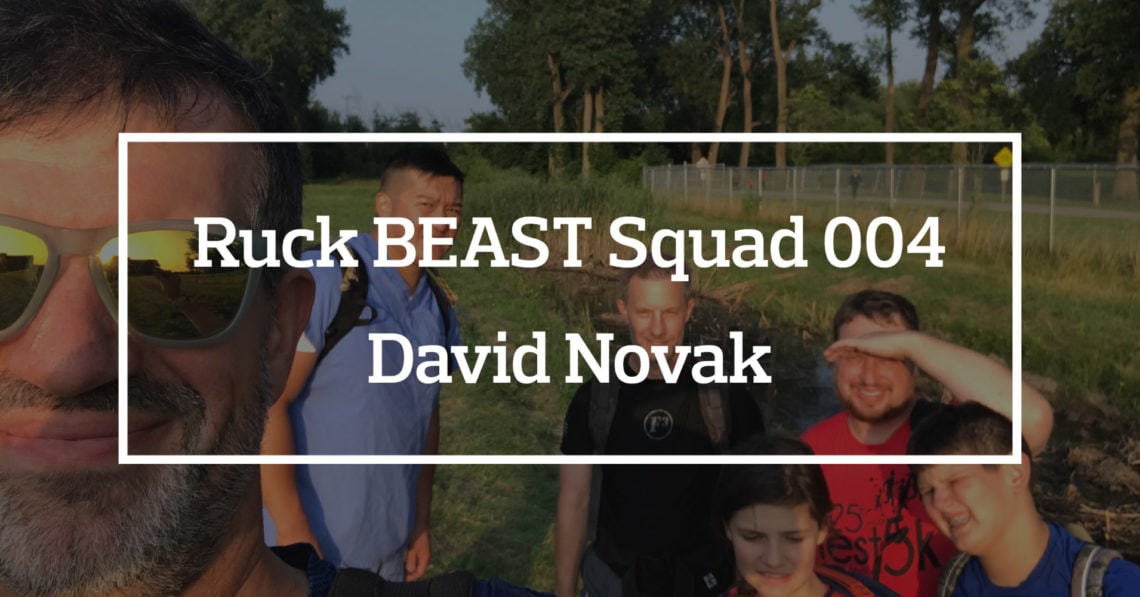 Ruck BEAST Squad features interviews with members of the community to highlight their lives, training, gear, and insight. Hopefully as you read through this you'll be able to take away advice that will help you train better and perform better that upcoming events. In this issue of Ruck BEAST Squad we get to know David Novak.
Q: Tell us a little about yourself to get us started.
A: David Novak, 47, Crown Point, Indiana (NW Indiana), married with 4 kids, I am an attorney, I enjoy rucking, F3, running, am active with the Boy Scouts and church.
Q: Where did your GORUCK journey start? What was your first event? What stands out from that event?
A: My journey started during July 2017. My local F3 group decided to arrange a Custom Tough. I ended up purchasing a Rucker during the Christmas in July and started training using bricks in the Ruck. Our Custom Tough included 28 guys. For the vast majority of us, it was our first event.
Q: What was your most recent event or events. What would you like to tell us about it / them?
A: My most recent GORUCK event was the Pearl Harbor Light in Chicago.
Q: Favorite Ruck?
A: Currently – my 20L Rucker, new style, USA made – black.
Q: Proudest accomplishment as a GRT?
A: Surviving our Custom Tough
Q: How many events have you done? What's your favorite event or type of event? Why?
A: 4 Events
Q: Why do you continue to do events? What keeps you coming back?
A: For the challenge and for the interesting people.
Q: How do you train for events?
A: Rucking, rucking with heavy bags, rucking with heavy bags with sandbags on top and lots of PT.
Q: Best Rucking and / or GORUCK event advice you have gotten?
A: Enjoy yourself and those around you.
Q: Other than packing list items, what is a must have in your ruck for events?
A: The items on the packing list is enough. I tend to bring a change of socks and lotion for my feet (just in case).
Q: A book or a few that have impacted your life? Why?
A: Brain Training for Runners by Matt Fitzgerald. It helped me change my training (in everything) to get me where I wanted.
Q: What other hobbies do you have?
A: Running & scouts
Q: What's the best purchase under $100 you've made in the past 12 months.
A: A new Yeti – they are awesome. They keep hot things hot and cold things cold.
Q: How has rucking changed or improved your life?
A: It has made me a better / stronger runner. It has brought interesting people into my life. I've gotten most of my kids into rucking – so it is something different we can do together.
Q: How do you recruit new people to ruck, or do events with you?
A: I just ask.
Q: Best Beer to drink after a ruck?
A: Totally Naked made by New Glarius Brewing out of Wisconsin – can only purchase in Wisconsin during the summer though. I am always looking for people to bring it back for me.
Q: Advice you would give to someone before their 1st Light?
A: Ruck, ruck with heavy things, do lots of PT.
Q: Advice you'd give to someone before their 1st Tough?
A: Train, train train. Train with heavy things. Ruck, ruck ruck. Ruck heavy. Get your mind ready to just do the work.

Q: If you get overwhelmed during an event how do you refocus on the task at hand?
A: Focus on the training completed and focus on the task at hand, remembering to just do my job.
Q: What's the next event or events on your calendar?
A: 26.2 Star Course in Chicago (May 2020) (Authors Note – this was obviously written back when things were not crazy…)