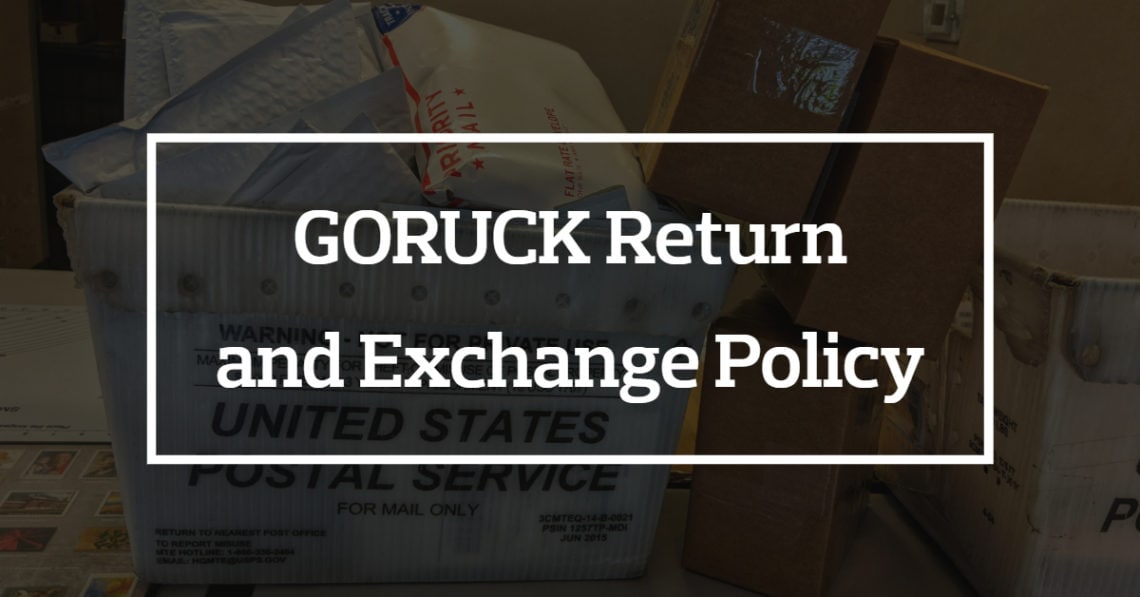 As we get into the time of the year with big sales I wanted to take a few minutes to highlight GORUCK's return and exchange policy.
Returns
When it comes to GORUCK returns are free. You can return an item purchased from their store within 30 days and they'll refund the amount you paid for it. If the return is outside of 30 days and within 60 days then you'll end up with store credit. From my experience with returns (and what I've been hearing from readers) the refund process can take 4 to 6 weeks. While not fast I have never had an issue getting any money back eventually. More detailed information on their return process (including returning ruck plates and international returns) can be found on their FAQ page. They keep that page up-to-date (they modified it only 19 days before this was posted) so it should have the most current information.
Exchanges
In the past if you purchased something that didn't fit your only option was to return it and purchase it again in another size. Although this doesn't sound like a big deal, in theory, when it came to practice there were a few issues. If you purchased the item during a sale (which had probably ended by the time you received the product) then went to return and re-buy you couldn't purchase the new size at the price of the old size.
The other issue that arose from this was that by the time people had received their refund (4 – 6 weeks later) the size they wanted might have sold out. It's always a bummer when you receive something that doesn't fit only to find out the size that does fit is no longer available.
Even Exchanges for Discounted Gear
GORUCK has a section in their Returns & Exchange policy titled "Even Exchanges for Discounted Gear." The idea here is that if you buy something on sale then you can exchange it the same item in the same color in a different size.
Bought something on sale only to find out that you need a different size? No problem! We offer an even price exchange as long as the same item is being purchased (just a different size) in a color that was also discounted. There may be some exceptions to this policy for special promos and bundles are exempt from this policy. Just reach out to us at [email protected] and we'll take care of you. We can only offer the even price exchange for the same item and same color if the return order is within our 30 and 60 day return policy. 

GORUCK's FAQ
There was a recent post on Reddit about this exact thing but it didn't seem to work out in the customer's favor. They purchased a Tough Half Zip during the Veteran's Day sale and were unable to exchange it. I'm not sure if the Veteran's Day sale falls under "some exceptions for special promos" but it seems like the exact case this was trying to solve. My favorite quote from that post is returns are free, exchanges are impossible.
Final Thoughts
When it comes to purchasing products from GORUCK if you're on the fence on sizing then it still feels safer to buy multiple sizes and return the ones that don't fit. I know this isn't ideal but, in the end, you should come out with the items you want in the sizes that fit. Otherwise there's always the chance that the gear that fits will be gone after a major sale like Black Friday.
Have you returned or exchanged anything to GORUCK? Please let me know your experience in the comments. That will help me know if my experiences are the same as yours and it will help potential new customers know what to expect from the process.