I hope everyone is still cranking out their pull-ups! I've got an update on the Pull-Up Challenge patches that I wanted to share with everyone. I want transparency to be a big part of this event which is why I'll be posting pictures of the donated money and any other information I can. The above image is what the shield patches will look like with a tab over them.
Joining the Challenge
If you don't know about the Pull-Up Challenge there's still (and will always be) time to join. Check out the Facebook group and get in touch with other people taking part in this awesome event. 100% of the proceeds for the event are going to the Green Beret Foundation and Wounded Wear.
Patch Price
The price has been finalized! I know this has been a big question floating around but the answer is finally here. The main Pull-Up Challenge Shield patch will be sold for $10. Each individual tab (1k, 2.5k, and 5k) will be sold for $5 per tab. 100% of these proceeds will be going towards the Green Beret Foundation and Wounded Wear. This follows the standard GORUCK SkyMall patch pricing however the tabs are a little cheaper than you may find on there. I've got some examples if this description of the pricing isn't clear enough.
Example 1: You want to support the GBF and Wounded Wear but aren't ready to commit to any of the challenges yet. You can buy the shield for $10. Your Total Cost: $10.
Example 2: You complete the 1k pull-ups in 30 days and want to purchase the shield ($10) and corresponding 1k tab ($5). Your Total Cost: $15.
Example 3: You complete 1k pull-ups in 30 days and aren't done yet. You end up finishing the 2.5k pull-usp in the following 38 days (68 days total) and want the shield ($10), 1k tab ($5), and 2.5k tab ($5). Your Total Cost: $20.
Example 4: You complete 1k pull-ups in 30 days and both 2.5k and 5k pull-ups in 68 days. You want the shield ($10), 1k tab ($5), 2.5k tab ($5), and 5k tab ($5). Your Total Cost: $25.
If you've got a question on pricing that isn't answered here please feel free to leave it in the comments!
Payment
When I receive the patches I'll be adding them to the All Day Ruckoff store so that you can purchase them there. They won't be visible to everyone… just people who have the links for them. This will prevent people who don't know about the event from buying the tabs and will allow me to track the orders easier. If you haven't purchased anything through the All Day Ruckoff Store it takes PayPal and is safe.
Proofs of Patch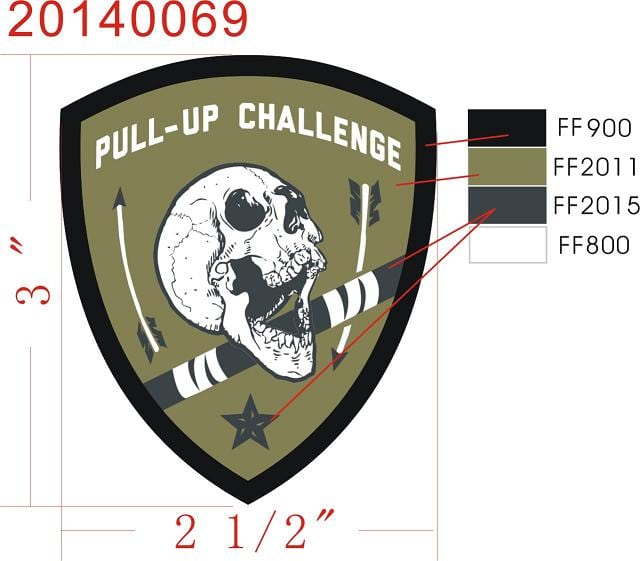 Shelby Patch Co sent me the proofs for the patches and they look awesome! We're going with 100% coverage on them so that we can have the background as OD Green and the boarder (rolled edge) will be black. I can't wait to see what these look like when they finally show up.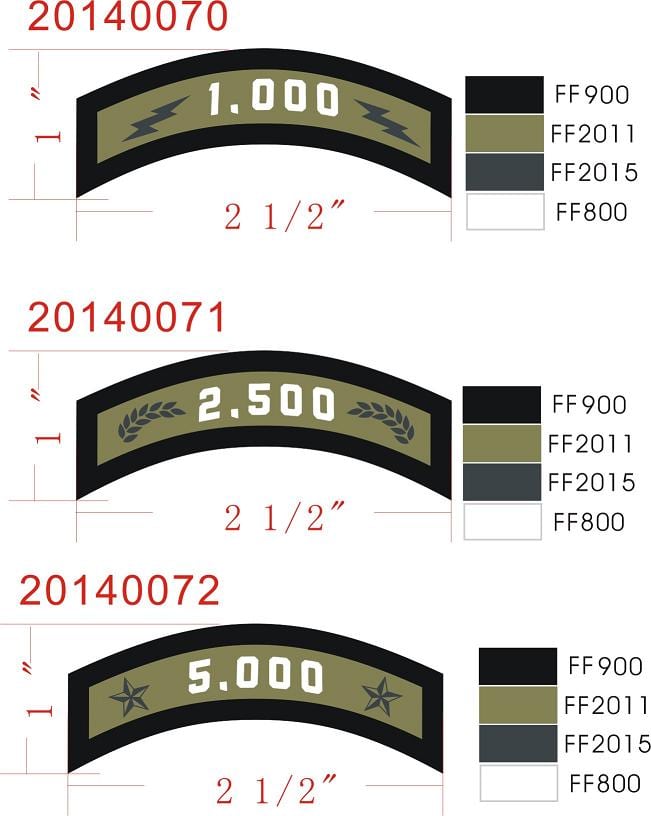 Patch Timeline

Thanks to this incredible storm making a mess of the rest of the country things are getting a little backed up at Shelby Patch Co. I've talked with them about the status and the patches will ship out on February 21st, 2014. It's a little later than I was hoping but that's life sometimes and I just can't wait for them to show up. If there's any further delays I'll make sure to let the group know. Thanks for being patient and know that I'm just as excited for these as you are.