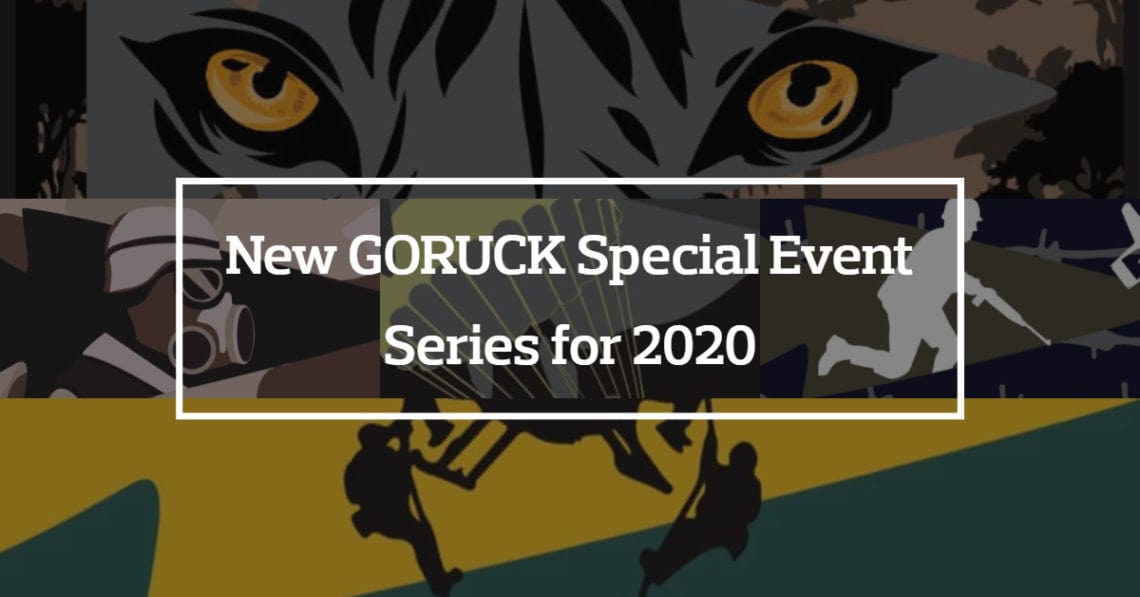 It feels like it was only yesterday that I was checking out the list of newly added GORUCK Special Events for 2019. If 2019 was given a nickname it would probably be the year of special events. I'm honestly not sure you could have even earned a "regular" GORUCK Light, Tough, or Heavy patch in 2019 if you tried!
With the 2020 calendar released there's a slew of special events have been done before as well as a handful that are brand new. This post focuses on the special event series that are brand new for 2020.
GORUCK has what I would call two types of special events: special event series and one-off special events. Special event series happen in more than one location (9/11, Veteran's Day, etc.) while one-off special events are usually reserved for certain places (Canada Day, Oklahoma City Bombing Memorial, etc.) Special event series and one-off special events are working titles… if you've got thoughts on better names to call them please let me know in the comments!
New GORUCK Special Event Series
Here are the new special event series for 2020.
The Great Raid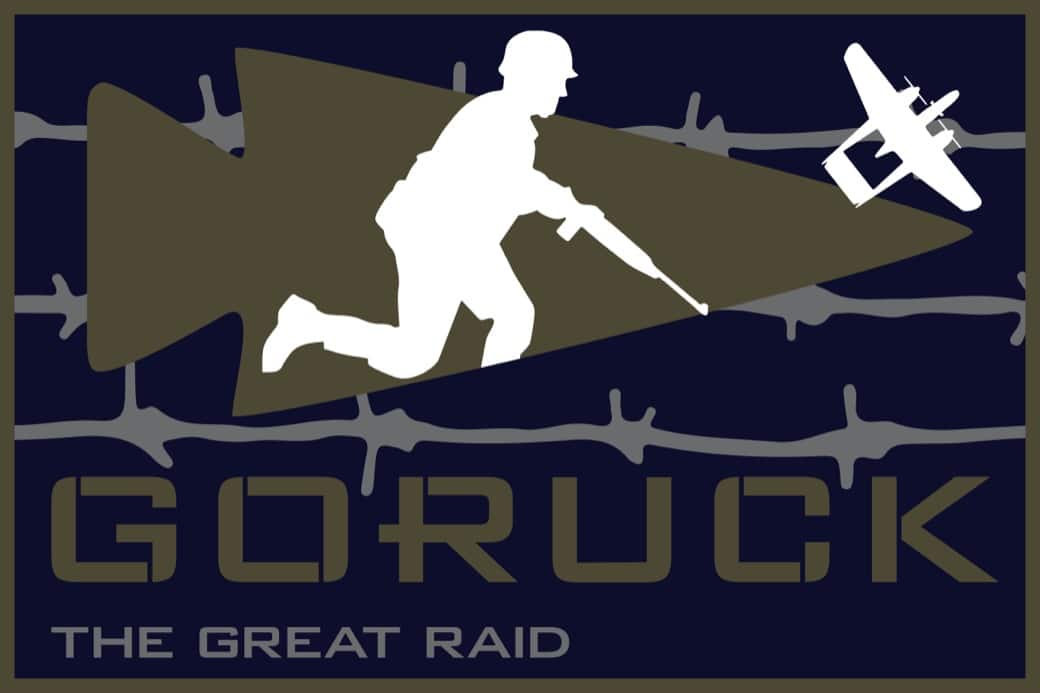 On January 30, 1945 one of the most daring raids conducted in Pacific theater, during World War II, was executed by the United States Army Rangers along with Filipino Alamo Scouts. The Raid at Cabanatuan, also referred to as The Great Raid, would to this day be marked as one of the most daring raids in the history of the war. The Great Raid liberated more than 500 Allied POW's from the Cabanatuan Prison Camp. Many of these POW's were the survivor from the Bataan Death March. The Raid at Cabanatuan also marked some of the intense campaigns that were led by the U.S Army Rangers, most notably the 6th Ranger Battalion who was lead Lt. Col. Henry Mucci.

Come out and learn why the Rangers continued to live and earn their Motto "Rangers Lead The Way," as well as how this raid set the standard for conducting deep penetration raids, still conducted by today's modern 75th Ranger Regiment soldiers. Your Cadre will provide you an inside experience to a moment in history that will give you a better understanding of what the Greatest Generation endured and what modern Ranger traditions are still practiced today. This event is for everyone military and non-military so come out learn a little history, be physically, and mentally challenged by a combat experienced Special Operation Cadre.

GORUCK
The Great Raid event series is happening on January 17th and 18th, 2020 in 8 locations. If you are interested then you can check out all of The Great Raid event locations here!
Operation Greenup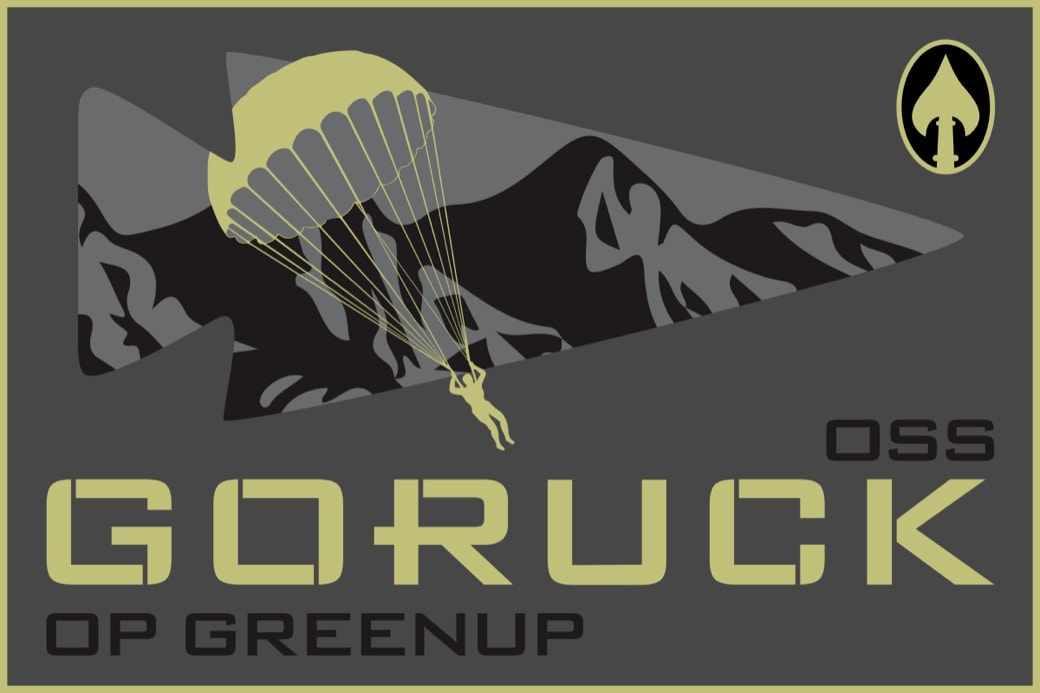 At the high point of World War II; the point where the Third Reich's Final Solution was in full swing, a group of Naturalized Jewish American citizens (who themselves barely escaped the Nazis) did the unthinkable. Trained as Office of Strategic Services (OSS) spies, these brave men underwent the arduous training requirements to become covert spies and struck back at the Third Reich behind enemy lines. This event is specifically about the three brave men of Operation Greenup: Fred Mayer, Hans Wynberg Franz Weber. On February 26, 1945 they parachuted into an Austrian Glacier, infiltrated Innsbrook, and took up residence to conduct intelligence gathering and sabotage operations against the Nazis build up in Southern Germany/ Austria. This event will commemorate those three brave men who helped put an end to part of Adolf Hitler's Final Solution.

GORUCK
The Operation Greenup event series is happening on February 21st and 22nd, 2020 in 5 locations. If you are interested then you can check out all of the Operation Greenup events here!
Battle For A Shau Valley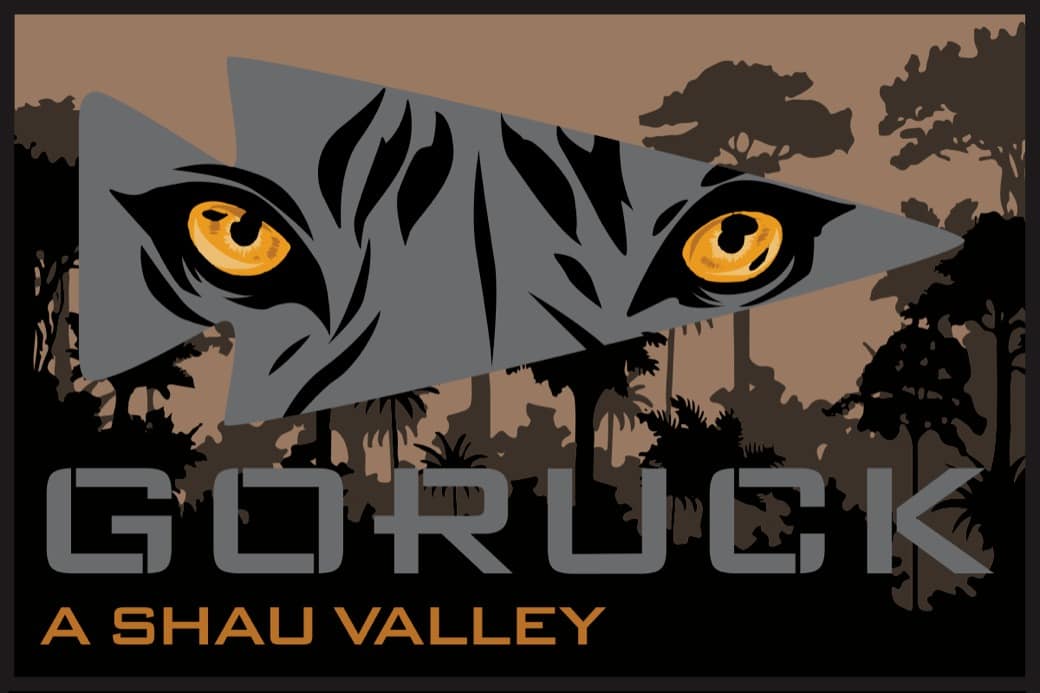 The Battle for the A Shau Valley was located 2km east of the Laos border and directly adjacent to the PAVN's (People's Army of Vietnam) most strategic logistics route to the Ho Chi Minh Trail which supplied men, weapons, and equipment from Communist-led North Vietnam to their supporters fighting in South Vietnam. The battle lasted three long arduous days in March of 1966 involving 17 Green Beret's from the 5th Special Forces Group (5th SFG) and some 400 South Vietnamese soldiers defending a Special Forces A-Camp against over 2000 enemy soldiers. The fighting which included major assaults, mortar barrages, and hand to hand combat resulted in the Camp being overrun and the death of five 5th Special Forces Group (5th SFG) soldiers, three aircrew from an AC-47D "Spooky 70" Gun Ship, 288 South Vietnamese soldiers, and an estimated 800 enemies. The aftermath included 2 Medal of Honor awardees for their selfless acts of heroism. One for Major Bernard F. Fisher after he landed his A-1 aircraft on the airstrip rescuing MAJ D.W. Myers after he was shot down in his aircraft and another for Green Beret SGM Bennie G. Adkins for distinguishing himself by personally killing an estimated 175 enemy combatants all while being wounded 18 times during 38 hours of close-combat fighting. Even though the SF A-Camp was attacked and overrun by superior numerical forces the 17 Green Berets and 400 South Vietnamese soldiers fought to the last possible moment defending the key terrain that they knew could affect the outcome of the war. Let's commemorate the ultimate sacrifice of the 5 Green Berets, 3 Air Crew and their 288 South Vietnamese Brethren.

GORUCK
The A Shau Valley event series is happening on March 13th and 14th, 2020 in 15 locations. If you are interested then you can check out all of the Battle For A Shau Valley events here!
Desert Storm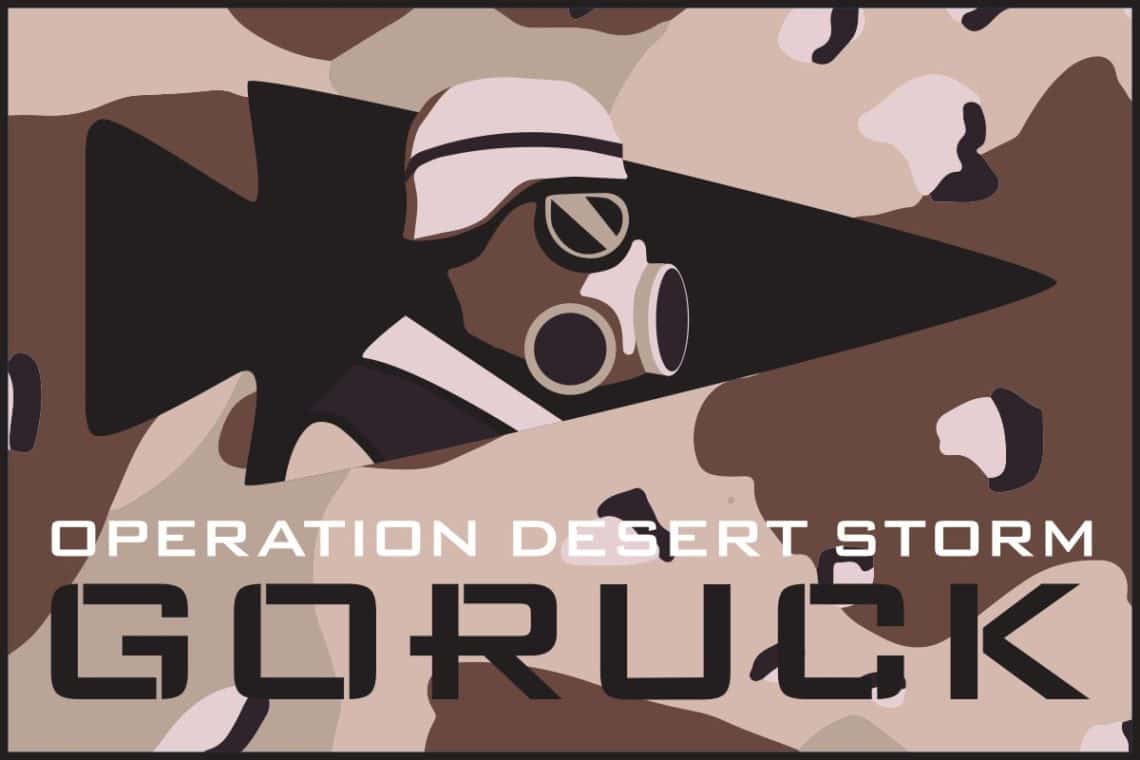 The Gulf War consisted of two operations; Desert Shield and Desert Storm. Desert Storm commenced on August 7 with the arrival of the first Airforce elements in Kuwait, and Desert Storm kicked off on January 17, 1991 due to Iraq invading and annexing neighboring Kuwait. This resulted in the formation of the "Coalition of the Willing". 40 countries quickly formed an alliance against Iraq which included NATO allies, several Arab nations, and numerous former Cold War adversaries; including the Soviet Union. The nickname the "100-Hour Ground War" was coined due to the war literally lasting 100 hours. The entire war only lasted 43 days, from Jan 17 to Feb 28, 1991. Finally, the Patriot missile was first employed successfully in combat to destroy an incoming scud missle after being in development since the 1960s. Overall, nearly 700,000 US Service members participated with 299 casualties.

GORUCK
The Operation Desert Storm event series is happening on August 7th and 8th, 2020 in 11 locations. If you are interested then you can check out all of the Desert Storm events here!
Operation Just Cause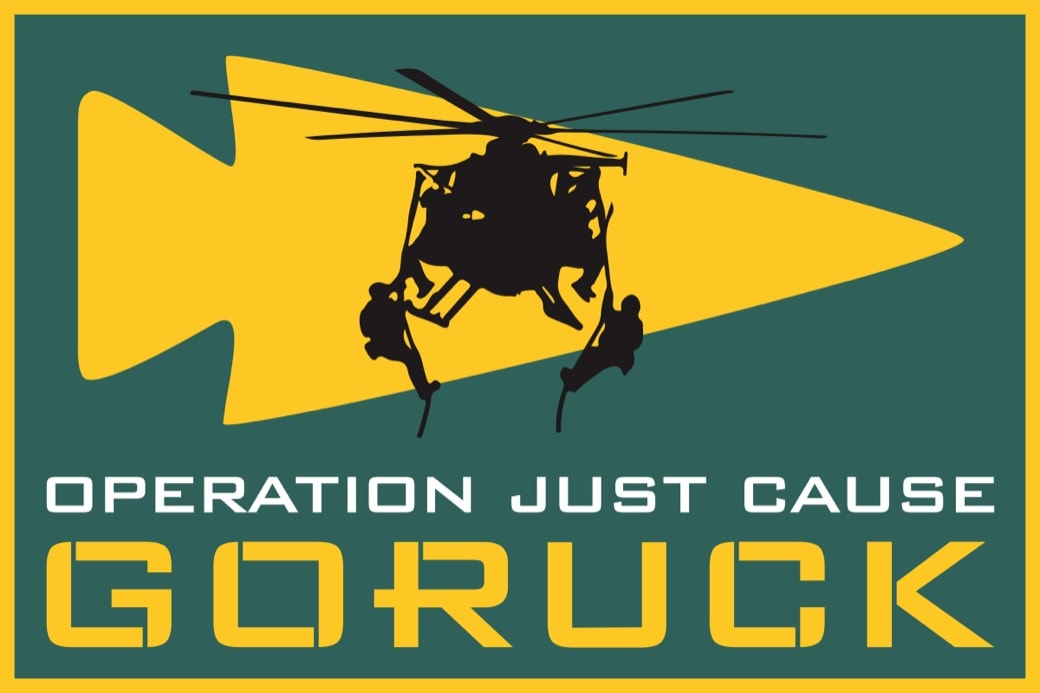 "Operation Just Cause" is an example of a carefully planned and executed combat operation that overwhelmed Panama's Dictator, Manuel Noriega and his Panamanian Defense Forces. Utilizing the US strategy of simultaneously employing Military Deception (MILDEC), Military Operations in Urbanized Terrain (MOUT), Air-Assault, Airborne, and Special Forces to decisively neutralize Noriega's PDF. Operation Just Cause resulted in the restoration of the Central American's elected government, the rescue of one American hostage, and the protection of other Americans and Panamanians.

GORUCK
The Operation Just Cause event series is happening on December 4th and 5th, 2020 in 5 locations. If you are interested then you can check out all of the Operation Just Cause events here!
Thoughts?
I'd love to hear your thoughts on these special event series. Is there an event coming to a city near you that you might do now because of the special event? Is there an event you wanted to do but won't be because of the series? Let me know in the comments… this should be an exciting year!