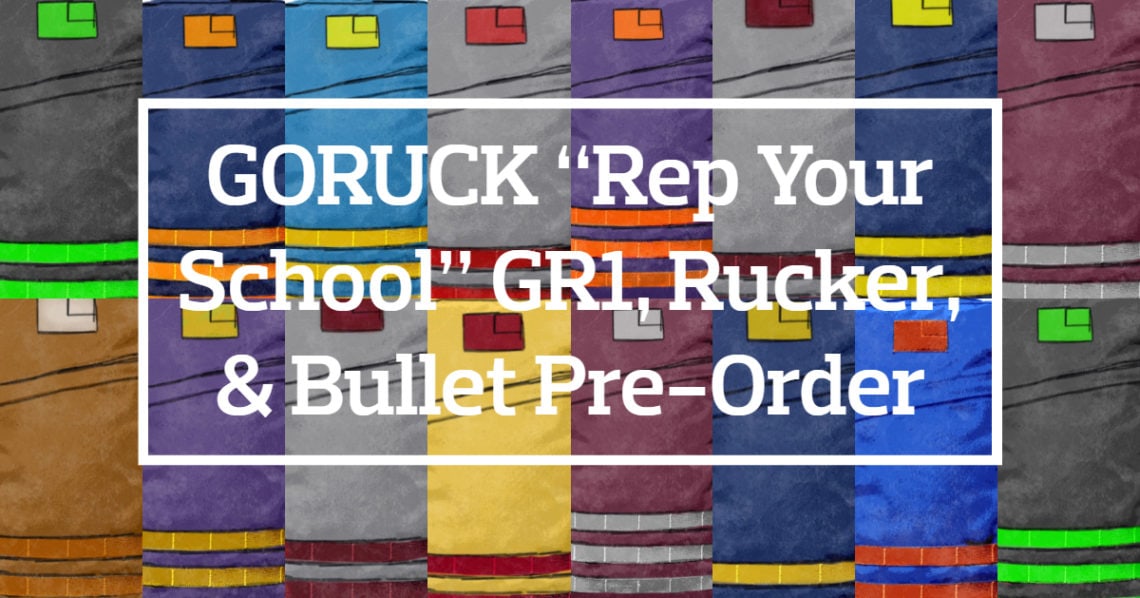 If GORUCK was going to release anything today I would have put money on Rogue Fitness branded gear. The Rogue Invitational was last weekend and there were some custom branded GORUCK gear present.
Instead, GORUCK has put up for pre-order 13 new Rucker 20L colors, 7 new Bullet 15L colors, and 4 new GR1 26L colors. The name of the release is "Rep Your School" which makes sense because most of these colors are very recognizable as college school colors.
Rucker 20L "Rep Your School" Edition
Thought I was joking? Think again! Thirteen new 20L Rucker colors currently available for pre-order. There's a nice $60 discount attached (I assume because it's a pre-order) so you can get them at $205 instead of $265. If you want one of these rucks grab it before pre-order ends on 6/15/2019!
Bullet 15L "Rep Your School" Edition
The GORUCK Bullet 15L is one of my favorite packs. I'm trying my best not to pre-order one of these as I type this… I already have two and don't need a third. These are currently up for pre-order at $155 which is a solid $40 savings off of the $195 retail price. Pre-order ends on 6/15/2019 so if you want one grab it before they're gone.
GORUCK GR1 26L "Rep Your School" Edition
The final item (so far at least) in the "Rep Your School" release is the GR1 26L. These are priced at $315 (retail is $395) which is a very nice $80 discount. Pricing for these follow the Military Branch GR1 pre-order that GORUCK recently dropped. Makes me wonder if future GR1s in the GORUCK Workshop will be priced at $315 as well. Only time will tell… until then if you want to grab one of these you can before pre-order closes on 6/16/2019.
Thoughts?
Some of these colorways look like they'll be amazing in person. One of the difficulties I have is with the mock-ups… they look great… probably as good as a mock-up could look but they're still mock-ups. Seeing physical versions of these when they release will be a lot of fun.
Have any thoughts on any of these new color variations? I'd love to hear them in the comments!