The eleventh GORUCK Rucking Challenge of the year is here! This one is called the Hard Hitter Challenge and is a team up with the Green Beret Foundation.
As with all GORUCK fundraiser challenges this one costs money to enter. This time around, however, the starting price point is lower than in previous months. In addition to a lower barrier to entry the shirt is now included with the largest pledge level so you're getting more than a patch if you pledge the max.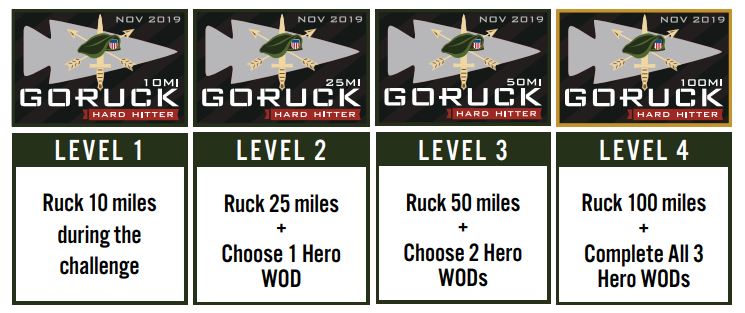 There are four levels in the Heavy Hitter challenge each with varying amounts of miles and workouts.
GORUCK has put together a nice PDF for you to download and print off. The PDF contains the workouts (The Will Battle Buddy Hero WOD, 300 WOD, and the Robbie Miller WOD) as well as a mileage tracker. It's really nice that they've put that together and I'll definitely be downloading to track the miles. I always track my workouts and miles through Strava but having it on paper is nice too. Plus, it's fun seeing everyone rucking in the Strava Club as well!
I haven't figured out which level I'll sign up at yet but I know I have a sneaking suspicion it will be the 100. Is this something you'll be taking part in? Let me know which level in the comments.