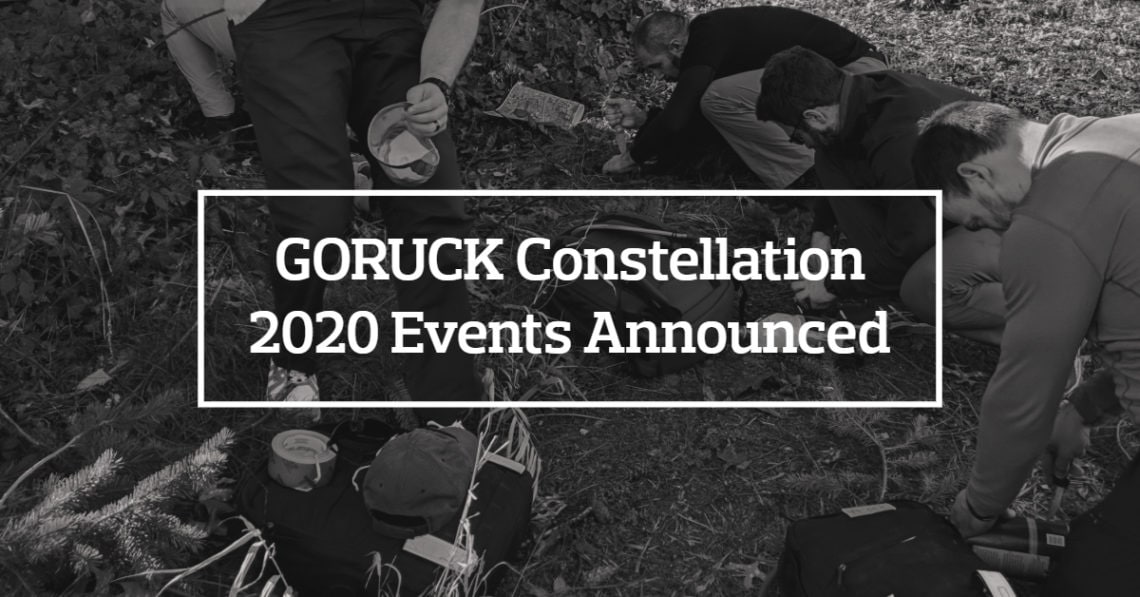 Of all the events GORUCK puts on the Constellation series has probably received the most updates in the shortest time frame. Each year I've had cadre on the podcast to talk about the changes to Constellation and each year the changes have been pretty big. This year was no different when Cadre Garret joined to discuss the 2020 updates. When I talked to him he mentioned that the 2020 events would not be on the calendar until more of the beta Constellation events had finished.
GORUCK Constellation 2020 Events
It seems like enough of those beta events have finished because the 2020 GORUCK Constellation events are finally popping up on the calendar. They actually showed up a couple weeks ago but I thought for sure more would be added. Pricing looks like it has stabilized at $275. Garret mentioned there was a hard cap on the event attendance meaning you'll want to register before it sells out. A number of Constellation 2019 events are already sold out and I expect most of this will as well.
GORUCK Constellation Updates
I've completed GORUCK Constellation events in 2017, 2018, and 2019 and have had a ton of fun at them. After talking with Cadre Garret I think I'm more excited about the 2020 events than I have been for previous years. The course highlights, in particular, are pretty exciting:
Becoming a Hard Target, Preparation, Disaster FAQs, Evac and Mindset
Structure Climbing/Rappelling/Knots/Pulleys/Fence Defeat
Clandestine Urban Movement, Map Reading and Vehicle Acquisition
Lock Bypass, Defeat and Destructive/Non destructive Bypass
Hazardous Breathing Environments Preparation
Restraint Defeat and Escape
Final Team Culmination Exercise Performed Under Stress
In addition all of the GORUCK Constellation events start in the morning and run throughout the day. In my opinion learning these skills through the day will be a bit easier than learning them through the night. Either way I'm glad to see GORUCK bring Constellation back.
Where Are The Events?
So far there are only six GORUCK Constellation events on the calendar. I'm guessing this is due to the constraints on the event locations but I hope to see more show up in the future. If you're lucky enough to live in Atlanta, Salina, Chicago, Indianapolis, Oklahoma City, or Manchester (NH) then you're one of the lucky ones1
Final Thoughts
I'm definitely bummed to see no Constellation events on the west coast. I'll still do my best to make it to another GORUCK Constellation event this year but it might be tough if no new ones are added. My daughter was born the day the first Seattle Constellation finished giving that event a special place in my heart. Showing up to Constellation events since has always made me remember those moments!
Will you be registering for an upcoming GORUCK Constellation in 2020? Thoughts on any of the current locations? Let me know in the comments!