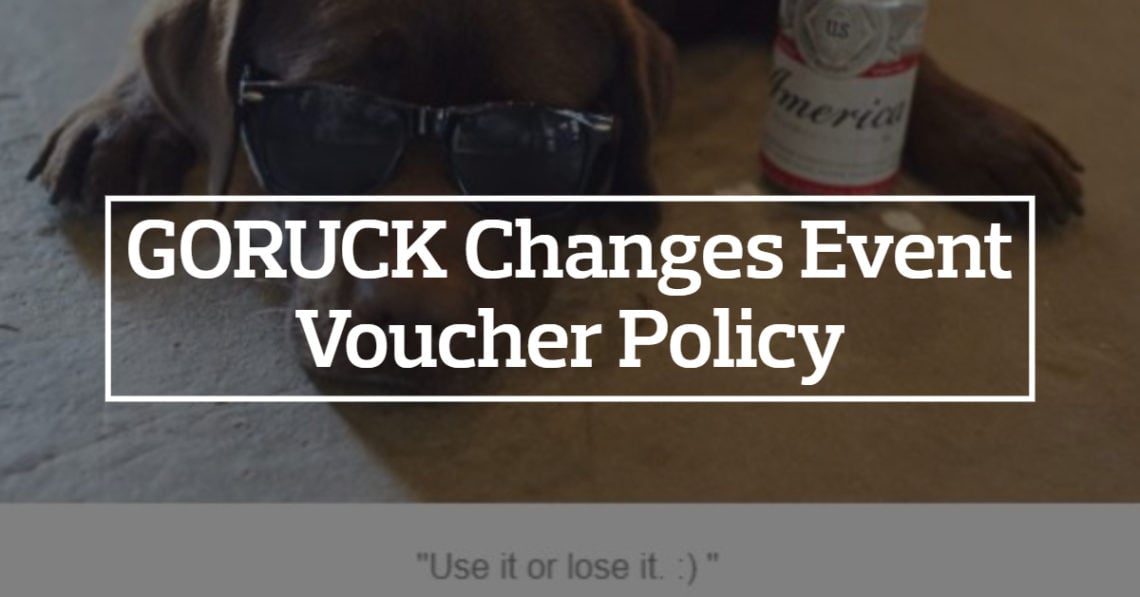 UPDATE: Jason posted a response and update on the voucher policy. I've made updates to the post to reflect these changes. His whole post can be found here.
Friday afternoon at 2:03 PM PST I received an email from GORUCK about changes to their event voucher policy. The time is slightly relevant here because 2:03 PM PST is the same as 5:03 PM EST which is 3 minutes after GORUCK customer service leaves for the day. Many people received this email and I'm guessing customer service will have a good number of support tickets when they show up Monday morning.
When the email showed up I thought it would be about the changes GORUCK was making to upcoming event vouchers. I had recently been told that new event vouchers would have an expiration date of one year from the date of the event being turned into a voucher. Although I'm not a fan of that policy it still seems more fair than some other races out there.
When I opened the email I was surprised… it was not at all what I think anyone was expecting. Here's the email from GORUCK:
Hey everyone!

We are reaching out to you because we are updating our Event Cancellation Policy.

We noticed you have an event voucher from 2019 and we're here to let you know that there is no better time to sign up for an event than now.

Effective August 2nd, 2019 all event vouchers dating from 2019 and older will expire on 12/31/19. If you would like to use your event voucher towards a 2019 event; now is the time.

Please take a look at our Events Calendar to find a 2019 event near you. Please note that your 2019 event voucher cannot be applied to any 2020 events, so if you are unable to use your voucher towards an event during 2019, please reach out to us at [email protected] and we will be more than happy to accommodate you.

We will also be changing the time frame to request an Event Cancellation. We kindly ask that all event cancellation requests be sent in AT LEAST 30 Days prior to the event date. If you are not able to attend your event for any reason, you must let us know within 30 days of the start date of the event and we will issue a Store Credit for the amount paid for the registration. It takes a lot of planning and logistical tasks to put on an event that meets the standard. With that said, GORUCK HQ and the Cadre need enough time and an accurate headcount to ensure a well-run event. Any cancellation requests after the 30 day window will be denied with no exceptions except for military deployment.

Please note that event registrations are non-refundable back to the original payment method.

If you have any questions and/or concerns, please do not hesitate to contact us at [email protected].

Thanks!

GORUCK
Let's Unpack This Email
Here's what's going on with the current (and future) event vouchers.
This change impacts all event vouchers. Not just future vouchers.
All event vouchers expire 12/31/2019 12/31/2020. That gives them a maximum life of 150 515 days.
Event vouchers are only usable towards 2019 events. 2020 events are excluded. Event vouchers can be used for 2019 and 2020 events.
Moving forward event vouchers will essentially no longer exist. Instead of being issued a voucher you'll receive store credit. In addition you'll need to transfer out of the event 30 days before the event instead of 7 days. GORUCK has had the 30 day policy for Star Course events in the past and it sounds like that's applying to all of their events now.
Problems This Solves for GORUCK
This change solves quite a few problems for GORUCK.
Number of Support Tickets
The voucher system relied heavily on their customer service team to look up vouchers and apply them to accounts. I don't know what percentage of support requests were surrounding vouchers but I'm sure it was a decent amount. Either way the number of support tickets will definitely drop.
Old System:
Customer emails support asking for an event to be turned into a voucher.
Customer emails support asking how many vouchers they have (since there's no way for customers to view this number).
Customer emails support asking support to apply their voucher to an upcoming event.
New System:
Customer emails support asking for an event to be turned into store credit.
There's the potential for one third (or less) tickets in the new world.
Event Sales & Discounts
In previous years when GORUCK has had event sales people have stocked up on event vouchers (at a discount) then applied them to future events that weren't on the calendar during the sale. I don't know how much GORUCK actually tracked those stats but I know there were a lot of people (myself included) who would shoot from the hip during sales knowing we could just turn them into vouchers if the event didn't work out.
In the new world we'll just end up with store credit for the amount of the discounted event entry. That's probably more fair but it's a little less fun than sitting on vouchers knowing you can sign up for an event at a moments notice.
Varied Event Pricing
GORUCK has some pretty interesting pricing strategies for their events. Depending on the time of month, the location of the event, and if it's a special event or not the price can vary as much as 40%. A summer Tough in Seattle can runs $110 – $130 while a winter Tough in other parts of the country can be $70 – $90. Although, as far as I know, it didn't happen often I did hear about some people signing up for cheaper events in other states and transferring their registrations to local, more expensive, events.
Doing this on purpose seems a little dirty to me and, again, I'm not sure how often it happened. Either way people won't be able to do it anymore with the new store credit refund.
Problems This Fixes For Customers
These changes solve a few problems for customers as well.
Store Credit Instead of Voucher
If you registered for an event and wanted store credit instead of a voucher that previously wasn't possible. Now it is. I'm guessing that's a small percentage of people who go after GORUCK events but for those who would rather have store credit you're in luck.
Events No Longer Exist
Some people have vouchers for events that no longer exist. Instead of waiting for GORUCK to bring back Kill That 5k (or another nonexistent event) you can have your voucher turned into store credit or apply it to a similar upcoming event.
Thoughts on This?
I'd love to hear your thoughts on this change. I'm a little salty (as of right now) because I liked having event vouchers I could use at upcoming events. I actually have roughly a dozen vouchers and most of them will expire. That being said GORUCK's event voucher system relied heavily on their customer service team to check on the voucher and apply them to events. It really wasn't sustainable in its current state but it would have been nice to see them expand the system instead of shutting it down.