For 2020 GORUCK is putting out the challenge for you to get an average of 10,000 steps every day for the year. That's a grand total of 3,660,000 steps thanks to the joy that is leap year.
More activity fights the ills of a sedentary lifestyle and doing things with others gives us a sense of community. So, if you're in for this 10,000 Step Challenge, please also find a buddy. Call them up and invite them to join you. Money and memberships are not the greatest accountability: you are.

GORUCK
If you want to grab a patch to rep the 10,000 Step Challenge you can buy this one off GORUCK's website for $5.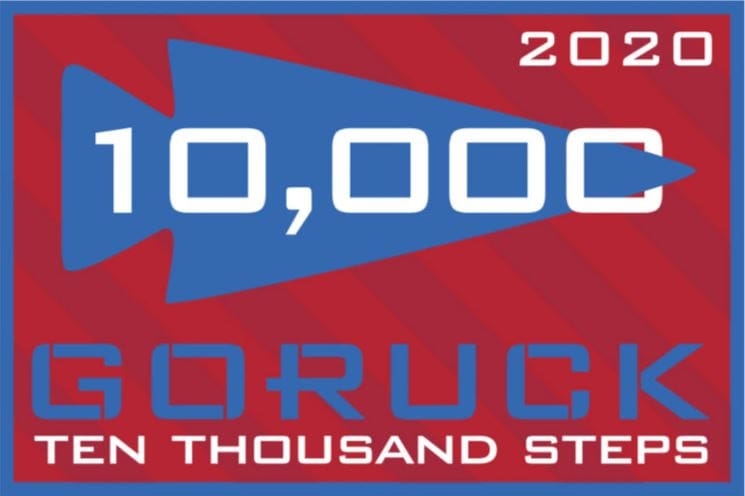 It's got the year, the goal, and the GORUCK Spearhead piercing the last 0 in 10,000. At $5 I'll probably grab one when I make my next order in January… it's a good filler item and will get you closer to that spend $35 get free shipping.
Tracking Your Step Goals
There are so many ways to track step goals ranging from incredibly cheap to very expensive. I'd recommend either going with a dirt cheap tracker or with a nice watch.
When it comes to dirt cheap step counters Amazon has you covered. Plenty of options at the $20 and cheaper level to count your steps. They don't do much more than that but what do you expect for $20? :)
When it comes to more expensive options I'm a fan of Garmin watches. I've used a lot of them however I've also used both Fitbit and Suunto products. I currently prefer Garmin to either of them for a few reasons.
Fitbit: Google recently bought Fitbit which makes me worried for the brand. When it comes to buying companies Google is very good at it but they're not good at continuing the innovation. I've owned android phones starting with the original (G1) through the G2, Nexus line, and now the Pixel line. I'm committed to Android and like Google products. That being said I'm not naive… I know Google does a great job killing products. Because of this I'd personally shy away from Fitbit at the moment.
Suunto: I've used a number of Suunto watches in the past and, for what they cost, they're in my opinion inferior to Garmin. The Suunto Ambit3 Peak is probably the best GPS watch ever produced but it doesn't log steps or do any of the other health analysis that Garmin watches do. Most of the older Suunto watches (which are still being sold) don't log steps. The newer Suunto watches aren't as accurate as the Ambit3 Peak and also lag behind Garmin. At the price point I'd go with Garmin but that's just my preference.
Garmin: When it comes to Garmin they provide a great feature set, decent to accurate GPS, and a nice build for the price. The biggest downside is that they have so many watches it can be tough to keep track. I love the Fenix line and have been using those watches daily for years. I started with the 3HR, moved to the 5X, 5X+, Instinct, and am now on the 6XS. I think they have a great ecosystem for tracking rucks, runs, and tons of other sports. In addition they log steps which is great for this 10,000 step goal. If the Fenix line is outside of your price range and you don't like the Instinct then I recommend checking out the Vivomove style or Vivoactive series.
Why go with a more expensive watch? If you don't have a GPS watch they can be great for tracking your rucks, keeping you on pace, and helping you improve your pace.
Saving Money on Smart Watches
Health Care Discount: Huge thank you to Jon in the comments for reminding me about this. Many health care plans will give you discounts on health based smart watches. I've had friends who have gotten discounts on Fitbit and Garmin in the past so if you have health insurance check with your provider. Not many people know about this discount.
Miles Phone App Discount: There's a phone app called Miles that gives you points for traveling miles. The app tracks you like a hawk via GPS and awards you for running, walking, driving, etc. I am not a fan of these kinds of apps in the slightest… I want to get that out there right now. All that being said if you register using this referal link you should get 1,500 bonus miles for free. Redeem 300 of those 1,500 bonus miles for a 30% off Garmin coupon code. Use the code at Garmin's website on a watch and then either use or uninstall the app. I uninstalled it because I don't like people tracking me but that's just my preference.
Final Thoughts
I have a love/hate relationship with "step" challenges. I love that they are great motivators to get people active and moving. 10,000 of anything seems like a huge number so when people make the goal then feel a sense of accomplishment. In addition they can be motivated to try something bigger. Maybe take part in their first 5k or 10k race (or Star Course) and continue being active. That's the part I love about these types of challenges: they show people that they can complete their goals.
The part I dislike revolves around using steps as an indicator of activity. It can work wonders for people who have low to medium levels of activity but it can be tough for those with higher levels. My Fenix 6X Sapphire tracks my steps on my rucks and my runs. I took my dog Belle out for a nice run today where we covered 5 miles at a 7 minute/mile pace. It was a great workout, I got my heart going, and the pup loved every second of it. Total calories burned? 608. Total step count for those 5 miles? Roughly 6,000. With that in mind I can usually pull 10,000 steps on a 3 mile walk due to stride length. If someone came to me and asked what I felt was more beneficial: Running 5 miles and missing their 10,000 or walking 3 miles and hitting their step goal I'd say running. Likewise an intense 1 hour sandbag workout versus 1 hour of walking… one will hit your step goal and one won't.
I'm not saying that step goals are good. I'm saying that goals are not a one size fits all thing. A step goal could be just what you need! Only you know for sure. Keep those thoughts in mind throughout the year to make sure you're progressing yourself physically and not just checking boxes for a goal. Those are my thoughts on step goals and I'd love to hear your thoughts as well. Do you love them? Hate them? Think I'm off base here? Let me know in the comments!