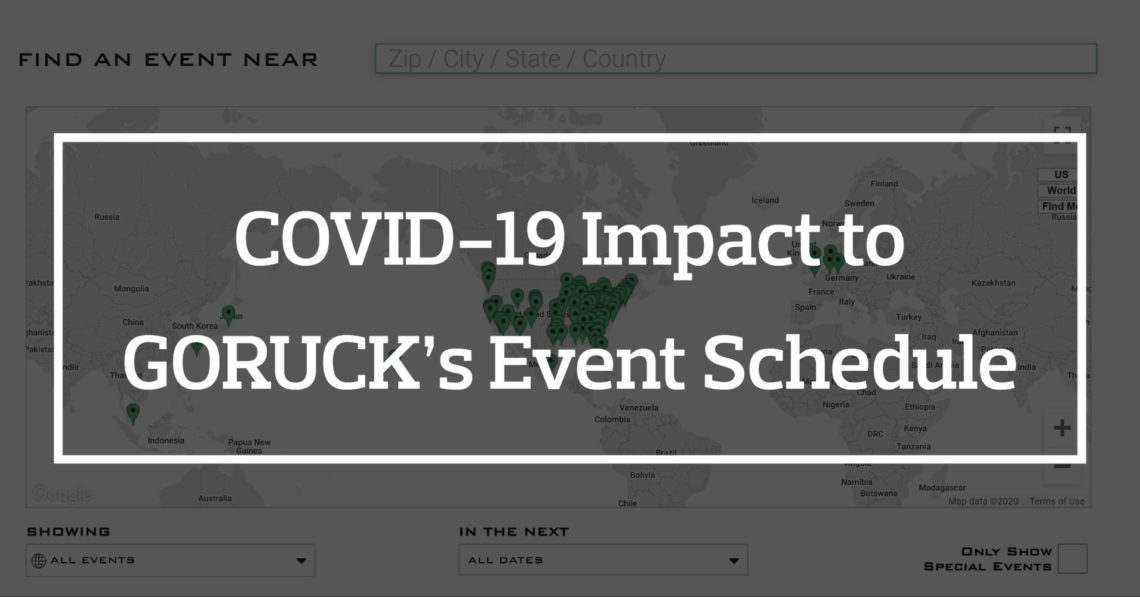 The entire events community has been impacted by COVID-19 and GORUCK is no different. Spartan Race has been cancelling events left and right, local road races have gone virtual, and GORUCK is currently somewhere in the middle of all that.
Most cadre led GORUCK events (aka Light, Tough, and Heavy Challenges) are either postponed or cancelled. GORUCK has a running list of impacted events on their website. The March Tough and Light in Seattle are both on the cancelled list which is a bummer because the patch for that event was awesome. Instead of cancelling them I was hoping GORUCK would postpone but there's always (possibly) next year.
The outcome of Star Course events are being determined based on the distance of the event. The "Sprint Series" aka 5k/10k/15k events are, for the most part, being rescheduled or cancelled. The 12 mile, 26.2 mile, and 50 mile Star Course events are still running although with slightly different parameters. No cadre are flying out to the events and participants are receiving their list of way points either the day before or day of their events. Teams can start at any way point and (still) need to hit every way point checking in with HQ as they progress. Teams that finish will have the patch mailed to them and the idea here is to remove the giant group of people at the start and end of the event.
Although not ideal it's still a working option for the event. It's not as if there's much cadre interaction during those events anyways so the only thing you'll be missing is someone handing you a piece of paper and the banana and beer at the end. Just make sure you practice good social distancing during the event and you should be good to go. If that doesn't sound like fun to you then GORUCK has been offering postponement or refunds for all of the impacted events which is more than fair.
Have you had any events get impacted because of COVID-19? Have any thoughts on GORUCK going "virtual" on the Star Course series? I'd love to hear about it in the comments!