On July 1st, 2016 I had the pleasure to take part in a GORUCK 4th of July Tough event. Cadre Shredder ran the event and did an incredible job making it both special and memorable.
The Cadre


For this event we had the honor of being led by Cadre Michael Shredder. The description of him from the GORUCK Cadre page is as follows…
Michael Shredder is a husband, father and a FOUR time GRANDFATHER…He thinks he is wise, we know he is just old. He can no longer see, nor hear clearly so getting over on him should be easy. He believes we all have "strengths and weaknesses". He has identified his and promises to find yours even though he knows he will need to use his sense of smell to do so.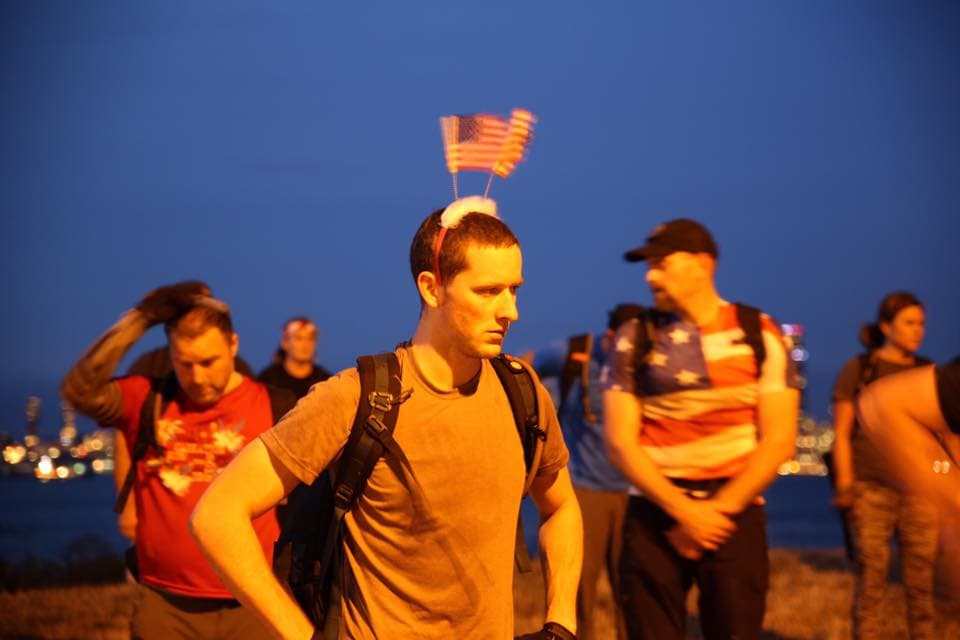 If I ever have the chance to do another even with Cadre Shredder I'll take it immediately. His event, as you will soon see, was incredibly well thought out and one to remember.
The GORUCK 4th of July Event


Our GORUCK Tough (aka Challenge) lasted about 12 hours and came in around 17 miles or so. We started in West Seattle next to the water and ended in the same location. One aspect that drew me to this event was the start point. I beleive every Seattle GORUCK Tough event I've done has started in downtown Seattle near the Space Needle. The very fact that this one did not made it unique. Generally when a Cadre chose a non-traditional start point then they have done some research which means you're in for a good event.
Packing
I packed the following stuff to have fun at this GORUCK Tough event.
GORUCK Rucker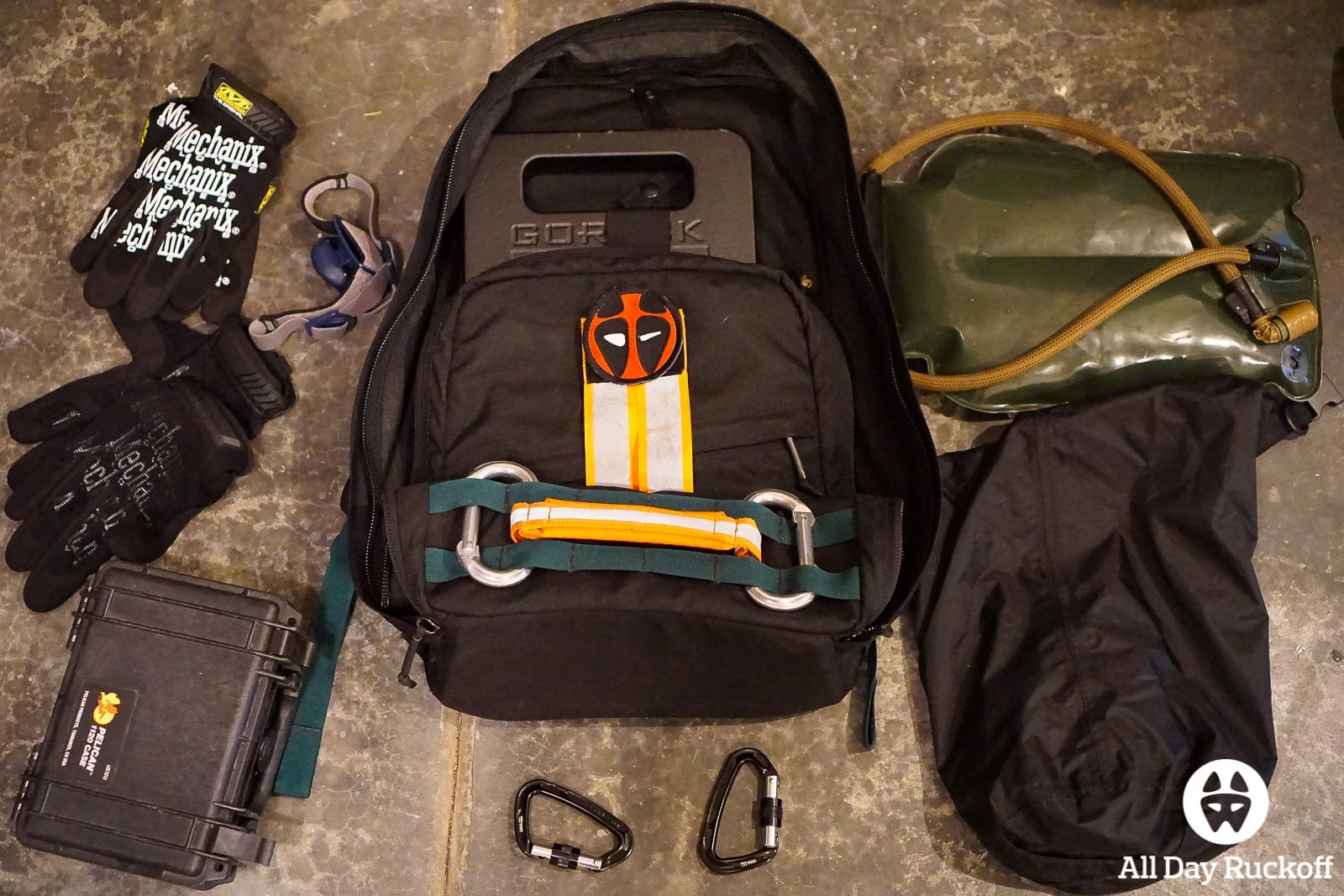 For this GORUCK Tough event I used my 25L GORUCK Rucker. This was the third event it has been in and it still looks awesome.
Car Keys
Driver's License
Credit Card
$20 Cab Fare

Extra Socks
Kirkland Protein Bars
Why two pairs of gloves? Sometimes your gloves get super sandy and it's nice to have a fresh pair. Also, if anyone in your group forgot gloves you just saved their hands.
GORUCK 38L Gym Bag


I always pack an "after event" bag with things that will make my life less miserable directly after a GORUCK event.
Charity Challenges Pull-Up Challenge Shirt
Sweat Pants
Sandles
Protein Powder (2 scoops)
Blender Bottle (Water, Filled)
Kirkland Protein Bar
Garbage Bags
Sarcastic Note
This allows me to get comfortable and change into some non-wet clothes after the event. I also get a ton of protein to help my body recover which I think it needs after 12 hours of working hard. Finally, there's nothing better (almost) than sandals right after a GORUCK event. Gotta air out those stinky feet!
Pre-Event


Even before the event started the Cadre was active on Facebook. We were instructed to bring the following:
8 – 25′ lengths of webbing (for the team)
1 candle (each)
Memorize 5 verses of Yankee Doodle
Memorize the national anthem
Cement our team flag in a bucket


That last one is not a typo. In the end our flag weighed over 88 pounds which made carrying it one of the harder tasks. Above is a picture of the Cadre inspecting it.
The Start


We lined up in five columns (3 to 4 rows) on a grassy hill facing away from the water. Cadre Shredder introduced himself and set his expectations for the evening. The GORUCK 4th of July event was special to him and he let us know it.
Welcome Party


The welcome party was way different than the "typical" GORUCK beat down. First off it was all done in silence. Secondly the Cadre instructed us to empty out our rucks in front of us.



We had to present our ID and cab fare to him for inspection. Third it involved a decent amount of running (without our rucks) to different locations and back. Running turned to crawling turned to bear crawls and who knows what else. Most notable was reverse bear crawls… five minutes of that will make anyone dizzy.



Once we graduated from individual events it was time to pair up. Nothing more fun than interlocking arms and doing low crawls together. Once pair movements were complete we went through the process of re-packing our ruck in twenty seconds. It took a couple tries but eventually we all got there.



From pairs we graduated to rows where we did mini tunnels of love as our form of movement. We ended up forming the team, changing directions, and moving in a nice big square all by utilizing the tunnel of love. That was definitely a unique experience.
Find Some Logs


After the welcome party a few of us were dispatched to find some suitable logs. The hardest part was finding two that did not have any tire spikes through them. Once we picked the logs we regrouped with the team headed back to pick them up.



From this location we set up our candles and sang the national anthem in knee deep water. I truly hope the apartment/condo owners across the street who came out on their balconies were impressed.
First Movement: Let's Do This


Our first movement was to head straight into the hills which was a relief. We started right next to the water and were not going in (deeper than standing) first thing.



The hills were not easy but at least they were dry.



While rucking up into West Seattle we made our first mistake. When we crossed a street we did not post road guards on either side to stop traffic. This earned us both a stern talking to and something like a 25 burpee penalty. The worst part of the penalty was that my 30 lb plate was not properly secured and was bashing my head. I didn't have time in the previous twenty seconds to strap it in and I paid for it.



When we finally made it up to the top of the hill we switched team leaders. GORUCK posted a nice write-up on "lookie loos" who are those people who gawk at GORUCK events. We saw one of them… and they saw us… and then they drove into a parked car. I would have felt bad for her except that she drove away without leaving a note or insurance. I feel worse for the person who owns that car.



From this area of West Seattle we rucked to a trail head, made our time hack, and prepared for the second major movement.
Second Movement: Quiet Everyone


Standing in front of the trail head we were given our next set of instructions. We were to ruck through an incredibly dark trail and do it in silence. We could use headlamps at this point however the light had to be red.



Above is a picture of the trail during the day and below is how it looked while we were there.



It was tough getting through the trail and a few people slipped along the way. Thankfully there were no major injuries and the team emerged stronger than before. We got in a good rhythm which held through the rest of the event.



When we got to the end of the trail we were tasked with something that felt impossible. We were under a bridge and were told to get our two logs down into the cavern, across the small stream, and up the other side.



We made a plan then executed on it and, much to my surprise, no one got injured. It was slow moving but that was necessary to stay safe as the ground did not give my traction.



Here's a picture of the other side during the day…



…and here's a picture of it when we were there. When we got to the other side we sang the national anthem with our candles and headed back across to continue the event.



This is the spot that we were given the opportunity to ditch our logs. We finished this movement by heading up to the road then down to the water where were given time to learn about some Seattle history.
Third Movement: Salty Salt Water


From the statue we rucked out along the water and it was only time before we were told to stop. We had been carrying four empty sandbags for the event and it was time to fill them up. While we filled the sandbags up with salt water rocks and other fun treasures the rest of the team was instructed to fully submerge in the water. Sandbag fillers weren't saved from that and when we were done it was water time for us as well. There's nothing like fully submerging in salt water.



With our new sandbags we rucked up into West Seattle again with our destination being a local school. We missed the time hack due to some terrible street lights and were introduced to Cadre Shredder's deck of cards. The rule was if we missed a time hack the team leader would need to draw a number of cards and we'd need to do that many reps of certain exercises. This is where I was first introduced to Shredder Rolls… which are way too fun to be spoiled.
Fourth Movement: Let's Get Donuts!


From the school we rucked out with the goal of heading into Seattle. There's a great pedestrian path from West Seattle into Seattle that we took. On our way into Seattle we continued to meet time hacks and did a great job switching the weight around. The 88 lb flag was really starting to suck around this point.



We rucked through the industrial area of Seattle and even passed near the GORUCK warehouse. Our destination was always just around the corner and we unfortunately missed the time hack. No worries… just some extra PT in front of Krispy Kreme. This included a Joker being pulled from the deck of cards which meant Cadre's choice. Check out these very special Afghan Jumping Jacks…



This stop was great mostly because Cadre Shredder bought us something like 30 donuts. Here we are enjoying a short break and some donuts. Having the Cadre buy us donuts was definitely a first… a very awesome first.
Fifth Movement: To The City!


From Krispy Kreme we rucked into downtown Seattle. We were given a tough time hack for the distance and we ended up failing it. For the most part the street lights were not in our favor and I know if they were we would have crushed it. More cards from the deck and Shredder Rolls on the ground then it was off to Pioneer Square.



From Pioneer Square we buddy carried team members to the top of a parking garage to pay off a debt we owed for getting caught in the crosswalk. Once our debt was repaid we visited city hall for a quick competition to determine who would carry the weight the rest of the way back. The competition was easy… keep your arms extended with your ruck raised above your head. Last team with members standing wins.



I was lucky enough to be on Harvey's team and, if I recall correctly, he ended up walking around the entire time singing. No better way to put fear into your opponents than by singing Yankee Doodle and smiling like a loon :)
Sixth Movement: Water Taxi Away!


From here we learned that our trip back to West Seattle would be a little different. We rucked down to the waterfront and ended up taking the water taxi.



I was prepping myself for another 3 – 4 mile ruck when Cadre Shredder sprung this awesome news on us. It was definitely a unique experience and one that I'm fairly certain has not been done in Seattle before.
Patching Ceremony


We were told that we would get patched in on the boat during the crossing if we could successfully sing all five verses of Yankee Doodle. After crushing that goal we were presented with our GORUCK 4th of July Tough patches. This was definitely one of the most fun GORUCK Tough events I've been in.


GPS Route
Thank You


A huge THANK YOU to the shadow party for taking the pictures used in this AAR. Without you this would just be a disgusting wall of text. Thanks to GORUCK for continuing to bring incredible Cadre out to our neck of the hoods. Thanks to Donna Rice for driving me to and from the event… as well as doing the event on such short notice. And a final big THANKS to my wife for sticking it out with our foster son while I took part in this event.
What's Next?
If you want to read more GORUCK Tough AARs then head over to our GORUCK Tough AAR page. If you're going to be training for a GORUCK Tough event then hit up our GORUCK Tough Training page. Read some more, train some more, and sign up for a GORUCK Tough event!