I've written so many detailed AARs on the GORUCK Challenge that I almost don't see the point in going into that kind of detail anymore. Instead, thanks to our amazing shadow crew, I'm going to try and rebuild the night through images that were posted to the event's Facebook group.
The Cadre


This time around we were lucky enough to have Cadre Flash lead the event. This was the first event I have done with Flash and it was a great time. His love of amazing music and the GORUCK community really set the mood for the night.
The Event


We started at the Space Needle in Seattle which is an awesome place to be. The start is always the most stressful.



The Space Needle looks amazing at night and the view makes the PT easier. It lights up pretty well and we don't look too out of place in the grass.



Running, running, running… lots of labs that need to be completed.



Create a pyramid 5 people tall? This will be interesting…



What could possibly be down that hill?



Oh, just a surprise log that Cadre Flash found while canvasing the city.



We had a team weight… and then we had this bonus log. Thanks Robear, having this log made it almost like you were with us :)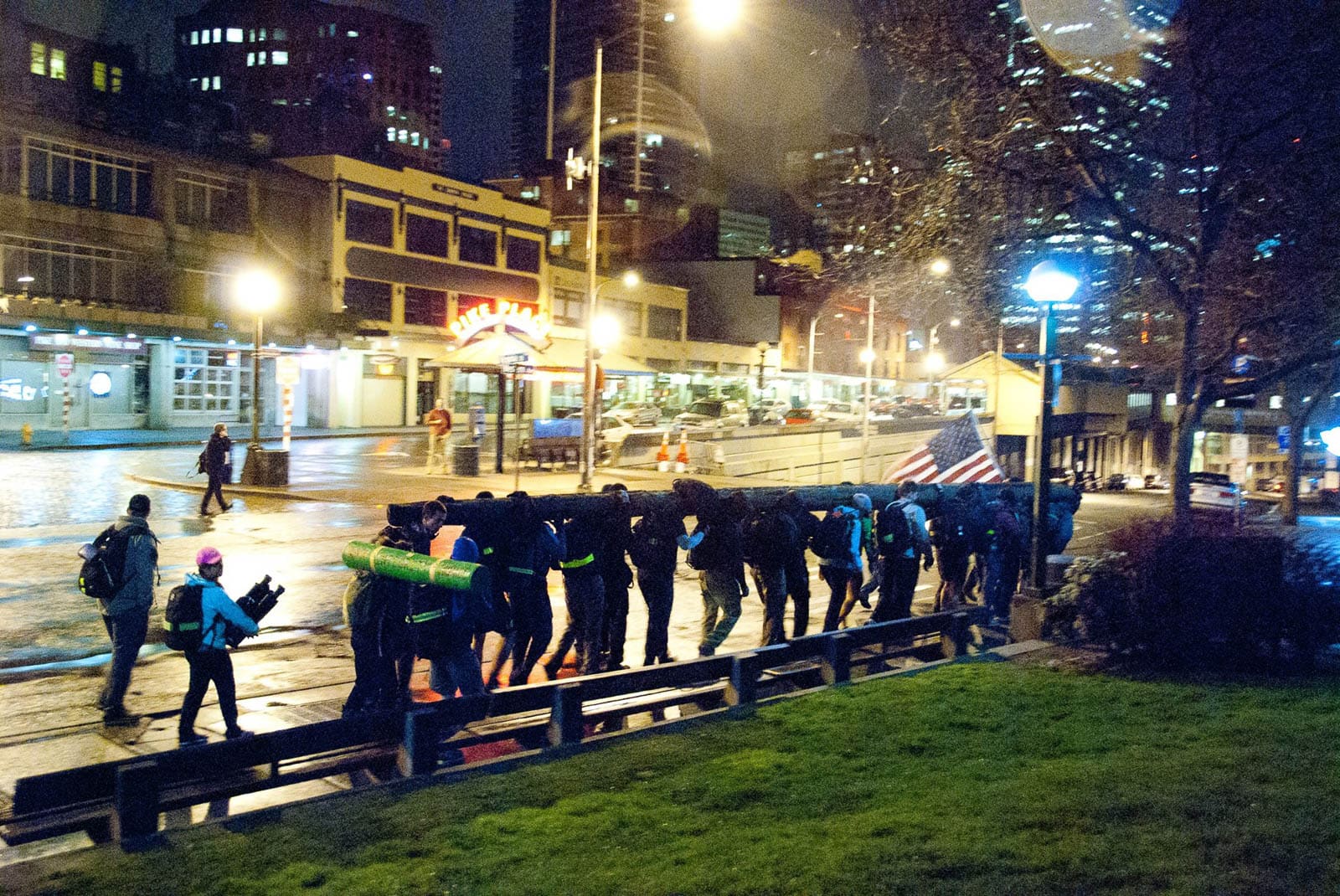 Question: What are you all up to?
Answer: We're part of a new log relocation service. We go to areas that have too many logs and re-locate them to places that don't have enough.



I found it for you… the worst picture of me on the internet anywhere. I know this because there couldn't possibly be one worse than this… there just couldn't be.



After hours of log work we were given a break: bear crawls! Bear crawls and crab walks are (honestly) some of my favorite exercises at these events. For some reason my body is good at them.



We took a short break with Cadre Flash and learned more about him. It was nice to hear his story and get some insight into his experience but the break really did a number on our muscles.



After a bit more rucking we ended up at Rainier Station.



A GORUCK first? At least a first for me… we took the Link (a train) back towards Seattle!



The Link didn't take us the full distance (as it was partially closed) but not to fear… there was a bus!



Off the bus we headed through the underground tunnel…



… and up the stairs.



We headed straight to the market.




Great group shot of our team at the Market.



A few things happened at the market. For one, we had received seven total infractions throughout the night. If Sean was able to catch the fish thrown at him he would have two taken away. Thankfully he caught it!



We got sprayed down for a good few minutes at the fish market.



Lots and lots of water…



So much water that the guy spraying us down had to double check that he could keep going.



Throughout this whole thing Cadre Flash had been playing music and we had been instructed to dance.



After all of the water we headed back to the start point.



We still had a lot of infractions to pay for.



Lots and lots of infractions…



250 reps worth of infractions.



But at least we had an amazing view.



And an amazing group of people.



GORUCK Challenge 1395 was complete.



Dog pile on Donna!!!



Thanks for an amazing event Cadre Flash! It wouldn't have been the same without you.