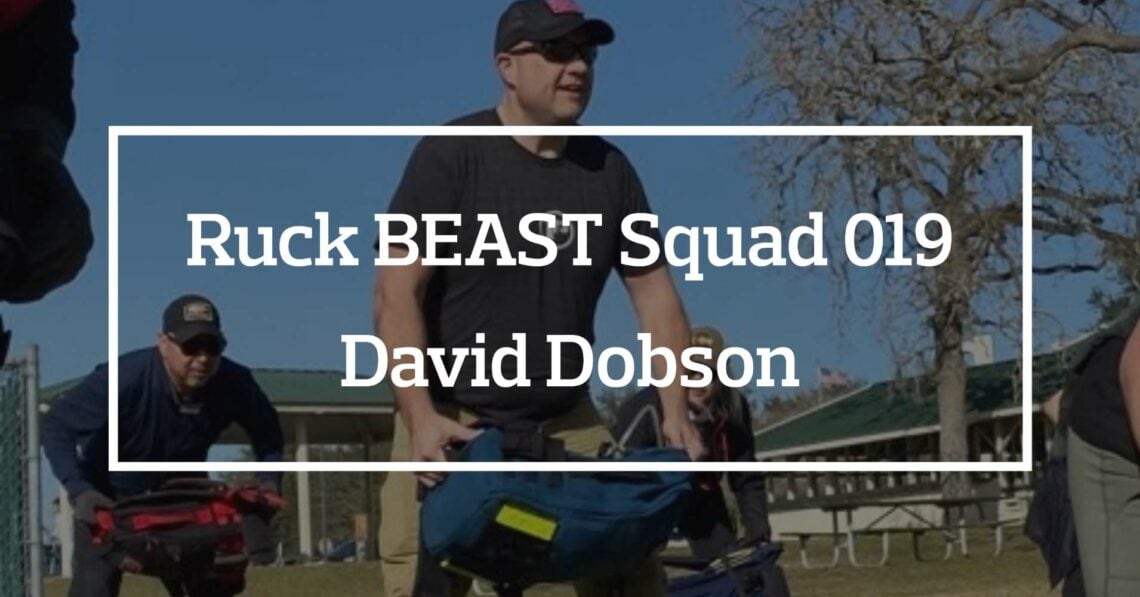 Ruck BEAST Squad features interviews with members of the community to highlight their lives, training, gear, and insight. Hopefully as you read through this you'll be able to take away advice that will help you train better and perform better that upcoming events. In this issue of Ruck BEAST Squad we get to hear from David Dobson!
Q: Tell us a little about yourself to get us started.
A: I am 41 and work as a band director and a youth minister. I live in Pasadena, TX. I am also a member of F3. I am married with 2 kids. I love rucking, working out and music.
Q: Where did your GORUCK journey start? What was your first event? What stands out from that event?
A: I started my GoRuck journey in January of 2020 when I joined F3. I was invited to F3 by one of my friends, Austin Montgomery (F3_Soprano). I started working out with them not long before the pandemic. I had been going to the gym but didn't have huge results. The one thing that was missing was consistency and accountability. F3 provided both of those things. When F3 shut down at the beginning the pandemic, I kicked it into high gear and joined several groups who were doing F3 workouts via Zoom. After we started back in April, I had bought into F3 hook, line, and sinker. Shortly after that Craig Theiler (F3_Trojan) began to talk about GoRuck with me. I signed up for my visit GoRuck event for November, The Veteran's Day Tough and Light. I began training with Trojan and a few other guys doing F3 workouts and HDT (Heavy Drop Training). Before the Tough, our AO put on a mock Light called Mumble Chatter 001. It was 7 hours and about 8 miles with a ton of PT. The thing that stood out the most for me about the Tough was my personal limits. I was able to push myself way past where I thought I could go.
Q: What was your most recent event or events. What would you like to tell us about it / them?
A: Mumble Chatter 002 (a mock Basic) put on by our AO. It was a blast. Working side by side with my F3 brothers was so much fun. It was awesome being able to help some of the new guys like the guys helped me through my first event.
Q: Favorite Ruck?
A: I love my new Heritage GR1 for EDC. For events I stick with my 3.0 Rucker 25L.
Q: Proudest accomplishment as a GRT?
A: I would say getting patched for that Veteran's Day Tough was amazing. I never imagined being able to walk 23 miles much less walk 23 miles with a 50lb ruck.
Q: How many events have you done? What's your favorite event or type of event? Why?
A: 4 events. I can't really say. I love them all.
Q: Why do you continue to do events? What keeps you coming back?
A: I continue to do events to push my personal limits.
Q: How do you train for events?
A: I do F3 workouts 3 times a week in the mornings. I also workout with a couple F3 guys at one of our garages 3 days in the mornings. Lastly, I do Heavy Drop Training with the Cleveland Area Rucking Club and Bryan Singleton.
Q: Best Rucking and / or GORUCK event advice you have gotten?
A: Never give up! You will always regret giving up and you will hate yourself after you realize that you could have pushed through.
Q: Other than packing list items, what is a must have in your ruck for events?
A: Skittles. There is nothing that tastes better than a package of Skittles after15 miles in the middle of the night.
Q: A book or a few that have impacted your life? Why?
A: Freed to Lead was a pretty good book.
Q: What other hobbies do you have?
A: I love playing the bass with my church band.
Q: What's the best purchase under $100 you've made in the past 12 months.
A: A very old 80lb GoRuck Sandbag from Ebay. It was badly damaged so I sent it in and Goruck sent me a new one.
Q: How has rucking changed or improved your life?
A: I use to avoid working out and the outdoors. Now, I crave it. The days that I am not outside rucking or working out, I do not feel as good.
Q: How do you recruit new people to ruck, or do events with you?
A: In F3 we do rucking all the time before Saturday beatdowns. They are short rucks that give people a taste of what rucking is.
Q: Best Beer to drink after a ruck?
A: Sorry, I am not a beer drinker.
Q: Advice you would give to someone before their 1st Light?
A: Get under weight and do miles early and often. Carry more weight than you will carry in the event.
Q: Advice you'd give to someone before their 1st Tough?
A: Same advice from the Light except try adding in an overnight ruck.
Q: If you get overwhelmed during an event how do you refocus on the task at hand?
A: I pick a point in front of me and tell myself that point is my goal. Then I set a new goal. So on and So on.
Q: What's the next event or events on your calendar?
A: Mumble Chatter 003 and then a GoRuck Shooter Event.
Q: Any parting shots? Things the community needs to know?
A: You can do more than you think you can. Push yourself and find those new limits.
If you know someone (or are someone) who would be a good fit for an upcoming episode of Ruck BEAST Squad please reach out to Derek Hill (derekhill1 AT gmail DOT com).