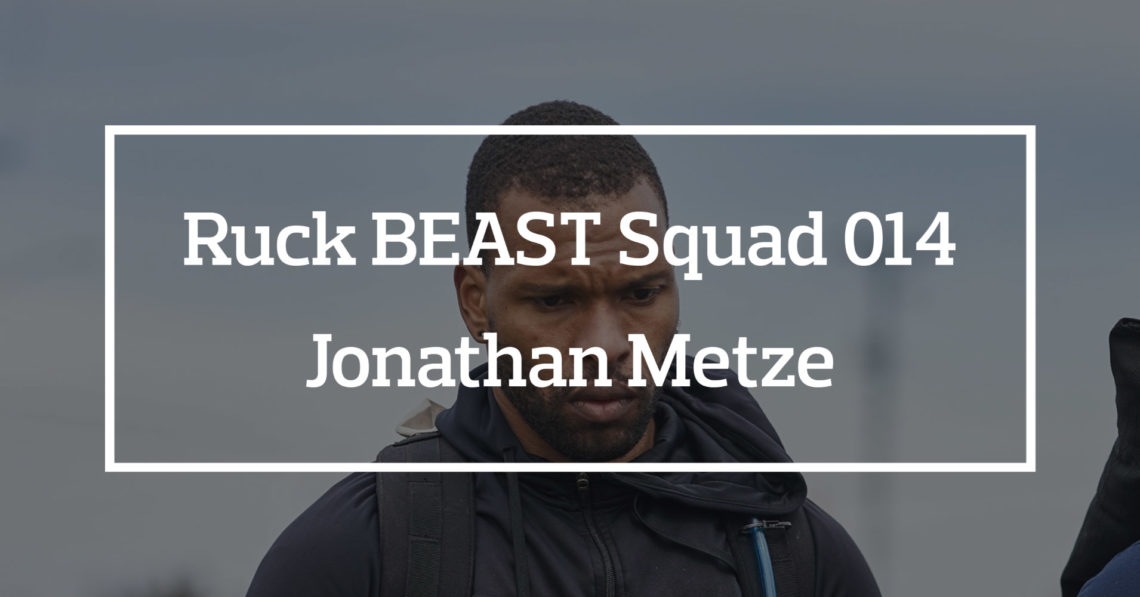 Ruck BEAST Squad features interviews with members of the community to highlight their lives, training, gear, and insight. Hopefully as you read through this you'll be able to take away advice that will help you train better and perform better that upcoming events. In this issue of Ruck BEAST Squad we get to hear from Jonathan Metze!
Q: Tell us a little about yourself to get us started.
A: I'm Jonathan Metze My home town is Kannapolis NC. I enjoy naps.
Q: Where did your GORUCK journey start? What was your first event? What stands out from that event?
A: I started off doing Spartan Race Hurricane Heats. I asked on their forum what was the best Ruck for their 12 hour hurricane heat. The overwhelming response was GORUCK. GORUCK's price point was a little outside what I wanted to pay. I rationalized it by saying I can do some of these "new fangled "GORUCK events" and amortize the cost. That plan seems to have worked out.
My first event was a valentines day light in Charlotte 2018. What stood out was how friendly and helpful everyone was. It was like a mobile party but everyone is caring logs and sandbags. Also my shoes got destroyed when we went into a park lake.
Q: What was your most recent event or events. What would you like to tell us about it / them?
A: I did the 26 mile Charlotte Star Course this year. Star course is my least favorite event. I DNF Atlanta 50 miler in 2019. I zombied my way through the finish line of the Charlotte 50 miler also 2019. So this year I was pretty happy that everything went to plan and I didn't get lost.
Q: Favorite Ruck?
A: 1 first Generation Rucker. I literally dragged one behind me doing low crawls for 3 hours and it was fine. I loved that ruck. Sadly it's no longer with us.
Q: Proudest accomplishment as a GRT?
A: I was doing 2019 Battan HTL in Charlotte with Cadre Cleve and Cadre Fagan. We were about 19 hours into the Heavy and stop to I look around. I thought to myself "This is the spot where normally I would give up but not today." I was a new man a tired, smelly, sleep deprived new man. (Author's Note – I first met Jonathan during the Light at this HTL weekend. It was my first event and I was super impressed by his great attitude for someone that had just been through a Heavy and a Tough)
Q: How many events have you done? What's your favorite event or type of event? Why?
A: I've done somewhere between 10 and 15 events. I lose track. My Favorite Events is the Heavy. At a heavy you have more time to get to know people and work as a team. At a Tough it seems like it takes most of the night for the team to gel then it's over. At a heavy you get to "Enjoy" being a team for longer.
Q: Why do you continue to do events? What keeps you coming back?
A: I'm always learning something about myself. Can I be more helpful? Can I learn to accept help? Can I learn how to talk someone out of their dark place? Can I talk myself out of a dark place? Normal life you don't usually get to explore these questions.
Q: How do you train for events?
A: I have an Online Coach Rob Barger. He's gotten my through Spartan Ultra's and HTL's . It's mostly dumbbell body weight and Sandbag. I use to do Crossfit but I found it wasn't specific enough for the events I like.
Q: Best Rucking and / or GORUCK event advice you have gotten?
A: I don't remember the exact words but I was at the Battan HTL . I was huffing and puffing and getting myself all adrenal to carry these heavy litters. This worked out for all of 30 mins. Afterwards I was spent and dragging. Cadre Cleve walked up next to me all casual and asked "how did that work out for you?" I was like "not good". He said "didn't think it would" and kept walking. I learned that you have to keep your head in the game you're not going to be able to "GUT" your way through everything. The events are just too long.
Q: Other than packing list items, what is a must have in your ruck for events?
A: I always keep a pair of nylon runners and some zip ties. At Bragg this year I helped a guy repair his Alice pack with some. never under estimate zip ties.
Q: A book or a few that have impacted your life? Why?
A: I recommend "Dune" to everyone. It's filled with life lessons and a its a pretty good Space opera. If you need something more GORUCK oriented "The Champion's Mind: How Great Athletes Think, Train, and Thrive" . It's a great book on how to prepare mentally for events.
Q: What other hobbies do you have?
A: I've been doing a type of ju-jutsu (shuri te bujutsu) for 13 ish years. I read nonfiction or Sci Fi constantly. Right now I'm trying to teach my self to paint. I like to do things…
Q: What's the best purchase under $100 you've made in the past 12 months.
A: 20lb filler sandbag. I was using dumbbells to add weight to my ruck. Inevitably my ruck would end up in Scars (broken zippers / holes worn in). Since I switched to the Filler bag no issues,
Q: How has rucking changed or improved your life?
A: I like the social aspect of Rucking. You get to meet people outside work or your local Gym. you get exposed to different Ideas and Life styles. You can create a really diverse network of friends.
Q: How do you recruit new people to ruck, or do events with you?
A: I'm really bad at recruiting people usually my best friend Sun handles that.
Q: Best Beer to drink after a ruck?
A: I'm really digging Swell Rider by D9 brewing
Q: Advice you would give to someone before their 1st Light?
A: Don't take it too seriously. I see a lot of GRT going into their first Light like they're entering the temple of doom. Have fun but work hard.
Q: Advice you'd give to someone before their 1st Tough?
A: It suppose to Suck, that's ok. You have a team there to help you. Be helpful, be kind and push yourself.
Q: If you get overwhelmed during an event how do you refocus on the task at hand?
A: I check my breath. Is it even? If not I slow it down get it under control. Breath is so important.
Q: What's the next event or events on your calendar?
A: Ohio Double Heavy with Cadre Dan. Apparently we are going to get our teeth kicked in. I have dental insurance so It will be Ok.
Update after the HH:
The Double Heavy is psychologically difficult event; morale is critical to finishing. It requires keeping a positive mental state for long periods of time. There was a movement 20 ish hours in, where we were moving painfully slow (40ish min mile pace). Nobody wanted to do anything everyone was aggravated, tired, chaffed and sore. Cadre Dan stopped us gave us a 5 break and spoke. Same team of people with the same broken bodies is back to chugging along at a 20 min mile pace. It wasn't magic, Cadre gave us a clear goal and expressed his expectations and we delivered. The difference was all team morale.
A couple people have asked me for training and/or gear tips for double heavies. There's no secret sauce to the event. There's several inexpensive online programs that if you put in the work will have you in shape. As for gear, by the time you've done enough events to seriously think doing a double heavy you should have a good intuition on what gear to bring/wear. The only thing you can do is put in the work get experience from other events and trust your training.
Q: Any parting shots? Things the community needs to know?
A: Be excellent to Each other. We are all human that want love and Kindness.
If you know someone (or are someone) who would be a good fit for an upcoming episode of Ruck BEAST Squad please reach out to Derek Hill (derekhill1 AT gmail DOT com).