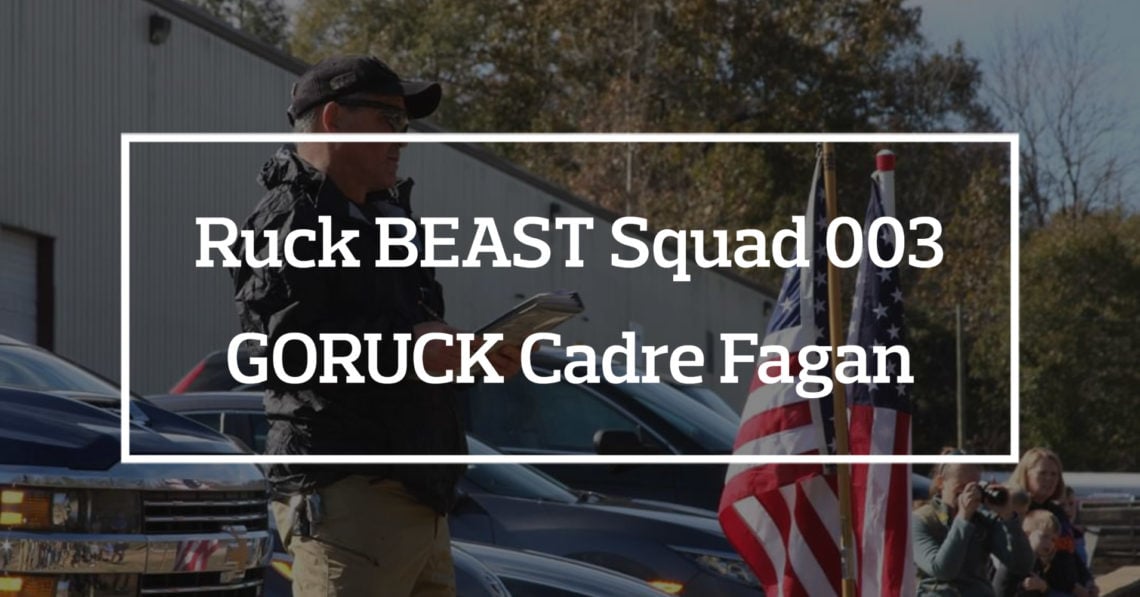 Ruck BEAST Squad features interviews with members of the community to highlight their lives, training, gear, and insight. Hopefully as you read through this you'll be able to take away advice that will help you train better and perform better that upcoming events. In this special addition of Ruck BEAST Squad we get to know GORUCK Cadre Scott Fagan!
Q: Tell us a little about yourself.
A: Scott Fagan, 55, from SC, I served for 20 years in the Army in 5th Special Forces (Green Beret) 1983 – 2004. I have been teaching JROTC at Hart County High School in Hartwell, GA since 2006. Don't plan on retiring until 2026. And I don't plan on stopping GORUCK until I have to walk or crawl away. I enjoy the outdoor and being active. I enjoy life and what it has to offer. I always try to do my best and look for the good.
Q: What was your initial thought when you heard about GORUCK? How that that opinion changed since you've spent time running events and being part of the community?
A: I played Rugby for 8 years after I retired form the Army in 2004. So in 2012 I was looking for something else that was fun and physical and involved being part of a team. I found GORUCK. I love the community and the GRT's. I love how people love to work together to accomplish a mission. I have always been part of a team and this is home.
Q: What was your first event as a participant? Did you do the event with the intent of being a GORUCK cadre? (Bonus Q: If you didn't do your first event with the idea of being a cadre, when did you decide you'd like to become one?) Did the event differ at all from what you were expecting leading up to it? Would you, or have you, done another since?
A: I was a GRT from 2012 to 2017 before I became Cadre. My first event was at Ft Bragg on 11 NOV 2012. Cadre Woods was running the event I remember sitting in the dirt after crawling through a mud pit and thinking that I use to get paid to do this exact same thing on Ft Bragg and now I just paid someone to do it to me. What is wrong with me? It was hard and dirty and it was a team and I fell in love with it. Everyone always asked why I wasn't cadre and I didn't know. Just never got around to getting hired. In 2017 I went to do a GORUCK Light and Scavenger with my son in Houston, TX. Flash was cadre and he said that he would get me hired and he did.

Q: What was your first event as a cadre?
A: So my first event was 17 AUG 2017 at a RLB in Charlotte. I was just doing it as a GRT but the Main Cadre couldn't make it so they asked me to fill in . And now 58 events completed as cadre.
Q: What are your favorite type events to run? What makes them special for you?
A: I love the Tough. It is a long event with no breaks as cadre. I really get to know the GRTs. It is so awesome to see them come together as a team. To me Team is everything. Is was in Special Forces and it will forever be what I love.

Q: What makes an event successful in your eyes? What does the team have to do? What do you have to do?
A: When the GRT's come together as one. When they work as one and help all team members even if it cost them time or some extra good living. No bitching, whining or complaining. Just one foot in front of the other. I have to push them out of their comfort zone whether it is physical, mental or emotional. They have to come face to face with their demons (weakness).
Q: Give us some advice for the person getting ready for their first light or first thought? What about the person who is coming back for a light or tough who has done several events? How would you recommend them to be a good teammate without being overbearing and being too in charge?
A: Never ever quit. The body will go where the mind tells it to go. The mind controls everything. Veterans learn to help without controlling. Let the new guys fall down and then help them up. Suggest but never tell unless asked. I always put newbies in charge of movements.
Q: Sometimes we wonder what you are thinking during events. For instance, when the class can't go 10 feet without putting the coupons down? Or when they keep having breaks in contact despite many warnings about it? Or, when the TL is silent and ineffective, and things just fall apart? Are you mad, frustrated, disappointed, bored?
A: I try to figure out what is not working and try to direct them in the right direction either through positive or negative reinforcement. I don't believe in just beating people down to nothing. It isn't the Army. I want them to learn and grow. I really try not to interfere with the leaders and let them learn from their mistakes. I might drop a hint or suggestion from time to time. Special Forces is a force multiplier. Train the trainers. Everyone gets stronger in the process.
Q: For someone like you, a current of former member of the Special Forces, who arguably has or had, one of the coolest jobs in the world, why do you take the time out of your life to come and spend long nights with a bunch of crazies like us?
A: I do it because I really love the events and the people. It is as close as I may ever come to the way is use to be for me. I miss being with the guys in some foreign country hanging out with foreign people doing cool and crazy things.
Q: Favorite (and least favorite) times of year to run events?
A: I really hate cold, wet, windy, dark. I call them the 4 levels of suck. And with all of them together it is suck level 5 and it is no fun. Every event and time is different.
Q: One piece of GORUCK gear you wouldn't want to let go of? (Could be for usability or sentimental reasons)
A: Love my GR 2. It is perfect for me as cadre

Q: What other hobbies do you have?
A: I love mud runs like Spartan, Savage, Rugged Maniacs. I love to fish and just about anything to do in nature.
Q: What's the best purchase under $100 you've made in the past 12 months.
A: My new OVLED Broadbeam head lamp.
Q: What's the best piece of advice you've ever gotten?
A: Always do your best and never quit.
Q: Best beer to drink after a ruck?
A: A cold free beer of course.
Q: Parting Shots: Anything else you'd like to say before you go?
A: Thanks for all of the support from my following of present and future FAGANITES.