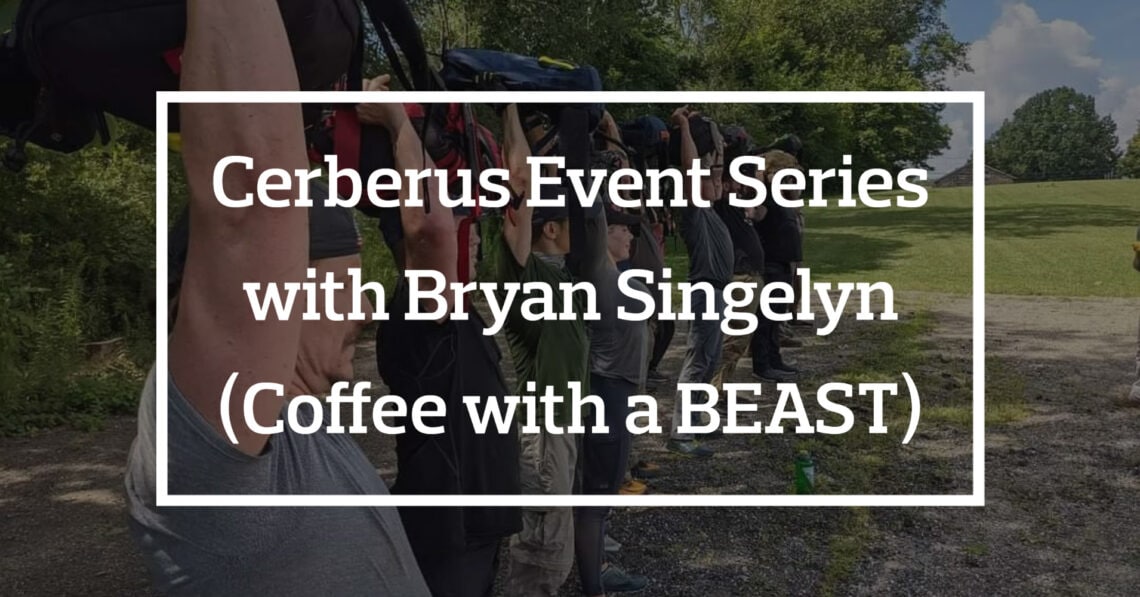 Welcome to Coffee with a B.E.A.S.T… a new series from Derek Hill. Coffee with a BEAST features a conversation and questions had over a cup of coffee and, hopefully, for you to enjoy on a morning when you've got a few minutes and can sit and read while you sip your coffee.
Today I had the pleasure of talking to the mastermind behind Heavy Drop Training, Mr. Bryan Singelyn. Bryan is certainly a member of the BEAST Squad (Backpack Endurance And Strength Training). As the founder of Heavy Drop Training he is an integral part of our community.
Bryan's go to for coffee is a good cup of hot coffee. Dark roast, either black or with a little bit of creamer.
Other than the most important, the coffee, we (Derek Hill (DH) and Bryan Singelyn (BS)) covered 3 main topics – the recently completed first ever Cerberus Series event, the upcoming Rufus HDT Throwdowns, and how Heavy Drop Training continues to produce some of the rucking communities best athletes.
Cerberus Event Series
Is it possible that one of the most interesting events in the rucking community (Cerberus) came together on a whim? According to Bryan it is. Coming out of the event weekend and with a 5 month old at home it's easy to see why he wouldn't be quite certain of the exact moment this collaboration started. There was a post going on in the interest group about a custom HDT event, which then lead to him tagging Gregg and Michael seeing if they would be interested in working together on something. The response was an overwhelming hell yeah let's do this. At that point the ball was rolling and gained steam, thus Cerberus was born. A compilation of Heavy Drop Training, Green Beret Fitness, and Castlemen Events.
They decided on a 36-40 hour event that would showcase each program. Something that would give the participants a challenge but showcase each companies unique style and flair. It started out being planned as 3, 12ish hour blocks but as time and conversations progressed they decided it would be better to work together. Each one of them would get a lead part but there would be some mix and match into every section.
Everyone got into Cleveland on Thursday for the location recon and things were moving.
If you were following the Cerberus event then you know there were 2 participants, one of which everyone loves who missed a time hack by 10 seconds. Troy is writing his AAR, but when I asked Bryan about that he told me it was absolutely gut wrenching. He actually ran down the path to meet two people and push them on towards the finish line. It was an unknown time hack for the participants. As they crossed Gregg told them 10 seconds. For a split second it was relief until he added, you missed it by 10 seconds.
DH: Cerberus has time hacks. Explain how that works.
BS: The event is bult to be tough, but for everyone that shows up to have the opportunity to do work. The first 30-70% is show up and show us what you have. The last 30% of the event is assessment based. There are goals to be met. Some are in workouts. Some are in movements or evolutions. Oh, and by the way. You are being assessed points during the entire event. You won't always know what the points are for or how they're being levied but you better damn well be putting forth effort.
From the HDT side of the house there are times when there are AMRAPS where you are told how many rounds you need to achieve to not get dropped from the event. Hit the number or rounds needed and decide to just stop. That's also a cause for an early ticket home. Don't forget that this happens at the tail end of the event. You will certainly get your money's worth before we begin performance dropping people.
DH: How do you prepare for an event of this magnitude?
BS: In training you're going to need to really push yourself. Obviously, HDT is your best option for success given we run the event. For example, in each round of Heavy Drop Training there is a 6 mile and 12 mile test. AFAP, or as fast as possible. You've got to push it, really put in the effort if you're going to come to an event like this and be ready to succeed. Most people will find that they didn't push themselves as hard as they could if they really dig into their performance. Did your mind convince you to walk when you could be shuffling? Did you self-pity and take a longer break during your AMRAP than you may have needed and now your behind on the reps
How bad do you want it? There are several scored sections of an event like this. Some based on individual performance and other times you're sorted into teams and can earn points like that. Push hard and capture the points.
RUFUS's HDT Throwdowns
BS: The Throwdowns are for anybody. 12 – 16 hours of time capped workouts so no one is left behind in the event to keep grinding it out, with a mix of heavy weighted movements, rucking miles and team building. Our events will push you physically and mentally as both a team and individual. If you think you have what it takes to finish our event, come out and show us what you got!
There is a competitive division along with non competitive. The competitive division required those that weigh more than 160 with your base layers on to have a 60# Sandbag and 35# dry ruck. Less than 160 pounds requires 40# Sandbag and 25# dry ruck.
If you want to do Cerberus then this will give you an idea of how some of the HDT work will be during that event . If you are not doing the competitive division you can attend with whatever weight that works best for you, but keep it hard (minimum 10# ruck and 20# Sandbag).
Throughout the events there will be specific instances where points can be earned for finish times for workouts, # or reps in an AMRAP, times for run/rucks, team based competition, leadership and more. At the end of the event we will tally up all the points and see where the rankings place people! If you are in the top 3 then you will be eligible for prizes, like Free sign-ups for HDT Throwdowns, HDT Rounds and gear.
If you're ready to tackle the competitive division you need to be ready to step up to the plate and hold the standard. Just be ready to work hard. There will be points award in similar fashion to Cerberus, but not as many on movements as everyone will have weight. For example, if there are 4 competitive people and several out to do work and grind in the non competitive division, each competitor would have a team. How are you at leading the team to the next objective? Great, good, or fair? Or did you run them into the ground and berate them for an hour. If you're an exceptional leader and not running your team in the ground, well, maybe you deserve a bonus point.
There are likely to be ~3 HDT workouts. And an AMRAP. And a PT assessment, and quite possibly one of the newly minted Quarter Mile of Death.
DH: Sounds familiar to anyone who has been a part of arguably the best Sandbag / Ruck training program in existence.
I personally can't wait for these to start happening and get to one myself. The first one is in Cleveland, OH on Friday September 24th. There are 6 total on the calendar right now and another Cerberus. Which one are you going to sign up for?
Heavy Drop Training Evolution
DH: Before the coffee runs our or gets cold, I have to know how does HDT continue to evolve? You constantly produce athletes that excel at any and all rucking events.
BS: I think the knowledge of fitness is a major point to the success of the program. I'm an anatomy professor, so I have an idea of how everything is connected and works within the body.
As we continued to have people sign up, about 2 years ago I decided I'd also get my personal trainer certification. That really confirmed for me that I was doing the right stuff. On top of that the Heavy Drop specials are really my Brainchild. I can think through what type of movements we should do, add, or consider after figuring out what muscle group I want to tackle. In addition, I am always looking for new and interesting ways to workout as well. Sometimes I put something together and it's really not what I was looking for. Not everything sticks. But there are other times that I know what muscle I want to target and we continue to refine until we have a way to get the intended stimulus from that movement in a variety of the programs we offer.
I'm proud to say that we are in our 26th round and that I've never once used the same "main" workout as a full repeat. We for sure have a lot of movements that overlap. And our Care Package AMRAP repeats every few rounds so we can use that to measure progress as we continue to strive for betterment. I don't want to reuse full workouts from the main 3 for a week because I don't want the program to get stale and repetitive for anyone. It's crazy to know that we have got people that have done more than 20 rounds. They don't show up to do boring programing that doesn't work. They want something fun and challenging that will get them in the best shape possible. Either to get ready and crush their next event or to just continue to get into shape. We have people that have left their gym and Heavy Drop is their sole workout routine.
DH: What's new or next?
BS: We have more balance boards coming out which we incorporate into our proprioceptive training program, which that program continues to grow as well. We just revamped the yoga program 2 rounds ago, it's now focused on working on overhead mobility, squat depth, and other areas where people tend to struggle when doing endurance styled events. Slowly but surely we are building a Speed Agility & Quickness program.
The next Cerberus event just dropped. It will be in Sarasota, FL and will have the same time frame 36 – 40 hours. But will be completely unique compared to the Cleveland event. Those finishers in Cleveland have a chance to get one step closer to the Cerberus Coin if they finish the Sarasota event as well. Most likely the 3rd Cerberus event will be in Colorado Springs area, and if they finished all 3 locations they receive the coin. Price Increase happen at the end of August.
The Rufus's Throwdowns have events coming up in OH, MI, FL, TX, PA & NC.
You can find more information on any of those on the CARC website.